This post may contain affiliate links. As an Amazon Associate I earn from qualifying purchases. Please see my disclosure policy for more information.
If you love toasting a marshmallow over a campfire, you will love these Campfire Rocky Road Brownies. These brownies have the taste of toasted marshmallows baked right in and are topped with a rich rocky road frosting. 
Are you a camper? A glamper? A five-star-hoteller with a fondness for room service? No matter your preferred relaxation style, I promise these Campfire Rocky Road Brownies, made with toasted marshmallows and smoked almonds, are totally your preferred eating style. Unless you hate chocolate, or marshmallows, or almonds, or happiness. Hm, this intro quickly took a dark turn…
Anyhow, I've had camping on the brain recently. Asher has suddenly fixated on the idea of going camping as a family, even though he's never been before, we have zero equipment, and I think he might only be in it for the s'mores. He asks about it regularly, which in toddler-land means approximately every 10 minutes, and after the three millionth request, I agreed that we could go camping this spring. Note to self: start buttering up outdoorsy friends now, for camping gear mooching purposes.
These brownies aren't the direct result of Asher's requests—he's not that powerful, yet—but they do bring together some crucial camping flavors! They start with a brownie that I will boldly call my New Favorite Brownies Recipe Yes For Reals. (The name could use some work.) Seriously, though, it is the perfect blend of dense and fudgy with a smattering of cake-iness. I like my brownies fudgy with a bit of chew, but not heavy, gummy, or brick-like, and this threads that particular needle perfectly. Expect to see much more of this brownie in future recipes!
The real magic of this recipe happens on top, though. I toasted a tray of mini marshmallows with my trusty kitchen torch, and was once again reminded that 1) our parents were liars, playing with fire is the best and 2) few things are better than the smell of toasting marshmallows wafting out of the kitchen. If you don't have a torch, this can just as easily be done in your oven's broiler.
The toasted marshmallows were combined with smoked almonds, coated with a rich chocolate glaze, and the whole shebang was poured on top of the baked brownies. The end result is a big honkin' layered dessert full of big honkin' flavors like smoky, salty almonds, slightly charred vanilla marshmallows, and of course chocolate crammed into every nook and cranny. I could practically smell the campfire and feel the forest breeze through my hair as I was eating these!
I will say that smoked almonds have a strong flavor, and if they're not your thing plain, you probably won't like them in this dessert. If that's the case, feel free to substitute regular salted almonds. You can also omit the marshmallow toasting step if you're short on time, or if you're a grinch who hates camping and its related cuinary references.
🤎More Brownie Recipes You'll Love
Homemade S'mores
These Homemade S'mores have three basic elements to S'mores: the marshmallows, the graham crackers, and the chocolate. Pretty simple as you know, but have you tried making the marshmallows and graham crackers homemade?!
Get the recipe!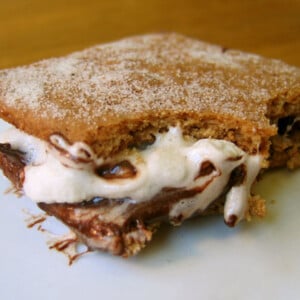 Deep Fried S'mores
These Deep Fried S'mores take the traditional s'more to an all new level! If you are a melted chocolate and gooey marshmallow inside a graham cracker you are sure to love these!
Get the recipe!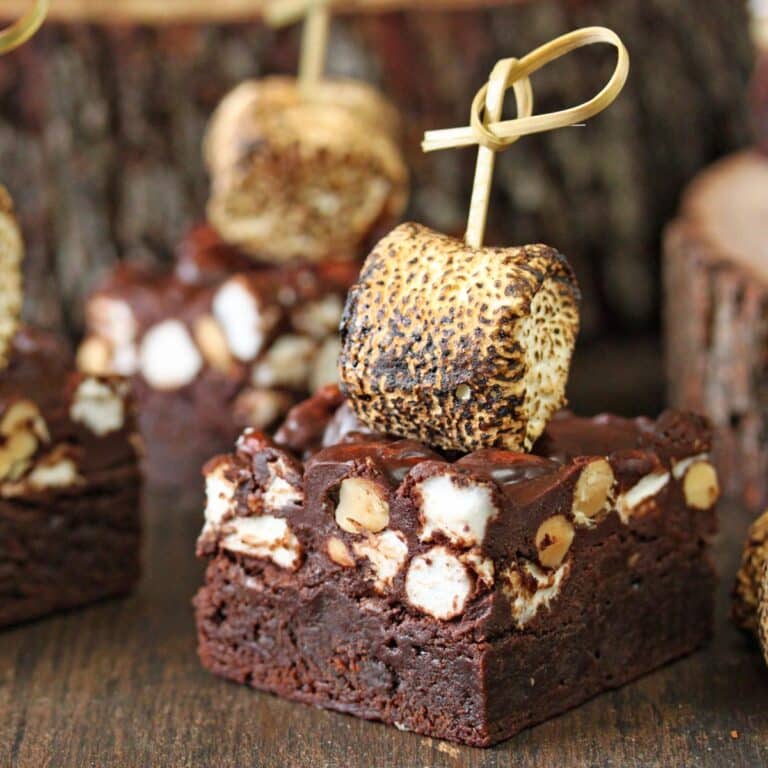 Campfire Rocky Road Brownies
If you love toasting a marshmallow over a campfire, you will love these campfire rocky road brownies. These brownies have the taste of toasted marshmallows baked right in and are topped with a rich rocky road frosting.
Ingredients
For the Rocky Road Topping:
Instructions
To Make the Brownies:
Preheat the oven to 350 F. Line a 9×13-inch pan with foil, extending the foil up and over the sides, and spray the foil with nonstick cooking spray.

Place the finely chopped chocolate in a large saucepan, and gently heat it over low heat, stirring often, until it is nearly melted. Add the cubed butter and stir it in until the butter is melted. Remove the pan from the heat.

Add the granulated sugar and stir it into the chocolate—it will become grainy. Add the eggs one at a time, whisking well after each addition. Add the chocolate syrup and vanilla extract, and continue to whisk until the batter loses its grainy texture and becomes smoother and thicker—it will start to clump together and feel thick like chocolate pudding. This may take several minutes of whisking, but this process gives the brownies a better final texture.

Finally, add the flour and salt, and stir it together with a spatula. Scrape the batter into the prepared pan and smooth it into an even layer. Bake the brownies at 350 F for 35-40 minutes, rotating halfway through. Bake until a toothpick inserted into the center is no longer gooey and has just a few moist crumbs attached. Cool completely before adding the rocky road topping.
To Make the Rocky Road Topping:
Line a baking sheet with foil and spray it with nonstick cooking spray. Arrange the marshmallows in a single layer on the sheet. If you have a kitchen torch, toast the marshmallows until golden brown. If not, stick the tray under the broiler and broil them until toasted, watching carefully because the process can take less than a minute, and marshmallows can quickly go from pleasantly toasted to unpleasantly charred.

Let the marshmallows cool for several minutes, then use a spatula to flip them over and toast the underside the same way you did the top. Let them cool completely before proceeding.

Combine the chopped chocolate, corn syrup, and butter in a large microwave-safe bowl. Microwave for 30 seconds, then stir well. Continue to microwave in short increments and stir until the mixture is melted and smooth. If it is hot, let it cool to barely lukewarm before continuing. Add the toasted marshmallows and smoked almonds, and stir to coat them with chocolate.

Scrape the topping on top of the cooled brownies and spread it into an even layer. Refrigerate the brownies for about 2 hours to get the topping very firm—this will give you the cleanest slices. Lift the brownies from the pan using the foil as handles, and peel off the foil baking. Cut the brownies into small squares with a large sharp chef's knife. To get the cleanest cuts, periodically run the knife under hot water and wipe it clean. Allow them to come to room temperature before serving for the best taste and texture.
MEASURING TIPS
Our recipes are developed using weight measurements, and we highly recommend using a kitchen scale for baking whenever possible. However, if you prefer to use cups, volume measurements are provided as well. PLEASE NOTE: the adage "8 oz = 1 cup" is NOT true when speaking about weight, so don't be concerned if the measurements don't fit this formula.
Click here to learn more about baking measurements and conversion.
Nutrition
Calories:
411
kcal
|
Carbohydrates:
44
g
|
Protein:
3
g
|
Fat:
25
g
|
Saturated Fat:
15
g
|
Cholesterol:
64
mg
|
Sodium:
76
mg
|
Potassium:
197
mg
|
Fiber:
2
g
|
Sugar:
32
g
|
Vitamin A:
465
IU
|
Calcium:
27
mg
|
Iron:
2.3
mg
Share by Email
Share on Facebook
Share on Pinterest