These coconut brownies are the BEST! They're rich, fudgy brownies with a gooey coconut filling similar to a candy bar. Coconut lovers, this one's for you!
There are 2 types of people in this world–coconut lovers and coconut haters. If you are a coconut hater you should just keep scrolling, because this recipe is strictly for coconut lovers (or more like LUVAHS) today.
These brownies are also extremely easy to make–just check out how to do it with this quick video!
I first made these brownies almost 10 years ago. I was inspired by my love of Mounds candy bars (or Bounty bars, to other parts of the world) and wanted to recreate that sweet, chewy coconut filling in brownie form. After a few experiments I ended up with this recipe, which has two layer of rich, fudgy brownies that sandwich a gooey coconut filling.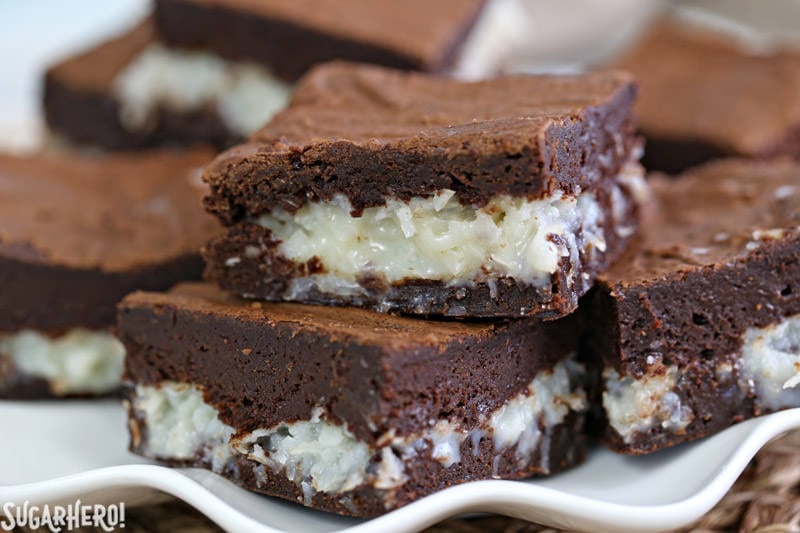 I love this recipe because it's so easy to whip up with just a few bowls and a spatula. The brownies are deep and dark, made with 3 different kinds of chocolate–cocoa powder, semi-sweet chocolate, and unsweetened chocolate.
The bittersweet chocolate is a good compliment to the sweet and sticky coconut filling, made with shredded coconut and condensed milk. After spreading half of the brownie batter into the pan, it's a quick process to dollop the coconut filling onto the brownies in an even layer, the cover the top with a little more chocolatey goodness.
If you are looking for neat brownie squares, you'll want to let these cool completely before you cut them, unless you enjoy eating your brownies with a fork instead of your hands. (Which, hey, no judgement here!) When they're warm they're impossible to cut nicely, but that's a small price to pay for enjoying warm brownies that positively melt in your mouth.
Enjoy, coconut lovers!
More Chocolate and Coconut Recipes 🤎
Toasted Coconut Chocolate Trifles
These Toasted Coconut Chocolate Trifles feature cubes of thick, rich chocolate pound cake covered with coconut pastry cream and toasted flaked coconut. For ultimate indulgence, they are topped with whipped cream, more coconut shreds and chocolate curls.
View Recipe
Almond Coconut Fudge Ripple Ice Cream
This rich and decadent Almond Coconut Fudge Ripple Ice Cream has swirls of marzipan, gooey coconut, fudge sauce and chunks of chocolate covered almonds.
View Recipe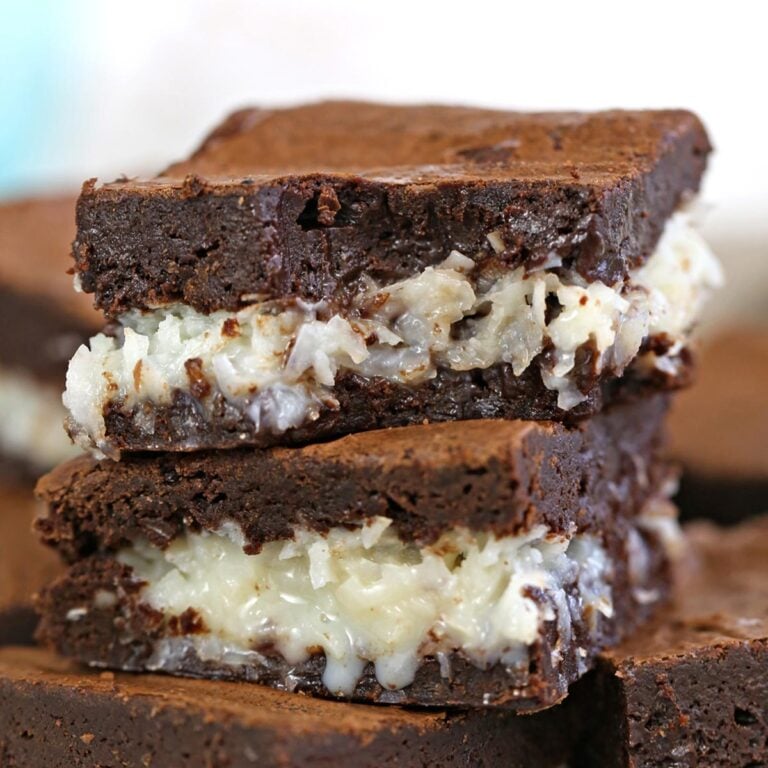 The Best Coconut Brownies
These coconut brownies are the BEST! They're rich, fudgy brownies with an ooey gooey coconut center. Better than a candy bar!
Instructions
Preheat the oven to 350 F. Line a square 8×8-inch baking dish with foil, extending the foil up and over the sides of the pan. Spray the foil with nonstick cooking spray.

Combine the shredded coconut and the sweetened condensed milk together in a small bowl, and stir well, until the coconut is evenly moistened. Set aside for now.

In a medium microwave-safe bowl, combine both chopped chocolates and the cubed butter. Microwave until melted, stirring after every 30-45 seconds to prevent overheating.

Once the chocolates are melted and smooth, add the cocoa powder and whisk it in until well-combined.

In a separate bowl, whisk together the eggs, sugar, vanilla, and salt until combined. Add the warm chocolate mixture and whiks it in. Finally, add the flour and stir it in with a spatula until just combined.

Pour approximately half of the brownie batter into the prepared pan and spread it into an even layer.

Dollop the coconut filling on top of the brownie batter, and use the back of a spoon to spread it evenly. I've found that this is easiest to do by spooning portions of it over the entire pan, and then smoothing the spoonfuls together. Don't apply too much pressure, or it will sink into the brownie layer.

Once the coconut is fairly evenly spread, pour the rest of the brownie batter over it, and spread it into an even layer on top.

Bake the brownies until they are slightly puffed and a toothpick inserted in center comes out with a small amount of sticky crumbs clinging to it, about 33-35 minutes. If in doubt, err on the side of underbaking them.

For the cleanest cuts, chill before cutting them into squares. They can be warmed up in the microwave, and are delicious when served warm with ice cream on top.
Video
Measuring Tips
Our recipes are developed using weight measurements, and we highly recommend using a kitchen scale for baking whenever possible. However, if you prefer to use cups, volume measurements are provided as well. PLEASE NOTE: the adage "8 oz = 1 cup" is NOT true when speaking about weight, so don't be concerned if the measurements don't fit this formula.
Want to learn more about baking measurements and conversion?
Nutrition
Calories:
336
kcal
|
Carbohydrates:
37
g
|
Protein:
4
g
|
Fat:
19
g
|
Saturated Fat:
13
g
|
Cholesterol:
50
mg
|
Sodium:
107
mg
|
Potassium:
220
mg
|
Fiber:
3
g
|
Sugar:
26
g
|
Vitamin A:
260
IU
|
Vitamin C:
0.5
mg
|
Calcium:
58
mg
|
Iron:
2.2
mg
Tried this recipe?
Snap a pic and hashtag it #SugarHero. We love to see your creations on our Instagram @elabau.