This is strawberry shortcake, all grown up! The classic dessert gets reimagined by adding bacon fat to the shortcakes, and a dash of balsamic vinegar to the strawberries. It's still the strawberry shortcake you know and love, with a more modern twist!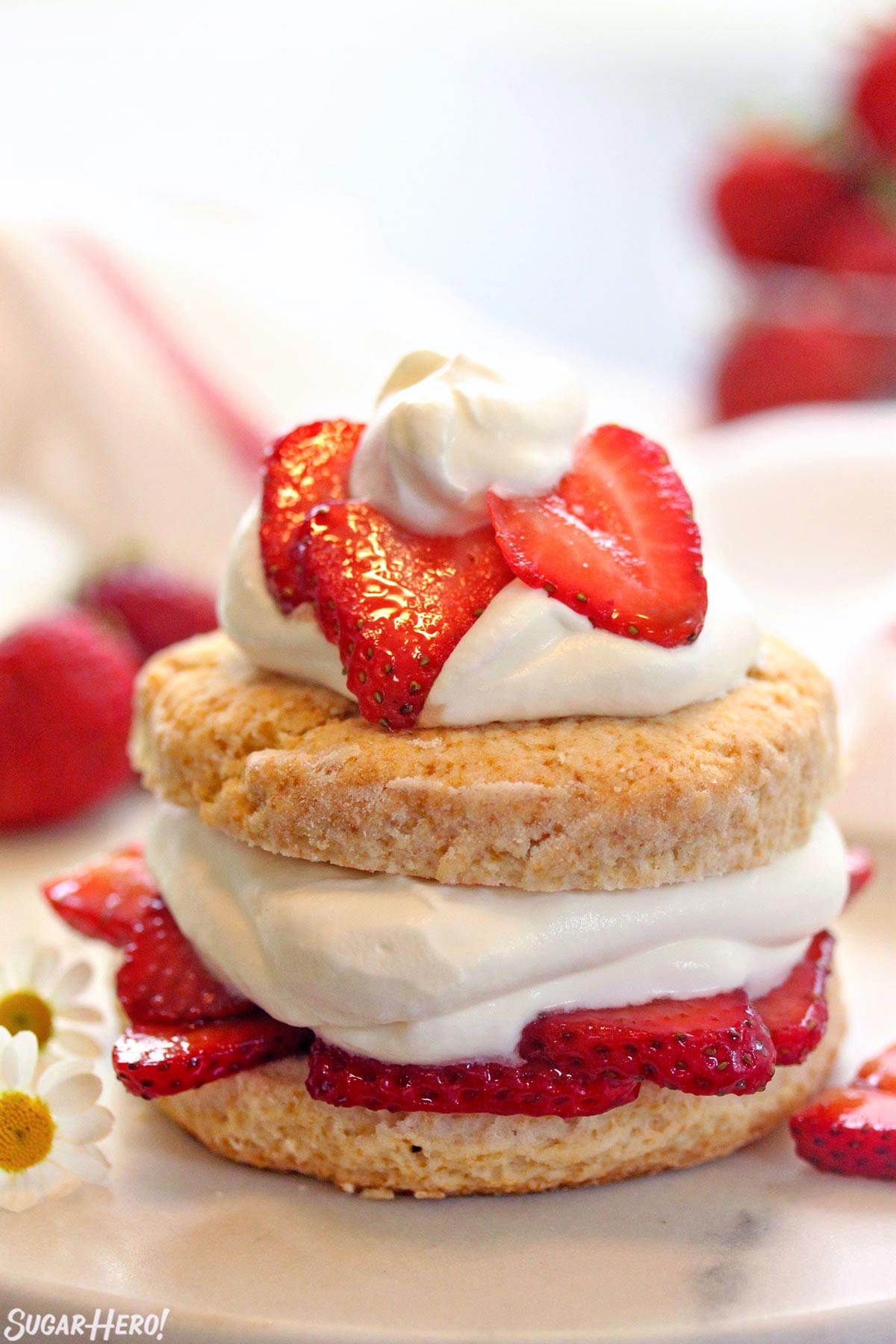 Rejoice, berry lovers! Get ready, bacon enthusiasts! Clap your hands, carb cravers! I have a dessert that's going to hit all of your sweet spots at once. Dare I say—and these are bold words–this is going to be the dessert of summer 2016.
We all know about strawberry shortcake: buttery, biscuit-like cakes that are crisp on the outside and soft on the inside, topped with whipped cream and berries. What could be easier or more delicious?
But…at the risk of sounding like a snotty teenager, it's a little basic. It's been done. I wanted a little more complexity. I wanted shortcake with a modern makeover, a grown-up vibe.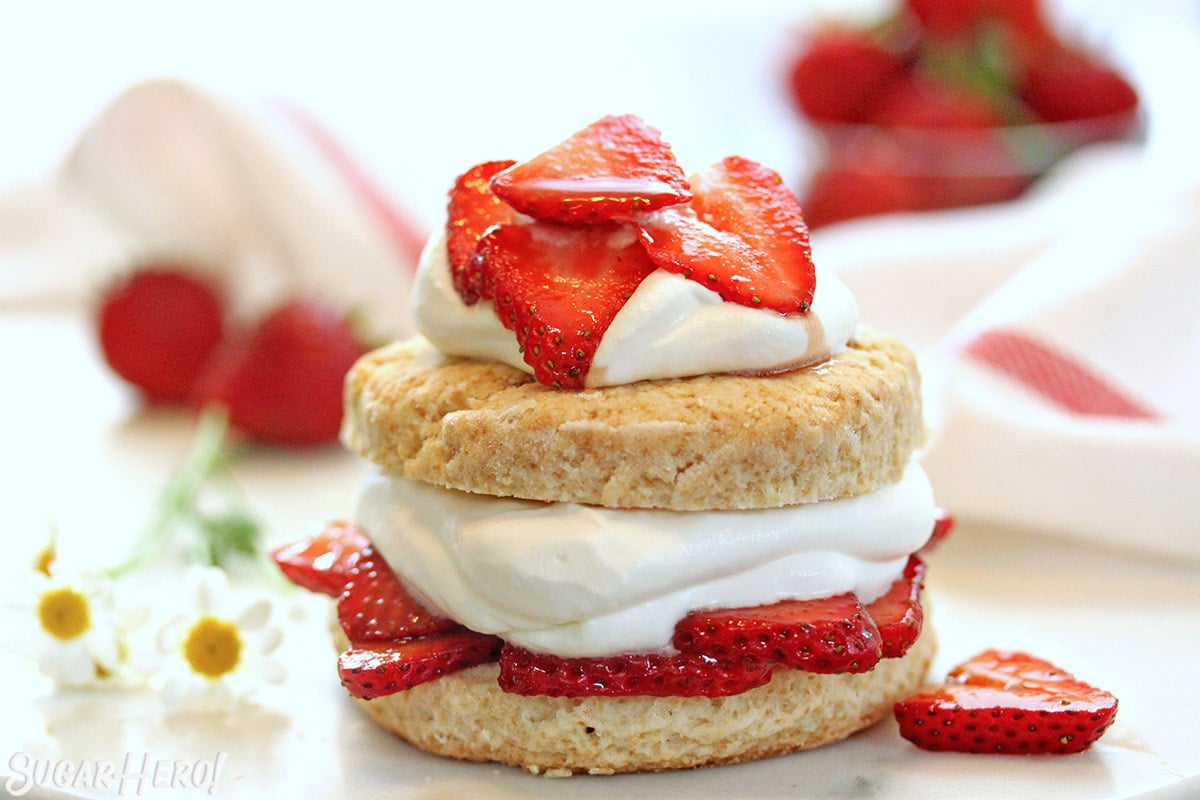 So I made two minor changes to my standby recipe that ended up having major results.
1. I swapped the butter for bacon fat. Ooooooh mama! The shortcakes are just as easy to make, and bake up just as light and fluffy, but instead of a sweet dairy undertone, they have a savory hint of bacon. It's not like you're eating a Denny's breakfast platter or anything, of course, but the bacon taste is there, adding dimension and a savory balance to the sweet berries and cream.
2. I added a splash of balsamic vinegar to the strawberries as they macerated with a bit of sugar. Now here's my snobby word of caution: not all vinegars are created equal. Cheap balsamic vinegar tends to be much harsher, while better quality vinegar has a sweeter flavor and thick, syrupy texture that pairs perfectly with berries. So use the best you can find, and use it sparingly. We're not making salad dressing! But a touch of balsamic adds just the right amount of tang to sweet, juicy summer berries, and makes the whole dessert much more nuanced.
And then I added some unicorn tears to the whipped cream for additional sparkle—just kidding! The whipped cream was perfect without any modifications. But these two small changes to the shortcakes really did improve it immensely. I don't know that this is the dessert for everyone, and if you have some skeptics in your family who might not be on board the bacon-in-desserts train, you can certainly swap the bacon fat for butter. But if you're looking for a fun change, give it a try!
Also, with Father's Day coming up in a few weeks, don't you think the dads in your life would like bacon for EVERY meal that day? Just saying. This just might be the perfect Father's Day dessert. Enjoy!
🍓 More Fabulous Fruit Recipes
No-Churn Strawberry Shortcake Ice Cream
This strawberry shortcake ice cream is packed with juicy strawberries and buttery pound cake. Best of all, you don't need any special equipment to make this delicious and easy homemade ice cream.
View Recipe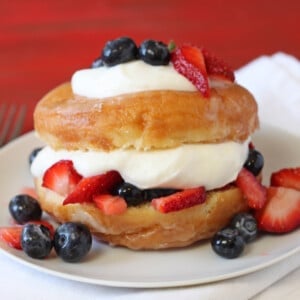 Doughnut Strawberry Shortcakes
These Doughnut Strawberry Shortcakes have a combination of sweetly glazed yeasted doughnuts, juicy berries, and softly whipped cream, pretty much perfect, right? The doughnuts don't have the crunchy exterior of traditional shortcakes, but I actually love that they stay soft and pillowy.
View Recipe
Grown-Up Strawberry Shortcake
This is strawberry shortcake, all grown up! The classic dessert gets reimagined by adding bacon fat to the shortcakes, and a dash of balsamic vinegar to the strawberries. It's still the strawberry shortcake you know and love, with a more modern twist!
Ingredients
For the Bacon Shortcakes:
To Assemble:
2

cups

sliced strawberries

,

(about 12 oz)

2

TBSP

granulated sugar

2

tsp

good-quality balsamic vinegar

,

or more!

1

cup

heavy cream

1/4

cup

powdered sugar

1

tsp

vanilla extract
Instructions
To Make the Bacon Shortcakes:
Drop the bacon fat by tablespoonfuls onto a baking sheet linked with parchment or waxed paper. Freeze the fat for at least 20 minutes, until it is firm. Preheat the oven to 425 F, and line a baking sheet with parchment paper.

In a large bowl, whisk together the flour, baking powder, baking soda, sugar, and salt. Add the cold bacon fat and use a pastry blender or two knives to cut it into the flour. Work it in until the flour is crumbly, with some pea-sized pieces of fat remaining.

Make a well in the center of the flour, and pour in the buttermilk. Stir with a fork, only until a shaggy dough forms. It's okay if there are still some dry spots. Pour the biscuit dough out onto your work surface and use your hands to knead it gently, to incorporate all of the dry flour. Pat it out into a layer about 1-inch thick, then fold it into quarters. Sprinkle with a little flour, and gently roll it out until it's a little less than 1-inch thick.

Use a 3-inch biscuit cutter to cut shortcakes out of the dough. Re-roll the scraps, and cut as many as possible. If using a 3-inch cutter, you should get 6 shortcakes out of the dough. Place them on the prepared baking sheet.

Bake shortcakes in the preheated 425 F oven for 16-18 minutes, until puffed and golden brown on top. Let cool completely before assembling.
To Assemble:
Combine the sliced strawberries, granulated sugar, and 2 tsp balsamic vinegar in a bowl, and toss together. Let it sit for 5-10 minutes, then taste and add more vinegar if desired.

Combine the cream, powdered sugar, and vanilla extract in the bowl of a large stand mixer fitted with a whisk attachment, and whip until the cream holds medium peaks.

Slice each shortcake in half, and top with a big spoonful of juicy berries and a large dollop of whipped cream. Serve and enjoy immediately.
Recipe Notes
To obtain the bacon fat, fry at least a half-pound of bacon to get the bacon fat in a pan. Strain the resulting fat through a mesh strainer to remove any bacon bits, pour into a glass container, and chill in the refrigerator until solid.
Measuring Tips
Our recipes are developed using weight measurements, and we highly recommend using a kitchen scale for baking whenever possible. However, if you prefer to use cups, volume measurements are provided as well. PLEASE NOTE: the adage "8 oz = 1 cup" is NOT true when speaking about weight, so don't be concerned if the measurements don't fit this formula.
Want to learn more about baking measurements and conversion?
Nutrition
Calories:
500
kcal
|
Carbohydrates:
51
g
|
Protein:
6
g
|
Fat:
30
g
|
Saturated Fat:
15
g
|
Cholesterol:
71
mg
|
Sodium:
317
mg
|
Potassium:
391
mg
|
Fiber:
2
g
|
Sugar:
15
g
|
Vitamin A:
635
IU
|
Vitamin C:
28.5
mg
|
Calcium:
161
mg
|
Iron:
2.3
mg
Tried this recipe?
Snap a pic and hashtag it #SugarHero. We love to see your creations on our Instagram @elabau.