This Strawberry Rhubarb Shortcake is pillowy soft, moist and flavorful. It is the perfect balance of tangy buttermilk and rhubarb, sweet white chocolate and sliced fresh strawberries!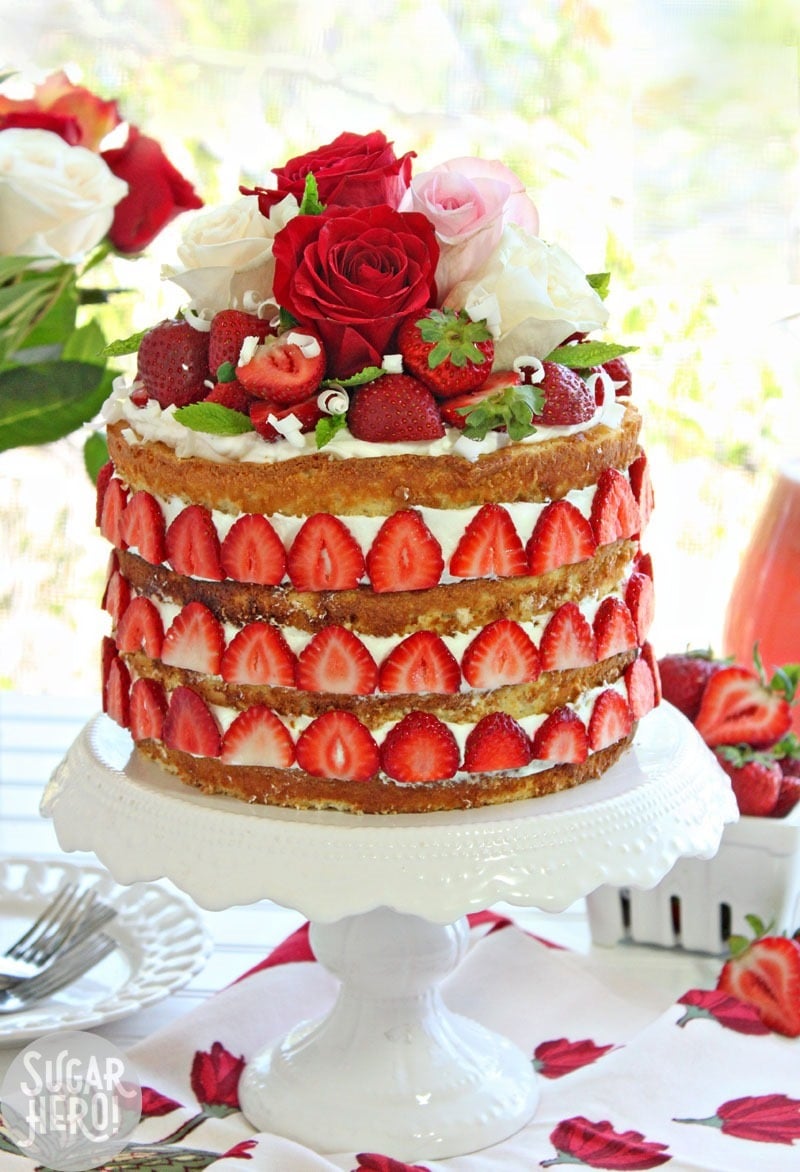 My husband asked for just two things for Father's Day last week: a strawberry-rhubarb dessert, and a nap. Yes, we are so desperate for sleep at our house that a nap is a legitimate gift request. Toddler terrorism is real, people. Is there an #itgetsbetter campaign for parents that reassures us that at some point, they will play by themselves and they will not wake up a dozen times a night? Because I would share the heck out of that video, probably while half-asleep and sobbing quietly to myself.
Anyhow, the nap was the easy part to deliver. For the strawberry rhubarb dessert, I had visions of this layer cake dancing in my head, but ran out of time to make all the components. Instead, I settled for a re-make of last year's Strawberry Rhubarb Pie. It got zero complaints (understatement) and Jason considered it a Father's Day well spent, but I was still left with the itch to make a big, beautiful strawberry-rhubarb cake.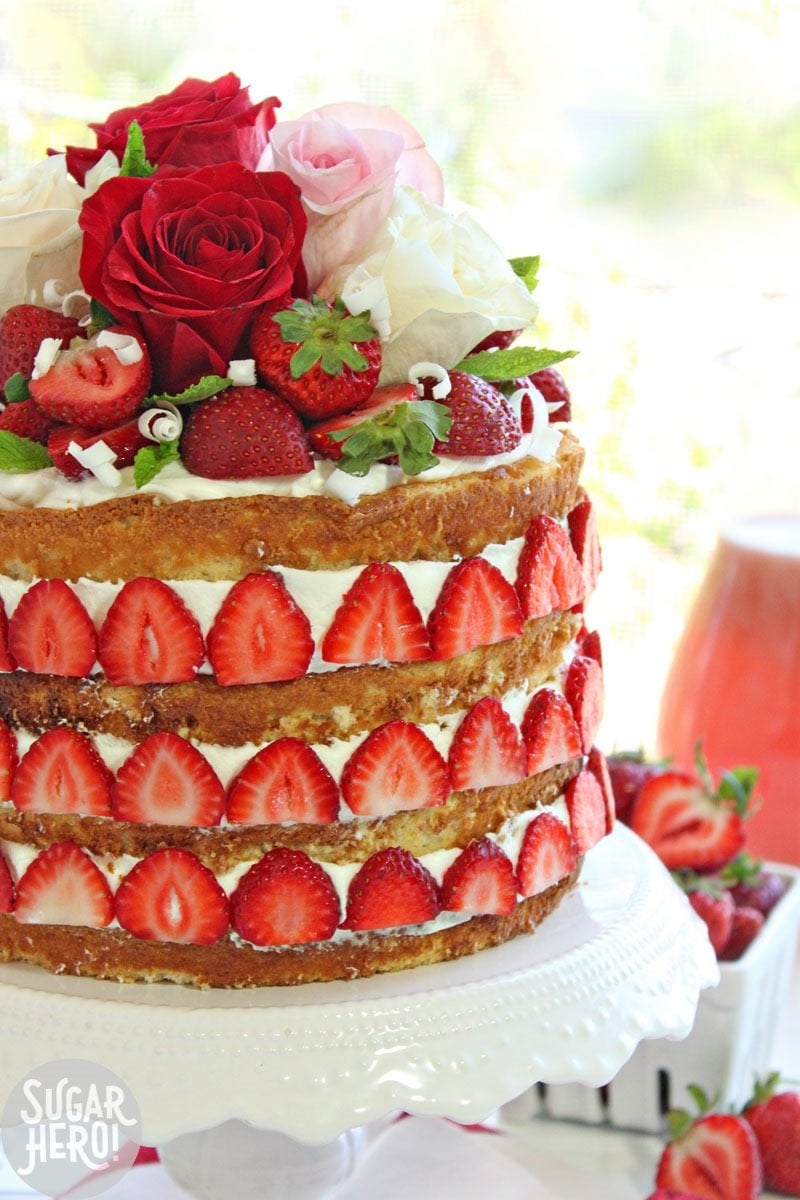 Fortunately, strawberry season is in full swing, and rhubarb is still hanging around the market, so I was able to make this cake happen, just a little later than scheduled! And if you're looking for more, don't forget to check out this collection of strawberry dessert recipes!
The base of this cake is a White Chocolate Buttermilk Cake that comes from Desserts by the Yard. Sherry Yard is a pastry genius who knows her way around a cake recipe, I tell you what. This recipe is more work than your typical cake—it requires melting and cooling white chocolate, plus whipping egg whites into a meringue and folding it into the batter. It's a little high maintenance, is all I'm saying. But it's totally worth it, because the cake layers are so moist and flavorful, balancing the tanginess of buttermilk with the sweetness of white chocolate.
The biggest selling point for this cake recipe, though, is that it stays soft and moist in the refrigerator. So many cakes get dense and hard when refrigerated, but this one is still dreamy and pillowy soft, which is a necessity when dealing with a whipped cream cake that needs near-constant refrigeration. Of course you're free to substitute any cake recipe or cake mix you'd like, but I don't think you can do better than this one.
The cake is filled with tangy rhubarb curd and sliced fresh strawberries. Rhubarb curd is almost as easy to make as lemon curd, and it made me rethink every toast-topping decision I've ever made. Here I am, putting avocado on my toast every morning like a sucker, when I could be enjoying rhubarb curd toast instead. It's thick and rich, with the perfect balance of sour and sweet. I also had some homemade rhubarb jam I snuck into the middle layer, but I left that out of the recipe, because it's just as good with just curd + berries.
And the strawberry decorations on the outside! As regular readers might recall, I'm a little wary of naked cakes and have to clothe my cakes, just a bit, so that I feel comfortable. What can I say, I'm a cake prude. I like a little somethin'-somethin' around the outside! So for this nearly naked cake, I made sure my whipped cream layers were nice and tall, and then stuck thinly sliced strawberries all along the outside of the cake. It added some visual interest and a lot of color. If you're going to be making the cake a day or two in advance, I'd recommend waiting until shortly before serving to add the berries, since they will start to look wilted over time.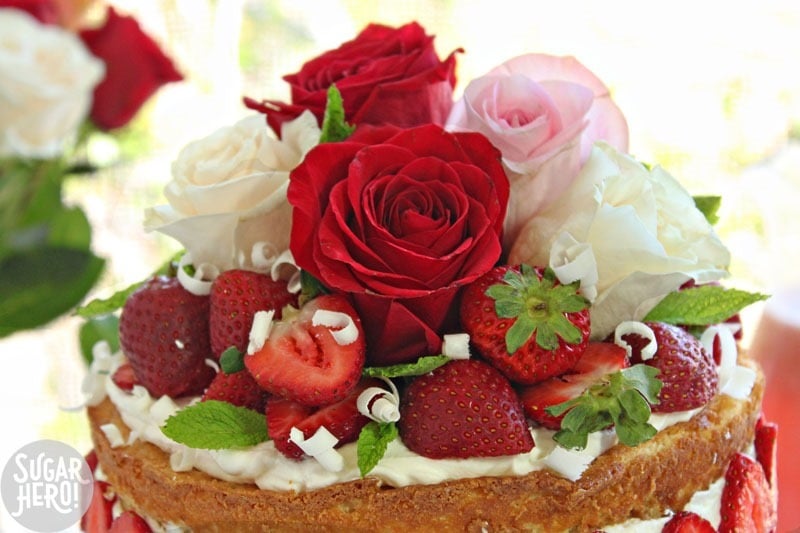 I admit I went a little crazy on top of the cake. Whipped cream! Flowers! Berries! Mint leaves! White chocolate curls! Miniature toy poodles! Everyone pile on! It's a little excessive, but isn't that what celebration cakes are supposed to be? Nothing says "I love you, thanks for fathering my child, enjoy your nap because you won't get another one for 364 days" like a big pile of beautiful things on top of a cake. We ate it the week after Father's Day, but it still felt like a gift. It was perfect.
More Fresh Berry Desserts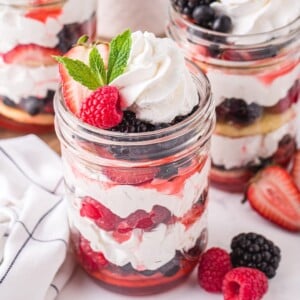 Berry Shortcake in a Jar
These Mixed Berry Shortcakes in mason jars are the perfect single-serving summer dessert! They're light, fresh, and endlessly customizable.
View Recipe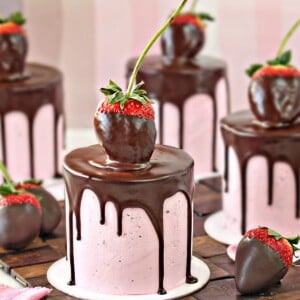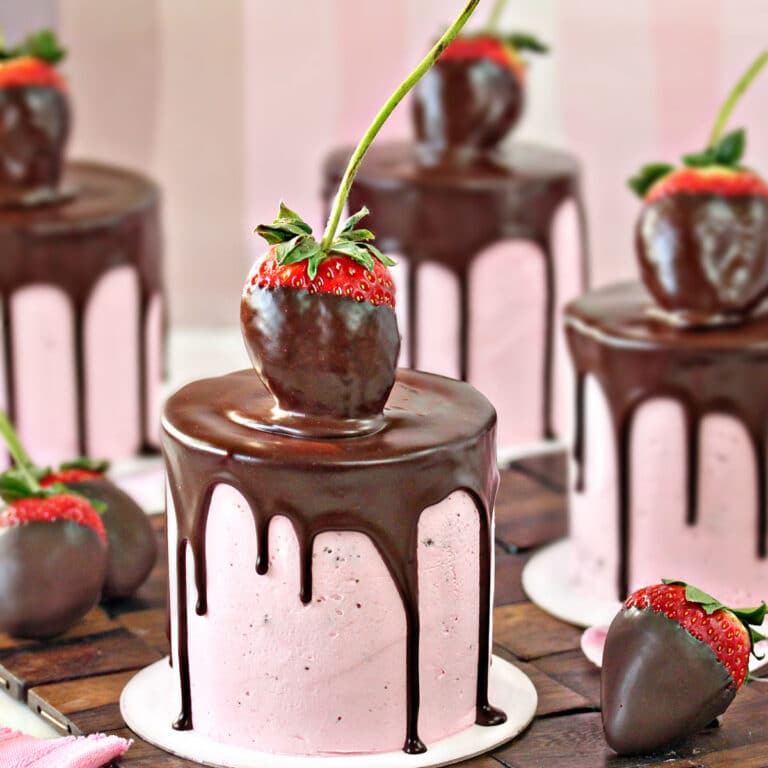 Chocolate-Covered Strawberry Mini Cakes
These Chocolate-Covered Strawberry Mini Cakes are made with rich chocolate cake, strawberry buttercream, glossy chocolate ganache, and fresh chocolate-dipped strawberries on top. They're beautiful, romantic, and perfect for any special occasion.
View Recipe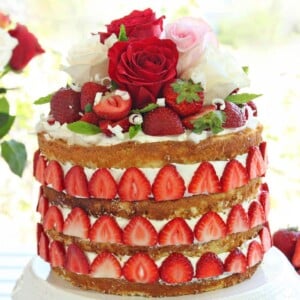 Strawberry Rhubarb Shortcake
This Strawberry Rhubarb Shortcake is pillowy soft, moist and flavorful. It is the perfect balance of tangy buttermilk and rhubarb, sweet white chocolate and sliced fresh strawberries!
Ingredients
For the White Chocolate-Buttermilk Cake:
8

oz

cake flour

(2 cups)

1

tsp

baking powder

1/2

tsp

baking soda

1/4

tsp

salt

3

oz

white chocolate

finely chopped

6

oz

unsalted butter

at room temperature

12 1/4

oz

granulated sugar

(1 3/4 cups)

4

large eggs

separated and at room temperature

1

tsp

vanilla extract

1

cup

buttermilk

at room temperature
For the Rhubarb Curd:
10

oz

fresh rhubarb

3

oz

unsalted butter

(6 TBSP)

7

oz

granulated sugar

(1 cup)

2

large eggs

2

large egg yolks
To Assemble:
1 1/2

lbs

fresh strawberries

3

cups

heavy cream

2/3

cup

powdered sugar

Flowers

to decorate, optional

fresh mint leaves

to decorate, optional

White chocolate curls

to decorate, optional
Instructions
To Make the White Chocolate-Buttermilk Cake:
Preheat the oven to 350 F. Line four 8×2-inch cake pans with parchment, and spray the parchment with nonstick cooking spray. (Two 8×3-inch pans can be used instead, you will just have to adjust the cooking time.)

In a large bowl, sift together the flour, baking powder, baking soda, and salt, and set aside for now.

Melt the white chocolate in a small bowl in the microwave, stirring after every 30 seconds to prevent overheating. Set aside until the white chocolate is at room temperature but still fluid.

Combine the butter and 1 1/2 cups of sugar in the bowl of a large stand mixer fitted with a paddle attachment. Cream them together for about 5 minutes, until light and fluffy.

Stir 2 tablespoons of the butter mixture into the melted white chocolate, then add the chocolate back to the butter in the mixer, and mix on low speed until blended. Add the egg yolks in two batches, mixing well between each addition, then add the vanilla extract.

With the mixer on low, alternate adding the flour with the buttermilk, starting and ending with the dry ingredients. Stop the mixer when just a few streaks of flour remain, and scrape down the bottom and sides of the bowl with a spatula.

In a separate mixing bowl, whip the egg whites until they're foamy and just starting to hold soft peaks. Add the remaining 1/4 cup of granulated sugar slowly, spoonful by spoonful, and continue whipping the whites until they are glossy and white and have the texture of shaving cream.

Gently fold the whites into the cake batter in 3 additions. Divide the batter evenly between the prepared pans. Bake the cakes in the 350 F oven for 20-25 minutes, rotating halfway through the baking. Bake until the cakes are golden brown and a toothpick inserted into the center comes out clean.

Cool the cakes on a wire rack, and once at room temperature, run a knife around the edge and gently flip them out of the pans. For the easiest assembly, wrap the cakes individually in plastic wrap and place them in the freezer until they're slightly frozen, for about 30 minutes. The cakes can be made in advance and stored in the freezer until you're ready to use them.
To Make the Rhubarb Curd:
Wash the rhubarb, and cut off any leaves and the woody stems. Chop the rhubarb into small chunks and place in a medium saucepan. Add enough water to cover the rhubarb, and cook over medium heat for about 20 minutes, until the rhubarb is very soft and starts to disintegrate.

Blend the rhubarb, along with any remaining water, in a blender. Strain the puree through a wire mesh strainer to remove any stringy parts. A little texture in the rhubarb puree is fine, but you want to avoid too much pulp that might ruin the texture of the curd. Cool the rhubarb puree to room temperature.

Fill the bottom of a double boiler (or a regular saucepan) with about an inch of water and bring it to a simmer on the stovetop.

In a large mixing bowl, cream together the butter and the sugar with a handheld or stand mixer fitted with a whisk attachment until the mixture is light and fluffy. Slowly add the eggs and yolks, and beat for 1 minute more. Add the rhubarb puree and mix—it's fine if it starts to look curdled at this point.

Pour the liquid into the top of a double boiler or a bowl that fits snugly over your saucepan. (I actually like to use the metal mixing bowl that goes on my stand mixer so I'm not dirtying too many dishes.) Cook the mixture over the simmering water, whisking frequently, until it thickens enough to coat the back of a spoon. If you want to use a candy thermometer, cook the curd until it reaches 170-175 degrees F. Add a drop or two of pink food coloring if you want your curd to have a pink color.

Once the curd thickens, remove the pan from the heat and pour the curd through a fine mesh strainer into a bowl to remove any bits of cooked egg. Press a layer of cling wrap directly on top of the curd, and refrigerate it until it is chilled and thick, at least 3-4 hours. The curd can be made several days in advance and stored in the refrigerator until you're ready to use it.
To Assemble:
Wash the strawberries and pat them dry. Remove the stems. Set aside half of the strawberries to use as decoration, saving the smallest ones for the outside. Chop the remaining strawberries for the inside of the cake.

Whip the heavy cream with the powdered sugar until it holds firm peaks. Transfer some of the cream to a piping bag fit with a coupler or large round tip. Set one cake layer on a cake board, and pipe a tall ring of whipped cream all around the edge—you want it to be almost 1″ tall, so you may have to go around twice to get it all enough. Put a third of the rhubarb curd in the center of the cake and spread it to the edges of the whipped cream circle. Sprinkle a third of the chopped strawberries on top of the curd. Dollop a little whipped cream on top of the strawberries and spread it into an even layer that matches the height of the whipped cream border.

Gently set a second cake round on top, and repeat the whipped cream circle/rhubarb curd/strawberry routine. Continue a third time, and finish with a fourth cake layer on top. At this point, you probably have some whipped cream squishing out the sides of the cake, so gently run a metal spatula around the edge of the cake to smooth it out and make it even.

Cut the reserved strawberries into slices, and press them into the whipped cream around the edges of the cake. Chill the cake for at least 1 hour before cutting, to make it more stable and give the cleanest slices. When you're ready to serve, decorate the top with additional whipped cream, strawberries, mint leaves, fresh flowers, and/or white chocolate curls. Extra cake can be stored, well-wrapped, in the refrigerator for up to a week.
Measuring Tips
Our recipes are developed using weight measurements, and we highly recommend using a kitchen scale for baking whenever possible. However, if you prefer to use cups, volume measurements are provided as well. PLEASE NOTE: the adage "8 oz = 1 cup" is NOT true when speaking about weight, so don't be concerned if the measurements don't fit this formula.
Want to learn more about baking measurements and conversion?
Nutrition
Serving:
29
g
|
Calories:
446
kcal
|
Carbohydrates:
47
g
|
Protein:
5
g
|
Fat:
27
g
|
Saturated Fat:
16
g
|
Cholesterol:
147
mg
|
Sodium:
113
mg
|
Potassium:
206
mg
|
Fiber:
1
g
|
Sugar:
36
g
|
Vitamin A:
980
IU
|
Vitamin C:
21.4
mg
|
Calcium:
88
mg
|
Iron:
0.6
mg
Tried this recipe?
Snap a pic and hashtag it #SugarHero. We love to see your creations on our Instagram @elabau.