Step aside, basic shortbread! These Pistachio Shortbread Cookies are an upgraded take on the classic cookie. They have ground pistachios right in the dough, so they're sweet, nutty, and perfect for the pistachio lover. Dip them in chocolate to make them ultra-decadent!
I used to think of myself as a chocolate chip cookie loyalist, but in browsing the SugarHero archives, it's clear: I'm actually a shortbread groupie. I've topped it with caramel, sprinkled it with strawberry dust, and recreated everyone's favorite Keebler Fudge-Striped Shortbread at home. I'm convinced these buttery, crispy cookies can do no wrong, and I'm looking forward to testing out this theory with 213 more shortbread recipes. (Give or take 200.)
This particular shortbread recipe is made with ground pistachios in the dough, so it has a strong nutty flavor and a sandy texture with tiny bits of pistachios in every bite. On its own, it's more of a tea cookie—something to enjoy alongside a beverage or as part of a larger dessert plate. It's adequate, and enjoyable, but not the most exciting recipe.
But we're not here to be just adequately tempted, so that, friends, is why we give these cookies a chocolate bath. Dunk 'em in chocolate, sprinkle them with a big handful of your favorite toppers, and these cookies are elevated from "munchable" to "GIMMEGIMMEGIMME" status.
I chose to finish my cookies with three different toppings: ground pistachios, minced candied orange peel, and crushed candied violet. I didn't think about it too much, beyond a vague desire for variety and color, but I couldn't have been happier with how well the contrasting colors, flavors, and textures worked out. Fair warning, though, if you top your cookies with a variety of different things, you will probably be compelled to taste each of them in turn, maybe several times, in the interest of comparison and quality control.
If you want to follow suit, you can make your own candied orange peel, or buy candied peel online
. (Many grocery stores also carry it in the baking aisle, especially around holiday time.) Candied violet is an ingredient I discovered working at a restaurant a few years ago—it's bright purple and intensely crunchy, with a subtle floral flavor that's a perfect match for pistachios. (It's also wonderful in truffles, and atop cakes or cupcakes.) Look for it in gourmet or specialty food shops, or buy candied violet online
.
We ate an embarrassing number of these cookies at my house, and managed to give away about half of the batch before we devoured them all. They're a great gift, or a cute shower dessert or edible favor, and, let's be real, a totally appropriate afternoon snack. Happy shortbread-ing!
Don't miss our collection of the 10 Best Valentine's Day Cookies – see the whole web story here!
💜More Pistachio Desserts You'll Love: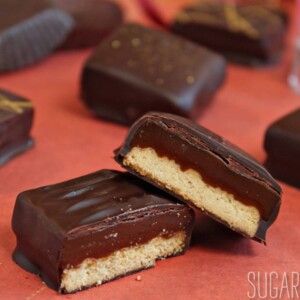 Caramel Shortbread Squares
These Caramel Shortbread Squares are the perfect 2-bite dessert. They have a crisp center covered in soft chewy caramel and the whole thing is coated in semi-sweet chocolate for superb richness!
View Recipe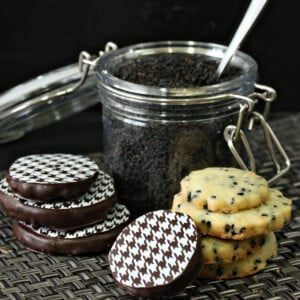 Black Sesame Shortbread Cookies
These Black Sesame Shortbread Cookies are not your average cookie. Black sesame seeds and orange zest give them an exotic flavor and striking appearance. Great on their own or dipped in chocolate!
View Recipe
Pistachio Shortbread Cookies
These Pistachio Shortbread Cookies are an upgraded take on the classic cookie. They have ground pistachios right in the dough, so they're sweet, nutty, and perfect for the pistachio lover. Dip them in chocolate to make them ultra-decadent!
Instructions
Place the pistachios and 1 cup of the flour in the bowl of a food processor and process them until the pistachios are ground into a very fine powder. Add the remaining flour and the salt and pulse briefly to combine.

Combine the butter and powdered sugar in the large bowl of a stand mixer fitted with a paddle attachment. Mix them together on medium-low speed just until the sugar is incorporated and the butter is smooth. Add the pistachio-flour mixture, and mix on low speed until only a few flour streaks remain. Stop the mixer and finish stirring with a rubber spatula, scraping the bottom and sides of the bowl.

Scrape the cookie dough onto a piece of plastic wrap and wrap it tightly. Refrigerate it until firm, at least 30 minutes.

Once firm, preheat the oven to 350 F (176 C), and cover two baking sheets with parchment paper. Roll the dough out between two sheets of lightly floured waxed paper or parchment paper, until it is about 1/4-inch thick. Use a cookie cutter to cut out shapes—I used a 2 1/2-inch heart cutter and got about 30 cookies from the batch.

Arrange the cut-out cookies on the parchment. The cookies won't spread much while baking, so you don't need to leave much room between them. When you've cut out all the hearts you can, press the dough together, re-roll it, and return it to the refrigerator to chill while the first batch bakes.

Bake the cookies at 350 F for about 12-13 minutes, until they've lost the raw shine in the middle and the edges are very slightly colored. Remove the tray from the oven and let them cool for 5 minutes, then transfer the cookies to a wire rack to cool completely. Repeat with remaining dough until all of the cookies are baked.

When you're ready to dip and decorate the cookies, make sure your toppings are nearby, then melt the chocolate candy coating in the microwave. Microwave it in 30-second increments, stirring frequently to prevent overheating. If it seems too thick to dip easily, add a spoonful of shortening and melt it with the coating.

Cover your work surface with waxed paper or parchment. Hold a cookie by one edge and submerge half of it in the coating. Let the excess drip back into the bowl and scrape the bottom on the lip of the bowl, then set it on the waxed paper. Repeat with 2-3 more cookies, then while the coating on the cookies is still wet, sprinkle the tops with chopped candied orange peel, candied violets, or a pinch of chopped pistachios.

Repeat the process, dipping 3-4 cookies at a time, until all of the cookies are dipped and decorated. Refrigerate the tray for about 10 minutes to set the coating. Cookies can be stored in an airtight container at room temperature for up to two weeks.
Recipe Notes
I've called for candy coating to make this recipe fast and easy. If you want to use real chocolate instead, I recommend tempering it so that it's shiny, hard, and stable at room temperature. Here's my guide to tempering chocolate. If you don't temper the chocolate, consider keeping your cookies in the refrigerator so the chocolate doesn't melt or get soft.
Measuring Tips
Our recipes are developed using weight measurements, and we highly recommend using a kitchen scale for baking whenever possible. However, if you prefer to use cups, volume measurements are provided as well. PLEASE NOTE: the adage "8 oz = 1 cup" is NOT true when speaking about weight, so don't be concerned if the measurements don't fit this formula.
Want to learn more about baking measurements and conversion?
Nutrition
Serving:
30
g
|
Calories:
223
kcal
|
Carbohydrates:
21
g
|
Protein:
2
g
|
Fat:
14
g
|
Saturated Fat:
9
g
|
Cholesterol:
24
mg
|
Sodium:
43
mg
|
Potassium:
57
mg
|
Fiber:
0
g
|
Sugar:
12
g
|
Vitamin A:
300
IU
|
Vitamin C:
0.2
mg
|
Calcium:
9
mg
|
Iron:
0.6
mg
Tried this recipe?
Snap a pic and hashtag it #SugarHero. We love to see your creations on our Instagram @elabau.