This post may contain affiliate links. As an Amazon Associate I earn from qualifying purchases. Please see my disclosure policy for more information.
Sugar Cookie Pinwheels are a fun twist on traditional sugar cookies! They are sugar cookies rolled around a delicious chocolate filling, and decorated with fun Halloween sprinkles.
I love classic sugar cookies as much as the next girl, but sometimes I crave something a little different. A little cuter. A little more exciting. A little–no, a lot–more chocolatey. That's why I'm so glad to have these Sugar Cookie Pinwheels in my life.
The idea behind sugar cookie pinwheels is nothing new. Most recipes involve making a portion of the dough in a different color or flavor, then rolling them together. I've always loved the look of those cookies, but the taste is often a disappointment. The second layer, be it chocolate, mint, or whatever, is usually mildly flavored and doesn't stand out against the plain sugar cookie dough.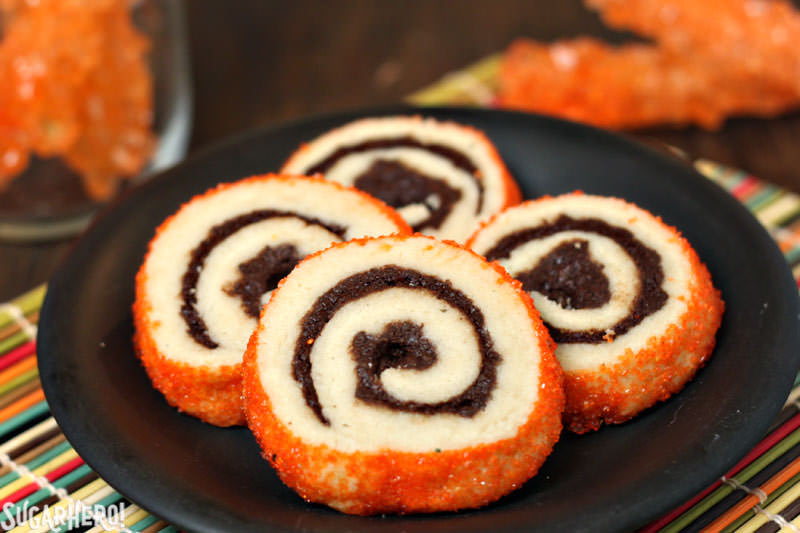 That's where these cookies are different! For these pinwheels, I made a chocolate "shmear" filling (made with real bittersweet chocolate and cocoa) and rolled the sugar cookie dough around the shmear. It may not be as neat and tidy as the pinwheels that use contrasting cookie doughs, but the rich chocolate flavor was much more pronounced. Not to toot my own horn, but these are downright delicious.
These are obviously Halloween themed, but they actually don't have to be Halloweenie at all! They could easily be translated into Thanksgiving treats (roll the sides in green, orange, yellow, and/or brown sprinkles). Christmas? Red and green. Valentine's Day? Pink and red. You get the idea. Let's make Sugar Cookie Pinwheels year-round!
Sugar Cookie Pinwheels
These Sugar Cookie Pinwheels aren't your typical flavorless pinwheels! For these pinwheels, I made a chocolate "shmear" filling (made with real bittersweet chocolate and cocoa) and rolled the sugar cookie dough around the shmear. Not to toot my own horn, but these are downright delicious.
Ingredients
For the Chocolate Filling:
Instructions
To Make the Chocolate Filling:
Place the chopped bittersweet chocolate in the bowl of a food processor, and process until it is in tiny flakes. (A high-speed blender might also work.) Add the remaining ingredients and process until the filling comes together in a moist paste.

This can be made in advance and kept in the refrigerator. Bring to room temperature before spreading on the cookie dough.
To Make the Sugar Cookies:
In a small bowl, whisk together the flour, salt, and baking powder.

Combine the butter and sugar in the large bowl of a stand mixer, and beat with a paddle attachment until fluffy, 1-2 minutes. Add the egg and beat until it is well-combined, then add the vanilla and almond extracts, if using.

Add the flour and mix everything together on the lowest speed, until the flour almost disappears into the dough. Finish stirring in the flour by hand with a spatula, scraping the bottom and sides of the bowl well.

Divide the dough in half and form each half into a thin disc. Wrap the discs in plastic wrap and refrigerate until chilled, about 45 minutes.

Roll one half of the dough out between two sheets of floured parchment paper. Roll it into a thin rectangle about 12x8 inches, a little less than 1/4" thick. Spread half of the chocolate filling on top of the sugar cookie dough, taking care not to tear the dough as you spread the filling.

Use the sheet of parchment the dough is resting on to help roll the sugar cookie dough up into a tight cylinder. Repeat with the second half of dough and chocolate filling. Wrap the dough logs in plastic wrap and chill again until very firm, about 1 hour.

Preheat the oven to 350 degrees Fahrenheit. Cover two baking sheets with parchment paper, and pour the colored sugar sprinkles into a bowl.

Use a very sharp serrated knife to cut the log of dough into circles about 1/2-inch thick. Roll the edges of the cookies in the sugar sprinkles, and place them about 2 inches apart on the baking sheets. Bake for 12-14 minutes, until puffed, slightly golden, and set around the edges.

Let cool for 5 minutes on the baking sheet before removing them. Store in an airtight container at room temperature.
MEASURING TIPS
Our recipes are developed using weight measurements, and we highly recommend using a kitchen scale for baking whenever possible. However, if you prefer to use cups, volume measurements are provided as well. PLEASE NOTE: the adage "8 oz = 1 cup" is NOT true when speaking about weight, so don't be concerned if the measurements don't fit this formula.
Click here to learn more about baking measurements and conversion.
Nutrition
Calories:
178
kcal
|
Carbohydrates:
22
g
|
Protein:
1
g
|
Fat:
9
g
|
Saturated Fat:
5
g
|
Cholesterol:
26
mg
|
Sodium:
114
mg
|
Potassium:
71
mg
|
Fiber:
0
g
|
Sugar:
10
g
|
Vitamin A:
250
IU
|
Calcium:
21
mg
|
Iron:
1
mg
Share by Email
Share on Facebook
Share on Pinterest