This rich and creamy Pumpkin Fudge is the perfect fall candy! Brown sugar, pumpkin puree, toasted pecans, and lots of fall spices give this fudge tons of flavor. Plus, it's a "no-fail" fudge recipe, so you can be confident that you'll end up with smooth, delicious fudge every time.
Easy Pumpkin Fudge
When it comes to pumpkin desserts, it's easy to focus on the popular kids–pumpkin pie, pumpkin cake, and pumpkin cookies all get a LOT of love and attention this time of year, for good reason. They're delicious, for sure. But our little orange friend is good in so many other types of recipes!
The comforting taste of pumpkin paired with warm autumn spices is a great addition to mousse, marshmallows, pumpkin bread truffles, and my very favorite type of homemade candy–FUDGE!
This Pumpkin Fudge is one that I've been making for over a decade. It manages to cram big fall flavors into small, compact squares of fudge. It's made with brown sugar, pumpkin puree, pumpkin pie spices, and crunchy pecans, for a cozy, toasty, warm and welcoming taste.
If you need more pumpkin inspiration, check out my collection of pumpkin dessert recipes!
[lwptoc depth="2″]
🧾 Ingredients
This pumpkin fudge comes together in about 15 minutes on the stove. You'll need some common pantry ingredients to make it:
Pumpkin puree: Make sure you use pure pumpkin and not pumpkin pie filling
Sugar: A mix of granulated and brown sugar
Dairy: Half-and-half or cream work best. You can also use canned evaporated milk if that's what you have on hand!
Pumpkin pie spices: Either a purchased pumpkin pie spice blend, or mix up your own blend with cinnamon, ginger, and nutmeg
White chocolate: I recommend white chocolate chips instead of chopped white chocolate bars
Marshmallow cream: you can substitute marshmallows if needed–see instructions below
Toasted pecans: I like using pecans best, but walnuts and hazelnuts would also be great!
You will also need a candy thermometer to cook the fudge. Fancy thermometers are great, but even a $10 candy/deep fry thermometer from the grocery store will get the job done! If you are new to using a thermometer, check out my guides for how to use a thermometer and how to test and calibrate a thermometer correctly.
📋 How to Make Pumpkin Fudge
Even the best-tasting fudge can be ruined if the texture isn't right. Nobody likes soft, gloopy fudge or hard, crunchy fudge full of sugar crystals. This Pumpkin Fudge has the perfect texture–it's firm enough to hold its shape when cut into squares, but it quickly melts in your mouth when you take a bite.
The secret weapon to getting this creamy texture? Marshmallow cream.
Traditional fudge requires precision and a lot of stirring to get the fudge to set "just so." Adding marshmallow cream eliminates the need for all that stirring, and practically guarantees that you'll end up with a soft but stable fudge.
Testing Your Candy Thermometer
Using a candy thermometer and cooking the fudge to the right temperature is the most crucial step in making awesome fudge.
If this is your first time using your candy thermometer, be sure to test it before you make the fudge. Here's how:
Bring a pot of water to a rolling boil, and stick the thermometer in for a few minutes. At sea level, water boils at 212° F / 0° C. If your thermometer shows a different number, you'll need to keep this adjustment in mind when making your candy.
For instance, if your thermometer shows 208° F when boiling the water, you'll need to subtract 4 degrees from the temperature in the recipe to make your fudge. Doing this simple test before making any sort of boiled sugar candy goes a long way towards ensuring candy success!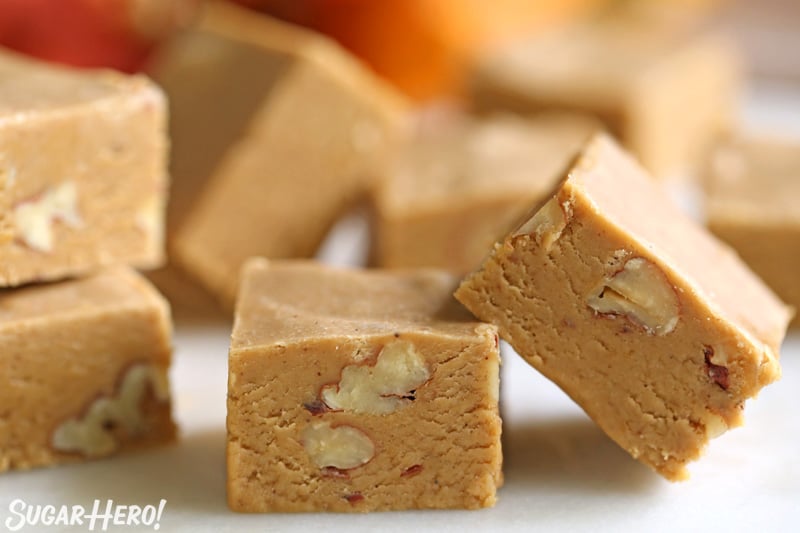 💡 Tips and FAQs
Substituting Marshmallows for Marshmallow Cream
The short answer is yes, if you have to. If you have access to marshmallow cream, definitely use that! But if all you have are marshmallows, you can use them in place of marshmallow cream.
To use marshmallows, you will need 3 cups of mini marshmallows or 24 regular marshmallows. Add them when you would add the marshmallow cream, and stir until they're completely melted and the fudge is smooth. Using marshmallows might cause the fudge to be a bit stiffer or set up faster, so be sure to work quickly to scrape and smooth the fudge into the pan.
Storage Tips
Like many fudge recipes, this Pumpkin Fudge keeps really well. Store pieces in an airtight container and enjoy over the course of several weeks, or make a few batches to give as edible gifts this holiday season.
🎃
More Pumpkin Desserts