This post may contain affiliate links. As an Amazon Associate I earn from qualifying purchases. Please see my disclosure policy for more information.
These Raspberry Rhubarb Almond Bars are the perfect blend of nutty and fruity. They start with a buttery almond crust, layered with a sweet, tart raspberry rhubarb jam and a sprinkled crumb topping.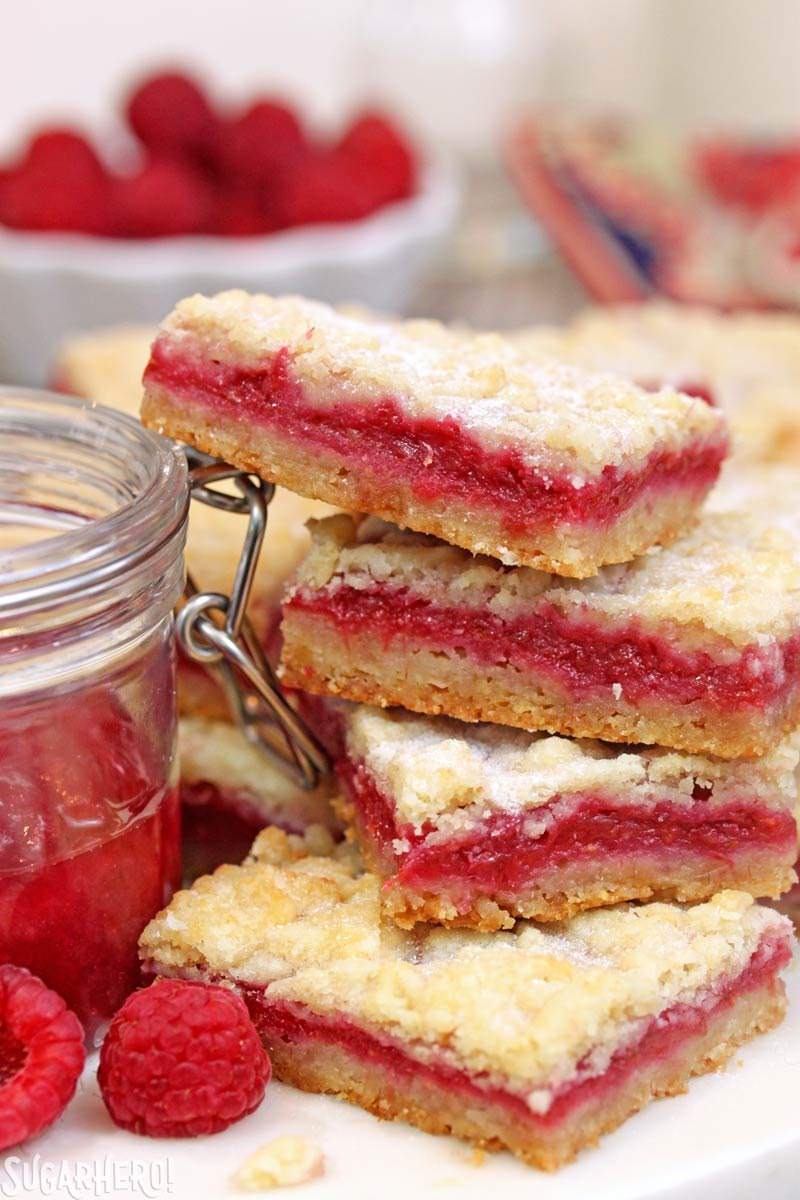 Last weekend was my son's fourth birthday party, and if you follow me on Snapchat, you know that also means that last week was my own private party planning hell. (Sidenote: come find me on Snapchat! I'm elabau! Let's be besties!) I basically put off almost all of the planning and baking until the last minute, so I was a bit of a stressball leading up to the party.
I'll be sharing party deets next week, so I won't get into the agony and the ecstasy of it all right now. The important thing is that I was feeling super busy and crunched, so when I needed a last-minute dessert for something else, I turned to these Raspberry Rhubarb Almond Bars.
These little bars with the big name came to the rescue! These babies are delicious, easy, and the perfect vehicle to showcase all of that spring rhubarb that's appearing in markets now.
They start with a buttery almond crust that has lots of almond paste mixed into it. The paste gives it a slightly softer texture than traditional shortbread crusts, as well as intense almond flavor. Most of the crust is pressed into the pan, but some is reserved to sprinkle over the top like a crumb topping.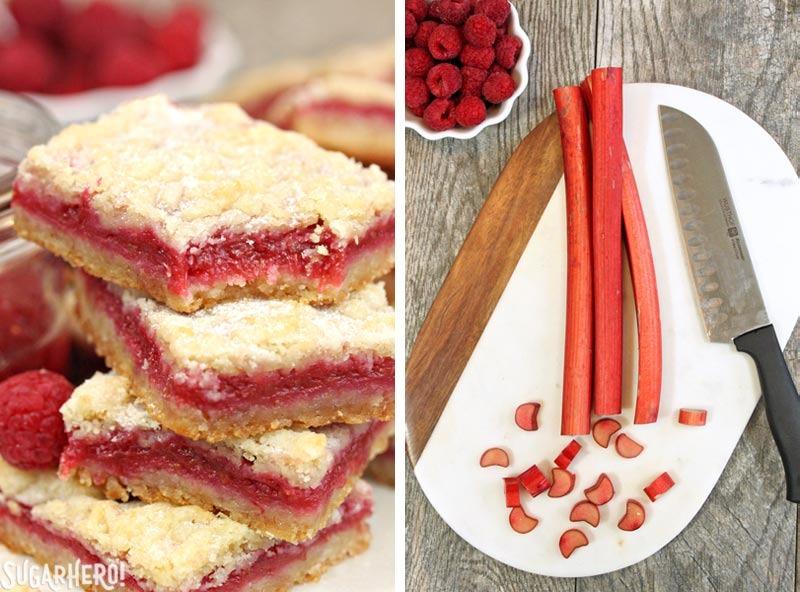 And the filling—that's where things get really exciting! I made a homemade raspberry-rhubarb jam to go in between those layers of buttery almond goodness. And in this case, "jam" just means a bunch of good stuff bubbling together in a pan until it gets nice and think—nothing complicated and nothing scary. If you don't have the time or inclination, you can substitute your favorite store-bought jam, but if the gorgeous red stalks of rhubarb have been calling to you the way they've been calling to me, I highly suggest giving the jam a try.
I actually made 2 batches of jam—one for the bars, and one to have on toast and sandwiches. As long as you keep it in the fridge and use it within a week or two, you should be golden—no need to officially "can" it or do anything scary involving sterilized water baths.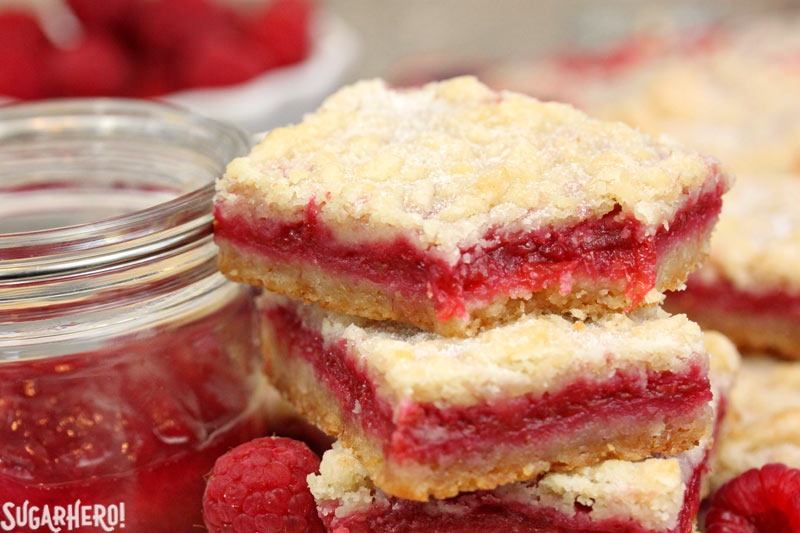 These bars are the perfect blend of sweet and tart, and nutty and fruity. I have a feeling I'll be making them all summer long—they're total party food and are just begging to be brought to a picnic, barbeque, or outdoor concert!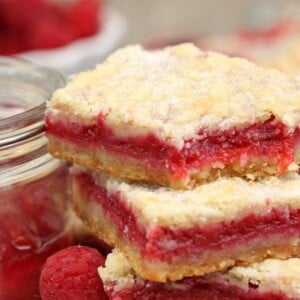 Raspberry Rhubarb Almond Bars
These Raspberry Rhubarb Almond Bars are the perfect blend of nutty and fruity. They start with a buttery almond crust, layered with a sweet, tart raspberry rhubarb jam and a sprinkled crumb topping.
Ingredients
For the Raspberry Rhubarb Jam:
8

oz

rhubarb stalks

, (

2 large or 3 medium

, to yield

2 cups

chopped pieces)

6

oz

fresh raspberries

,

(1 1/2 cups)

3.5

oz

granulated sugar,

(1/2 cup)

, up to

5.25 oz (3/4 cups)

can be added according to taste

1

tsp

vanilla extract

2

tsp

lemon juice

,

fresh
Instructions
To Make the Raspberry Rhubarb Jam:
Wash the rhubarb stalks, cut off the ends, and chop them into small pieces less than 1/2-inch wide. You should have about 2 cups of chopped rhubarb.

Combine the rhubarb, raspberries, sugar, vanilla, and lemon juice in a medium saucepan over medium heat. Stir occasionally while it heats up and the sugar melts, then once it comes to a simmer, lower the heat to medium-low and continue to cook the jam until the fruit breaks down, most of the liquid boils off, and it has a thick, jammy texture. (It will continue to thicken as it cools.) This should probably take about 15-20 minutes.

Once the jam is cooked, remove it from the heat and cool it to room temperature before using. It can be made in advance and kept in the refrigerator for up to 2 weeks.
To Make the Almond Crust and the Bars:
Preheat the oven to 350 F. Line a 9×13-inch baking pan with foil and spray the foil with nonstick cooking spray.

Coarsely chop the almond paste into pieces and put it in a food processor. Process in long pulses until the almond paste is in fine crumbs, then remove it from the processor.

Place the flour, powdered sugar, salt, and baking powder in the processor, and pulse briefly to combine. Add the cold cubed butter, and pulse in long pulses until the mixture is crumbly, but holds together if you press a ball of it between your fingers. Add the almond paste crumbs and almond extract, and process in short bursts until it's well-mixed. (The dough will still be crumbly.)

Separate out about 1 1/4 cups of the crust and set it aside for later. Take the remaining crust mixture and press it into an even layer in the bottom of the pan. Bake the bottom crust at 350 F for 15 minutes, until it is puffed and just starting to take on some color.

Spread the jam out into an even layer on the baked crust, and sprinkle the reserved crust mixture over the top. (Don't worry about getting perfectly even coverage, it will puff and spread as it bakes.)

Bake the bars for an additional 28-43 minutes, until the filling is bubbling and the top crust is golden brown. Remove from the oven and cool to room temperature.

Using the foil as handles, remove the bars from the pan and cut them into small squares. Top them with a dusting of powdered sugar. Remaining bars can be kept in an airtight container in the refrigerator for up to a week.
Recipe Notes
If you want to speed up this recipe, you can substitute 1 1/2 cups of your favorite store-bought jam for the homemade raspberry-rhubarb jam in the recipe.
MEASURING TIPS
Our recipes are developed using weight measurements, and we highly recommend using a kitchen scale for baking whenever possible. However, if you prefer to use cups, volume measurements are provided as well. PLEASE NOTE: the adage "8 oz = 1 cup" is NOT true when speaking about weight, so don't be concerned if the measurements don't fit this formula.
Click here to learn more about baking measurements and conversion.
Nutrition
Serving:
24
g
|
Calories:
169
kcal
|
Carbohydrates:
18
g
|
Protein:
2
g
|
Fat:
10
g
|
Saturated Fat:
5
g
|
Cholesterol:
20
mg
|
Sodium:
75
mg
|
Potassium:
98
mg
|
Fiber:
1
g
|
Sugar:
8
g
|
Vitamin A:
250
IU
|
Vitamin C:
2.8
mg
|
Calcium:
37
mg
|
Iron:
0.7
mg
Share by Email
Share on Facebook
Share on Pinterest