This Strawberry Rhubarb Pavlova has a hard, crunchy meringue outside, marshmallowy inside, piles of softly whipped cream, a vanilla-rhubarb compote and fresh strawberries. This is one spectacular summer dessert!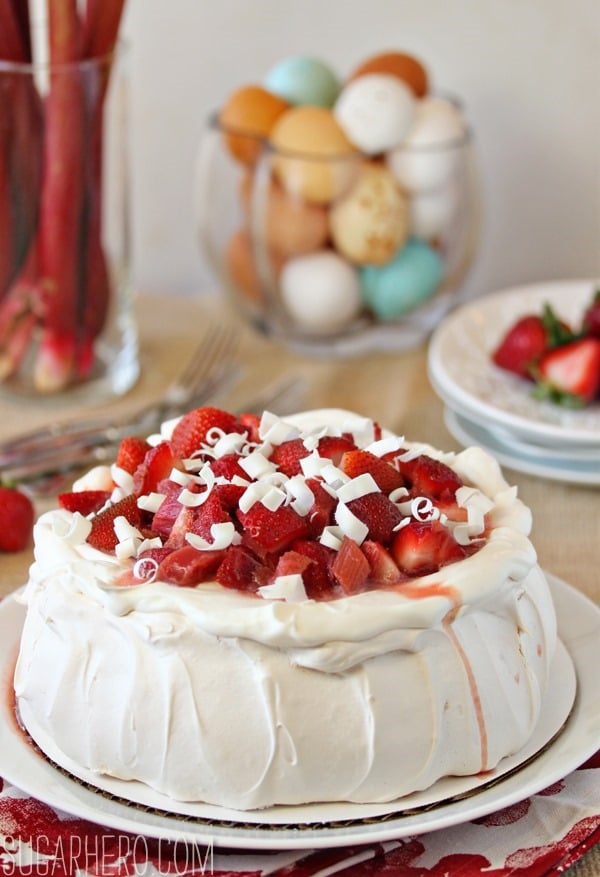 As you might know, I'm married to a very enthusiastic eater. It's wonderful. He appreciates all of the desserts I slave over, but he also likes the ones that sort of flop. Making a cake that totally sinks, or cookies that spread into shapeless blobs, doesn't feel like a complete failure when there's someone eagerly gobbling down the remains a few steps behind you. And dinner? I quit trying a long time ago! If he's happy with grilled chicken and salad, you can bet this kitchen-weary gal is happy with grilled chicken and salad.
The best feeling, though, is making something that he adores. My fellow cooks probably know what I mean. There's something so satisfying about seeing someone take wholehearted pleasure in eating a dish you've made. It more than makes up for the experiments that don't turn out and the piles of dishes and that one spot on your arm where you burn yourself reaching into the oven every stupid time.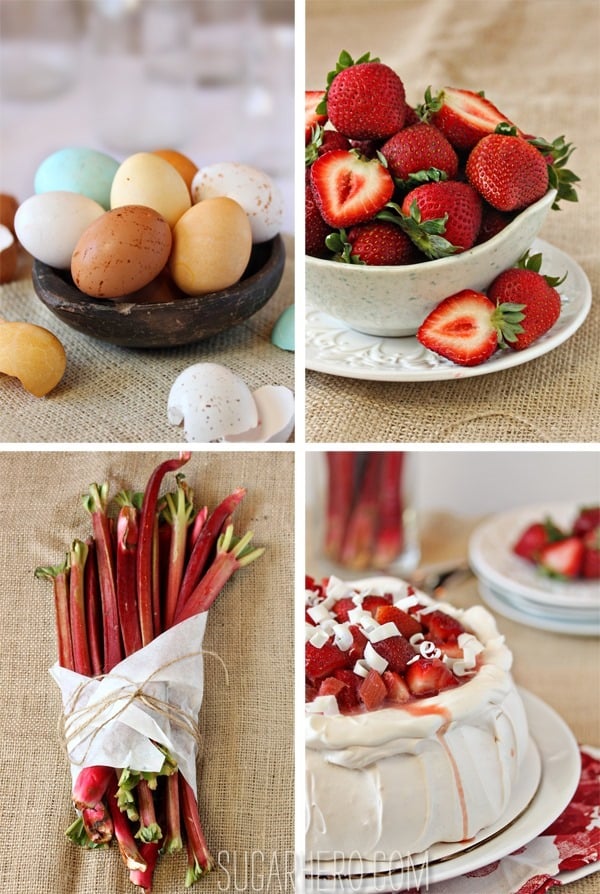 I made this Strawberry Rhubarb Pavlova recently, and I knew I had a winner right away. He finished one slice, immediately helped himself to a second, and then said in a near-whisper, complete with Serious Eyebrows, "Don't write on your blog how quickly I eat this whole thing, okay?"
I love him, I respect him, and I won't divulge the shameful secret of how quickly the pavlova disappeared. But I will tell you it was not long for this world, and it's not hard to figure out why. With a crunchy meringue outside, marshmallowy inside, piles of softly whipped cream, a vanilla-rhubarb compote and fresh strawberries, this is one spectacular summer dessert you'll want to gobble, too.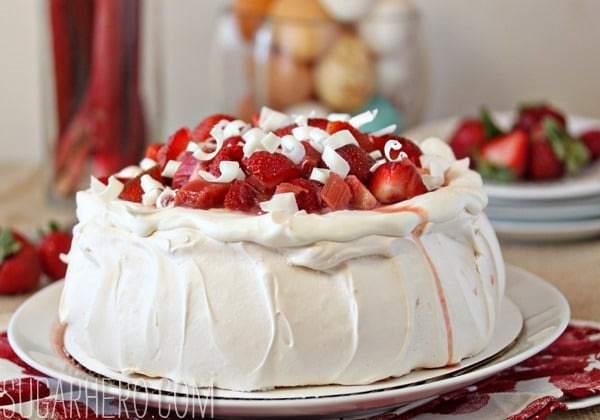 I actually made this pavlova 3 times before I was happy with it. (This might explain why I was so delighted to see Jason chowing down.) The first time, I followed some bad advice from Bon Appetit and attempted to add brown sugar, which made it unpleasantly grainy and with a strong molasses taste. The second time, I stuck to white sugar but had the oven too hot, so my pavlova was a sad cracked mess by the end of baking. (Here's some Instagram evidence.)
The third and final time, I had my ingredients nailed down. I had my temperature dialed in. And I bumped up the egg whites and sugar a bit, to make a tall, generous, regal pavlova worthy of all the fruit and cream piled on top. Victory!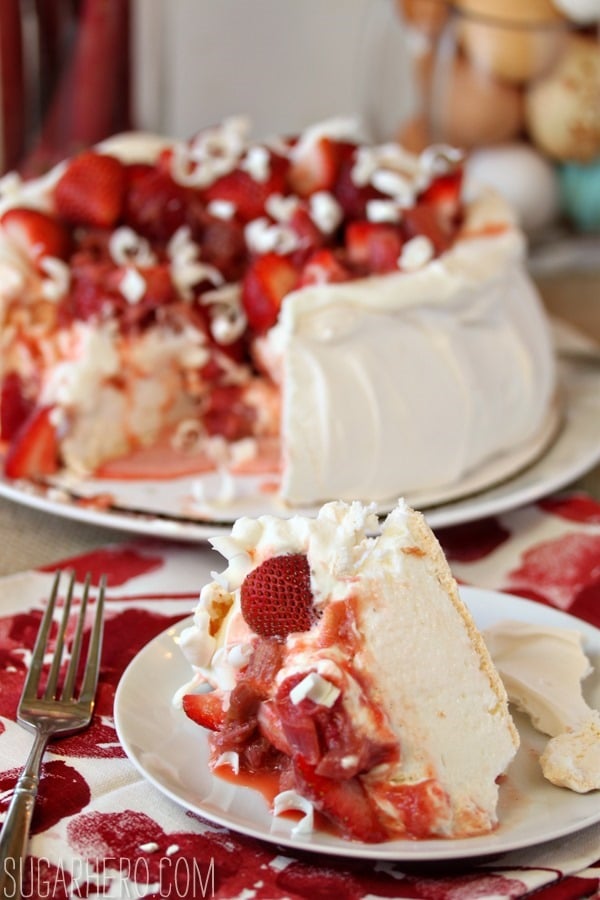 A slice of pavlova has to be near the top of the list of Things That Are A Beast to Photograph (along with quick-melting ice cream and bread pudding). As soon as you cut into it, the meringue loses its structural integrity, and the cream and fruit make a slow slide to the plate. However, I tried to get you a few (messy) shots of the cut dessert, so you can see the marvelous texture of the pavlova: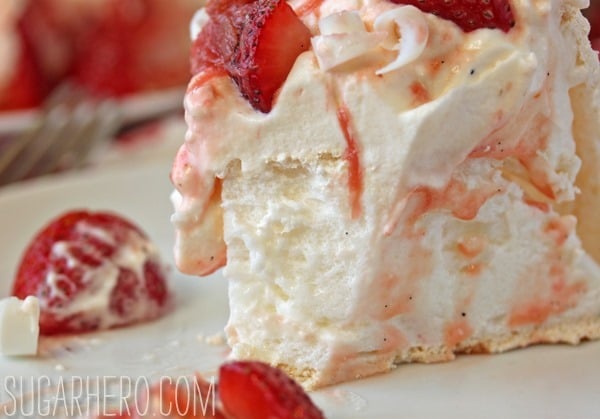 The outside is hard and crunchy, like a meringue cookie, but the inside is soft, like a plush marshmallow. If you think you hate meringue (and I don't blame you!) you just might find that you still love pavlova, especially when it's topped with softly whipped cream and fresh fruit.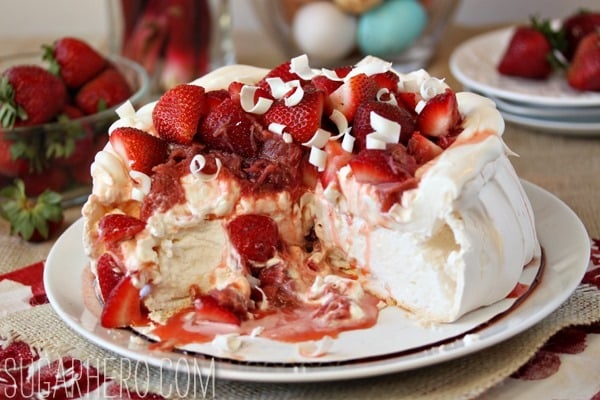 I topped mine with a rhubarb-vanilla compote, mixed with uncooked strawberries, so the final texture had soft, tangy rhubarb and firm, sweet strawberries. You can use whatever fruits you have handy: any berries work, as do slices of mango, kiwi, pomegranate arils, currants, or just about anything else! I added a few white chocolate shavings on top, but toasted nuts also work, or leave it plain and let the fruit shine.
Give this fabulous summer dessert a try, and remember: you don't have to tell anyone else how quickly it disappears.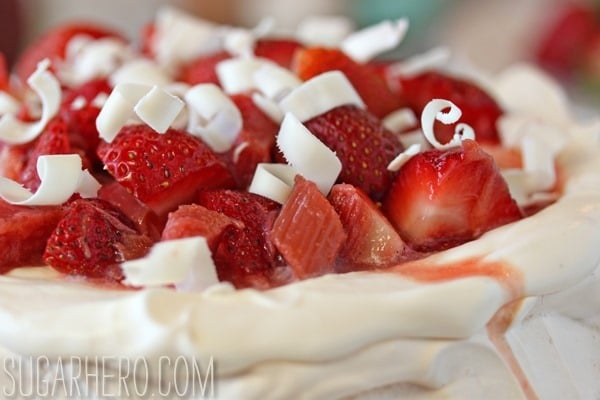 💖More Rhubarb Desserts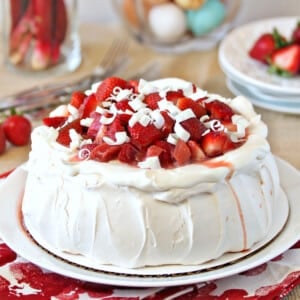 Strawberry Rhubarb Pavlova
This Strawberry Rhubarb Pavlova has a hard, crunchy meringue outside, marshmallowy inside, piles of softly whipped cream, a vanilla-rhubarb compote and fresh strawberries. This is one spectacular summer dessert!
Ingredients
For the Pavlova:
5

large egg whites

at room temperature

1/4

tsp

salt

1 1/4

cups

superfine sugar

aka caster sugar or baker's sugar

2

tbsp

cornstarch

2

tsp

white vinegar
For the Rhubarb Compote:
6

rhubarb stalks

fresh preferred

1

vanilla bean

or

2 tsp

vanilla extract

1

cup

orange juice

2/3

cup

granulated sugar

or more to taste
For Assembly:
1 1/3

cup

heavy cream

1/3

cup

powdered sugar

1

tsp

vanilla extract

1

pint

fresh strawberries

washed and coarsely chopped

white chocolate shavings

to garnish, optional
Instructions
To Make the Pavlova:
Preheat the oven to 250 F (121 C). Cover a baking sheet with parchment, and trace a 7-inch circle on the parchment. (The pavlova will grow a bit as it bakes, so make sure you have a little space on the sides of your circle.) Spray the parchment lightly with nonstick cooking spray, and dust it with powdered sugar.

Place the room temperature egg whites and the salt in the very clean and dry bowl of a stand mixer fitted with a whisk attachment. Any trace of fat might cause the whites to not whip properly, so make sure the bowl and whisk are clean, and that there are no traces of yolks in the whites. Whip the whites with the salt on medium-high speed until they hold stiff peaks. Don't over-whip and let the white get crumbly and dry.

Once at stiff peaks, turn the mixer to medium speed and add the sugar, a tablespoon at a time, over the course of 2-3 minutes. You want to incorporate the sugar gradually so it all dissolves easily. After all the sugar is added, scrape the bottom and sides of the bowl with a rubber spatula, then beat the egg whites on high speed for 5-6 minutes, until the whites are very glossy and stiff, and the sugar is completely dissolved. If you rub the meringue between your fingers or taste it, you shouldn't feel any of the sugar crystals.

When the whites are done, add the vinegar and sift the cornstarch over them, and gently fold them in, stopping as soon as everything is mixed. Scrape the meringue onto the parchment and spread it into a circle on your pattern, making the edges a bit higher than the center. Don't overwork the meringue, just coax it gently into a circle.

Bake the pavlova for 1 hour and 15 minutes at 250 F, then turn the oven off. As the oven cools you can crack the door slightly, but don't open it all the way or remove the pavlova until it's completely cool. The cooling process will take another hour or two. The pavlova might crack as it cools, which is also completely normal. The pavlova can be made in advance and stored at room temperature, lightly covered with cling wrap, for up to 5 days.
To Make the Rhubarb Compote:
Trim off the ends of the rhubarb stalks and slice them into 1/2-inch pieces. You should have about 2 1/2 cups, or 11 oz, of rhubarb.

Split the vanilla bean in half and scrape out the seeds. Combine the vanilla bean pod, the seeds, the orange juice, and the sugar in a medium saucepan over medium heat. Stir until the sugar dissolves, and when the liquid comes to a simmer, add the rhubarb. Turn the heat to medium-low and continue to simmer the rhubarb, stirring once or twice, until it is tender, about 8 minutes.

Remove the pan from the heat and let it cool to room temperature. Remove the vanilla bean pod before serving. Compote can be made up to a week in advance and kept in the refrigerator until ready to use.
To Assemble:
Once the pavlova is completely cool, carefully loosen under the pavlova with a metal spatula or a knife. Slide a cardboard circle or a slim plate between the pavlova and the parchment, and transfer it to your serving plate.

Whip the cream with the powdered sugar and vanilla extract until firm peaks start to form. Pile the cream in the center of the pavlova.

Stir the strawberries into the rhubarb compote, and use a slotted spoon to pile the fruit on the whipped cream. Top with white chocolate shavings, if desired. Once assembled, the pavlova is best enjoyed the day it's made, but it will keep in the refrigerator for several days.
Recipe Notes
This recipe calls for superfine sugar, also known as caster sugar or baker's sugar. It's more finely ground that typical granulated sugar, and it produces a superior texture in the pavlova, without any grittiness. It can be found in the baking aisle of many stores, but if you can't find it, you can make your own by whizzing granulated sugar in a food processor for several minutes. It should be noticeably finer and a little powdery, like very fine sand, by the time you're done with it.
Measuring Tips
Our recipes are developed using weight measurements, and we highly recommend using a kitchen scale for baking whenever possible. However, if you prefer to use cups, volume measurements are provided as well. PLEASE NOTE: the adage "8 oz = 1 cup" is NOT true when speaking about weight, so don't be concerned if the measurements don't fit this formula.
Want to learn more about baking measurements and conversion?
Nutrition
Calories:
355
kcal
|
Carbohydrates:
53
g
|
Protein:
3
g
|
Fat:
15
g
|
Saturated Fat:
9
g
|
Cholesterol:
54
mg
|
Sodium:
122
mg
|
Potassium:
322
mg
|
Fiber:
1
g
|
Sugar:
46
g
|
Vitamin A:
690
IU
|
Vitamin C:
53.5
mg
|
Calcium:
73
mg
|
Iron:
0.4
mg
Tried this recipe?
Snap a pic and hashtag it #SugarHero. We love to see your creations on our Instagram @elabau.