This Rhubarb Streusel Tart has a simple crust and sweet-tart rhubarb filling. It's topped with a show-stopping streusel made with rich browned butter and crunchy sliced almonds!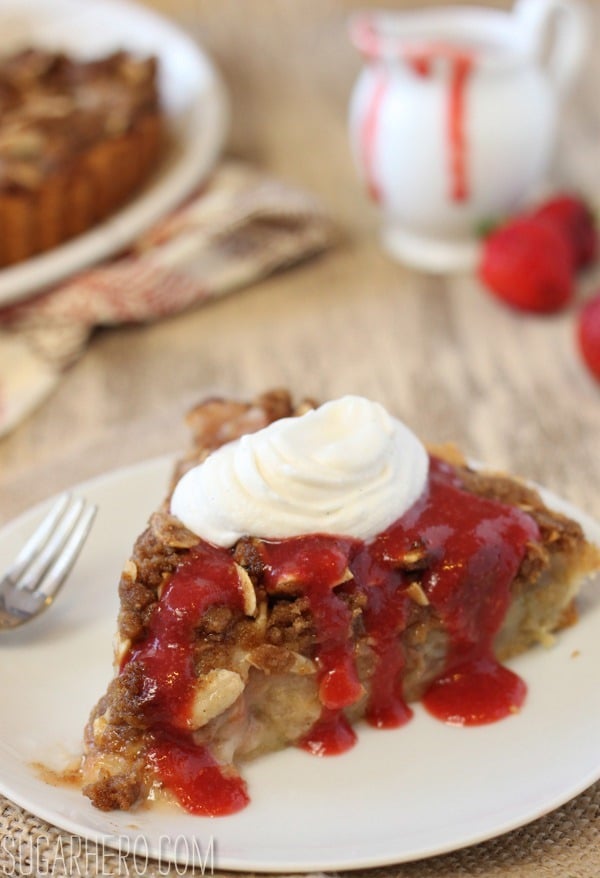 Imagine me doing my best Jerry Seinfeld impersonation for a second: What is the deal with rhubarb?
I mean seriously: what's up, rhubarb? It's a culinary mutt. It grows in stalks like celery, it's red like berries, it's tart like lemons, and it gets mushy like apples. Oh yeah, and it's a vegetable that's basically only served in desserts. I love it, but I don't understand it.
It also seems to be one of those foods that has no logical pricing structure. Depending on the store, the day of the week, and possibly the phase of the moon, it's either dirt-cheap or outrageously, sell-your-sister expensive at stores in my area.
When it swings toward the cheap end of the spectrum, I stock up on stalks and get to preppin'. I peel the rhubarb and cut it into small chunks, then freeze it for use throughout the year.
I could lie and tell you I use my frozen rhubarb in a variety of new and innovative ways, each one more creative and daring than the last, but the truth is, whenever I cook with rhubarb, I'm making this exact tart. It's like the dessert version of Groundhog Day, only way less annoying and with 67% less Bill Murray.
The tart filling couldn't be simpler—it's just rhubarb, sugar, flour, and a bit of lemon zest. The streusel topping is what really makes it special. It's made with browned butter and sliced almonds, so it's rich and nutty and really crunchy. If you're familiar with rhubarb you know it gets quite soft when it's cooked, so it needs to be paired with a crunchy texture to balance it out.
I usually just serve this tart with a bit of whipped cream, but last time I made it I found myself with some extra strawberry puree, so I drizzled that on top. I quite liked the addition of the berries and might make this the new standard from now on. You can top it with ice cream instead, if you prefer.
💗More Fruity Dessert Recipes
Mixed Berry Cobbler
This mile-high Blueberry Streusel Layer Cake is extra-tall, extra-gorgeous, and extra-delicious! It's a twist on the usual blueberry cake recipe, with six moist rounds of sour cream cake, layered with fresh blueberry sauce and sprinkled with streusel in between. 
View Recipe
Cast Iron Peach Crisp
Peach Crisp in a cast iron skillet? You betcha! This is the BEST peach crisp I've ever had, and if you try it, I think you'll agree! Fresh, juicy peaches are tossed with a bit of cinnamon and brown sugar, and the whole thing is topped with a delicious brown butter streusel. You'll have this recipe on repeat all summer long.
View Recipe
Rhubarb Streusel Tart
This Rhubarb Streusel Tart has a simple crust and sweet-tart rhubarb filling. It's topped with a show-stopping streusel made with rich browned butter and crunchy sliced almonds!
Instructions
To make the tart crust:
Combine the flour, sugar, and salt in the bowl of a food processor, and pulse several times to mix the dry ingredients together. Scatter the cold butter cubes on top and pulse in several 5-second bursts, until your mixture resembles the texture of coarse meal, with a few larger butter chunks scattered throughout.

Add the egg yolk and the cream and process the dough just until it starts to come together in moist clumps. Turn the dough out onto a cutting board and knead it briefly to bring it together.

Spray a 10-inch tart pan with nonstick cooking spray, then press the dough into the pan in an even layer. Place the pan in the freezer for 30 minutes.

Preheat the oven to 375 degrees Fahrenheit while you prepare the rest of the components.
To make the streusel:
Place the butter in a medium saucepan over medium heat and cook it, stirring frequently, until it turns golden brown and has a nutty fragrance. Watch it carefully during this process and be sure to scrape the bottom of the pan with a spatula during the cooking, so that it does not burn.

Once the butter is browned, remove the pan from the heat and stir in the sugar, almonds, cinnamon, and flour. Stir until all of the ingredients are incorporated and the mixture is moist. Spread it out on a plate or baking sheet and refrigerate the streusel to chill it quickly, for about 30 minutes.
To make the rhubarb filling:
Combine all of the ingredients in a large bowl and toss them together with your hands. Let it sit at room temperature for 15-20 minutes, until the rhubarb starts to give off a little juice.
To make the tart:
Spray the top of the tart dough with nonstick cooking spray, and press a sheet of foil on top of the dough. Add beans or rice to weight the foil down, and blind-bake the tart for 15 minutes, until the sides have a little color. Remove the foil and the beans or rice, and bake the tart for an additional 10 minutes, or until the middle no longer looks wet and has a light golden color.

Lower the oven temperature to 350 degrees Fahrenheit.

Spoon the rhubarb filling into the warm tart shell and spread it into an even layer. Break the cold streusel apart into small chunks and scatter them over the rhubarb. It may look like your tart is very full, but the ingredients will cook down.

Line a baking sheet with parchment or foil, and place the tart on the sheet. (Make sure to protect your baking sheet—this tart has a tendency to bubble up, and can make a mess if your sheet is bare.)

Bake the tart for about 60 minutes, until the filling is bubbling around the edges and the streusel is a golden brown color. Cool for 30 minutes, and serve slices of the tart warm, with whipped cream or ice cream on top.
Recipe Notes
Measuring Tips
Our recipes are developed using weight measurements, and we highly recommend using a kitchen scale for baking whenever possible. However, if you prefer to use cups, volume measurements are provided as well. PLEASE NOTE: the adage "8 oz = 1 cup" is NOT true when speaking about weight, so don't be concerned if the measurements don't fit this formula.
Want to learn more about baking measurements and conversion?
Nutrition
Calories:
387
kcal
|
Carbohydrates:
53
g
|
Protein:
4
g
|
Fat:
18
g
|
Saturated Fat:
10
g
|
Cholesterol:
58
mg
|
Sodium:
174
mg
|
Potassium:
221
mg
|
Fiber:
2
g
|
Sugar:
30
g
|
Vitamin A:
560
IU
|
Vitamin C:
4
mg
|
Calcium:
77
mg
|
Iron:
1.6
mg
Tried this recipe?
Snap a pic and hashtag it #SugarHero. We love to see your creations on our Instagram @elabau.