Strawberry Basil Crumb Bars are light and refreshing fruit bars with a twist! They have a shortbread base, a crumble topping, lots of strawberry filling, and just a hint of fresh basil to mix it up.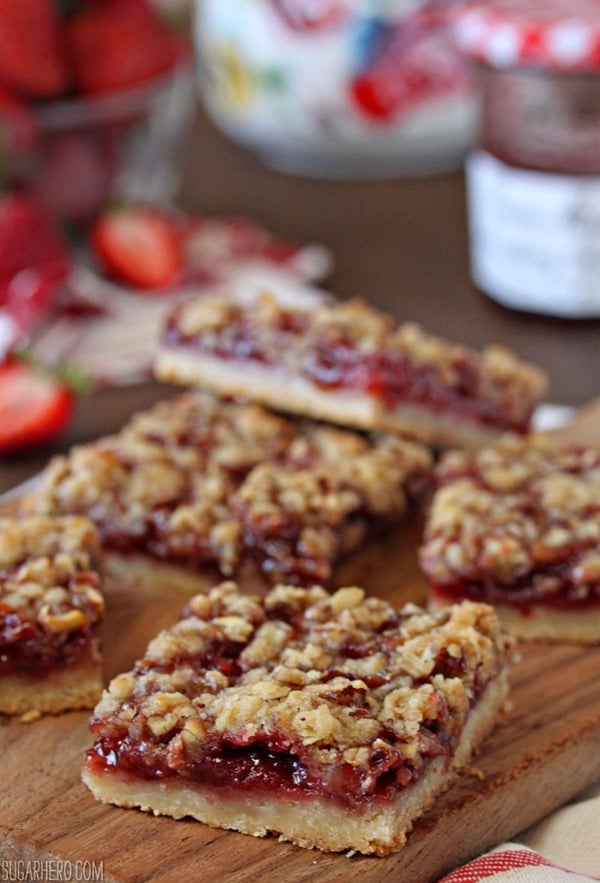 I love basil, which is why I have committed to never owning another basil plant. It's just too painful to watch them enter the house with bright hopes and green leaves, only to see them quickly wither and die under my not-so-watchful eye.
I have the best of intentions, I do…but maybe potted basil + hot Southern California sun + my balcony + my forgetfulness are not the best combination. After chucking one too many shriveled-up husks of basil plants into the trash, I've decided I'm strictly a buy-it-by-the-bunch sort of girl, at least until I can be trusted with the task of watering them responsibly. RIP, good buddies.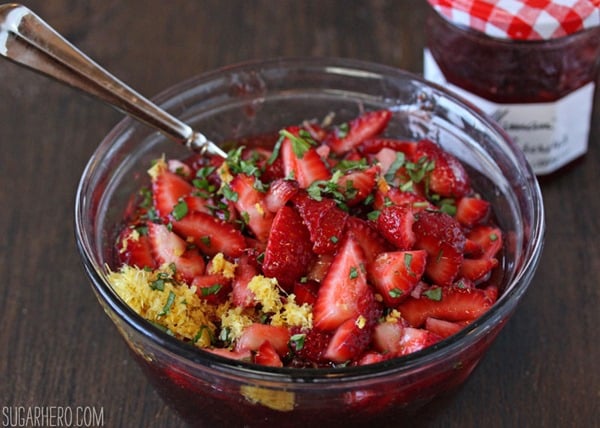 I put some of that store-bought and oh-so-healthy basil to good use in these Strawberry Basil Crumb Bars. They look simple—and they are easy to make!—but they're packed with different flavors: strawberry preserves, fresh strawberries, lemon zest, and fresh basil. They're light and summery, perfect for picnics and alfresco dinners and eating cold from the refrigerator when you intended to have fresh fruit instead…whoops.
I don't think you can ever go wrong with combining strawberries and basil, but if the thought makes you nervous, you are a) a wussy who could use some adventure in your life and b) welcome to sub in fresh mint leaves instead, or leave out the herbs entirely. The strawberry and lemon will still be all up in your bars, making them taste amazing.
The genius of this recipe is that although it's 3 layers, the top and bottom layer are made from the same base recipe, so it's really like you're making 2 layers. And if one of those layers is basically jam and berries, it's really more like 1.5 layers. See, these bars practically make themselves while you paint your nails and/or watch your summer television show of choice. It's a good life.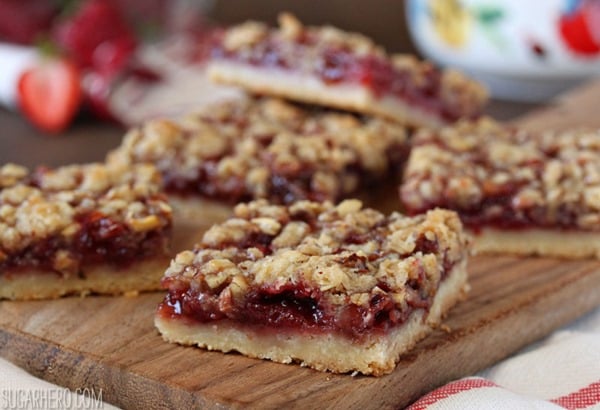 You all know I'm usually a chocolate sort of girl, but these bars made me a believer in the power of the berry. (Buuuut if you did want to throw in some chocolate, I'm sure a handful of mini chips wouldn't be a bad addition either.) Let's give summer a big bear hug and stuff our desserts with all the fresh produce & flavors we can find. Happy baking!
🍓 More Delicious Strawberry Recipes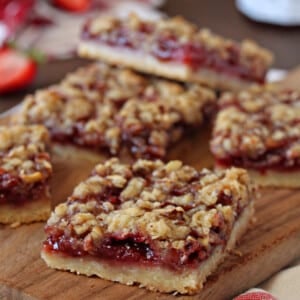 Strawberry Basil Crumb Bars
Strawberry Basil Crumb Bars are light and refreshing fruit bars with a twist! They have a shortbread base, a crumble topping, lots of strawberry filling, and just a hint of fresh basil to mix it up.
Ingredients
10.66

oz

all-purpose flour

(2 1/2 cups)

4.33

oz

granulated sugar

(2/3 cup)

1/2

tsp

salt

9

oz

unsalted butter

(2 sticks + 2 tbsp)

, at cool room temperature

1.75

oz

brown sugar

(1/4 cup)

, packed

2

oz

old-fashioned oats

(1/2 cup)

2.25

oz

toasted pecans

(1/2 cup)

, finely chopped

9

oz

fresh strawberries

(2 cups)

, coarsely chopped

2

tbsp

granulated sugar

1

tbsp

lemon juice

freshly squeezed preferred

6

large

fresh basil leaves

finely chopped

2

tbsp

fresh lemon zest

(from approximately

2

large lemons)

15

oz

strawberry jam

(1 1/4 cups)

, good-quality
Instructions
Preheat the oven to 350 F. Line a 9×13-inch pan with foil, and spray the foil lightly with nonstick cooking spray.

Combine the flour, 2/3 cup granulated sugar, and salt in the bowl of a large stand mixer fitted with a paddle attachment. Mix them together on low speed until well-combined. Add 8 oz (2 sticks) of softened butter, a tablespoon at a time, to the mixer and mix on low until the crust mixture starts to hold together and has the texture of wet sand.

Set aside 1 cup of the flour mixture in a medium bowl, then scatter the rest in the prepared 9×13 pan. Press it down into an even layer. Bake the crust at 350 F for 16-18 minutes, until it starts to take on a golden brown color.

While the crust is baking, prepare the crumb topping: add the brown sugar, oats, and pecans to the reserved flour mixture and stir them together. Add the remaining 2 tbsp of butter and work it into the mixture until you have a pebbly texture, then refrigerate the crumble topping until you're ready to use it.

Stir together the chopped strawberries, 2 tbsp granulated sugar, lemon juice, lemon zest, and chopped basil leaves in a large bowl. Let them sit at room temperature for 10 minutes, until the strawberries start to release their juice. Add the strawberry preserves and gently mash them together just to break up the berries a little bit.

When the bottom crust is done baking, spread the strawberry mixture on top of the crust, then top it with the crumble topping. Raise the oven's temperature to 375 F and bake the pan for an additional 25-30 minutes, until it is golden brown on top and the filling is bubbling out.

Cool the bars at room temperature for several hours, then use the foil as handles to lift them out of the baking pan. Cut them into small bars to serve.
Measuring Tips
Our recipes are developed using weight measurements, and we highly recommend using a kitchen scale for baking whenever possible. However, if you prefer to use cups, volume measurements are provided as well. PLEASE NOTE: the adage "8 oz = 1 cup" is NOT true when speaking about weight, so don't be concerned if the measurements don't fit this formula.
Want to learn more about baking measurements and conversion?
Nutrition
Calories:
282
kcal
|
Carbohydrates:
39
g
|
Protein:
2
g
|
Fat:
13
g
|
Saturated Fat:
6
g
|
Cholesterol:
27
mg
|
Sodium:
67
mg
|
Potassium:
81
mg
|
Fiber:
1
g
|
Sugar:
21
g
|
Vitamin A:
325
IU
|
Vitamin C:
9.7
mg
|
Calcium:
17
mg
|
Iron:
1.1
mg
Tried this recipe?
Snap a pic and hashtag it #SugarHero. We love to see your creations on our Instagram @elabau.