This post may contain affiliate links. As an Amazon Associate I earn from qualifying purchases. Please see my disclosure policy for more information.
This Roasted Banana Bundt Cake is a fun twist on a traditional banana bundt cake!  Pieces of Banana are roasted with butter and brown sugar, then the golden bruleed bananas and their syrupy juices are added to the cake.
I was excited about this cake for about two hours.
See, it's a fun twist on the traditional banana bundt cake. Instead of adding banana puree to a cake batter, the banana pieces are roasted with butter and brown sugar, then the golden bruleed bananas and their syrupy juices are added to the cake. Think of it like a Bananas Foster Cake, minus the booze and flames. Sounds great, right?
It is great. Don't get me wrong. It's just that I was really feeling this cake while I was making the batter and sneaking little tastes left and right. I was psyched the whole time it was baking. It smelled awesome! I couldn't wait to taste it. I was sure this cake and I would be soulmates.
But then…then I made the frosting.
This cake is frosted with a Browned Butter Cream Cheese Frosting. Once I tasted the frosting, the cake was dead to me, and all I cared about was getting more of that white stuff into my pie hole as quickly as possible.
Understand, I say this as someone who doesn't particularly care about cream cheese frosting one way or another. It's fine, but I've never particularly craved it or anything. But browning the butter brings this frosting to a whole new level. It adds a depth, a complex nuttiness, that perfectly complements the tangy cream cheese and vanilla flavor. It's ridiculous, in the best way, and it made tasting my poor, sweet Roasted Banana Cake a little anti-climactic.
I hope I haven't talked you out of the cake, because it's not the cake's fault it's paired with such a fine specimen of frosting-hood. I stuffed my cake with cinnamon and semi-sweet chocolate chunks, and it was a lovely accompaniment to the main event. (That would be the frosting, of course.) You can always add nuts or dried fruit to the cake instead of chocolate, or just leave it plain and enjoy the chunks of roasted bananas. Just don't leave off the frosting!
P.S. I've updated the Book page. My baby now has an official cover that I'm allowed to share! Feel free to take a peek and pet the screen, if you are so inclined. No judgment here.
Strawberry Swirl Bundt Cake
Looking for the perfect bundt cake? Try this Strawberry Swirl Bundt Cake – a moist vanilla cake with a strawberry swirl inside, topped with fresh berries and beautiful buttercream flowers! 
Get the recipe!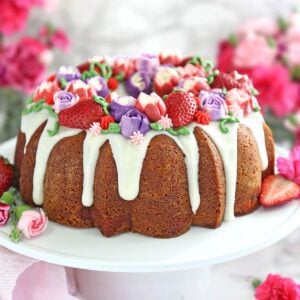 Orange Bundt Cake
If you like big bundts, you'll love this Orange Bundt Cake! This classic homemade bundt cake has a tender texture, a bright orange flavor, and is drenched in a tangy orange glaze.
Get the recipe!
Roasted Banana Bundt Cake
This Roasted Banana Bundt Cake is a fun twist on a traditional banana bundt cake!  Pieces of Banana are roasted with butter and brown sugar, then the golden bruleed bananas and their syrupy juices are added to the cake.
Ingredients
For the cake:
3

cups

large bananas

, sliced & very ripe (about

4-5

small bananas)

1/2

cup

brown sugar,

packed

1 ½

tbsp

unsalted butter

,

cold, cut into small pieces

14.17

oz

all-purpose flour,

(3 ⅓ cups)

1

tsp

baking soda

3/4

tsp

baking powder

1/2

tsp

salt

1

tsp

ground cinnamon

3

fl oz

buttermilk

,

(1/4 cup + 2 TBSP)

at room temperature

2

tsp

vanilla extract

6

oz

unsalted butter

,

at room temperature

12.25

oz

granulated sugar,

(1 3/4 cups)

3

large eggs

,

at room temperature

1/2

cup

semi-sweet chocolate chunks
For the frosting:
3

oz

unsalted butter

4

oz

cream cheese

,

at room temperature

12

oz

powdered sugar

,

(3 cups),

sifted

2

tsp

vanilla extract

2

tbsp

milk

,

or more to taste

1/4

cup

pecans,

toasted, chopped, optional
Instructions
To make the cake:
Preheat the oven to 400 degrees Fahrenheit. Spray a 10- to 12-cup bundt pan with baking spray or nonstick cooking spray.

Toss together the sliced bananas, packed brown sugar, and cold cubed butter in an 8×8 dish and roast the bananas for about 30-40 minutes. Stir every 15 minutes, and roast the bananas until they are bubbling and have golden brown spots. Reduce the oven temperature to 350 degrees, and set the bananas aside to cool slightly until warm but not hot to the touch.

In a bowl, whisk together the flour, baking soda, baking powder, salt, and cinnamon.

In a separate bowl, combine the buttermilk, roasted banana pieces, and vanilla extract. The banana pieces will be very soft and might start disintegrating a little, but some pieces should still hold their shape.

In the bowl of a large mixer, combine the softened butter and the granulated sugar, and beat until light and fluffy. Add the eggs one at a time, and beat until well-incorporated and smooth. Scrape down the bottom and sides of the bowl.

With the mixer running on low, add a third of the flour mixture, and mix until it is almost incorporated. Add half of the buttermilk, again mixing until it's mostly mixed in. Add half of the remaining flour, then the rest of the buttermilk, and finish by adding the rest of the flour. Stop before it's entirely mixed in, and gently finish stirring everything together by hand. Add the chocolate chunks or any other mix-ins.

Scrape the cake batter into the prepared pan. Bake the bundt cake for 55-65 minutes, until the edges pull away and the center springs back when lightly pressed. Let the cake cool for 15 minutes at room temperature before carefully inverting it on a cooling rack and letting it cool completely.
To make the frosting:
Place the butter in a small saucepan over medium heat. Cook it, stirring frequently, until it is a medium brown color and has a nutty scent, about 7-8 minutes. Remove it from the heat and let it cool slightly.

Beat the cream cheese in a mixing bowl with a whisk attachment until smooth and free of lumps. Add the browned butter and mix well. Add the sifted powdered sugar and vanilla extract, and mix on low until the powdered sugar is moistened. Increase the speed of the mixer and beat until you have a very thick frosting.

Add the milk and beat until the frosting is light and fluffy. This will give you a lovely frosting that's perfect for spreading on cakes. If you would like an icing that is easier to pour, continue to add milk, a spoonful at a time, until it is the consistency you want.

Spread the frosting on the cooled cake and sprinkle the top with chopped toasted pecans. This cake can be wrapped in plastic wrap and kept at room temperature for up to a week.
MEASURING TIPS
Our recipes are developed using weight measurements, and we highly recommend using a kitchen scale for baking whenever possible. However, if you prefer to use cups, volume measurements are provided as well. PLEASE NOTE: the adage "8 oz = 1 cup" is NOT true when speaking about weight, so don't be concerned if the measurements don't fit this formula.
Click here to learn more about baking measurements and conversion.
Nutrition
Calories:
534
kcal
|
Carbohydrates:
69
g
|
Protein:
4
g
|
Fat:
27
g
|
Saturated Fat:
15
g
|
Cholesterol:
102
mg
|
Sodium:
423
mg
|
Potassium:
347
mg
|
Fiber:
2
g
|
Sugar:
52
g
|
Vitamin A:
805
IU
|
Vitamin C:
4.9
mg
|
Calcium:
63
mg
|
Iron:
1.5
mg
Share by Email
Share on Facebook
Share on Pinterest