This really is The Ultimate Banana Split! With three different kinds of ice cream and a huge assortment of toppings, this over-the-top dessert can feed a huge crowd!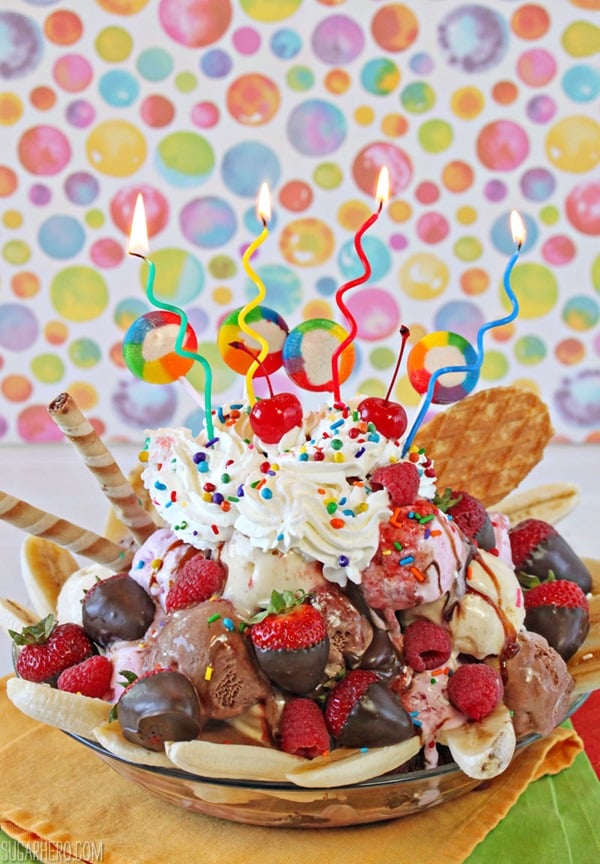 Ultimate. Ginormous. Towering. Honkin'. Pimped out. Pick your giant adjective of choice–however you want to describe it, this is one hyoooooge* banana split!
*I hope you said this with a Donald Trump voice, because I sure did.
Folks, today is National Banana Split Day, and as we all know, I am a slave to these fake holidays. Seriously, Jason should wise up and send me a fabricated press release about National Chips and Salsa for Dinner Day, because there is no surer way to get me excited about a food than to suggest that it has its own calendar holiday. I've never even assembled a banana split before, but after hearing about its Very Special Day, I became a banana-slicing, ice cream-scooping, cherry-topping fool.
I'm not sure if pictures can convey the size of this dessert beast. You're looking at a pound of brownie cubes, 7 whole bananas, 3 quarts of ice cream, a dozen chocolate-dipped strawberries, fudge, caramel, and strawberry sauces, and a boatload of sweet odds and ends from my kitchen.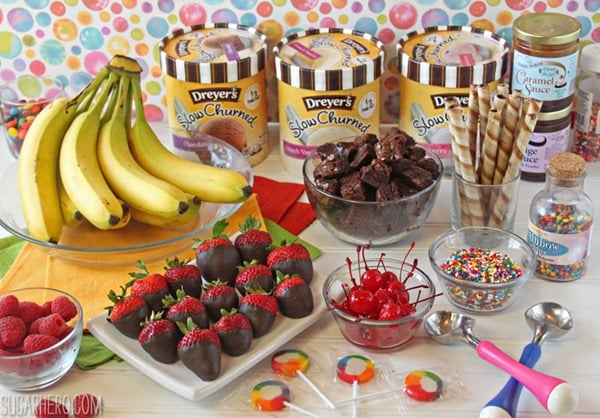 And before we go further, let me say that although I treasure the emails and comments I receive about how sugar is deadly and desserts are so unhealthy—I really, truly do—rest assured that this over-the-top dessert is meant to serve, like, a bajillion people (= at least 10) so save those angry emails for something really important, like that grumpy cat on YouTube who's always scowling at things. I mean, who does that jerk think he is?
So how do you take a banana split from average to awesome? Well, by adding basically every sweet thing your mind can dream up. I love brownie sundaes, so fudgy brownie chunks were a natural addition. I also like berries with my ice cream, so I thought I'd kick things up a notch by dipping my strawberries in chocolate before adding them to the split. And from there things rapidly spun out of control. Cookies! Sprinkles! Cherries! Lollipops! Must.Use.All.The.Things!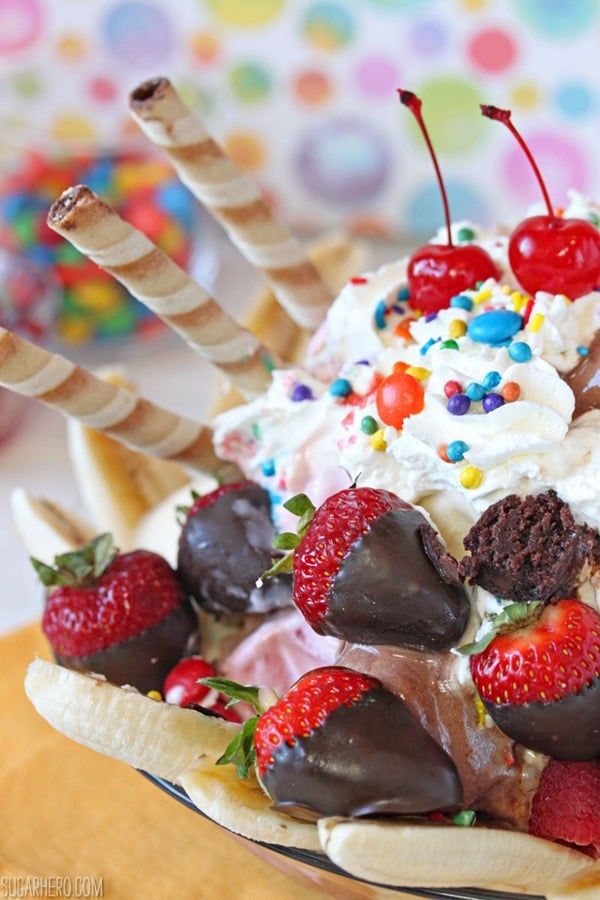 The end result was a towering banana split suitable for royalty. (But not that Prince George. He should stick to pureed peas for awhile.) Every bite had something different, and I particularly enjoyed doing some brownie excavation down into the bottom of the bowl—just call me the Indiana Jones of banana splits. As it sits the ice cream starts to melt a bit, meaning that the bottom layer has the most delicious mingling of brownies, banana chunks, soft ice cream, hot fudge, and any other fillin's that have managed to slip-slide their way down the bowl.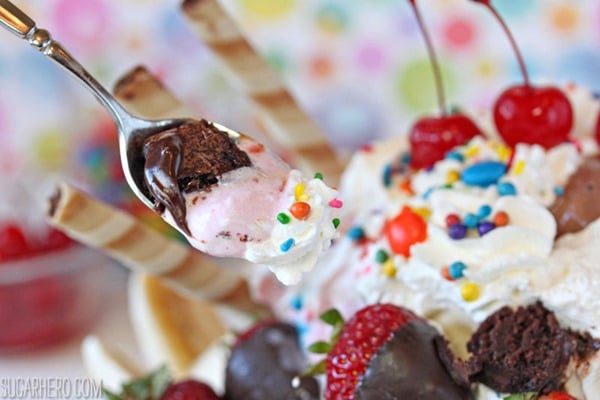 After assembly, you can dish the split up into individual bowls, or if your group is friendly, you can all gather around the giant bowl and just dig in with individual spoons. And hey, if they're not friendly, it's a terrific chance to make new friends. Spoon-jousting and fighting over the biggest chocolate-covered strawberries are great ways to meet new people.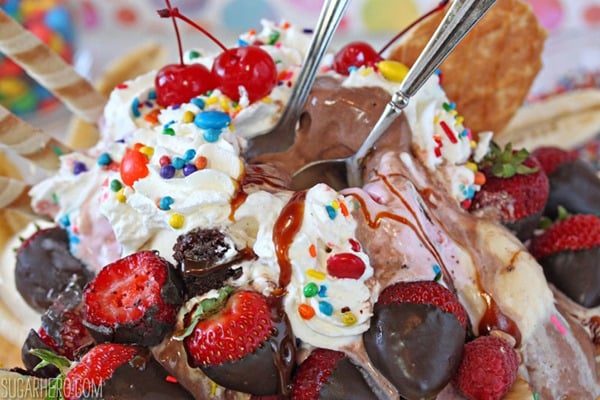 The best part is, this is a super-impressive but super-easy dessert to throw together. You can use all store-bought ingredients and whip it up in about 10-15 minutes, including slicing and scooping time. So, no excuses! I hope you're all able to celebrate National Banana Split Day in style!
🍦More Dessert Recipes You'll Love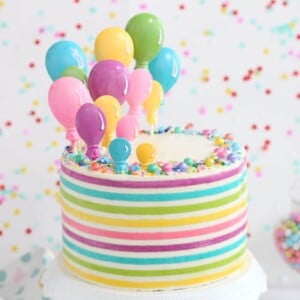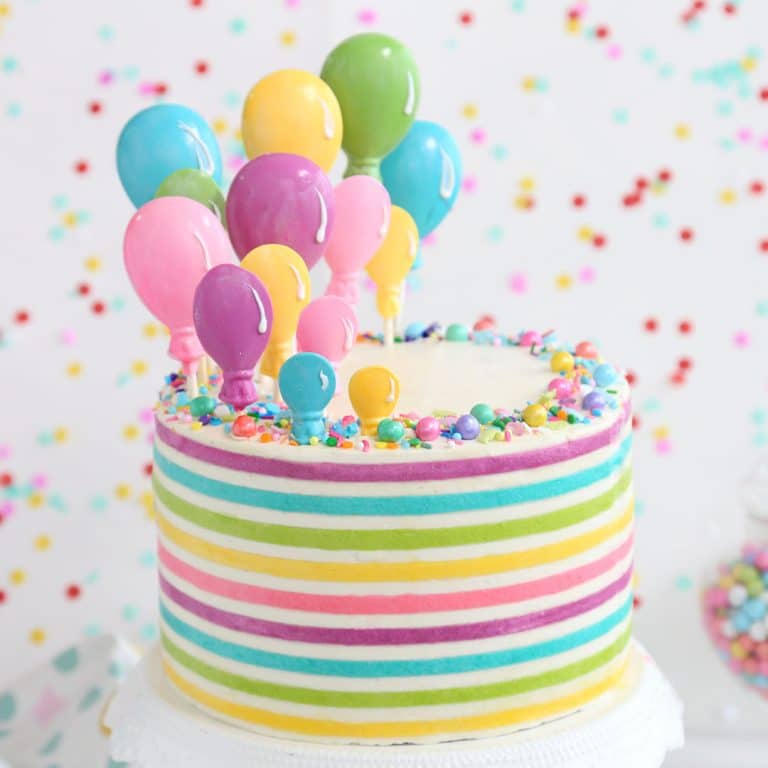 Striped Buttercream Balloon Cake
Is there anything more fun than buttercream stripes?! This cheerful cake trend is all the rage these days, and it adds a bit of whimsy to any cake design. For this Striped Buttercream Balloon Cake, I paired buttercream stripes with candy balloon lollipops, for the ultimate colorful birthday cake!
View Recipe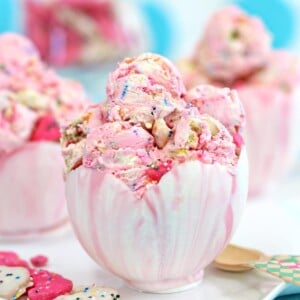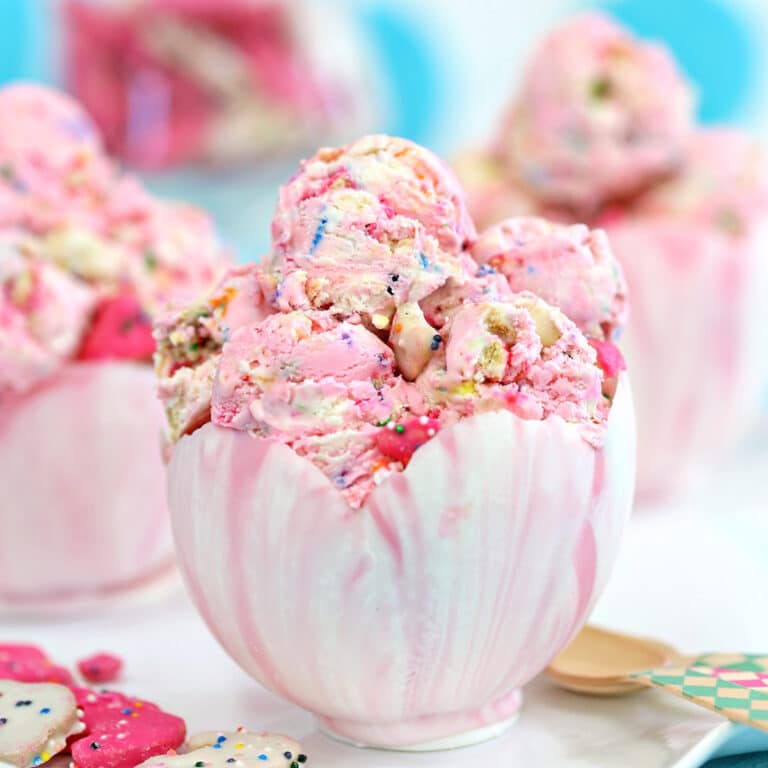 No-Churn Circus Animal Ice Cream
No-Churn Circus Animal Ice Cream is a sweet pink-and-white swirled ice cream, with LOTS of sprinkles and circus animal cookies mixed in! The best part is, you don't need an ice cream maker to make this treat.
View Recipe
The Ultimate Banana Split
This really is The Ultimate Banana Split! With three different kinds of ice cream and a huge assortment of toppings, this over-the-top dessert can feed a huge crowd!
Ingredients
4

cups

brownie cubes

,

(about 1 lb)

7-8

large bananas

3

quarts

ice cream

Fudge sauce

Caramel sauce

Strawberry sauce

Cookies

Chocolate-dipped strawberries

,

or other berries

Whipped cream

Sprinkles
Instructions
Scatter brownie cubes in the bottom of a wide, shallow bowl. Slice bananas in half lengthwise, and place them on top of the brownies, fanning outward in a circle. Top the bananas with scoops of ice cream. Drizzle the ice cream with fudge, caramel, and/or strawberry sauces. Garnish with cookies, whipped cream, sprinkles, cherries, or anything else you can dream up! The ice cream will start to melt fairly quickly, so pass out the spoons and dig in!
Recipe Notes
If you have the freezer room, I recommend pre-scooping the ice cream. Because the ice cream will start to melt as soon as it is scooped, and you'll buy yourself a few extra minutes of perfect banana split appreciation if you use frozen scoops of ice cream. Line a baking sheet or two with waxed paper, and soften the ice cream at room temperature for 5-10 minutes. Scoop the ice cream onto the sheets and return to the freezer until you're ready to assemble. Once it's go time, plop the pre-scooped ice cream on top of the bananas, finish assembling, and admire your handiwork before diving in!
Measuring Tips
Our recipes are developed using weight measurements, and we highly recommend using a kitchen scale for baking whenever possible. However, if you prefer to use cups, volume measurements are provided as well. PLEASE NOTE: the adage "8 oz = 1 cup" is NOT true when speaking about weight, so don't be concerned if the measurements don't fit this formula.
Want to learn more about baking measurements and conversion?
Nutrition
Calories:
823
kcal
|
Carbohydrates:
141
g
|
Protein:
11
g
|
Fat:
25
g
|
Saturated Fat:
5
g
|
Cholesterol:
29
mg
|
Sodium:
481
mg
|
Potassium:
311
mg
|
Fiber:
1
g
|
Sugar:
82
g
|
Vitamin A:
380
IU
|
Vitamin C:
3.6
mg
|
Calcium:
116
mg
|
Iron:
3.2
mg
Tried this recipe?
Snap a pic and hashtag it #SugarHero. We love to see your creations on our Instagram @elabau.