Mai Tai Bundt Cakes are a new twist on classic rum cakes! These moist mini rum cakes are spiked with almond and fresh lime flavors, for a tropical twist that's impossible to resist.
I know it's September now, and according to my Instagram feed, the Pumpkin Spice Lattes are out in full force, but I am not ready to give up on summer desserts just yet. It's still warm where I live, so I'm going to be eating all the fresh fruit desserts (and ice cream!) that I can. Don't get me wrong, I love a good pumpkin or apple dessert, but we have months left to enjoy those. Let's squeeze every last drop out of summer before we give into the charms of fall, okay?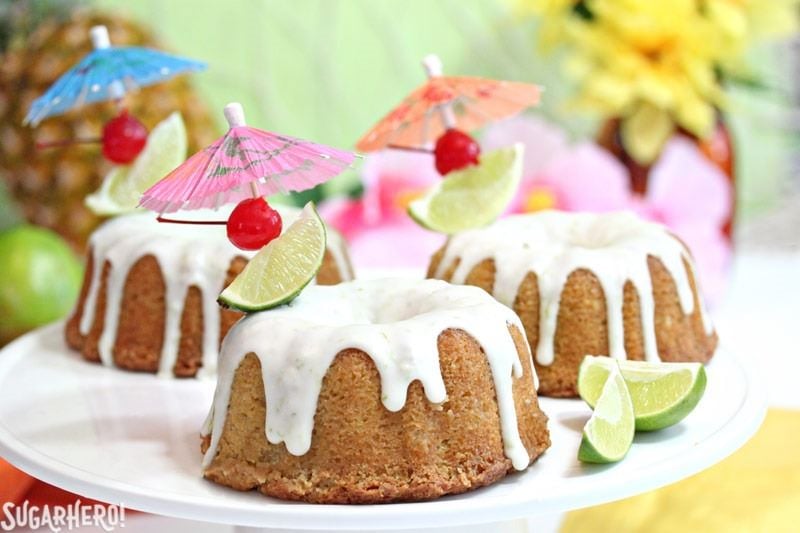 On that note, here's an easy, breezy dessert that's more at home among the palm trees and pool floats than hay rides and leaf piles. I'm calling them Mai Tai Bundt Cakes, after the popular tiki drink. Mai Tais are made with rum, almond syrup, and lime juice, so these mini cakes use all of those same flavors. They're ultra-moist rum cakes with almond extract and lots of fresh lime zest and lime juice, and they are a delicious, tropical twist on the classic rum cake.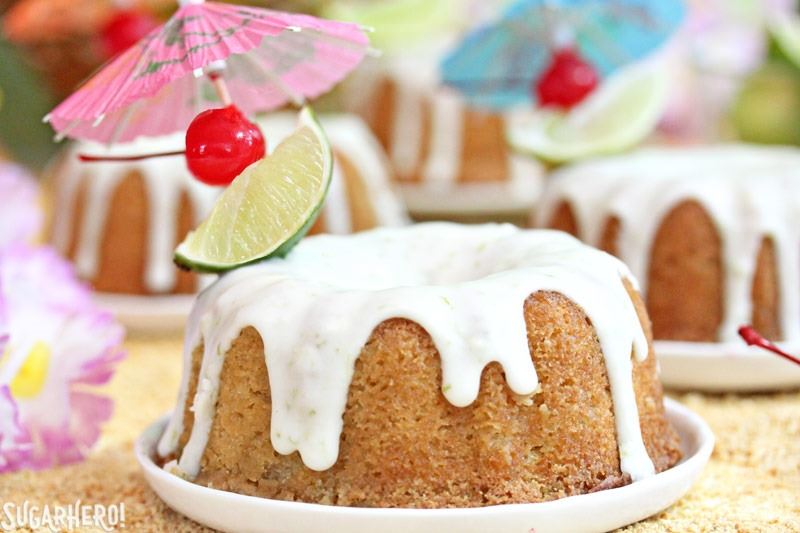 If you've been around here awhile, you've probably noticed that I don't make too many bundt cakes. I think bundt cakes have their place, but in general I'm more interested in big tall layer cakes—my favorite cakes are moist, with a lot of frosting, whipped cream, curd, or other fun fixins'. Rum cakes are my personal exception to this rule—I just love them!
If you're not familiar with rum cakes, one thing they all have in common is that they're soaked with a sugar-rum syrup after they're baked. The syrup makes them super moist and flavorful. Contrary to most bundt cakes, which are restrained and perfect for a civilized tea time, rum cakes seem wild and exuberant. Theoretically, they last for ages, but I've personally never had one last for more than 3-4 days in my house. They're just that irresistible.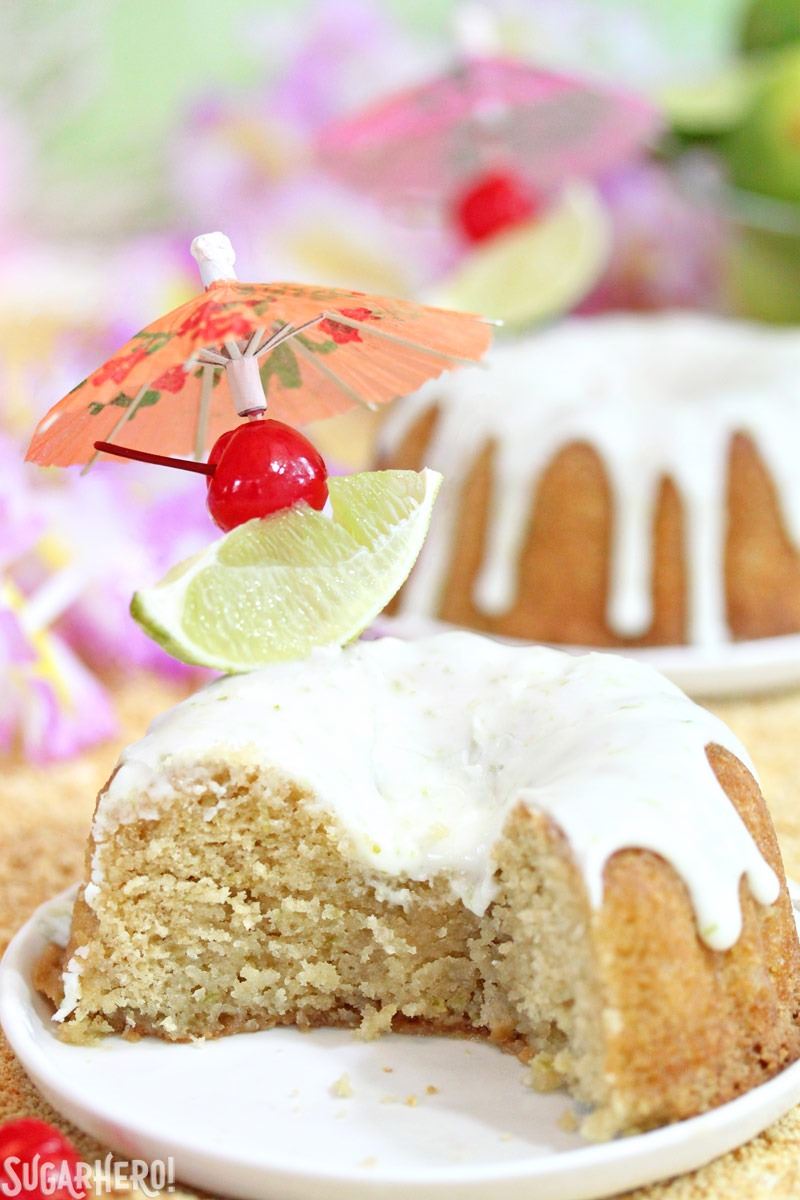 So I already knew I liked rum cakes, but I didn't realize how much I was missing until I added almond and lime flavors to a classic rum cake recipe! These components came in at a few different points: in the cake batter, I added fresh lime zest and almond extract, so the cakes were already feelin' a little tropical. Then, I added almond extract to the rum soaking syrup, so each cake was deeply infused with more almond flavor. Finally, I made a thick glaze with lots of lime zest and lime juice, so the sweet cakes were coated with a tart, tangy glaze that tastes as good as it looks.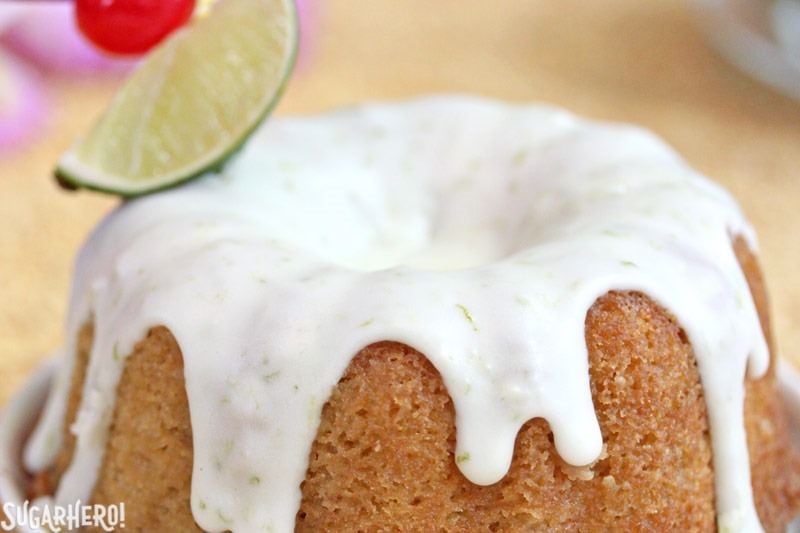 If for some reason these additions don't float your boat, you can leave them out and you'll still have a fabulous homemade rum cake recipe. I stress the "homemade" part of this recipe, because so many rum cake recipes you'll find use cake mix, vanilla pudding mix, or both. No knocks on those recipes, but I wanted my rum cakes to be made completely from scratch. These babies have the traditional dense, moist texture of the best rum cakes, but I love that they don't rely on store-bought mixes.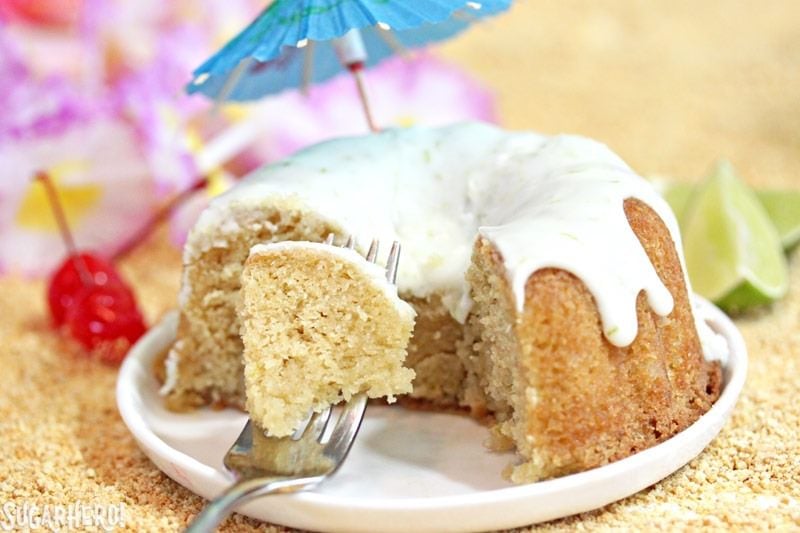 A few other logistical notes: I used a 6-cavity bundt cake pan from The Pampered Chef, and each little cake holds about 1 1/2 cups of batter and is about 5 inches wide. Other mini bundt cake pans may have different measurements, so if you're using another brand with smaller cake cavities, you may have a larger yield out of this. Just be smart and don't overfill the cavities, and you'll be fine! You can also use a regular bundt pan (10 or 12 cup)—baking instructions are in the headnote of the recipe below.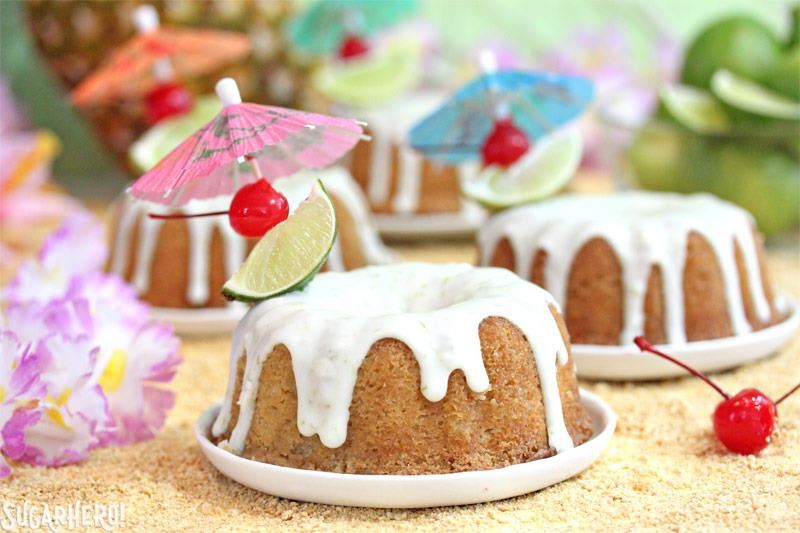 Finish off your cakes with cute umbrella toothpicks, and you're all set to enjoy summer for at least the next month! Cheers!
🌞More Summer Recipes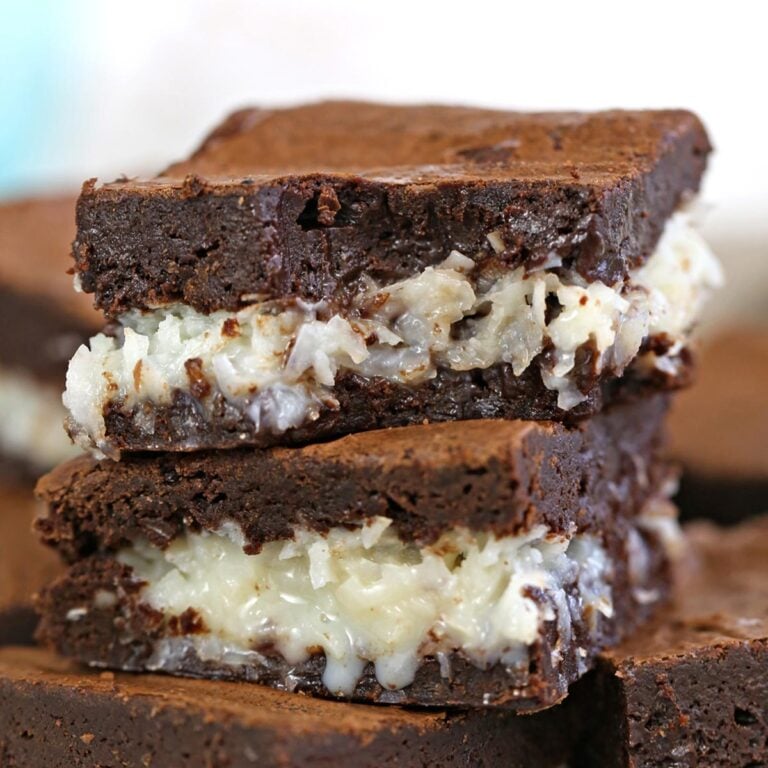 The Best Coconut Brownies
These coconut brownies are the BEST! They're rich, fudgy brownies with an ooey gooey coconut center. Better than a candy bar!
View Recipe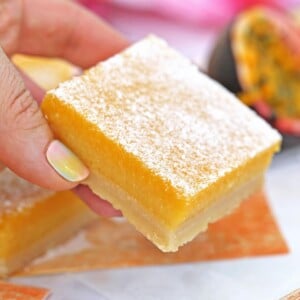 Passion Fruit Bars
These Passion Fruit Bars have a super-crispy buttery crust with a perfectly balanced tart and tropical filling!
View Recipe
Mai Tai Bundt Cakes
Mai Tai Bundt Cakes are a new twist on classic rum cakes! These moist mini rum cakes are spiked with almond and fresh lime flavors, for a tropical twist that's impossible to resist.
Ingredients
For the Bundt Cakes:
2

TBSP

fresh lime zest

7

oz

granulated sugar,

(1 cup)

7.5

oz

brown sugar,

(1 cup)

, lightly packed

10

oz

cake flour,

(2 1/2 cups)

1

TBSP

baking powder

½

tsp

salt

8

oz

unsalted butter

,

at room temperature

¼

cup

milk

3

large eggs

2

large egg yolks

1

TBSP

vanilla extract

1

TBSP

almond extract

1

tsp

butter extract

,

optional, but tasty

½

cup

rum

,

I used Appleton Estate Jamaican Rum
For the Rum Soaking Syrup:
For the Lime Glaze:
1

TBSP

fresh lime zest

2

TBSP

fresh lime juice

6

oz

powdered sugar

,

(1 1/2 cups)

1

TBSP

milk

,

or more
Instructions
To Make the Bundt Cakes:
Preheat the oven to 350 F. Spray a 6-cavity mini bundt pan with baker's nonstick spray (the kind with flour). If you don't have baker's spray, coat it well with nonstick spray, then lightly dust the inside of the cavities with a thin layer of flour.

Combine the lime zest and granulated sugar in the large bowl of a stand mixer fitted with a paddle attachment. Rub them together between your fingers until the sugar is fragrant with lime and has the texture of wet sand. Add the brown sugar, flour, baking powder, and salt to the bowl. Mix all of the dry ingredients on low speed for 2-3 minutes.

Add the butter and milk to the bowl of dry ingredients, turn the mixer speed to medium, and beat for 90 seconds.

In a small bowl, whisk together the eggs, yolks, rum, and extracts. Add a third of the egg mixture to the mixer, and beat on medium speed for 20 seconds. Add half the remaining eggs, and beat for another 20 seconds, then add the remaining eggs and beat for 20 seconds more. Stop and scrape down the sides and bottom of the bowl with a rubber spatula, and finish stirring everything together by hand.

Divide the batter between the 6 mini bundt cake molds, filling each about 2/3rds full. If your pan has smaller cavities, bake the cakes in batches, or bake excess batter in a loaf pan instead. Bake the mini cakes for 30-35 minutes at 350 F, until puffed and dry on top, and a toothpick inserted into the center comes out clean. Leave the cakes in the pan while you prepare the rum soaking syrup.
To Make the Rum Soaking Syrup and Soak the Cakes:
Place the butter in a medium saucepan and melt it over medium heat. Once the butter is melted, add the water, sugar, and salt. Simmer everything together for 5 minutes until it thickens slightly, then take the pan off the heat. Once off the heat, add the rum and almond extract, and whisk everything together.

Use a toothpick or skewer to poke holds all over the top of each cake. Pour half of the syrup of the tops of the cakes. This make about 1 ½ cups of syrup, so you'll want to use about ¾ cup to cover the tops of the cake. I found that a mixture of pouring the syrup, and then brushing it on with a pastry brush was most effective. Let the syrup soak into the cakes for about 10 minutes.

Once all of the syrup has soaked into the cakes, place a wire rack over the top of the pan, and flip it upside down. Carefully remove the pan so that the cakes are sitting on the wire rack. Place the wire rack on top of a rimmed baking sheet. Poke more holes in the top of the cakes, and pour/brush the remaining syrup over each cake, using up all of the syrup. This may seem like a lot of syrup, but this step is what makes rum cakes so moist and delicious! Let all of the syrup soak in again.

At this point, the cakes can be finished and served, but for the best taste and texture, they should be left to sit for at least 3-4 hours, or even overnight. Transfer each cake to a cardboard cake circle or small plate, and wrap them individually in plastic wrap. Let them sit at room temperature until you're ready to glaze them. At this point, they can also be frozen individually if you'd like to make them several weeks in advance!
To Make the Lime Glaze:
Whisk together the lime zest, juice, powdered sugar, and 1 tbsp milk. After everything is mixed, add more milk if necessary, to make a glaze that is fluid enough to pour, but still thick enough to coat the tops of the cakes in an opaque layer.

Spoon the glaze on top of the cakes, using the spoon to nudge it over the edges to make pretty drips. Let the glaze sit for 20-30 minutes, until it firms up, then serve the cakes!
Recipe Notes
Rum cakes are a great make-ahead dessert! They can be served shortly after baking, but for the best taste and texture, you'll want to let them sit at least 3-4 hours or even overnight, so all the flavors can meld together. A note about the pans: my mini bundts held about 1.5 cups batter each. If your mold is smaller and holds closer to 1 cup, bake the cakes in batches so the cakes do not overflow. If you do not have a mini pan, you can make 1 large bundt cake in a 10-12 cup pan. Bake the larger cake for 65-75 minutes, until a skewer inserted into the center comes out clean.
Measuring Tips
Our recipes are developed using weight measurements, and we highly recommend using a kitchen scale for baking whenever possible. However, if you prefer to use cups, volume measurements are provided as well. PLEASE NOTE: the adage "8 oz = 1 cup" is NOT true when speaking about weight, so don't be concerned if the measurements don't fit this formula.
Want to learn more about baking measurements and conversion?
Nutrition
Serving:
6
g
|
Calories:
1231
kcal
|
Carbohydrates:
166
g
|
Protein:
10
g
|
Fat:
50
g
|
Saturated Fat:
30
g
|
Cholesterol:
270
mg
|
Sodium:
484
mg
|
Potassium:
355
mg
|
Fiber:
1
g
|
Sugar:
129
g
|
Vitamin A:
1640
IU
|
Vitamin C:
0
mg
|
Calcium:
171
mg
|
Iron:
1.4
mg
Tried this recipe?
Snap a pic and hashtag it #SugarHero. We love to see your creations on our Instagram @elabau.