Looking for a quick and easy fall dessert? Look no further! 3-Ingredient Pumpkin Chocolate Chip Cookies require–you guessed it–just 3 common pantry ingredients. You can whip these up in no time!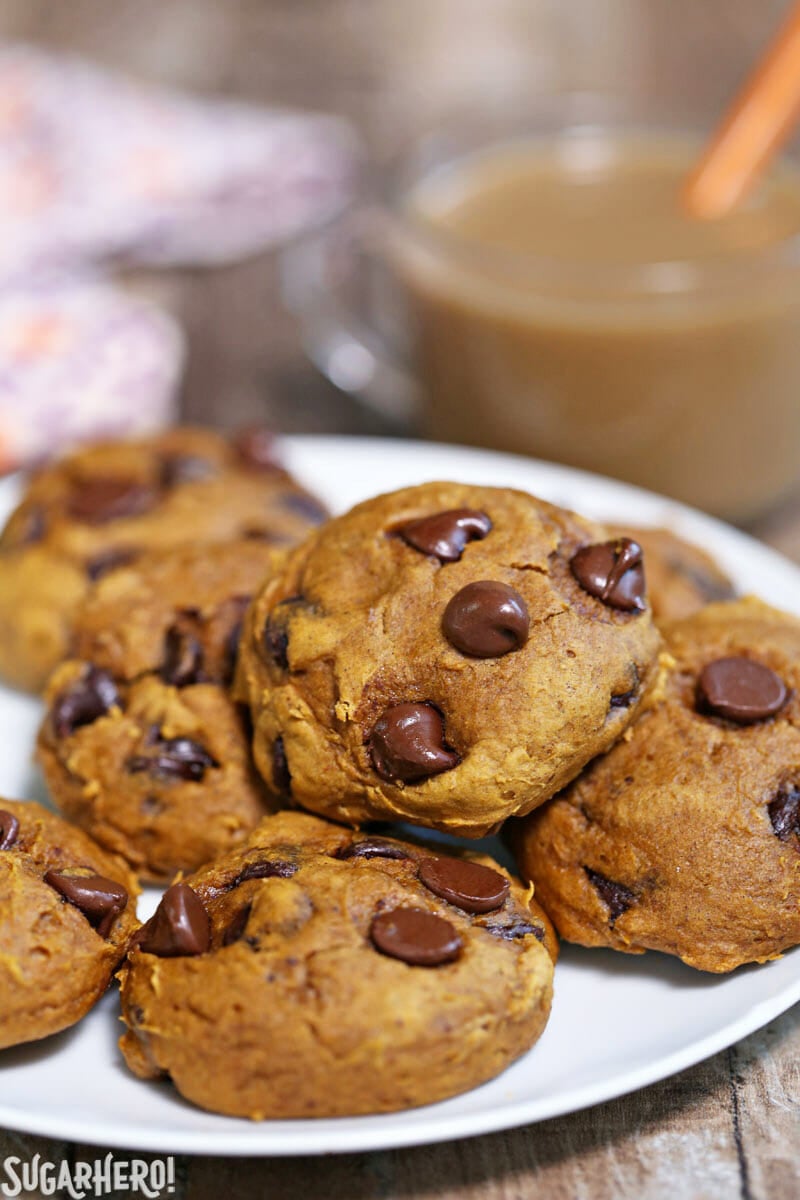 3-Ingredient Pumpkin Chocolate Chip Cookies With Cake Mix
These pumpkin chocolate chip cookies may not look like much, but to quote Love Actually, "To me, you are perfect." That's because these perfectly imperfect cookies have a wonderful secret: they're made with only THREE ingredients!
You guys know I'm the queen of complicated from-scratch recipes that take way too long, but sometimes a girl has a craving and just needs cookies, stat! And when that craving strikes, I'm not about to sit around waiting for butter to come to room temperature or dough to chill. I'm all about instant gratification.
If you need more pumpkin chocolate chip inspiration, check out my Pumpkin Chocolate Chip Bread, Pumpkin Chocolate Chip Bars, Pumpkin Chocolate Chip Cookies and Pumpkin Chocolate Chip Cake!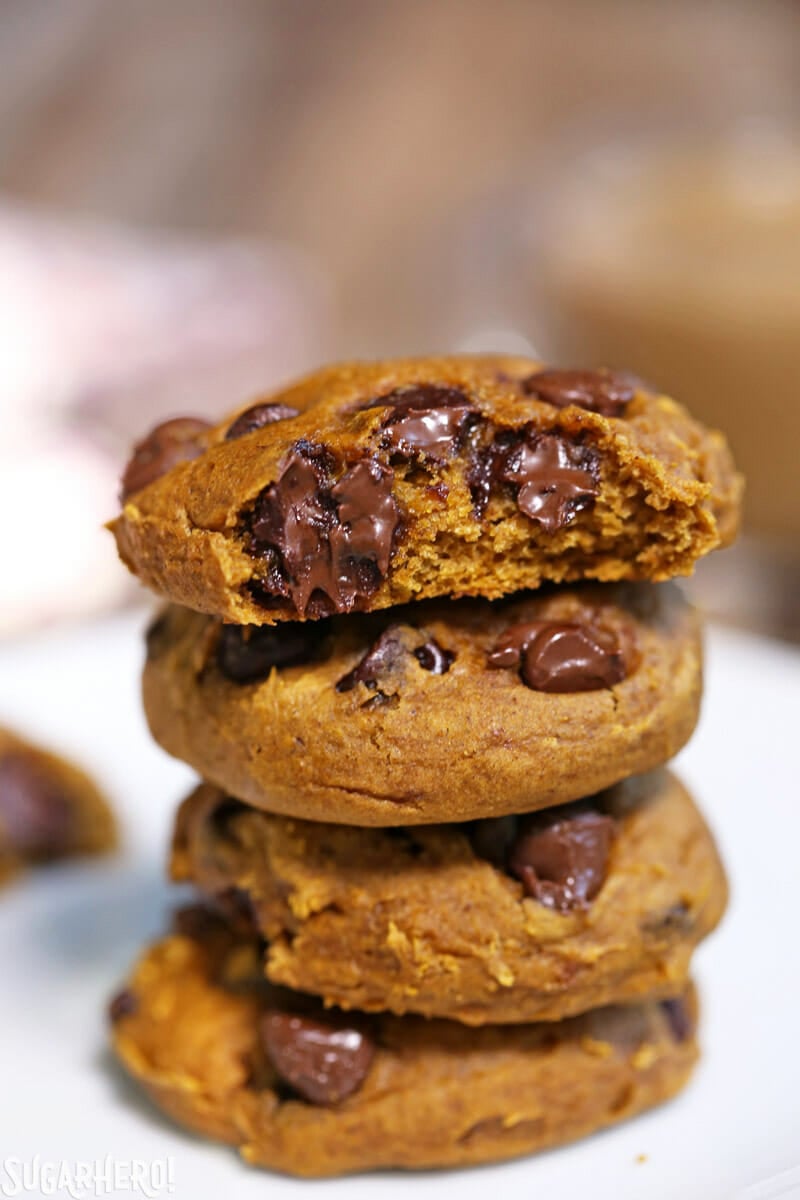 I posted a different pumpkin chocolate chip cookie recipe last week. That one was more of a traditional chocolate chip cookie, with crisper edges and a soft center–more like a regular cookie with a bit of pumpkin flavor.
In comparison, these cookies have a stronger pumpkin flavor, and a cake-like texture. If you're a fan of soft, puffy cake cookies, then this is the recipe for you! Here's how simple they are to make: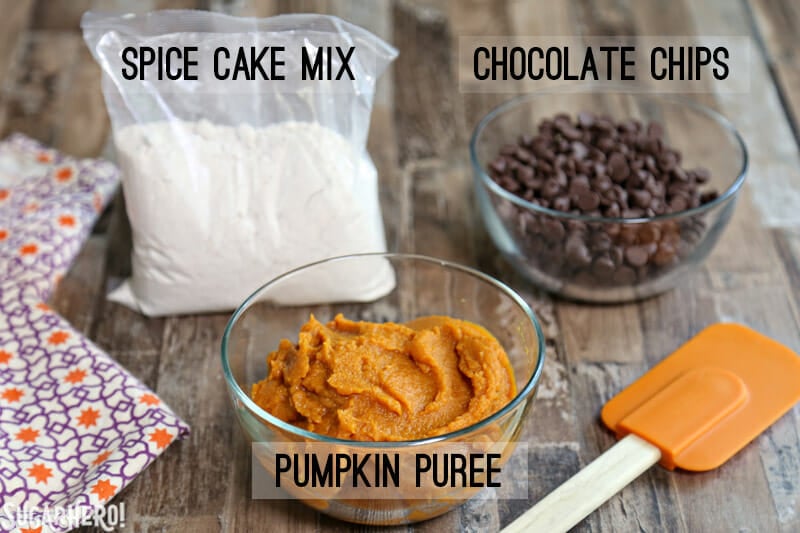 How to Make 3-Ingredient Pumpkin Chocolate Chip Cookies
All you need to make these cookies are a boxed cake mix, a can of pumpkin puree, and chocolate chips.
For the cake mix, I recommend spice cake mix–I used Duncan Hines brand. If you can't find spice cake, you can use any neutral cake mix (vanilla/white/yellow/etc) and just add a few teaspoons of pumpkin pie spice to the mix.
Make sure you pick up a can of pure pumpkin puree, not pumpkin pie filling.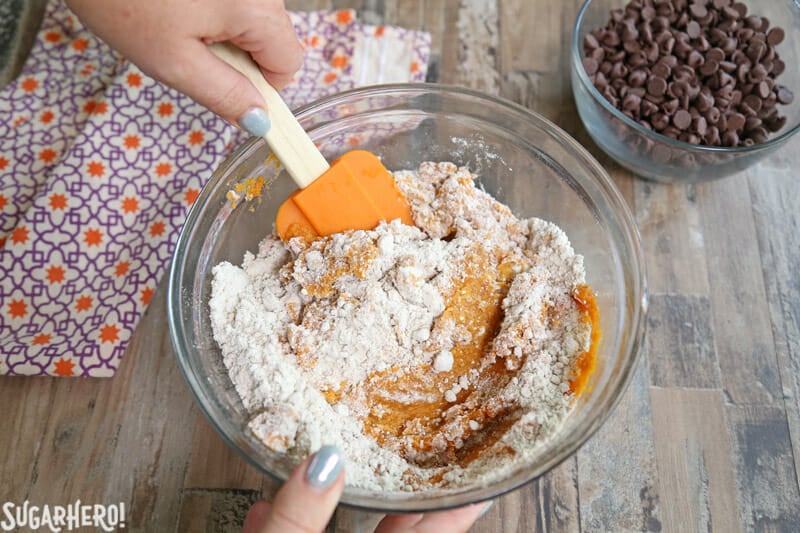 Start by sifting the cake mix into a large bowl. Mixes often develop clumps as they sit in the box, and if you don't sift it before beginning, it's going to take a lot of stirring to get the little lumps of floury mix to integrate into the dough. Save yourself some time and just sift it first!
Add the pumpkin puree to the cake mix, and stir until all of those aforementioned lumps of flour are gone, and the mixture is a thick, sticky dough.
Add as many chocolate chips as you think it needs, then add another handful for good measure. I like to use semi-sweet chips in almost all of my baking, and these cookies are no exception. Bittersweet chips would be great too!
Scoop the dough in generous tablespoons on a baking sheet, then press 2-3 chips into the top before they go into the oven. This will give you those picture-perfect melting chocolate chips on top of the cookies! Then bake & cool. While you wait, check out this delicious Halloween Red Velvet Hot Chocolate recipe and then devour your cookies!
3-Ingredient Pumpkin Chocolate Chip Cookie Variations
There are so many ways you can play with this recipe! Instead of cookies, scrape the dough into a 9×13 pan and make pumpkin chocolate chip cookie bars. Or omit the chocolate chips and use the dough to make whoopie pies! You can also experiment with different mix-ins, like nuts, butterscotch chips, toffee pieces, chopped candy bars, white chocolate chips, and much more!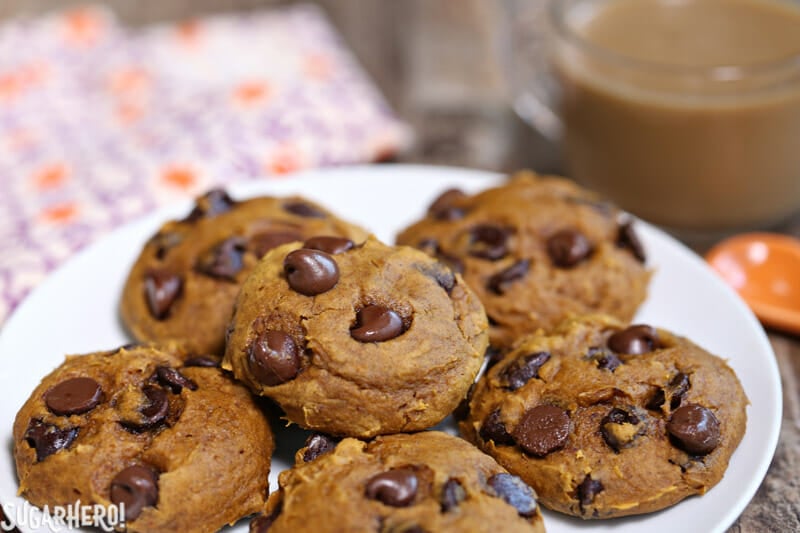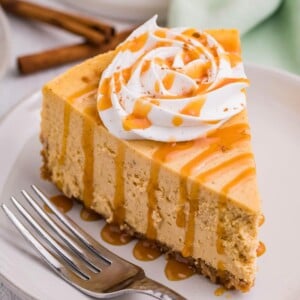 Pumpkin Spice Cheesecake
This Pumpkin Spice Cheesecake is a classic fall dessert. The combination of the crunchy cinnamon graham cracker base and the rich pumpkin cream cheese filling is irresistible. Enjoy it plain, or top it with whipped cream and caramel sauce.
View Recipe
Pumpkin Pie Mousse Cups
Embrace fall flavors with these Pumpkin Pie Mousse Cups! This light and fluffy mousse recipe is made with real pumpkin, for an authentic pumpkin spice taste. It's served in a cute edible pumpkin-shaped bowl, too!
View Recipe
3-Ingredient Pumpkin Chocolate Chip Cookies
Looking for a quick and easy fall dessert? Look no further! These 3-Ingredient Pumpkin Chocolate Chip Cookies are made with common pantry ingredients, and the whole family is guaranteed to love them!
Instructions
Preheat the oven to 350 F, and line your baking sheets with parchment paper.

Sift the cake mix into a large bowl.

Add the can of pumpkin puree, and stir well until the cake mix is moistened and there are no small flour lumps left in the dough.

Add the chocolate chips and stir them in as well, reserving a handful of chips.

Scoop the dough by generous tablespoons out onto the baking sheets, leaving a few inches in between. Press 2-3 reserved chocolate chips on top of each cookie dough ball.

Bake the cookies at 350 F for 13-16 minutes, until they're puffed and the center has lost the raw shine and just started to show cracks. They won't darken much so don't look to the color as an indicator of when they are done.

Cool completely on a wire rack, then serve!
Measuring Tips
Our recipes are developed using weight measurements, and we highly recommend using a kitchen scale for baking whenever possible. However, if you prefer to use cups, volume measurements are provided as well. PLEASE NOTE: the adage "8 oz = 1 cup" is NOT true when speaking about weight, so don't be concerned if the measurements don't fit this formula.
Want to learn more about baking measurements and conversion?
Nutrition
Calories:
139
kcal
|
Carbohydrates:
18
g
|
Protein:
1
g
|
Fat:
6
g
|
Saturated Fat:
3
g
|
Cholesterol:
0
mg
|
Sodium:
96
mg
|
Potassium:
144
mg
|
Fiber:
1
g
|
Sugar:
11
g
|
Vitamin A:
1845
IU
|
Vitamin C:
0.5
mg
|
Calcium:
24
mg
|
Iron:
1.6
mg
Tried this recipe?
Snap a pic and hashtag it #SugarHero. We love to see your creations on our Instagram @elabau.