It's almost dinnertime. It's almost the weekend. I'm almost always craving cake. For these, and many more reasons, I bring you Birthday Party Hat Cakes.
I've had the idea for these colorful hat-shaped cakes bouncing around my head for months! I wanted to make them to celebrate SugarHero's second birthday last fall, but being a procrastinator of the first order, I didn't have time to buy the supplies and try some test batches before I needed to get the post up. So, when Better Homes & Gardens asked me to create a dessert project that would be perfect for parties, I knew exactly what I wanted to do!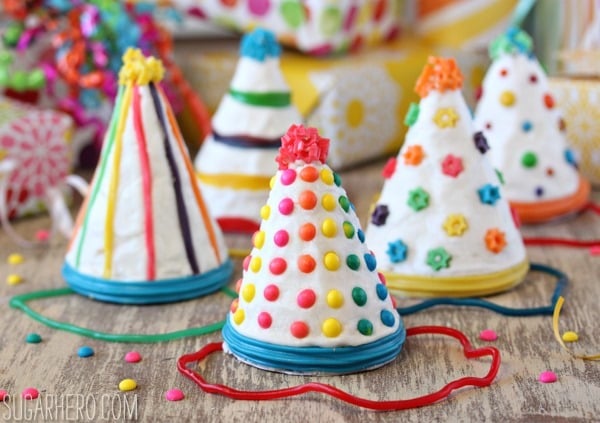 These cakes are made from a traditional fluffy yellow cake recipe, and good ole American buttercream. You do need to use a buttercream that crusts in order to get the best results, but aside from that little constraint, you can make these with whatever flavors of cake or frosting you'd like!
The secret to getting the cone-shaped cake is to bake the cake in…cones. Revolutionary, I know. Seriously, it's just that simple! I bought a large box of snow cone cups, thinking that it might take days of experimenting before I was finally able to bake successful cone cakes, and it pretty much worked out on the first try. There is a little trick to getting the cones to stand up straight, but it's all explained in the recipe. Otherwise, it's just like baking cake batter in cupcake papers—just scoop and bake! I bought my snow cone cups on Amazon, and the ones I used are currently out of stock, but I think any 6-oz cups, like these, will work just fine.
The most fun part of the project was definitely decorating the cones with the colorful candies. Picture me skipping down the candy aisle, tossing rainbow candies in my cart willy-nilly. One lucky find was a package of rainbow Twizzlers, which provided the colored bands around the bottom of the cones and also the pom-poms on top, once I snipped them up with kitchen shears. M&Ms, Skittles, and Fruit Roll-Ups also worked well, but my favorite addition would have to be Candy Buttons. They don't taste like anything, other than pure sugar, but their petite size and ultra-bright colors really made these hats pop! The "strings" for the hats are made from Rainbow Licorice Laces, and if you live anywhere near me, please come by so I can gift you handfuls of licorice from the pound I still have lying around!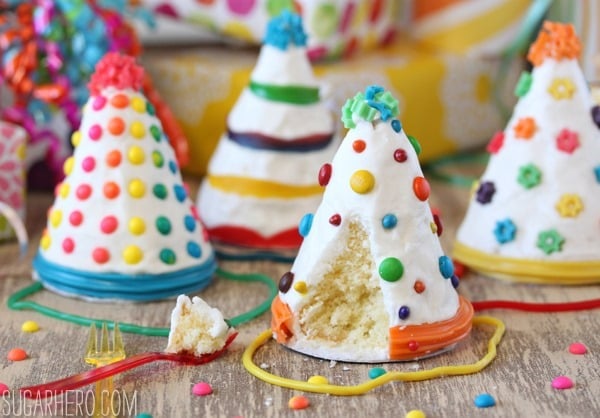 So are you ready to make amazing Birthday Hat Cakes of your own? I hope so! Head over to Better Homes & Gardens for the recipe and a few more tutorial pictures!
And, if you're craving more edible party-themed goodies, may I point you to these Birthday Present Mini Cakes on SugarHero? They're one of the most cheerful projects I've done and they still make me grin whenever I see them!

This post contains Amazon affiliate links. For more information, see my Affiliate and Advertising Policy.