This Circus Animal Layer Cake is big and bright, with funfetti cake layers, chopped up circus animal cookies inside, and a cool upside-down ganache drip decoration!
This cake is a LOT, in the best way possible. It's big and it's blindingly bright and it's full of cake and frosting and chopped-up cookies and there are sprinkles EVERYWHERE, and just when you think you've come to grips with it, you realize there's a freaking unicorn cookie on top.
In short, it's way too much of everything and I love it.
I actually made this cake last year, and never got around to posting it before other seasonal recipes took over. Now that it's (fiiiiinally) warm and sunny where I live, it feels like the perfect time to bust out a super bright and cheerful cake!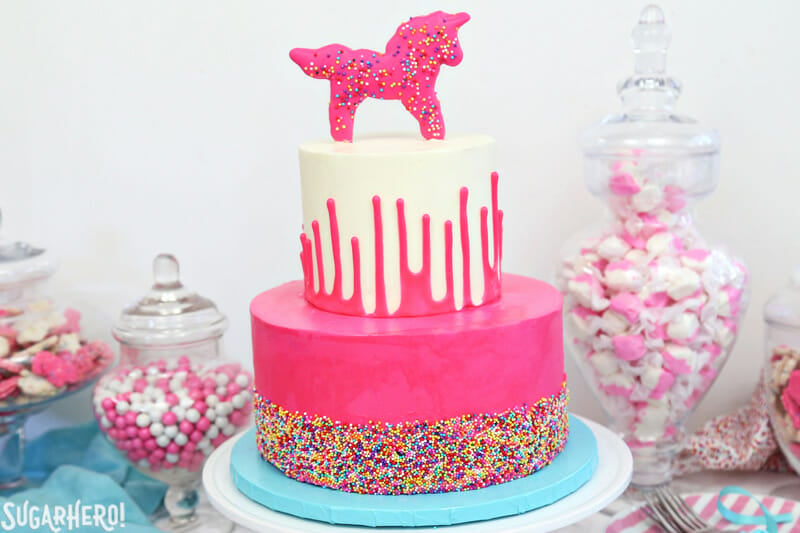 This cake may look huge–and don't get me wrong, it's not tiny by any means–but the layers aren't QUITE as massive as they might appear. It's made with two 8″ and two 5″ cakes, each split in half to make four layers. It can still feed quite a crowd, but since it can be hard to estimate scale in photographs, be assured that it's not approaching giant wedding cake size!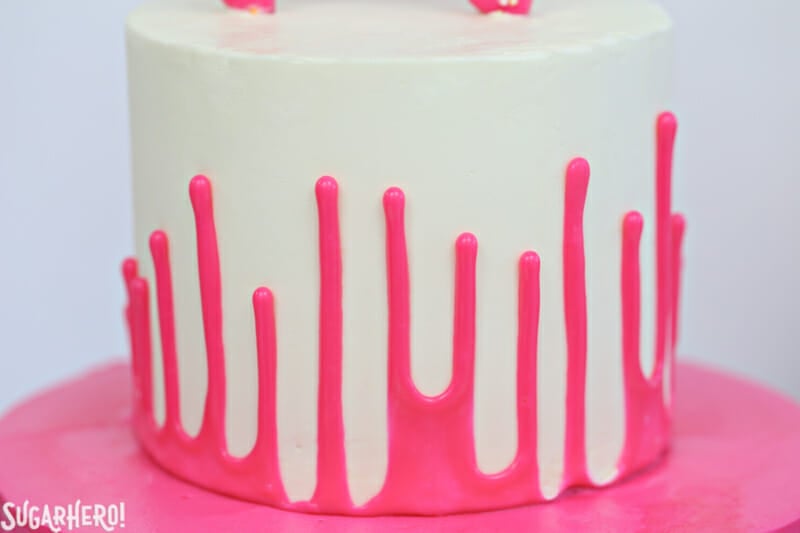 One of my favorite things about this cake is the fun upside-down ganache drip layer. This is a technique I think I first saw on the Sugar Monster Sweets Instagram page a year or two ago, and I completely fell in love! It's just as easy as doing a regular ganache drip, but the effect is so striking and unexpected, it's a fun twist on the drip-style cake.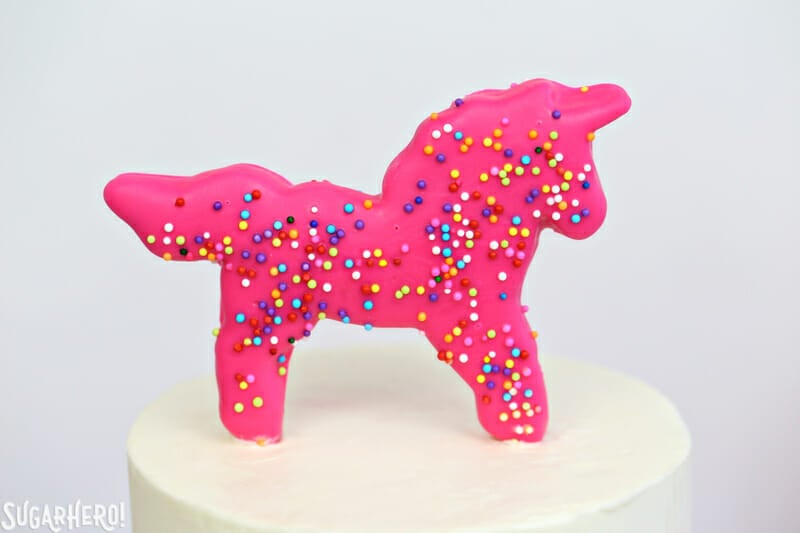 For the topper, you could–and probably should–use regular circus animal cookies. I had just bought a fun unicorn cookie cutter, and was a little bit obsessed with making a hot pink sprinkle-covered unicorn (and really, who doesn't feel that way sometimes?!) so I made a small batch of funfetti sugar cookie dough and baked off a few unicorn cookies. But it would be a little silly to recommend that you make a cookie just to use as a cake topper, so I think that topping it with frosting rosettes and a few mini animal cookies is an equally good plan.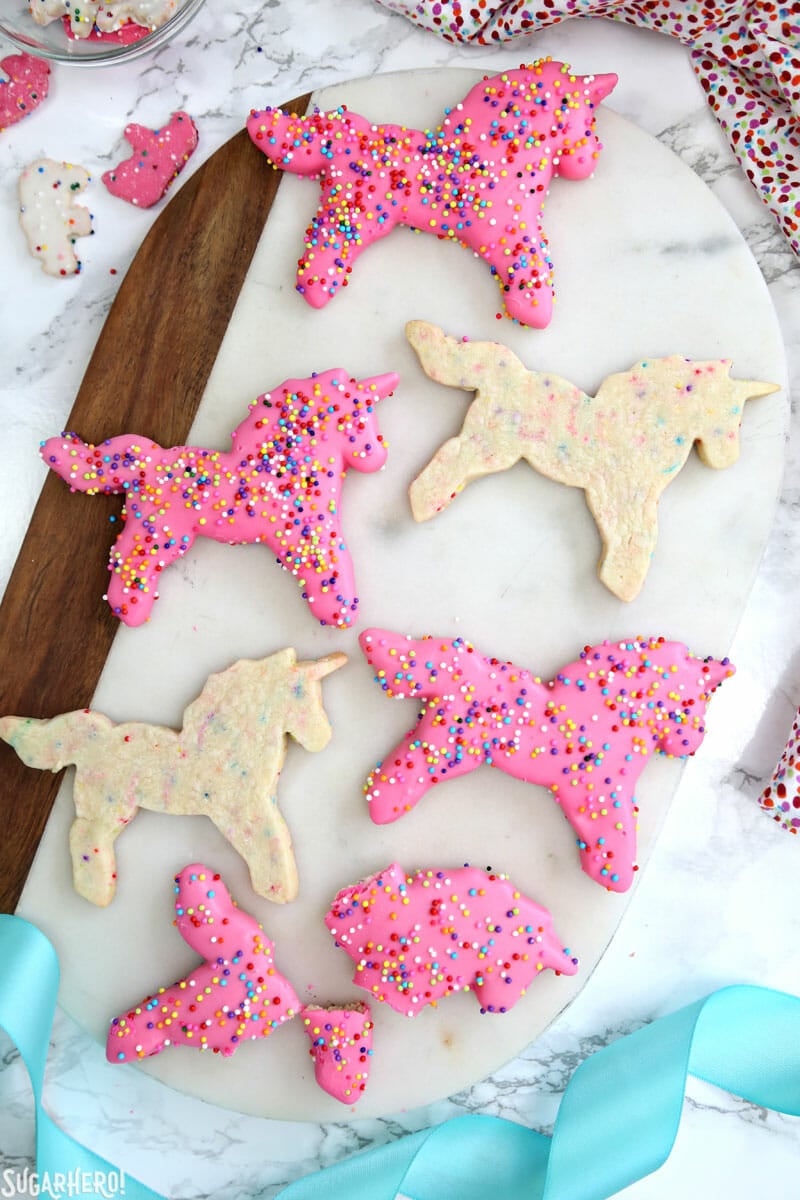 Finally, the cake itself! It's a homemade white cake with a sweet vanilla flavor and a tender crumb. I layered finely chopped cookies in between the cake layers, but even if I hadn't done that, the sweet vanilla flavor and occasional crunch of the nonpareil sprinkles would have definitely called to mind the nostaligic taste of frosted circus animal cookies!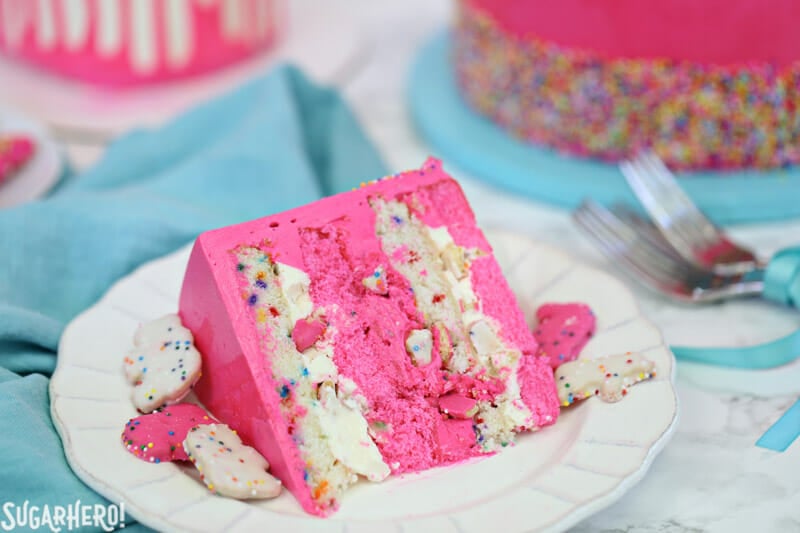 You'll notice in the picture and video that I did alternating layers of funfetti and pink cake batter, and alternating layers of white and pink frosting, but to be honest, when I make this cake again I'm going to keep the cake layers all funfetti, and the frosting in the middle all pink. The colors of the layers weren't as clean as I hoped they would be, especially with the cookie pieces in the middle making it hard to get a neat slice!
I wrote the recipe this way (with all funfetti layers) but you can definitely play around with the colors of the cake and buttercream to suit your taste. Enjoy!
🎂 More Fun Party Cakes