This post may contain affiliate links. Please see my disclosure policy for more information.
Helloooo, long-lost friends! Things have been a bit quiet around here lately, and I've missed you! I've had a crazy confluence of work and life stuff going on, and unfortunately it seems like it's going to continue for the next few weeks, so SugarHero might not be updated as frequently as I'd like. But I'm hopeful that I'll be back to my regular posting schedule very soon, so please stick with me!
Enough boring scheduling talk. Let's get to the real reason you're here: the sugar!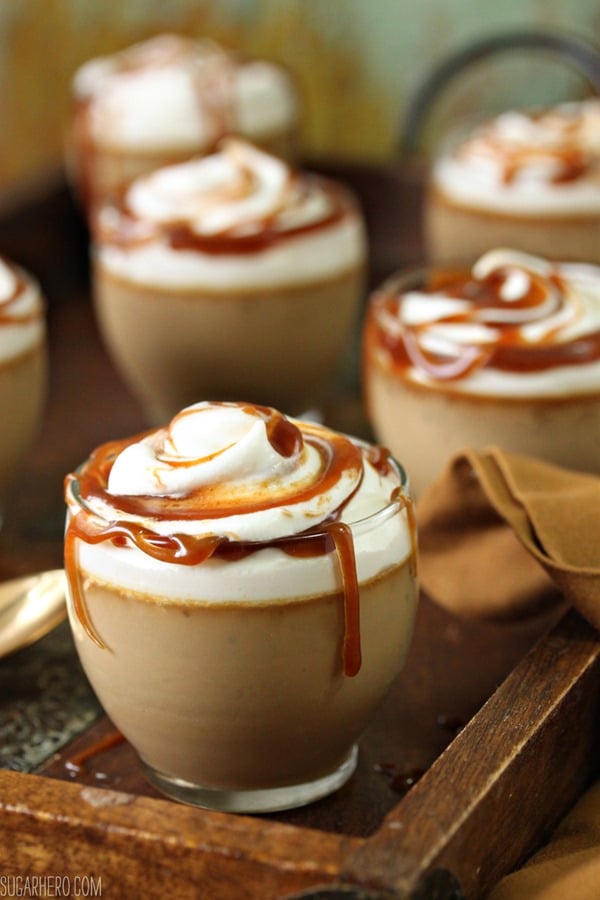 My friend Shauna Sever published her third book, Real Sweet, last month. It is a gorgeous cookbook full of recipes using natural sugars like coconut sugar, muscovado, turbinado, honey, and much more! I may fancy myself a sugar hero, but the truth is I often (unintentionally) limit myself to standard processed sugars like granulated, brown, and powdered. There's a whole wide world of other sugars out there, and Shauna's book does an amazing job of demystifying them, explaining each sugar's strengths and properties, and featuring them in some seriously mouth-watering recipes.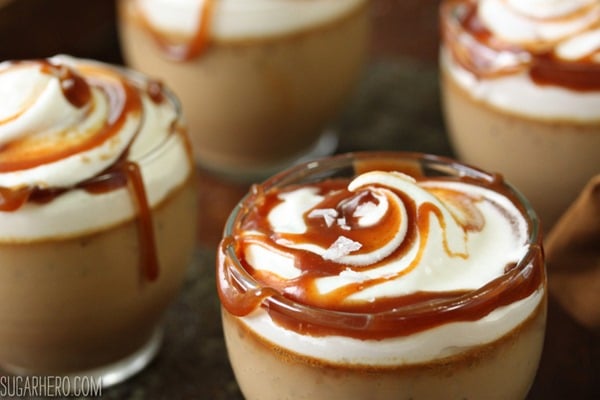 As I was flipping through the book, I had a hard time deciding which Real Sweet recipe I wanted to make first. Dark, fudgy brownies? A towering layer cake? A Toblerone tart? Just when I had decided to make the Caramelized Praline Spread, my eyes fell on the photo for Butterscotch Pots de Crème, and it was love at first sight.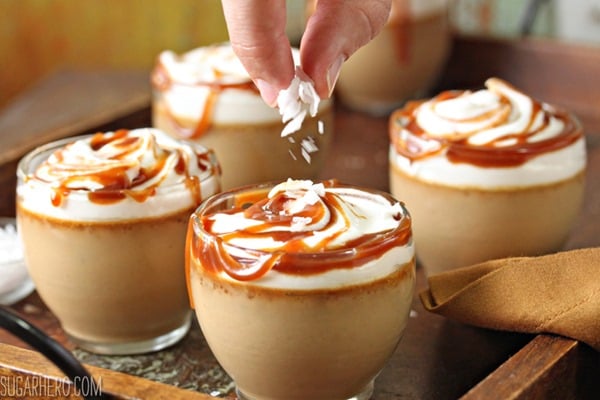 In the recipe's headnote, Shauna explains that her version is based off a dessert from a Los Angeles restaurant called Gjelina. *Record scratch* Hold up! I love Gjelina! I have forced friends to trek all the way to Venice for a meal at Gjelina, which is no small feat if you consider how many dang freeways exist between my house and the outer reaches of Venice. I have made many an inappropriate noise while eating dessert there, and I have regretted none of them. And if she'd cracked the code to recreating their butterscotch pot de crème, then GET OUT OF MY WAY, because I needed to start cooking this dessert immediately.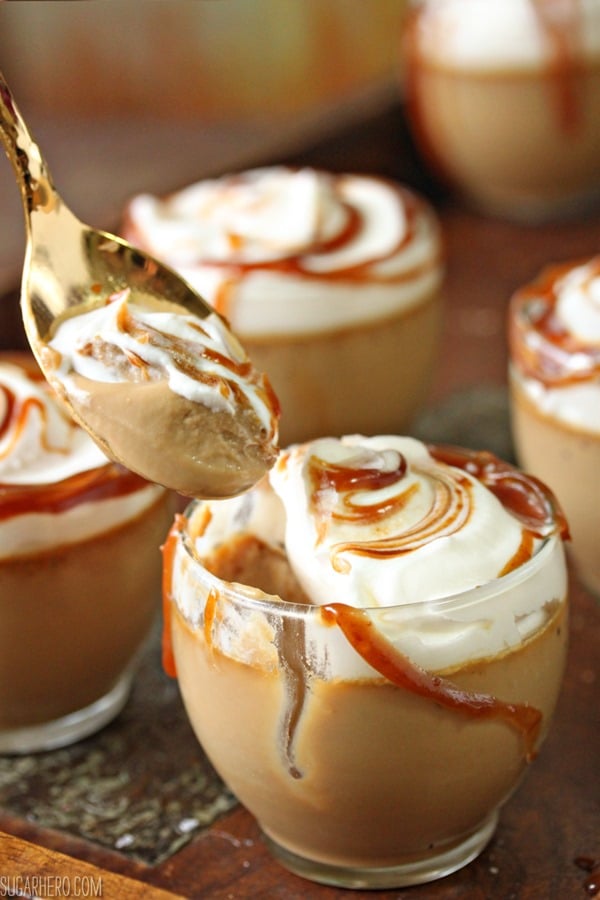 Friends, these pots de crème did NOT disappoint. They're made with muscovado sugar, which is what brown sugar wishes it could be when it grows up. It's super moist and has a strong, dark, earthy molasses flavor that perfumes the whole kitchen. The custards are cooked in a water bath and have a beautiful silky smooth texture that absolutely melts in the mouth. As per her recommendation, I topped them with softly whipped cream, big spoonfuls of buttermilk caramel sauce, and a pinch of crunchy, flaky sea salt.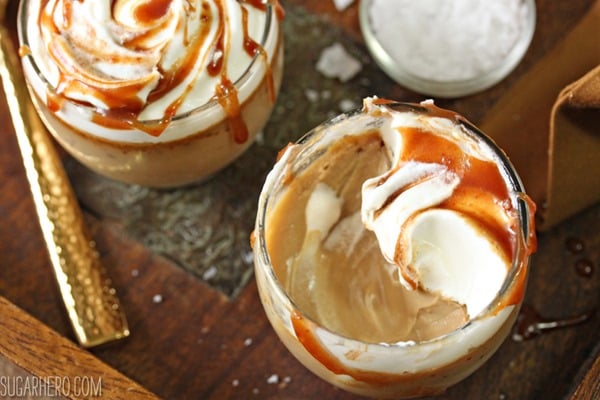 The buttermilk caramel sauce is marvelous, too. It's made with turbinado sugar and a mix of buttermilk and heavy cream, so it has a tangy flavor that keeps it from being too sweet and makes it more interesting than most salted caramel sauces out there. I cooked mine a little longer than recommended, because I like a thick caramel sauce with a lot of body, and it worked out beautifully.
Print Recipe
Butterscotch Pots de Creme
These Butterscotch Pots de Creme are an easy and elegant dessert. They're silky smooth and have a deep caramelized sugar flavor that contrasts perfectly with a pinch of crunchy salt on the top.
Ingredients
6

large egg yolks

2

oz

unsalted butter

(4 tbsp/57 grams)

4

oz

muscovado sugar

firmly packed light or dark (1/2 cup/113 grams)

1/2

tsp

sea salt

fine

19 1/8

oz

half and half

(2 1/4 cups/540 grams)

3/4

tsp

vanilla bean paste

or vanilla extract

Whipped cream

for serving

Buttermilk Caramel Sauce or other caramel sauce

for serving

Flaky sea salt, like Maldon

for serving
Instructions
Position a rack in the center of the oven and preheat the oven to 325 F. Set 8 small (6- to 8-oz) ramekins, cups or coffee cups in a small roasting pan. Bring a kettle of water to a boil.

In a medium bowl, whisk the egg yolks until smooth.

In a medium saucepan over medium heat, melt together the butter, sugar and salt. Whisking often, cook until the sugar begins to caramelize, darkening in color and smelling nutty, 3 to 4 minutes. Carefully and slowly whisk in the half-and-half. The caramel will seize at first, melting back into the mixture once all the liquid is added. Stirring often, bring the mixture to a simmer. Remove the pan from the heat. Stir in the vanilla bean paste or vanilla extract.

Whisk a small amount of the hot liquid into the yolks to warm them and then gradually whisk in the remainder. Set a fine mesh sieve over a large heatproof measuring cup. Pour the custard through the sieve. Divide the custard evenly among the ramekins.

Slide out the oven rack and place the roasting pan on the rack. Carefully fill the roasting pan with boiling water halfway up the ramekins, taking care not to splash any water into the custards. Slide the rack back into place. Bake until the custards are just set but still jiggle when tapped and a thin knife inserted into the center of one of the custards comes out clean, 30 to 45 minutes, depending on the size, depth, and thickness of the ramekins (use the "jiggle test" and knife tester as your clues for doneness.) Let the custards cool out of the roasting pan for 5 minutes. Cover loosely with plastic wrap and chill for 3 to 4 hours.

To serve, top each pot de crème with a dollop of whipped cream, a drizzle of caramel sauce, and a smattering of flaky sea salt.
Notes
This recipe is from Real Sweet by Shauna Sever and is reprinted with permission.
Nutrition
Calories:
238
kcal
|
Carbohydrates:
17
g
|
Protein:
4
g
|
Fat:
17
g
|
Saturated Fat:
9
g
|
Cholesterol:
186
mg
|
Sodium:
184
mg
|
Potassium:
121
mg
|
Sugar:
14
g
|
Vitamin A:
610
IU
|
Vitamin C:
0.6
mg
|
Calcium:
102
mg
|
Iron:
0.5
mg
Print Recipe
Buttermilk Caramel Sauce
This buttermilk caramel sauce is a delicious twist on traditional caramel sauce. The buttermilk gives it a really rich, tangy flavor that pairs well with everything from vanilla to chocolate.
Ingredients
7

oz

turbinado sugar

or grated piloncillo (1 cup/200 grams)

2

tbsp

water

(1 oz/28 grams)

1

tbsp

honey

(or brown rice syrup, or agave nectar)

½

tsp

sea salt

fine

2

oz

unsalted butter

cut into cubes (4 tbsp/57 grams)

4¼

oz

buttermilk

well-shaken (1/2 cup/120 grams)

4¼

oz

heavy cream

(1/2 cup/120 grams)

1/4

tsp

vanilla extract
Instructions
In a medium heavy-bottomed saucepan, gently stir together the sugar, water, honey, and salt. Set the pan over medium-high heat. Stirring gently, bring the mixture to a boil, and then stop stirring. Cook the sugar syrup until it caramelizes, about 5 to 7 minutes, swirling the pan occasionally. The color of the sugar will make it a bit tough to gauge by sight if the sugar is caramelizing, so watch for a thickening of the syrup and a few wisps of smoke coming from the pot, and keep your nose tuned in for a slightly smoky smell; if you'd like to use a candy thermometer for extra insurance, caramelization will happen at about 300 F.

Remove the caramel from the heat and whisk in the butter. Carefully whisk in the buttermilk and cream. Place the pan back on the heat and bring the caramel back up to a simmer, whisking all the while. Cook for 1 additional minute; if any lumps formed when you poured in the liquids, they should smooth out completely during this time. Remove the pan from the heat again and whisk in the vanilla extract. Chill in the refrigerator until you're ready to serve.
Nutrition
Calories:
146
kcal
|
Carbohydrates:
18
g
|
Fat:
7
g
|
Saturated Fat:
4
g
|
Cholesterol:
25
mg
|
Sodium:
112
mg
|
Potassium:
25
mg
|
Sugar:
18
g
|
Vitamin A:
280
IU
|
Calcium:
21
mg
|
Iron:
0.1
mg