A cute recipe kids (and fluffy yellow bears) will love! These Chocolate Hunny Pots are filled with honey mousse and covered with a smackerel of honey on top.
I was one of those weird kids who didn't watch "normal" tv. When I was younger, we had a PBS-only rule in my house, so I could tell you all about what was happening on 3,2,1…Contact or Square One, but couldn't begin to tell you what The Simpsons were about, or what a "cowabunga" was. And those fancy cable kid's shows? Fuggedaboutit. [Now, when my youngest brother was growing up? That's a different story. The rules were so relaxed for him, he was practically watching The Godfather in first grade. But I'm not still holding a grudge about it or anything…]
We did have a stash of movies I was allowed to watch, and one of my favorites was The Many Adventures of Winnie the Pooh. I loved Pooh. I had the classic editions of the books that I read over and over again, and for some time I collected Eeyore memorabilia, in the way that little girls always seem to have a collection of some sort.
Now that I'm a parent, I think much more about children's entertainment, and how our kids are formed by what media they consume. (And I have a little more sympathy for my parents' strict rules, as well.) I'm looking forward to sharing The Many Adventures of Winnie the Pooh with my own son. It's sweet and fun and full of wonderful characters and gentle lessons about love and friendship.
To celebrate the movie, I decided to make a dessert version of one of Winnie the Pooh's favorite treats: hunny pots.
These pots are entirely edible, made of chocolate and decorated with a Pooh-inspired "HUNNY" label. The filling is a quick and simple honey-white chocolate mousse. I think of this as a "cheater's" mousse because it's so dang easy—no separating eggs or whipping yolks and whites required! The pots are finished with a smackerel of honey on top, so they look like they're filled to the brim and overflowing with honey.
These chocolate bowls are one of my favorite ways to fancy up dessert. They're easy to make—Pooh might say they're very little bother—but they look elegant and always impress people! If honey-white chocolate mousse isn't your thing, you can fill them with ice cream, whipped cream, curds, or other mousses instead. They can even be used to hold candies or other treats at parties. There's a picture tutorial and full recipe below—give them a try!
💛More Mousse Recipes You'll Love
Check out my tutorial for making Chocolate Bowls!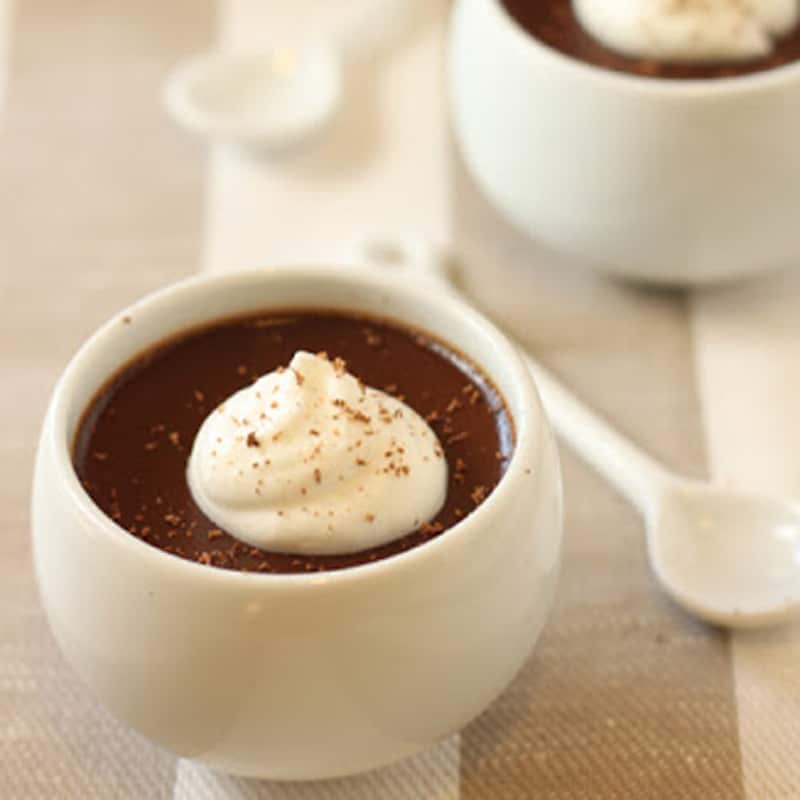 Chocolate Pots de Creme
These rich, flavorful and lightly sweetened Chocolate Pots de Crème are like a baked custard–they have a smooth, firm texture that comes from being thickened with egg yolks. So creamy!
View Recipe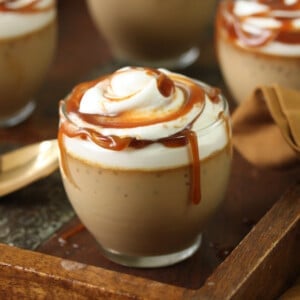 Butterscotch Pots de Creme
These Butterscotch Pots de Creme are an easy and elegant dessert. They're silky smooth and have a deep caramelized sugar flavor that contrasts perfectly with a pinch of crunchy salt on the top.
View Recipe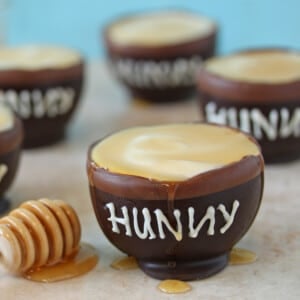 Ingredients
Chocolate "Hunny Pots" – yield: 10 or more hunny pots (make as many as you can, in case some break!)
Quick Honey-White Chocolate Mousse
12

oz

white chocolate,

chopped, I used Lindt

1/4

tsp

salt

2

cups

heavy cream

,

divided use

6

tbsp

honey

8

tsp

cold water
Instructions
To Make the Chocolate "HUNNY Pots" :
Melt the dark chocolate candy coating in a microwave-safe bowl, stirring after every 30 seconds to prevent overheating. Once it's completely melted and smooth, set it aside to cool until it is just barely warm, stirring occasionally. If the coating is too hot, it will cause the balloons to burst, so it's important that it be nearly room temperature, but still fluid enough to dip.

Blow up the water balloons until they're about 4" tall. They should be well inflated but not stretched to their maximum. Your hunny pots will be about the size of the bottom half of the balloon, so use this to judge how much you should inflate them.

Cover a baking sheet with waxed paper. Holding a balloon by the knot at the top, dip it into the barely warm candy coating. I find it easiest to press it down until it's half-submerged, then twirl it around while pressing down so that the coating comes up around the sides in an even layer. Remove the balloon from the chocolate and let the excess drip back in the bowl, then set it down on the prepared baking sheet. Repeat with as many balloons as you can make with your candy coating. Refrigerate the tray to set the coating, for about 30 minutes.

Once the coating is set, grip a balloon just below the knot, and cut a small hole in the balloon above your fingers. Slowly and steadily let the air out, controlling it with your grip. If you let the air out too fast, it's more likely that the bowl will crack or the balloon will burst or tear, making it harder to remove. When most of the air is out of the balloon, hold it by the bottom and gently pull the balloon from the inside of the bowl. Repeat with the remaining bowls.

Melt the light chocolate candy coating, stir it until smooth, and let it cool until it's just barely warm. Hold a bowl by the bottom lip and dip the top of the bowl into the coating, covering 1/4-1/2" of the top rim. Once all of the bowls are dipped, refrigerate them again to set the light chocolate coating.

Finally, melt the white coating. Pour it into a piping bag fitted with a small round tip, or a paper cone. (A small plastic bag with a hole cut in the corner might also work, or you can try using a toothpick.) Write the word "HUNNY" on the front of the bowls. Let the coating set one final time before filling the pots.
To Make Quick Honey-White Chocolate Mousse :
Combine the chopped white chocolate, salt, 3/4 cup heavy cream, and honey in a medium saucepan. Place the pan over low heat and gently warm it up, stirring frequently, until the white chocolate has melted and the mixture is smooth. Remove from the heat, pour it into a large bowl, and let it cool to room temperature, stirring occasionally.

While you wait for the white chocolate mixture to cool, prepare the gelatin. Whisk together the gelatin and the cold water in a small bowl, and set it aside to let the gelatin absorb the water. When the white chocolate is at room temperature, microwave the bowl of gelatin for 15 seconds, until it is melted. Whisk the melted gelatin and white chocolate together.

Whip the remaining 1 1/4 cups heavy cream to firm peaks. Fold half of the whipped cream into the white chocolate, and once it's incorporated, fold in the remaining whipped cream. Pour the mousse directly into 8 3/4-cup chocolate pots, ramekins, or other serving containers. Refrigerate for 2 hours before serving. Mousse can be made several days in advance and kept in the refrigerator until ready to serve. If desired, top "hunny pots" with a thin layer of honey on top of the mousse, for visual appeal.
Recipe Notes
Adapted from Bon Appetit yield: 8 3/4-cup servings
Measuring Tips
Our recipes are developed using weight measurements, and we highly recommend using a kitchen scale for baking whenever possible. However, if you prefer to use cups, volume measurements are provided as well. PLEASE NOTE: the adage "8 oz = 1 cup" is NOT true when speaking about weight, so don't be concerned if the measurements don't fit this formula.
Want to learn more about baking measurements and conversion?
Nutrition
Calories:
509
kcal
|
Carbohydrates:
42
g
|
Protein:
4
g
|
Fat:
36
g
|
Saturated Fat:
23
g
|
Cholesterol:
90
mg
|
Sodium:
140
mg
|
Potassium:
174
mg
|
Fiber:
0
g
|
Sugar:
40
g
|
Vitamin A:
885
IU
|
Vitamin C:
0.6
mg
|
Calcium:
123
mg
|
Iron:
0.2
mg
Tried this recipe?
Snap a pic and hashtag it #SugarHero. We love to see your creations on our Instagram @elabau.