These Chocolate Chai Pots de Creme are lusciously creamy and infused with cinnamon sticks, cardamom pods, and a bit of ginger, to give them a warm, comforting flavor.
Sometimes, as a dinner host or hostess, you just want to kick back, relax, serve an easy make-ahead dessert that looks a lot harder than it is, and make your guest uncomfortable when they're not sure how to pronounce the dessert's name. Ya feel me? I mean, is that so unusual?
Okay, maybe other people don't share my hosting philosophy, but I do believe everyone should share this dessert. These pots de crème are basically glorified baked puddings, but the fancy French name, miniature serving size, and garnishing possibilities make them seem way more gourmet than they actually are. And, of course, it helps if you serve them on a sexy mirrored tray. 1970's glam realness here.
I mentioned that these are similar to a pudding, but they have a few key differences from the typical stovetop whisk-and-serve pudding job. Puddings are thickened with cornstarch, while pots de crème get their thick, dreamy texture from eggs—either yolks, or in this case, a mix of whole eggs and yolks. I also like baking mine in a water bath—some people don't bake their pots de crème at all, but I love the luscious texture that comes from a long, slow simmer in a water bath. After they've baked and cooled, they have a wonderfully silky texture that's lighter and cleaner than that of many cornstarch puddings.
This particular recipe is heavy on the chocolate (of course!) but I also added a generous dose of chai spices. I infused the milk with cinnamon sticks, cardamom pods, and a bit of ginger, to give it a warm, comforting flavor. I love these flavors all the time, but it seemed especially appropriate for this in-between season we're muddling through right now. These little chocolate cups taste homey and comforting, like the best fall dishes, but because they're served chilled, they're still light and refreshing in warmer weather.
I finished mine with a simple dollop of softly whipped cream and some grated cinnamon. I'm not the boss of you, so I won't say the whipped cream is mandatory, but I will say that it makes the dessert at least 23% better. No pot de crème should have to leave the house naked, so add that cream! If you're not feeling the cinnamon, top it with a few shakes of cocoa or a little grated chocolate.
I also served them with these gorgeous marbled white and dark chocolate spoons. Edible utensils?! I have seen the future, and it is delicious. Now get out of my way while I figure out where to buy chocolate plates, napkins, and drinking cups! I got mine from a local cake/candy supply store, but fortunately intrepid reader Aton found them for sale online, and you can order them here!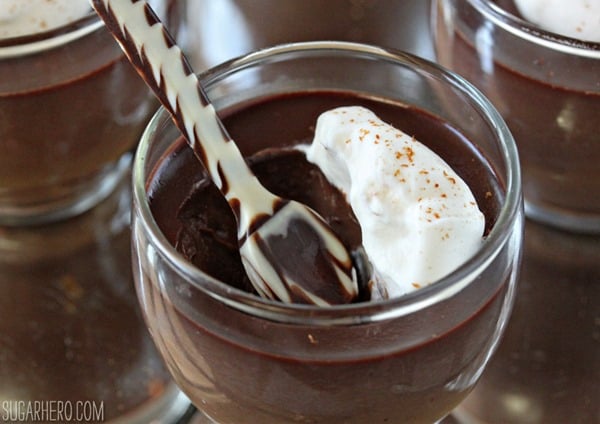 Oh, and if you think I'm a giant tease for not telling you how to pronounce pot de crème, apparently there's a whole Food 52 thread devoted to the subject. It's full of gems like "The r is made with that back-of-the-throat noise that French is notorious for." So if you enjoy seeing people drastically overexplaining things, there's your jam. As for the rest of us, let's just eat some dang pots de crème, alright?
❤️ More Creamy Desserts You'll Love