This Candy Bar Cheesecake has it all! A crunchy chocolate crust, two flavors of cheesecake, and LOTS of candy bars mixed in and on top! Use all your favorite chocolate candy bars to make this epic cheesecake!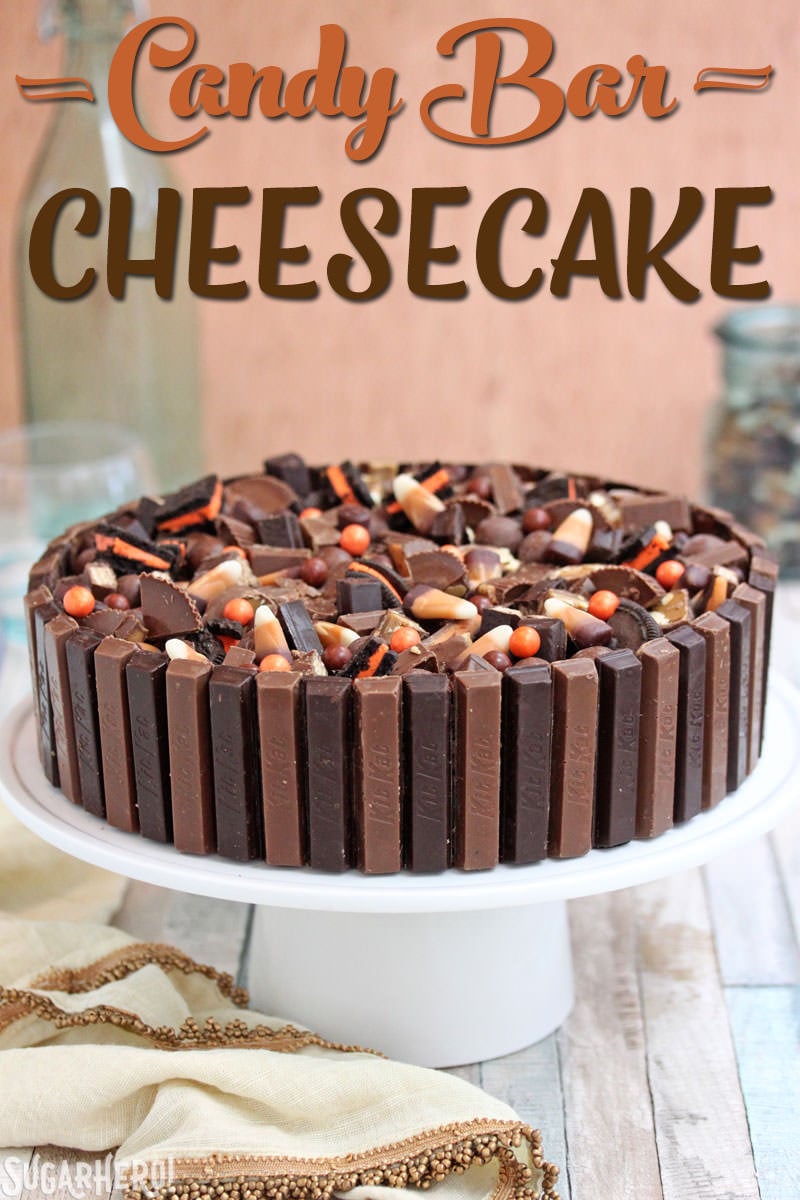 Welcome to the days after Halloween, or as I like to call them, "Major Regret." Sure, buying that extra-jumbo-hugenormous bag of Halloween candy bars always SEEMS like a good idea at the time…until it's three days later and you find yourself covered in smears of chocolate and a blanket of empty wrappers.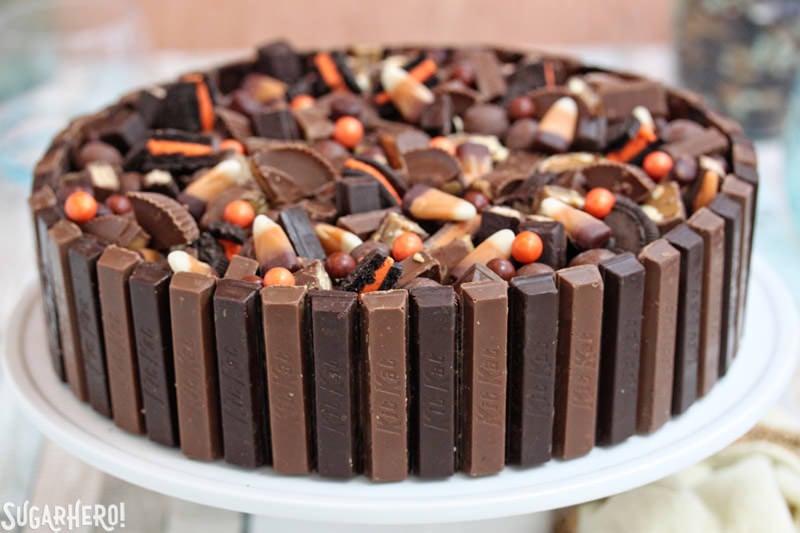 Folks, there is a better way. Let's put those extra candy bars to good use, make an EPIC dessert out of them, then foist it on our unsuspecting neighbors, coworkers, or family! Mwahaha! One more evil twirl of the mustache, and then we'll get to work…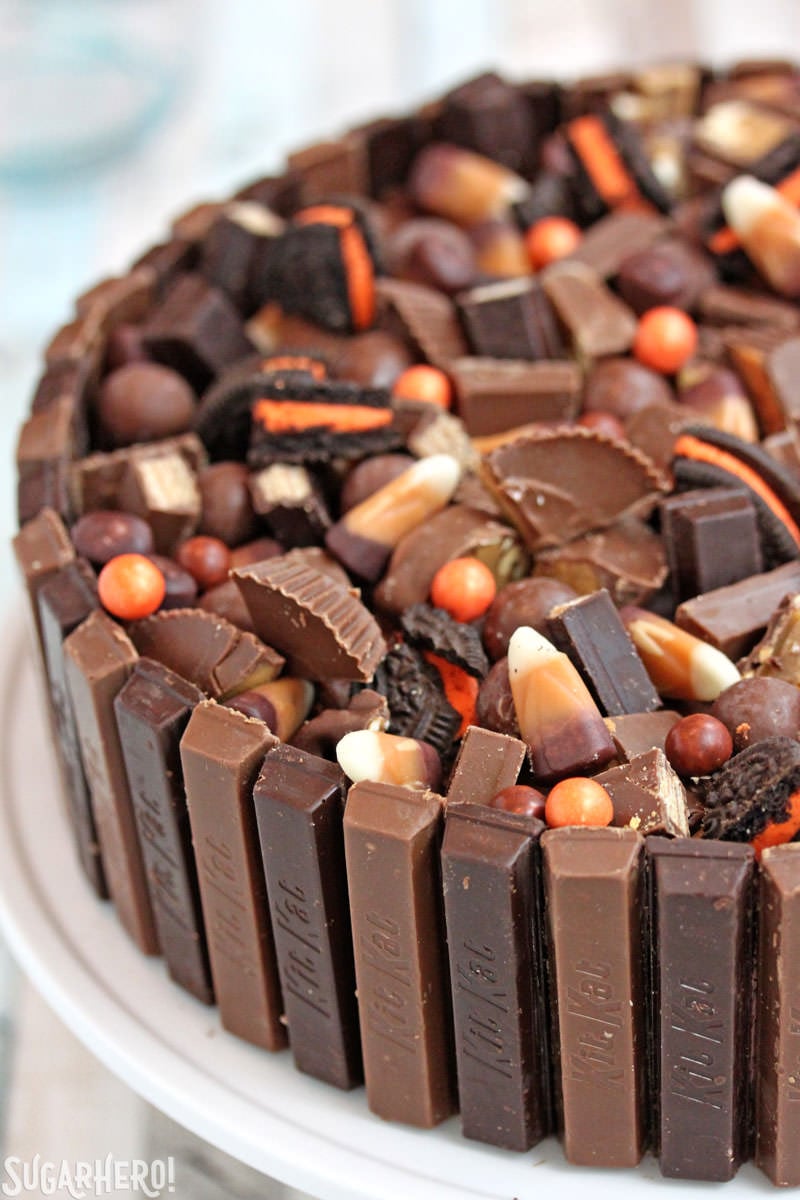 This cheesecake is a beast, in the best way possible. It starts with a crunchy chocolate crust, made from Oreos + butter. I used Halloween Oreos, but any flavor/variety you have will work well.
The filling is a double-decker beauty, half chocolate and half vanilla. I stirred chopped candy bars into the filling as well. Any candy bar should work, but my personal favorites were any with caramel (Snickers, 100 Grand, Milky Way) and Reese's peanut butter cups. The only ones I DIDN'T like were malted milk balls–their texture got a bit odd and chewy after baking, so if you have any Whoppers or similar, I would recommend using them as a topping only.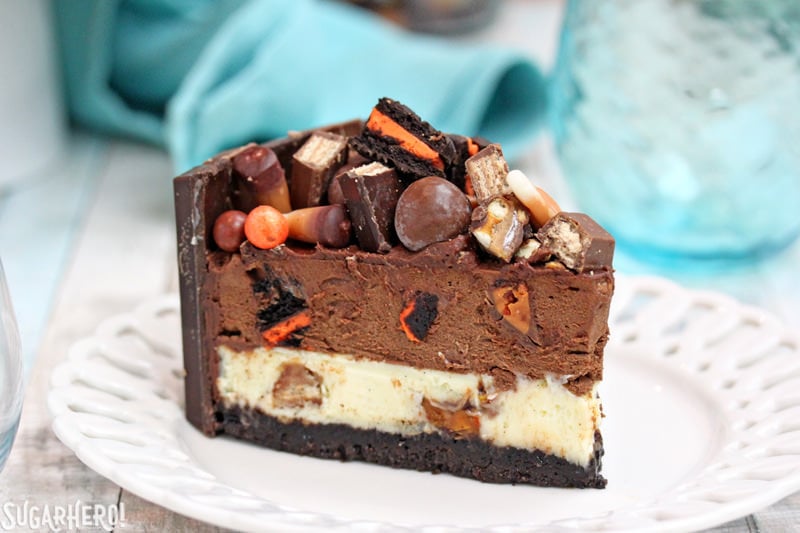 After the cheesecake is baked and cooled, I finished it off with a ring of Kit Kats around the edges, and a topping of more candy and Oreo cookies. Both of these elements are optional–if you have extra candy and Kit Kats, knock yourself out, and if you don't, this cheesecake is already plenty decadent and rich just with the candy in the filling!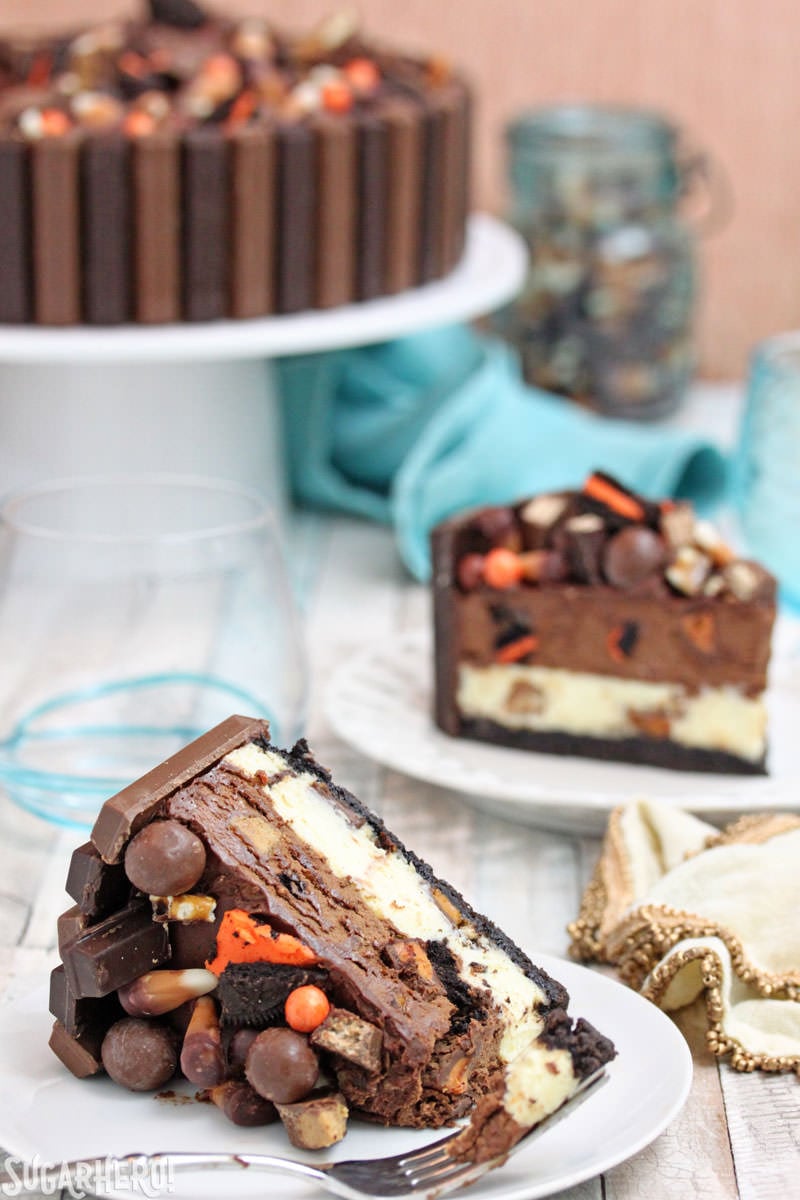 You might notice that I added some candy corn on top of the cheesecake too–I didn't throw them in the batter to bake, because I thought the texture might suffer, but as a cheesecake topping, they're perfect. I also added a few orange Sixlets for some color, just to break up all the drab browns. Chocolate may be delicious, but it's a little lacking in visual excitement.
Are you suffering from extra candy regret too? I'm always looking for fun candy ideas, so let me know what you like to do with your Halloween leftovers in the comments!
10-Flavor Cheesecake Sampler
Why settle for just one kind of cheesecake when you can have TEN?! Turn a plain cheesecake into a homemade cheesecake sampler, featuring ten different cheesecake flavors and designs in one cake. Perfect for large groups or parties!
View Recipe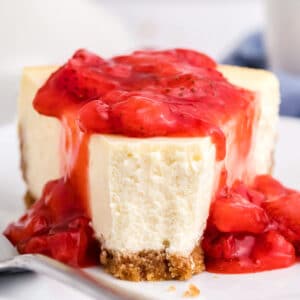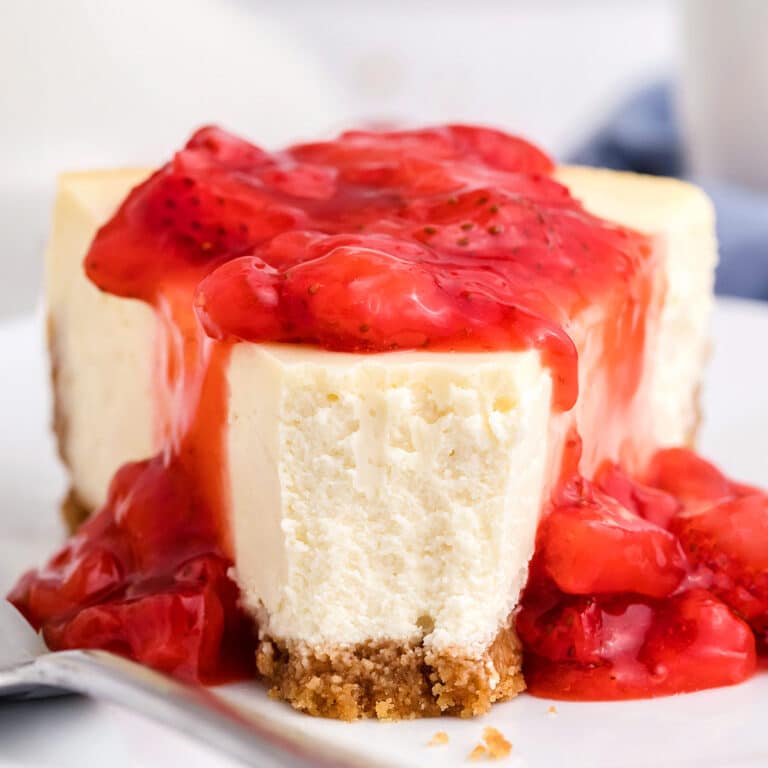 New York Style Cheesecake
This rich and creamy New York-Style Cheesecake recipe is what classic cheesecake should be! With a buttery graham cracker crust and a lightly sweetened cream cheese filling, it's perfect on its own, or topped with your favorite dessert sauce.
View Recipe
Candy Bar Cheesecake
This Candy Bar Cheesecake has it all! A crunchy chocolate crust, two flavors in the filling, and LOTS of candy bars mixed in and on top! You can use any chocolate-based candy bars you have on hand to make this cheesecake.
Ingredients
For the Crust:
2

oz

unsalted butter

,

melted

12

oz

Oreo cookie crumbs, (approx.

2 cups

, from about

26 cookies

)
For the Cheesecake:
16

oz

cream cheese

,

at room temperature

7

oz

granulated sugar,

(1 cup)

2/3

cup

heavy cream

1

tsp

fresh lemon juice

1

TBSP

vanilla extract

2

large eggs

,

at room temperature

4

oz

semi-sweet chocolate,

melted

12

oz

chopped candy bars

, (

2 1/2 cups

chopped)

½

cup

prepared chocolate frosting

,

for decorating edges, optional

60

fun-sized Kit Kats

,

for decorating edges, optional
Instructions
Preheat the oven to 350 F. Start heating water to a boil, for the water bath.

Spray a 9-inch springform pan with nonstick cooking spray. Wrap aluminum foil tightly around the outside of the pan, coming up to the top edge. I like to use heavy-duty 18-inch foil, to prevent any water from leaking in to the cheesecake, but if you don't have 18-inch foil, consider doing 2 overlapping layers of foil to make it more waterproof. Alternately, you can use a disposable foil cake pan, and cut the cheesecake out of it after baking.

Combine the melted butter and Oreo cookie crumbs , and stir them together until the crumbs are the texture of wet sand.

Firmly press the chocolate crumbs into the bottom of the pan—no need to press it up the sides. Refrigerate the pan while you prepare the filling.

Place the room temperature cream cheese in the bowl of a large stand mixer fitted with a paddle attachment. (A hand mixer can also be used.) Beat the cream cheese on medium speed until it is fluffy and free of lumps. Add the sugar and mix it in, then scrape down the bottom and sides of the bowl well.

Add the heavy cream, vanilla, and lemon juice, and blend until smooth and creamy. Finally, add the eggs, and beat just until combined. Scrape down the bottom and sides of the bowl well

Divide the cheesecake batter in half, and stir the melted semi-sweet chocolate into half of the batter. Add about ½ cup of chopped candy bars to each color.

Scrape the plain batter into the prepared crust, and smooth it into an even layer. Pour the chocolate batter on top, and smooth that as well.

Place the pan into a larger pan and pour boiling water into the larger pan until it comes halfway up the side of the cheesecake pan.

Bake the cheesecake for about 45 minutes, until it looks puffed and set around the edges, but the center still jiggles slightly. You don't want it to be completely firm at this stage. Close the oven door, turn the heat off, and let the cheesecake rest in the cooling oven for one hour. This lets the cake finish cooking and cool down gently enough so that it won't crack on the top. After one hour, remove the cheesecake from oven and lift it carefully out of the water bath. Let it finish cooling on the counter, and then refrigerate it for at least 4 hours (overnight is okay.)

Release the sides of the pan, and run a thin metal spatula under the crust to remove it from the bottom. Transfer the cheesecake to your serving plate. Spread a thin layer of chocolate frosting around the sides of the cheesecake, and press the Kit Kat bars into the sides all the way around. Spread the remaining frosting on top of the cake in a thin layer, and sprinkle the top with the remaining chopped candy bars, pressing them gently into the frosting to adhere them. Slice, serve, and enjoy!
Recipe Notes
While the actual making of this cheesecake is a minimal time commitment, it does need to bake for almost an hour, cool in the oven for an hour, and chill overnight before it is served, so make sure you plan your time accordingly.
Measuring Tips
Our recipes are developed using weight measurements, and we highly recommend using a kitchen scale for baking whenever possible. However, if you prefer to use cups, volume measurements are provided as well. PLEASE NOTE: the adage "8 oz = 1 cup" is NOT true when speaking about weight, so don't be concerned if the measurements don't fit this formula.
Want to learn more about baking measurements and conversion?
Nutrition
Calories:
455
kcal
|
Carbohydrates:
32
g
|
Protein:
4
g
|
Fat:
23
g
|
Saturated Fat:
12
g
|
Cholesterol:
73
mg
|
Sodium:
226
mg
|
Potassium:
140
mg
|
Fiber:
1
g
|
Sugar:
24
g
|
Vitamin A:
650
IU
|
Vitamin C:
0.2
mg
|
Calcium:
47
mg
|
Iron:
2.5
mg
Tried this recipe?
Snap a pic and hashtag it #SugarHero. We love to see your creations on our Instagram @elabau.