This post may contain affiliate links. As an Amazon Associate I earn from qualifying purchases. Please see my disclosure policy for more information.
These Caramel Cheesecake-Topped Brownies has smooth, creamy, and wonderfully light topping which is perfect contrast to the fudgy brownies underneath. Grab a glass of milk and go to town on these!
Not to get all meta on you, but I really struggled with a name for these bars. (This might sound ridiculous, but I know you fellow food bloggers understand what I'm talking about!)
Names are important. Which would you rather eat: Oreo Truffles, or Smooshed Cookies Mixed With Dairy Product and Mashed Into A Vaguely Spherical Shape? Behold: the power of naming.
So here's the deal with these "Caramel Cheesecake-Topped Brownies." They're brownies, obviously. And the topping contains caramel sauce and cream cheese, so it seems like a good bet to include those elements in the name. But "Caramel Cheesecake" is a bit misleading.
Most cheesecakes are rich and dense, while the topping on these bars is smooth, creamy, and wonderfully light, the perfect contrast to the fudgy brownies underneath. It does have hints of deep caramel flavor, but it also tastes of vanilla and cinnamon, mingling with the crunchy mini chocolate chips and toasted pecans that are mixed in.
Jason, bless his description-challenged heart, described them as "German Chocolate Cake, without the cake…or the pecan-coconut topping," and no, I don't know what that means either. This is why he's the SugarHero taste-tester and not the SugarHero blog-writer. I think he means they share the same flavor mix of chocolate, caramel, dairy, and a somewhat custardy, pudding-y texture…or maybe he's crazy. Equally possible.
All of this babbling is just to say, don't expect a dense layer of cheesecake on top of these moist brownies! If you're a cheesecake fan, I think you'll still love them, and if you're not, you will be pleasantly surprised at how well the cream cheese flavor and texture has been transformed.
The bars, finished with a thin layer of shiny smooth chocolate ganache, can be served as finger food, brownie style, or eaten like cake, all dainty-like, on a plate with a fork and a pinkie held high.
Whatever you call them, they're darn good…and I'm not at a loss for words regarding that! If you like this recipe, you'll also like my Chocolate Cheesecake, Truffle-Topped Heart Cake and German Chocolate Brownie Ice Cream!
More Brownie Recipes🤎🤎🤎
Deep-Fried Cheesecake
You've probably tried lots of different types of cheesecake, but have you ever had it deep-fried?? Deep-frying cheesecake gives it an amazingly creamy, soft texture. I like serving it with a raspberry sauce, but it's also great with chocolate, caramel, or any of your favorites!
Get the recipe!
Chocolate Peanut Butter Cheesecake
This Chocolate Peanut Butter Cheesecake is the ultimate dessert for chocolate and peanut butter lovers! It features a chocolate cookie crust and rich stripes of luscious chocolate and peanut butter cheesecake. Top it with whipped cream and peanut butter cups for maximum indulgence! 
Get the recipe!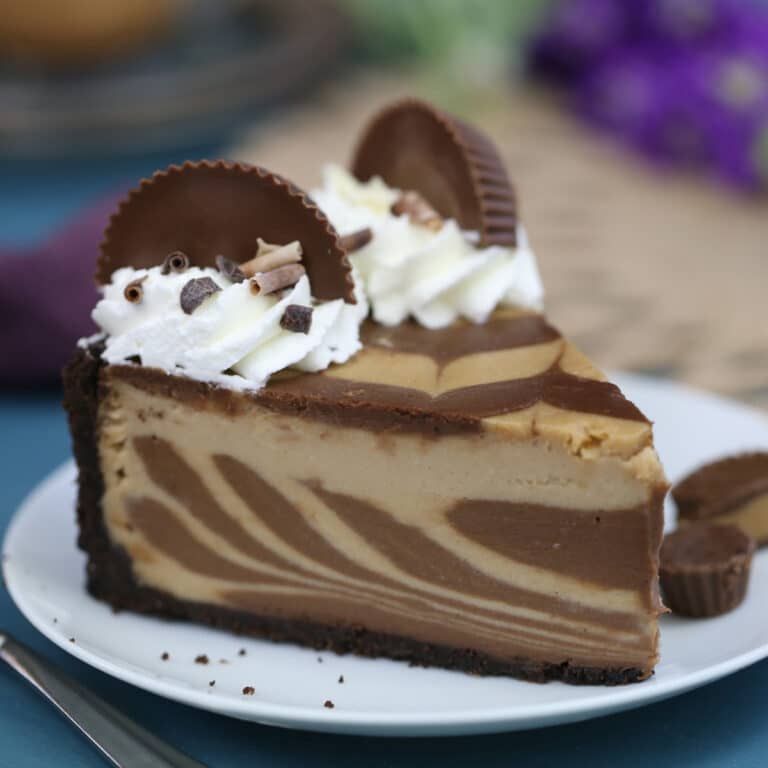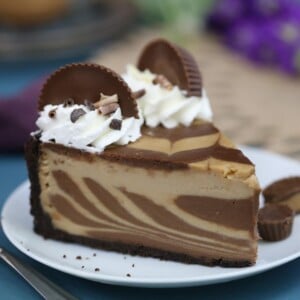 Caramel Cheesecake-Topped Brownies
These Caramel Cheesecake-Topped Brownies has smooth, creamy, and wonderfully light topping which is perfect contrast to the fudgy brownies underneath. Grab a glass of milk and go to town on these!
Ingredients
For the Caramel Cheesecake Layer:
8

oz

cream cheese

,

at room temperature

2

oz

unsalted butter

, (

4 tbsp

), at room temperature

1/3

cup

powdered sugar

1/3

cup

vanilla instant pudding mix

,

(about half of a 5.1 oz package)

1/2

cup

caramel sauce

1

tsp

ground cinnamon

1

tsp

vanilla extract

2/3

cup

pecans,

toasted, coarsely chopped

4

oz

miniature chocolate chips, (

⅔ cup

), finely chopped
For the Chocolate Ganache Glaze:
4

oz

semi-sweet chocolate, (

⅔ cup

), finely chopped

1/2

cup

heavy cream

1

oz

unsalted butter

, (

2 tbsp)

, at room temperature
Instructions
To Make the Brownies:
Preheat the oven to 350 degrees Fahrenheit. Line a 9×13-inch pan with aluminum foil, and spray the foil with nonstick cooking spray.

Combine the butter and the chopped chocolate in a large microwave-safe bowl, and microwave in 30-second increments until they're melted together, stirring after every 30 seconds. Once everything is melted and smooth, add the cocoa powder and whisk it in.

Whisk in the eggs, one at a time, whisking well after each egg. Finally, add the sugar, vanilla, and flour, and whisk everything together. The texture might be broken and grainy at first, but continue to whisk until it comes together and is smooth, shiny, and satiny. This might take a moment or two. Stir in the chopped pecans.

Scrape the batter into the prepared pan, and smooth it into an even layer. Bake the brownies at 350 F for 22-25 minutes, until a toothpick inserted into the center comes out with just a few moist crumbs. Let the brownies cool completely before topping them with the cheesecake layer.
To Make the Caramel Cheesecake Layer:
Combine the room temperature cream cheese and butter in a large mixing bowl, and mix them together using a stand mixer or hand mixer, until light and fluffy.

Add the powdered sugar, vanilla pudding mix, caramel sauce, vanilla extract, and cinnamon, and mix on medium speed until well-incorporated. Stir in the pecans and chocolate chips, and make sure to scrape down the sides and bottoms of the bowl well. Spread it into an even layer on top of the brownies. It can be made in advance and kept in the refrigerator until ready to spread.
To Make the Ganache:
Place the semi-sweet chocolate in a medium bowl. Pour the heavy cream into a small saucepan over medium heat. Bring the cream to a simmer, then pour the hot cream over the chopped chocolate. Let the cream sit and soften the chocolate for one minute, then whisk them together. When your mixture is smooth, add the room temperature butter and whisk it in. Pour the ganache over the cheesecake layer while it is still warm, so it flows evenly and creates a smooth finish on top.

Chill the bars well, until the ganache is set. Lift the brownies from the pan using the foil as handles, and cut them into small squares to serve.
MEASURING TIPS
Our recipes are developed using weight measurements, and we highly recommend using a kitchen scale for baking whenever possible. However, if you prefer to use cups, volume measurements are provided as well. PLEASE NOTE: the adage "8 oz = 1 cup" is NOT true when speaking about weight, so don't be concerned if the measurements don't fit this formula.
Click here to learn more about baking measurements and conversion.
Nutrition
Calories:
568
kcal
|
Carbohydrates:
52
g
|
Protein:
6
g
|
Fat:
38
g
|
Saturated Fat:
19
g
|
Cholesterol:
101
mg
|
Sodium:
126
mg
|
Potassium:
249
mg
|
Fiber:
3
g
|
Sugar:
33
g
|
Vitamin A:
775
IU
|
Vitamin C:
0.1
mg
|
Calcium:
66
mg
|
Iron:
2.7
mg
Share by Email
Share on Facebook
Share on Pinterest