Looking for an easy spring or Easter dessert? These Pastel Rainbow Gelatin Cups are simple, kid-friendly, and so beautiful! Serve them plain, or top them with whipped cream and sprinkles!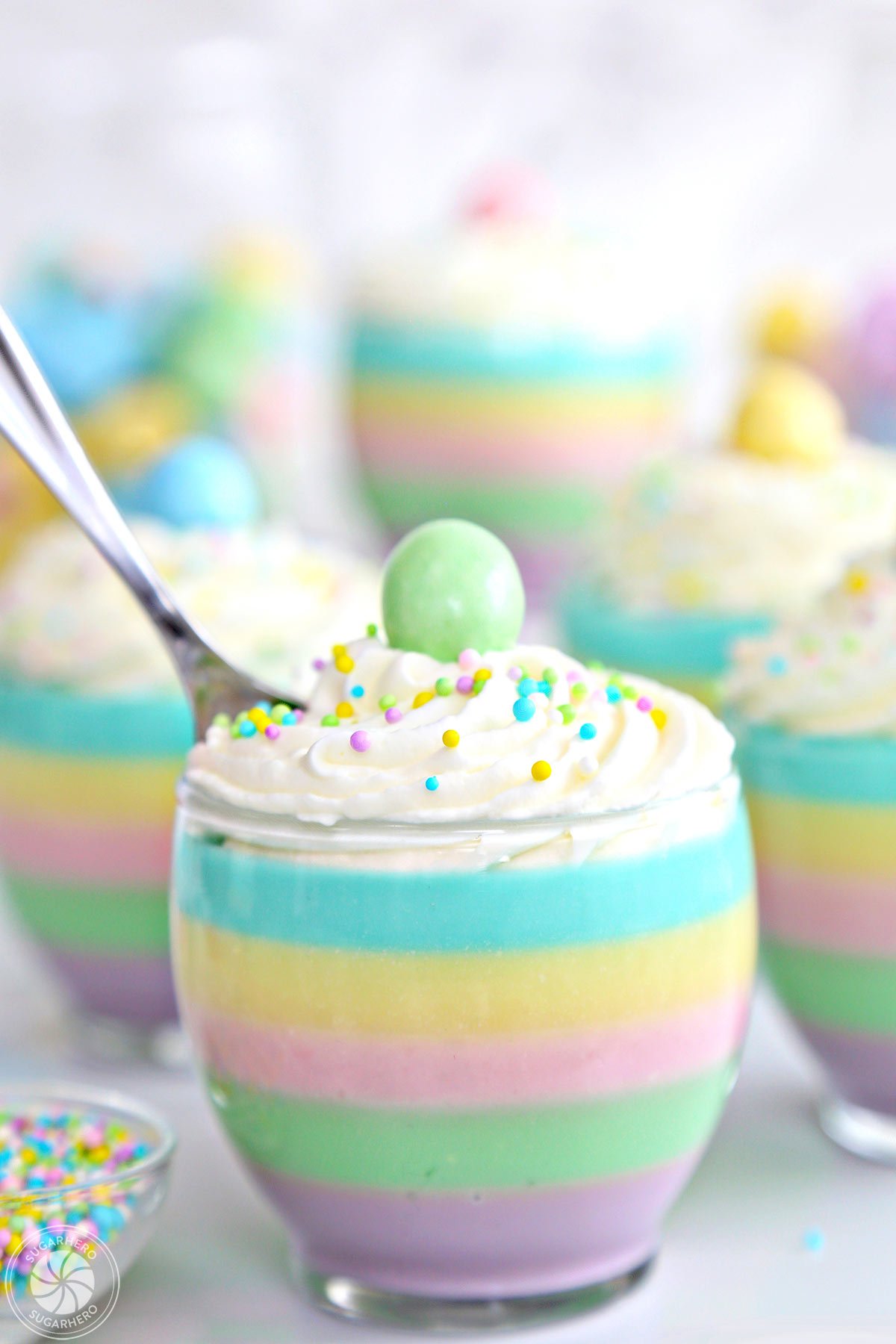 Pastel Rainbow Jello Recipe
Rainbow gelatin is a great way to make a somewhat boring dessert exciting. (Sorry, gelatin, but it's true!) Plain gelatin cups are a snooze. But rainbow gelatin cups? Rainbow gelatin cups are a party!
These Pastel Rainbow Gelatin Cups are as delicious as they are beautiful. They feature five—FIVE!!—creamy, fruity layers, all stacked together in single-serving cups and topped with lots of whipped cream and sprinkles.
This recipe is inspired by our immensely popular Easter No-Bake Mini Cheesecakes. They're always one of SugarHero's top spring recipes, and many people love them and request similar recipes. We also get requests from people who don't like cheesecake, but still want to get in on the springtime rainbow fun. So here we go—a pretty striped pastel treat, no cream cheese required!
Want to make the rainbow a hidden surprise? Try making this dessert in a Chocolate Bowl!
If you want more gorgeous spring desserts, don't miss our Hydrangea Cakes, Easy Chocolate Flower Cupcakes, or Cherry Blossom Petit Fours!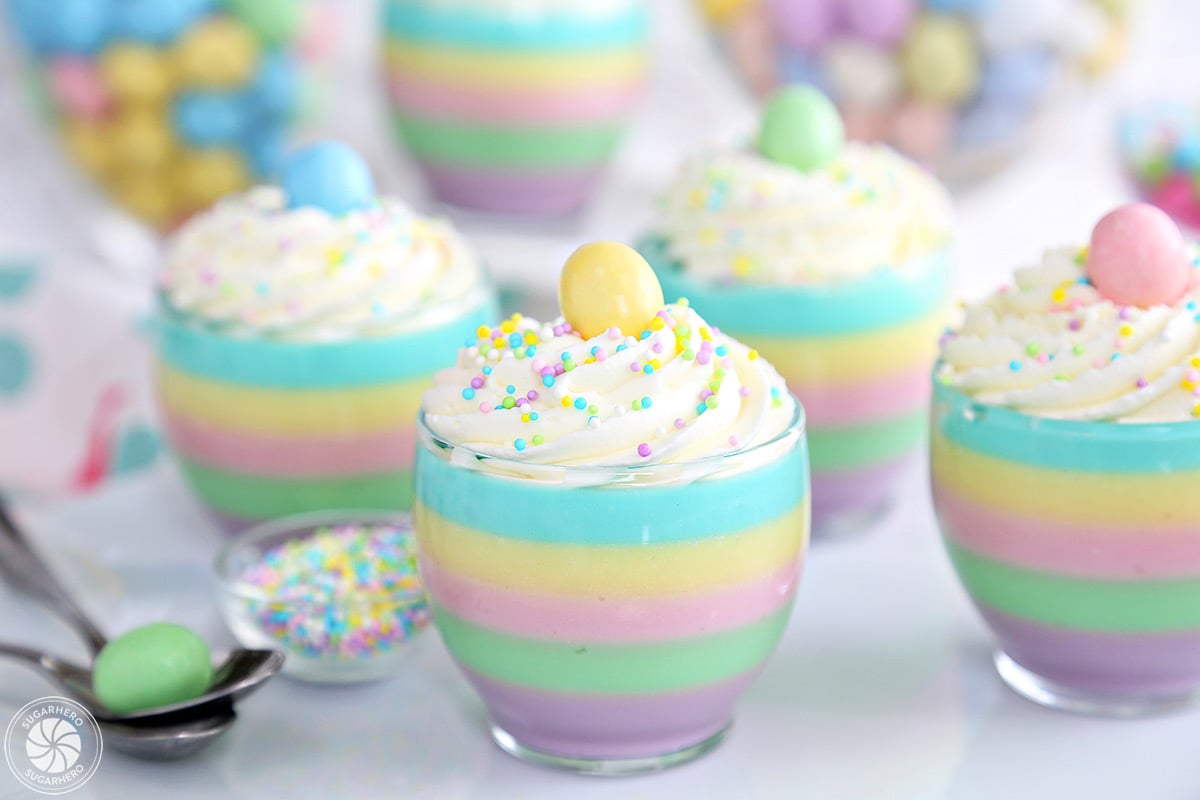 🧾 What You'll Need
Ingredients
Don't be intimidated by all the colors and layers–these gelatin cups are super simple to make! Here's a summary of what you'll need, and you can find more detailed information in the Tips section or recipe card down below. (Links are affiliate links and I earn a small commission from qualifying purchases.)
Gelatin:

the most important ingredient! You will need five (3-ounce) packages of different flavors/colors of fruit-flavored gelatin. I've tried this recipe with several different brands, from expensive fancy brands to cheap store brands, and they all work well, so you can use whatever is available to you. Sugar-free gelatin can also be substituted with no issues. (Quick note about sugar-free gelatin: because the weight of the packages is very different, disregard the weight measurements in the recipe, which will be inaccurate for sugar-free gelatin.)
Milk: you can use any fat percentage you have available.
Vanilla yogurt: I love this recipe with a thick, Greek-style vanilla yogurt, but you can use another flavor of yogurt, or plain (unsweetened) yogurt, or even swap in sour cream if you want your gelatin cups to be more tangy.
Whipped cream and sprinkles:These cups are delish on their own, but to really gild the lily, top them with a swirl of whipped cream and your favorite pastel sprinkles!
Equipment
Whisk:

A whisk is truly the only tool you need to make these!

Bowls:

Five colors means a lot of mixing bowls! Have several bowls handy so you're not constantly washing between each layer.
Small glasses:The glasses pictured are 1/2-cup (4 ounce) glasses, which I think is the perfect serving size for this dessert. This recipe makes twelve 4-ounce cups, or six 8-ounce servings.
📋 How to Make Rainbow Gelatin Cups
Assembling these rainbow cups couldn't be simpler. The only tricky part is budgeting enough time, because you will need to briefly chill the cups in between each color. Here's how you make them:
Pour 5 different colors of flavored gelatin into 5 different bowls, and whisk hot water into each bowl.
Let the bowls cool to room temperature, then whisk milk and yogurt into each bowl.
Add a few tablespoons of your first color to each glass. I like to use a measuring cup with a spout to make the pouring process neater and faster.
Refrigerate the glasses for 15 minutes, or put them in the freezer for 7-8 minutes. Repeat this process with the remaining colors, chilling briefly between each color so you can layer them without disturbing the colors underneath.
After the final color is added, refrigerate the cups for at least 4 hours, so the gelatin is completely set. If desired, top them with whipped cream and cute sprinkles, and serve!
💡 Tips and Variations
How to Make Pastel Gelatin
Here's the secret for turning bright gelatin pastel: dairy!! You need an opaque dairy product to make that soft pastel color.
In this recipe, the secret weapons for pastel-izing gelatin are vanilla yogurt and milk. These mellow the strong fruit flavor of the gelatin, while also giving it a creamier texture and making it a beautiful soft, opaque color.
You can use another yogurt flavor if you'd like—plain works fine, or another fruit-friendly flavor, like coconut, would probably be very good. If you like your desserts a little tangy, try swapping in sour cream instead of yogurt!
Make Rainbow Jell-o Cake
Would you rather make a large rainbow gelatin cake instead of individual gelatin cups? You can do that with this recipe! You have a couple choices—you can use a square or rectangular baking dish, or a 10-12 cup bundt pan.
If you use a bundt pan, make sure you grease it well,. After the gelatin is completely set, the pan can be inverted and the gelatin popped out, just like a cake. Cut that baby into slices and enjoy!
If you use a 9×9 square or 9×13 rectangular baking dish, you can cut the gelatin up into small squares and serve like happy little appetizers. The smaller pan will produce big tall pieces, while the pieces from the larger pan will be much thinner. This is a good choice if you want to stretch the serving size or if you're making this for young children.
If you love this recipe, don't miss more of my kid-friendly Easter recipes like Chocolate Easter Nests (Birds Nest Cookies) and Spring Chick Cupcakes!
💭 FAQs
💗More Pastel Desserts to Try: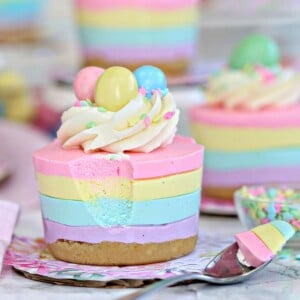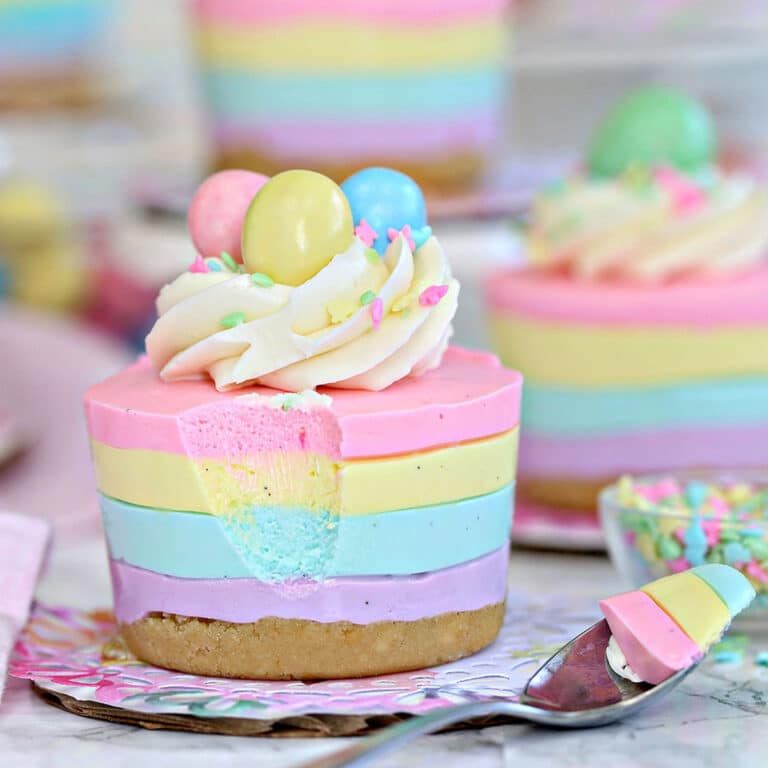 Easter No-Bake Mini Cheesecakes
Looking for an easy Easter dessert? These Easter No-Bake Mini Cheesecakes are perfect! They're cute pastel striped cheesecakes that are simple to make, no baking required!
View Recipe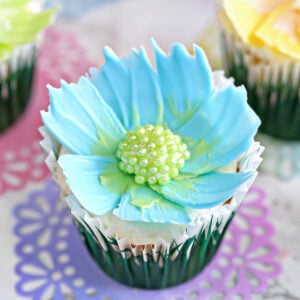 Easy Chocolate Flower Cupcakes
These Easy Chocolate Flower Cupcakes are simple, fun, and perfect for birthdays and showers! They feature a delicious lemon cupcake, fluffy coconut frosting, and easy but beautiful edible chocolate flowers on top.
View Recipe
Pastel Rainbow Gelatin Cups
Looking for an easy spring dessert? These Pastel Rainbow Gelatin Cups are simple, kid-friendly, and so beautiful! Serve them plain, or top them with whipped cream and sprinkles! 
Ingredients
3.75

cups

water

divided use

5

packages

flavored gelatin

(3 oz packages), Assorted colors, like purple, blue, pink, yellow, and green

1.25

cups

milk

divided use

2.5

cups

vanilla yogurt

divided use

Whipped cream

for topping

Sprinkles

or other decorations
Instructions
If you are using individual glasses, set your 12 glasses on a baking sheet. If you are using a cake pan or bundt pan, spray it lightly with nonstick cooking spray.

For each layer, you will use one 3-oz gelatin package, ¾ cup boiling water, ¼ cup milk, and ½ cup vanilla yogurt.

Pour each 3-oz package of gelatin into its own medium bowl. Add ¾ cup boiling water to each bowl, and whisk well, for about 30-60 seconds each, to make sure all of the gelatin granules are dissolved.

The gelatin needs to be room temperature before you can add the dairy components. Most of the layers can sit at room temperature and cool, but you can speed up the process for the first layer and refrigerate it for 10-15 minutes, until it is no longer warm. It should not be starting to set, but it should feel neutral to the touch. If it has started to set around the edges, microwave it for just 10 seconds or so, then whisk well so that it is completely fluid.

Add ¼ cup of milk and ½ cup of vanilla yogurt to the bowl, and whisk well, until you have a smooth, creamy pastel mixture. Divide it evenly between your glasses, using about 2 TBSP per glass. If you are using a large pan, pour the entire contents into the bottom of the pan.

Place the tray of glasses into the refrigerator to set, for about 15 minutes. (If you're in a hurry, you can place it in the freezer for about 8 minutes, but don't let it freeze completely!) Note that the timing might be slightly different if you are using a cake or bundt pan. When you touch the top of the gelatin with your finger, it should feel mostly set, but it's okay if your finger leaves a slight mark in the top.

Once the first layer is set, make sure that the gelatin for the second layer is room temperature, then whisk in the milk and yogurt. Pour the second color on top of the first, and chill again for 15 minutes, until mostly set.

Continue to repeat this process with the remaining 3 colors. The gelatin that you mixed up in the beginning should be fine sitting at room temperature, but if you find that it does start to set around the edges, microwave it briefly and whisk well to make sure it's fluid before adding the dairy.

After all 5 colors have been layered, refrigerate the cups for at least 4 hours before serving, to make sure they're set all the way through.

Top each cup with a swirl of whipped cream, and whatever sprinkles or other decorations you'd like! These Pastel Rainbow Gelatin Cups keep very well in the refrigerator, so you can prepare them several days in advance and wrap them in plastic wrap, so the tops don't dry out, until you're ready to decorate and serve them.
Video
Recipe Notes
This recipe has been updated from when it was originally published. You can find the original version of the recipe here. 
This recipe makes twelve ½-cup (4 oz) glasses but can be made as one large cake.
Making one large rainbow gelatin cake:
Instead of individual cups, you can make this recipe into a slice-and-serve dessert by using a baking pan or cake pan. You can use a 9×13 pan (which will produce thin layers), a 9×9 pan (thicker layers), or an 8-10 cup bundt pan. Make sure you grease the pan well before adding the gelatin. Once the gelatin layers are completely set, slice the dessert into small squares or pieces, and serve!
Getting pastel pink gelatin:
For the pink layer, I found that the typical strawberry and raspberry gelatin flavors produced a very bright pink that wasn't as pastel as I wanted it to be. So for the pink, I used a "natural" strawberry lemonade gelatin, made with natural coloring, and the resulting gelatin was much lighter in color. This was from Jell-o brand and I found it at my local Target store. If you use a different strawberry gelatin your pink layer might be brighter than mine. 
Measuring Tips
Our recipes are developed using weight measurements, and we highly recommend using a kitchen scale for baking whenever possible. However, if you prefer to use cups, volume measurements are provided as well. PLEASE NOTE: the adage "8 oz = 1 cup" is NOT true when speaking about weight, so don't be concerned if the measurements don't fit this formula.
Want to learn more about baking measurements and conversion?
Nutrition
Calories:
212
kcal
|
Carbohydrates:
41
g
|
Protein:
5
g
|
Fat:
3
g
|
Cholesterol:
2
mg
|
Sodium:
222
mg
|
Potassium:
159
mg
|
Sugar:
40
g
|
Vitamin A:
20
IU
|
Vitamin C:
0.4
mg
|
Calcium:
93
mg
|
Iron:
0.1
mg
Tried this recipe?
Snap a pic and hashtag it #SugarHero. We love to see your creations on our Instagram @elabau.