Looking for an easy spring dessert? These Pastel Rainbow Gelatin Cups are simple, kid-friendly, and so beautiful! Serve them plain, or top them with whipped cream and sprinkles!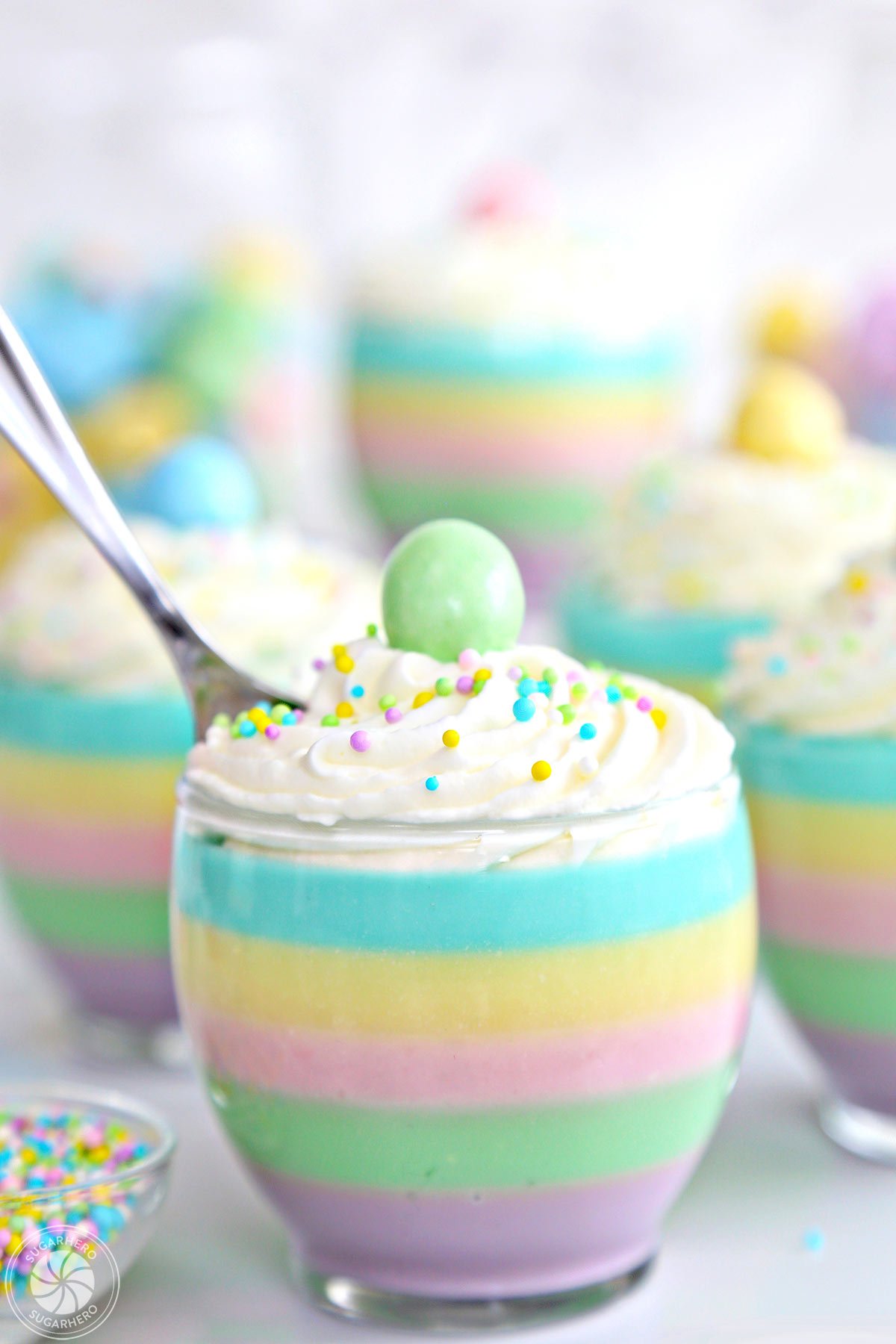 Thank you to International Delight for sponsoring this post. This year, I'm pleased to partner with them to bring you a series of delicious dessert recipes.
We've been going through a major gelatin phase at my house lately. My son has been sick off and on with the typical winter nasties, so I've been keeping lots of his favorite comfort foods, like gelatin and pudding cups, close at hand.
After eating a few too many boring gelatin cups, I decided to take things into my own hands and make a better, SugarHero-worthy gelatin dessert. And since I'm obsessed with rainbows, and since it's ALMOST spring (oh please oh please…) I decided I had to make a spring-inspired, pastel rainbow gelatin dessert!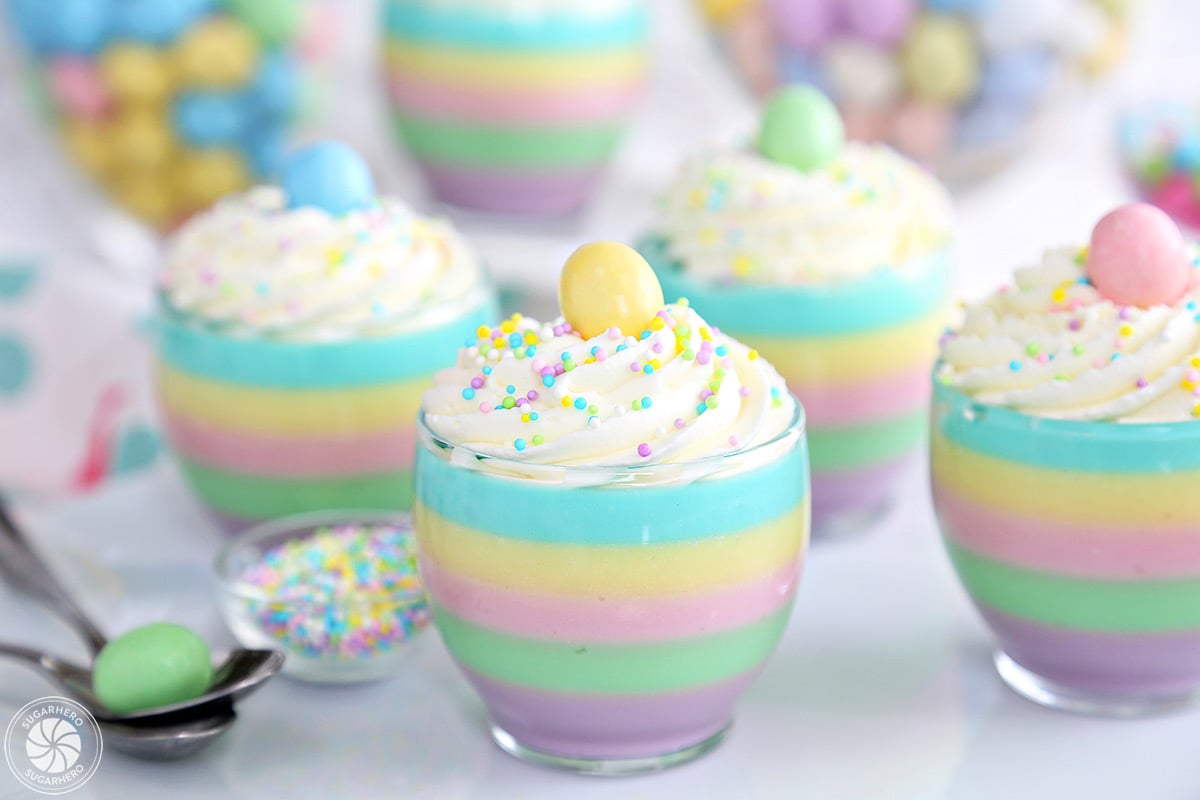 In coming up with this dessert, I was also inspired by these Easter No-Bake Mini Cheesecakes I posted last year. They became really popular, and I heard from so many people who loved them. I also heard from a number of people who didn't like cheesecake but still wanted to get in on the springtime rainbow fun. So here ya go—a pretty striped pastel treat, no cream cheese required!
These Pastel Rainbow Gelatin Cups are as delicious as they are beautiful. They feature five—FIVE!!—creamy, fruity layers, all stacked together in single-serving cups and topped with lots of whipped cream and sprinkles.
It took a little fiddling to figure out how to strike the perfect balance between getting a pretty pastel color, not overwhelming the fruity flavor of the gelatin, and making sure that the texture was neither too soft nor too rubbery. (Because no one, in the history of the world, has ever asked for their dessert to be more rubbery, right?)
What Gelatin Should I Use for Pastel Rainbow Gelatin Cups?
The gelatin I used was typical fruit-flavored gelatin you can find in any grocery store. I tried several brands and they all worked well, so feel free to buy whatever's available. I did experiment with sugar-free gelatin, which also works, but be aware that the weight of the gelatin package is different (due to the sugar substitute used) so the recipe is written with standard gelatin, to keep things as simple as possible.
I also used standard flavors, with one exception. The regular strawberry and raspberry flavors available all produced a bright pink color—not pastel enough for me—so I used a "natural" strawberry lemonade variety I found, made with natural food coloring. This color was much softer and gave me a nice subtle pink. If you can't find something similar, your pink color might be brighter than mine.
But How Do I Make the Gelatin Actually Look Pastel?
My secret weapons for pastel-izing gelatin were vanilla yogurt, and International Delight Sweet Cream coffee creamer. These mellowed the strong fruit flavor of the gelatin, while also giving it a creamier texture and making it a beautiful soft, opaque color.
You can use another yogurt flavor if you'd like—plain works fine, or another fruit-friendly flavor, like coconut, would probably be very good. If you like your desserts a little tangy, try swapping in sour cream instead of yogurt!
The International Delight Sweet Cream coffee creamer I used was a really nice addition to the other flavors. It has a subtle taste that's almost like melted vanilla ice cream, and it was perfect for complementing the various fruity flavors. I also tried it with French Vanilla and White Chocolate Raspberry, and both of those worked well too! (Also, it's possible I have a coffee creamer problem…send help, and another refrigerator!)
I hear from some readers that they're not able to find International Delight creamers in their country (shout-out to Australia!). If that's the case, you can substitute milk instead.
Can I Make Pastel Rainbow Gelatin in a Pan Instead?
You definitely don't have to use single-serving cups like I did! I think they're very cute (and are a nice callback to the snack pack origins of this recipe) but I'm not going to lie, sometimes I only want a nibble of gelatin, not a whole serving.
You have a couple choices—you can use a square or rectangular baking dish, or a bundt pan. If you use a bundt pan, make sure you grease it well, and after the gelatin is completely set, the pan can be inverted and the gelatin popped out, just like a cake. Cut that baby into slices and enjoy!
If you use a 9×9 or 9×13 baking dish, you can cut the gelatin up into small squares and serve like little happy appetizers. The smaller pan will produce big tall pieces, while the pieces from the larger pan will be much thinner. This is a good choice if you want to stretch the serving size or if you're making this for young children.
Ready to learn how to make this dessert? It's so easy! Check out the video below!
How to Make Pastel Rainbow Gelatin Cups Video:
Print Recipe
Pastel Rainbow Gelatin Cups
Looking for an easy spring dessert? These Pastel Rainbow Gelatin Cups are simple, kid-friendly, and so beautiful! Serve them plain, or top them with whipped cream and sprinkles! I made these in individual ½-cup glasses, but you can also make it into a slice-and-serve dessert by using a baking pan or cake pan. You can use a 9x-13 pan (which will produce thin layers), a 9x9 pan (thicker layers), or an 8-10 cup bundt pan. Once the gelatin layers are completely set, slice the dessert into small squares or pieces, and serve!
Servings:
12
gelatin cups
Ingredients
3.75

cups

water

divided use

5

(3 oz)

packages flavored gelatin

I used purple, blue, red, yellow, and green (see Note below)

1.25

cups

International Delight Sweet Cream coffee creamer

divided use

2.5

cups

vanilla yogurt

divided use

Whipped cream

for topping

Sprinkles or other decorations
Instructions
If you are using individual glasses, set your 12 glasses on a baking sheet. If you are using a cake pan or bundt pan, spray it lightly with nonstick cooking spray.

For each layer, you will use one 3-oz gelatin package, ¾ cup boiling water, ¼ cup International Delight Sweet Cream coffee creamer, and ½ cup vanilla yogurt.

Pour each 3-oz package of gelatin into its own medium bowl. Add ¾ cup boiling water to each bowl, and whisk well, for about 30-60 seconds each, to make sure all of the gelatin granules are dissolved.

The gelatin needs to be room temperature before you can add the dairy components. Most of the layers can sit at room temperature and cool, but you can speed up the process for the first layer and refrigerate it for 10-15 minutes, until it is no longer warm. It should not be starting to set, but it should feel neutral to the touch. If it has started to set around the edges, microwave it for just 10 seconds or so, then whisk well so that it is completely fluid.

Add ¼ cup of International Delight Sweet Cream coffee creamer and ½ cup of vanilla yogurt to the bowl, and whisk well, until you have a smooth, creamy pastel mixture. Divide it evenly between your glasses, using about 2 TBSP per glass. (If you are using a large pan, pour the entire contents into the bottom of the pan.)

Place the tray of glasses into the refrigerator to set, for about 15 minutes. (If you're in a hurry, you can place it in the freezer for about 8 minutes, but don't let it freeze completely!) Note that the timing might be slightly different if you are using a cake or bundt pan. When you touch the top of the gelatin with your finger, it should feel mostly set, but it's okay if your finger leaves a slight mark in the top.

Once the first layer is set, make sure that the gelatin for the second layer is room temperature, then whisk in the creamer and yogurt. Pour the second color on top of the first, and chill again for 15 minutes, until mostly set.

Continue to repeat this process with the remaining 3 colors. The gelatin that you mixed up in the beginning should be fine sitting at room temperature, but if you find that it does start to set around the edges, microwave it briefly and whisk well to make sure it's fluid before adding the dairy.

After all 5 colors have been layered, refrigerate the cups for at least 4 hours before serving, to make sure they're set all the way through.

Top each cup with a swirl of whipped cream, and whatever sprinkles or other decorations you'd like! These Pastel Rainbow Gelatin Cups keep very well in the refrigerator, so you can prepare them several days in advance and wrap them in plastic wrap, so the tops don't dry out, until you're ready to decorate and serve them.
Notes
For the most part, I used standard gelatin colors/flavors, but for the pink layer, I found that the typical strawberry and raspberry flavors produced a very bright pink that wasn't as pastel as I wanted it to be. So for the pink, I used a "natural" strawberry lemonade gelatin, made with natural coloring, and the resulting gelatin was much lighter in color.
Nutrition
Calories:
212
kcal
|
Carbohydrates:
41
g
|
Protein:
5
g
|
Fat:
3
g
|
Cholesterol:
2
mg
|
Sodium:
222
mg
|
Potassium:
159
mg
|
Sugar:
40
g
|
Vitamin A:
0.4
%
|
Vitamin C:
0.5
%
|
Calcium:
9.3
%
|
Iron:
0.5
%
Want More Pastel Desserts?
If you're looking for other springtime pastel desserts, you'll love these:
Easter No-Bake Mini Cheesecakes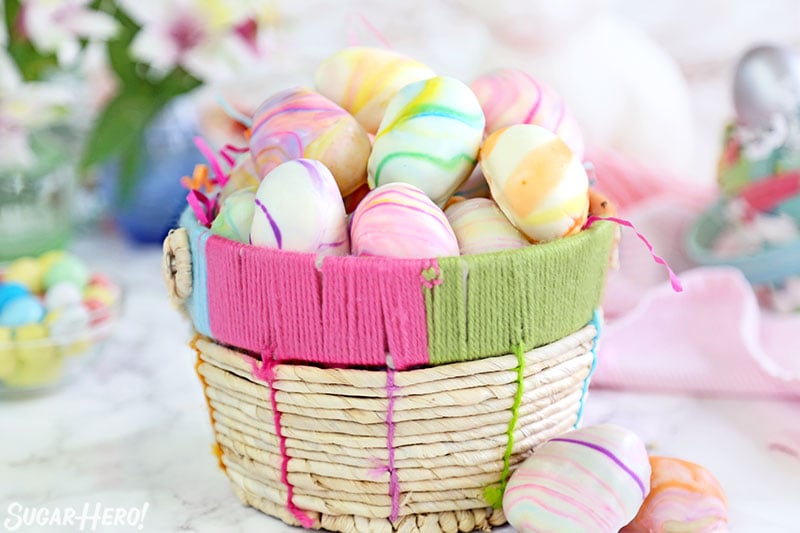 This is a sponsored conversation written by me on behalf of International Delight. The opinions and text are all mine.