This Chocolate-Lavender Pie packs serious flower power. A buttery pie crust holds a luscious creamy filling with a light lavender flavor.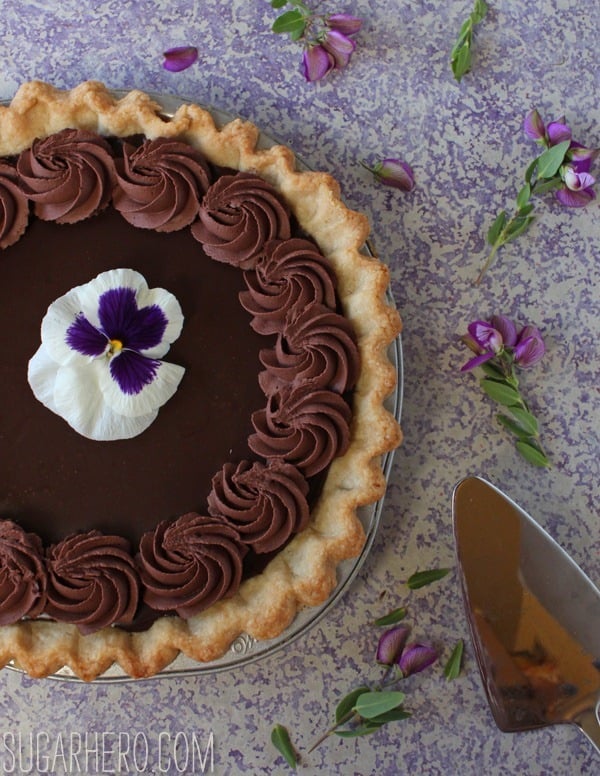 Chocolate and lavender. I'll give you a moment to let that sink in.
Chocolate…and lavender?
I'll admit, chocolate and lavender isn't quite the classic pairing of, say, chocolate and peanut butter. But despite how iffy the combination might seem, this pie made me a believer. Turns out they are two great tastes that taste great together.
The flavor combination might seem a little frou-frou, but the pie itself couldn't be easier to make. It's filled with a simple chocolate ganache, which means it's basically a giant truffle with a crust. Can I get a "yes please"?
The lavender taste is actually pretty subtle, so no need to worry that your pie will taste like a bar of soap. The cream steeps with the lavender for about 10 minutes, so it has a lovely floral fragrance before you add it to the chocolate. However, with so much chocolate in the pie, rest assured that chocolate is still the predominant flavor…just as it should be.
I topped mine with swirls of cocoa whipped cream and bits of crystallized lavender, which in this case is just another term for "lavender rolled around in a bunch of granulated sugar." I believe it's what the French call "le very fancy."
Interested in trying this out, but not sure where to get your lavender? Believe it or not, Cost Plus World Market is my favorite source. They sell generous bags of dried lavender in the spice section for much, much cheaper than I've seen anywhere else. If you have one nearby I highly recommend trolling their spice aisle—there are some real treasures there.
Still looking for more ways to lavender your life? Try my easy Lavender Sugar Recipe and don't miss my all inclusive Guide to Baking with Lavender where I explain everything you need to know about culinary lavender.
More Desserts You'll Love!💜
Cranberry White Chocolate Sweetie Pies
These Cranberry White Chocolate Sweetie Pies are throw back to the good ol' days when my dad made little hand pies called "sweetie pies". Flaky, buttery crust enfolds sweet-tart cranberries topped with white chocolate!
View Recipe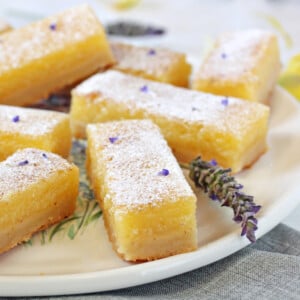 Lavender Lemon Bars
These Lavender Lemon Bars are a sweet twist on traditional lemon bars! Homemade lavender sugar is used in the crust and filling, to add a light lavender flavor. They're tangy, sweet, and refreshing!
View Recipe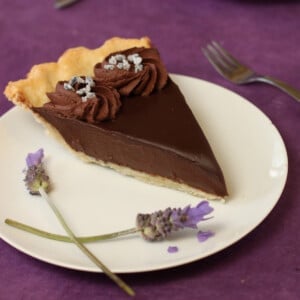 Chocolate-Lavender Pie
This Chocolate-Lavender Pie packs serious flower power. A buttery pie crust holds a luscious creamy filling with a light lavender flavor.
Ingredients
Instructions
To make the crust:
Combine the flour, sugar, and salt in the bowl of a food process and pulse a few times to combine. Add the cold cubed butter and shortening, and pulse in short bursts until it's cut into the dry ingredients and the mixture has the texture of coarse crumbs. Add the ice water and pulse in 5-second bursts, just until the dough starts to come together. Don't overwork it!

Turn it out onto a lightly floured board and knead it just enough to incorporate any dry patches of flour. Wrap it well in plastic wrap and refrigerate it an hour to let it rest.

After an hour, roll the dough out on a lightly floured surface and press it into a 9-inch pie pan. Prick the bottom with fork tines, and put the pie in the freezer to chill for 15 minutes while you preheat the oven to 350 degrees F.

Once the oven's ready and the dough is chilled, spray a piece of foil with nonstick spray and press it, sprayed side down, on top of the pie dough. Fill the pie shell with beans or rice, then bake it for 15 minutes until you see a little color on the sides of the crust. Carefully remove the foil and beans, then continue to bake the crust for an additional 15-20 minutes, until it is fully baked and golden brown. Cover the sides with foil if necessary to ensure the edges don't burn. Let the crust cool completely before filling it.
To make the filling:
Combine the heavy cream, the lavender, the sugar, and the corn syrup in a small saucepan, and bring the cream to a boil. As soon as it boils, remove it from the heat and cover it with a lid to let the lavender flavor steep into the cream. Let it infuse for 10 minutes, then return the pan to the heat and bring it back to a boil.

Once the cream is again boiling, pour it through a mesh strainer into the bowl of chocolate, straining out the lavender pieces. Let the hot cream sit and soften the chocolate for 1 minute, then whisk everything together until the chocolate is melted and the mixture is shiny and smooth. Add the room temperature butter and whisk it into ganache.

Cool the mixture to room temperature, whisking occasionally to prevent a skin from forming on top. Once slightly thickened and at room temperature, pour it into the baked crust and refrigerate it until it's firmly set, at least 4 hours. Garnish with cocoa whipped cream and crystallized lavender.
For the crystallized lavender:
Boil the lavender in water for 30 seconds, then strain. Pat the lavender mostly dry between layers of paper towel, then roll the slightly damp lavender in the granulated sugar. Separate into individual pieces and let them dry completely.
For the cocoa whipped cream:
Chill your mixing bowl and whisk attachment for 15 minutes before you're ready to use them. Pour the cream into the chilled bowl, then sift the powdered sugar and cocoa powder into the bowl. Whip on medium speed until firm peaks form, then use immediately.
Measuring Tips
Our recipes are developed using weight measurements, and we highly recommend using a kitchen scale for baking whenever possible. However, if you prefer to use cups, volume measurements are provided as well. PLEASE NOTE: the adage "8 oz = 1 cup" is NOT true when speaking about weight, so don't be concerned if the measurements don't fit this formula.
Want to learn more about baking measurements and conversion?
Nutrition
Calories:
537
kcal
|
Carbohydrates:
37
g
|
Protein:
4
g
|
Fat:
42
g
|
Saturated Fat:
24
g
|
Cholesterol:
106
mg
|
Sodium:
124
mg
|
Potassium:
177
mg
|
Fiber:
2
g
|
Sugar:
20
g
|
Vitamin A:
1175
IU
|
Vitamin C:
0.7
mg
|
Calcium:
59
mg
|
Iron:
2.1
mg
Tried this recipe?
Snap a pic and hashtag it #SugarHero. We love to see your creations on our Instagram @elabau.
– – – – – – – – – – – – –
P.S. I've updated the book page with new information about my candy cookbook
, and have added pre-order links from a bunch of different places. It comes out in a little over a month! Things are getting real, y'all. To celebrate, I made my son dress up and help me get the word out:
He's a natural born salesman. More info here!