Lavender simple syrup is the secret to making amazing lavender-scented cocktails, coffee, lemonade, and much more! All you need are three ingredients and a few minutes to make this versatile floral sugar syrup.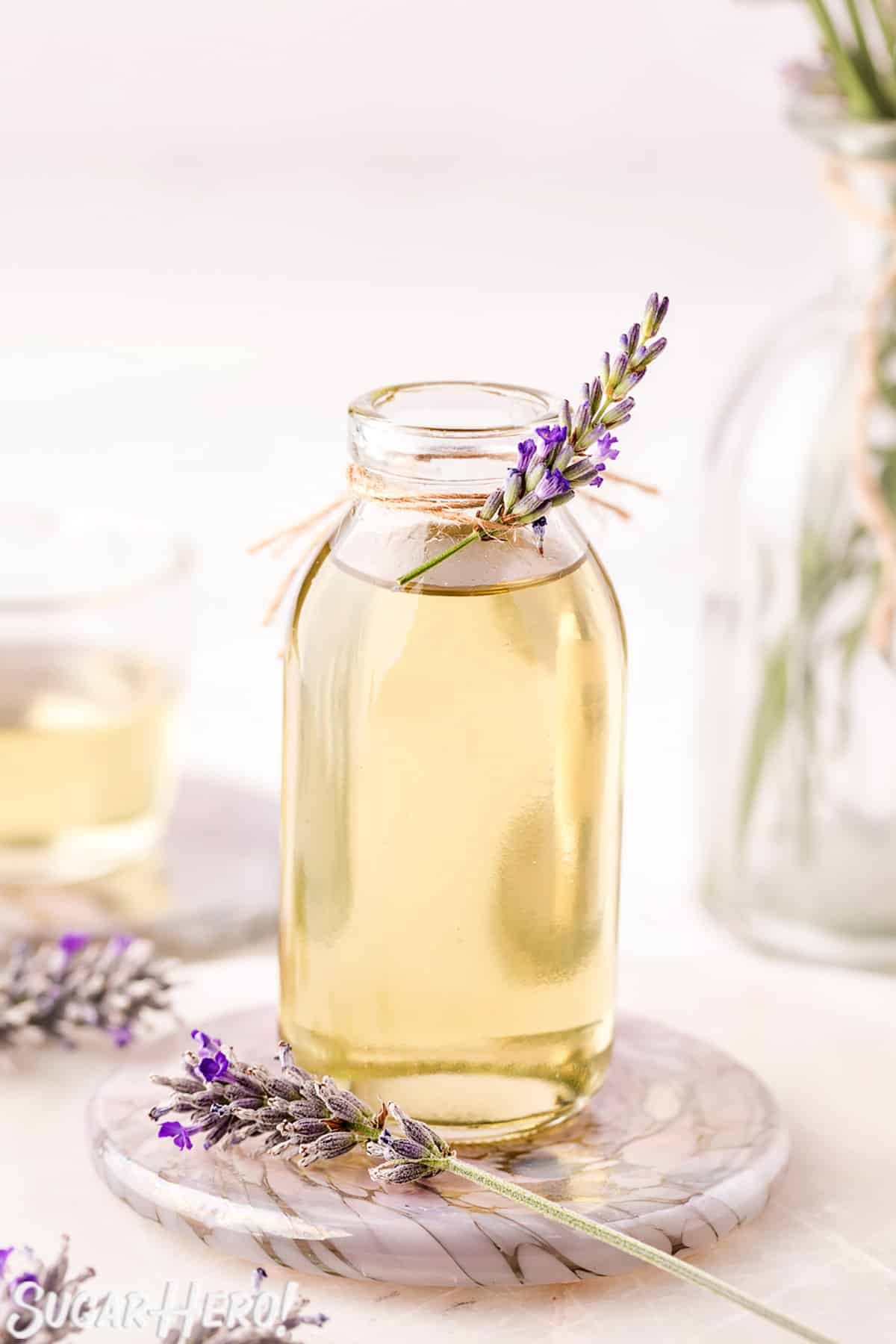 🌿Lavender Syrup for Coffee, Cocktails, and More
Lavender simple syrup adds a subtle lavender taste to your favorite coffee, tea, cocktail, lemonade, or other beverage. It's made from real lavender, so the flavor is authentic and not overpowering, and as the name suggests, it's quite simple to make. If you love lavender desserts, you'll want to keep a bottle of this on hand in the fridge, and if you're new to lavender, it's an easy way to get acquainted with this beautiful, delicate flavor.
Here at SugarHero, we love lavender and all manner of floral desserts! Don't miss some of our most popular lavender recipes, like Lavender Lemon Bars, Lavender Hot Chocolate, and Lavender Rose Ice Cream.
Still looking for more ways to lavender your life? You'll love my all inclusive Guide to Baking with Lavender where I explain everything you need to know about culinary lavender.
❔What is simple syrup?
In its most basic form, "simple syrup" is a liquid made by combining equal parts sugar and water, and heating them up until the sugar dissolves. It's commonly used to sweeten drink recipes like cocktails and lemonade, and can also be brushed on cake layers to keep them moist before assembling layer cakes.
Why use simple syrups?
In drink recipes, simple syrup is used in place of adding granulated sugar. Sugar can take a long time to dissolve, and no one wants a gritty cocktail or sugary sludge at the bottom of their teacup! Additionally, if you use flavored simple syrups, it's one of the easiest ways to upgrade your coffee, cocktails, lemonade, and more, and give new dimension and complexity to your drinks.
How do you flavor simple syrup?
Standard simple syrup adds sweetness but not any flavor to drinks, but it's also very easy to flavor simple syrup a variety of ways. The easiest method is to add a flavoring extract, like vanilla, almond, lemon, etc. You can also infuse the simple syrup with citrus peels, fresh herbs, or–as in the case of this lavender syrup–flower buds, to give your syrup a bright, realistic, fresh flavor.
Table of Contents
🧾 What You'll Need
Ingredients

& Equipment

Here's what you need to know as you gather simple syrup supplies: (Links are affiliate links and I earn a small commission from qualifying purchases.)
Sugar:

I recommend using standard granulated sugar. Brown sugar will overwhelm the lavender flavor and add a competing taste. I have not tested this recipe with any alternative sugars.
Lavender: you can use either fresh or dried lavender in this recipe. If using fresh lavender, make sure you know that it has been grown without pesticides or other harmful chemicals. If using dried lavender, make sure that it is culinary grade and intended for food use, as opposed to fragrance or decoration. I have had good luck finding it at Cost Plus World Market in the spice section. Culinary lavender is also easy to find online.
Water: We're using equal parts water + sugar in this recipe.
Saucepan: A small (2 quart) saucepan is perfect for this standard batch.

Strainer:

You'll want a wire strainer of some kind to remove the lavender buds from the sugar syrup.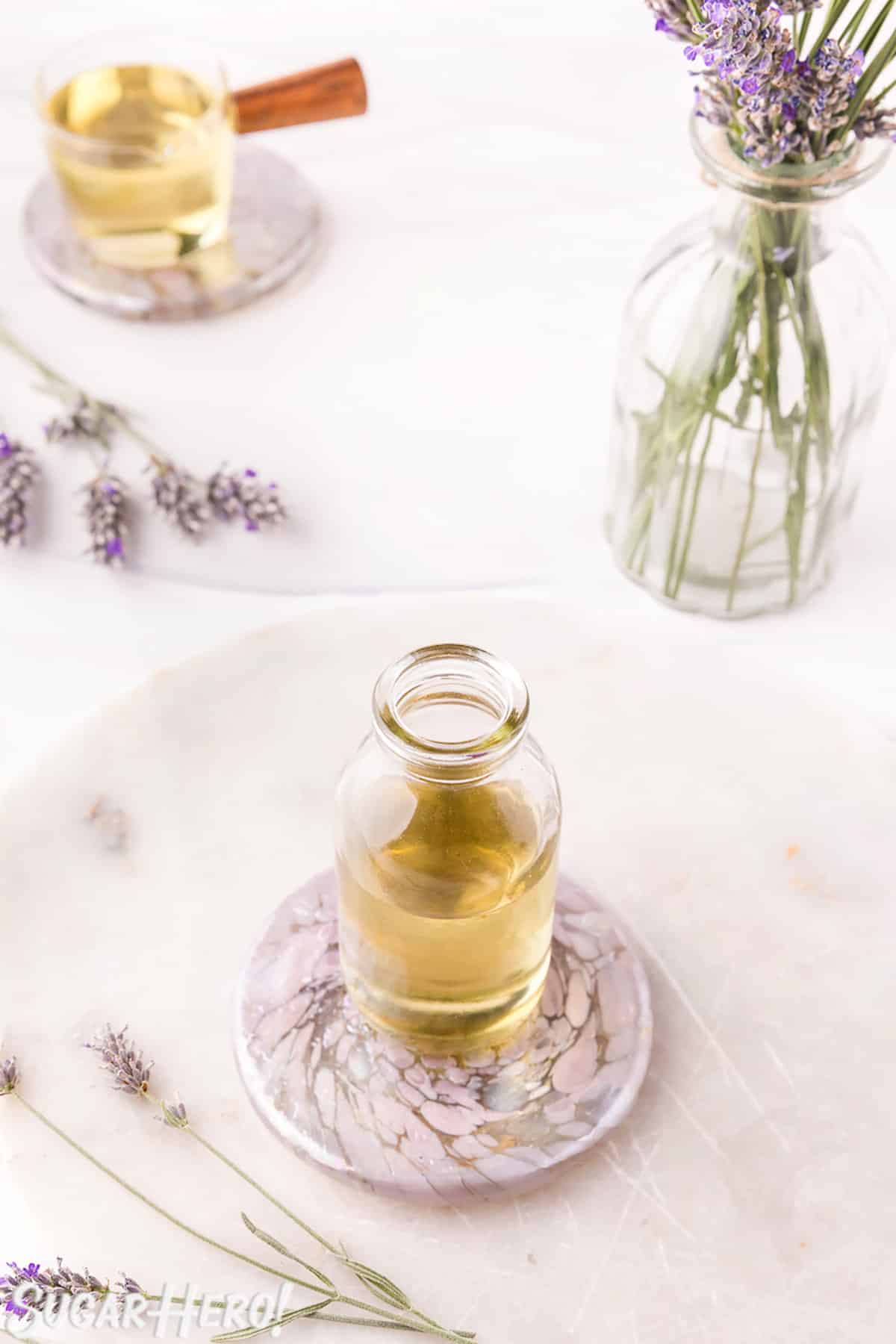 Lavender simple syrup couldn't be easier! Here's how to make it at home, and you can find the printable recipe in the recipe card below.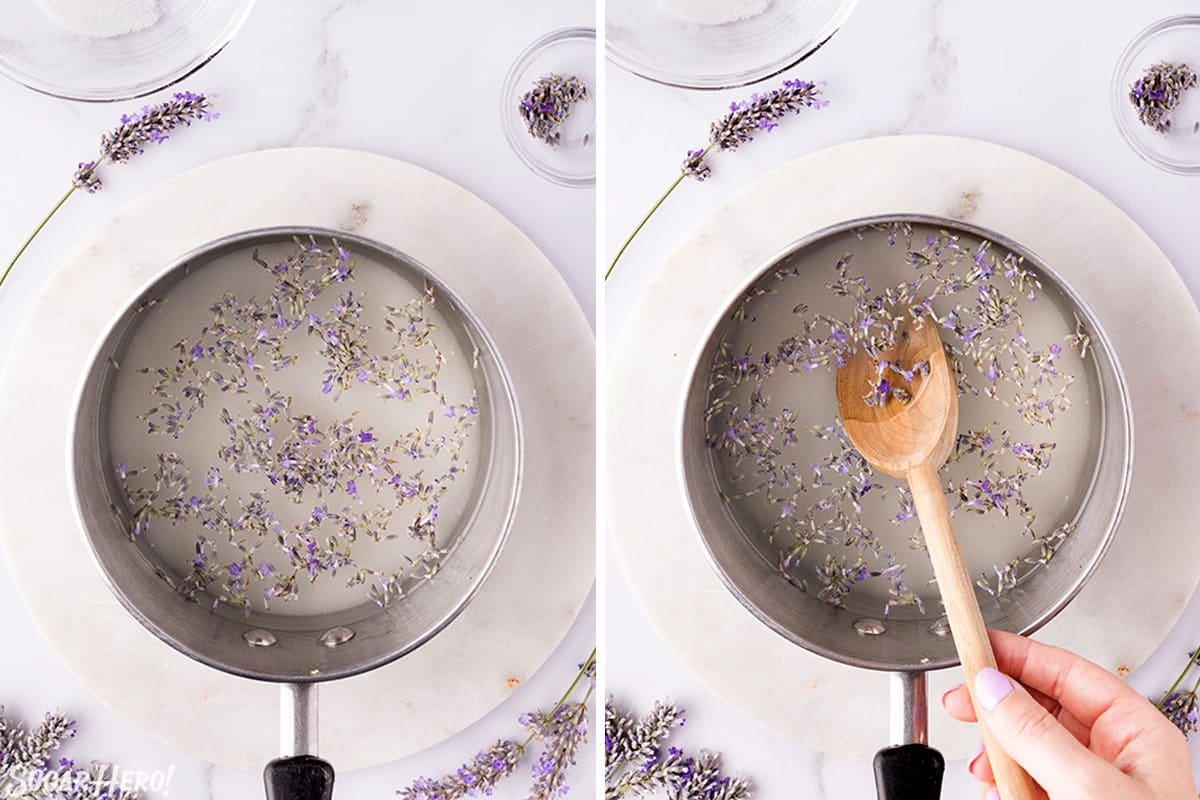 If you are using fresh lavender, remove the lavender buds from the stems.
Combine lavender, water, and sugar in a saucepan, and stir to moisten the sugar.
Heat the pan over low-medium heat, stirring frequently while the sugar dissolves.
Allow the pan to simmer for 6-8 more minutes, until you have a syrupy consistency.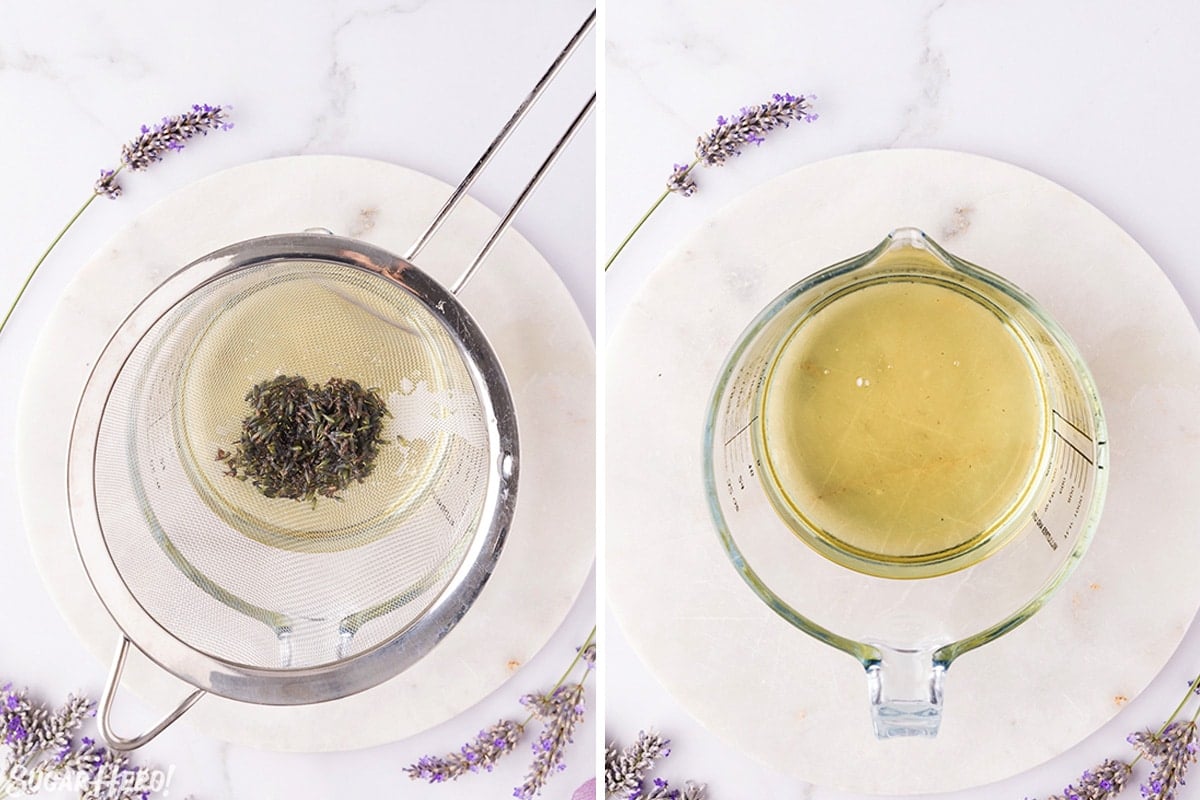 Let the pan sit and cool for an hour — this infuses the syrup with a strong but not overwhelming taste. (You can let it sit as little as 15-20 minutes, and as long as 2 hours, depending on how strong you want the lavender flavor to be.)
Pour the syrup through a fine wire mesh strainer to remove all the lavender buds.
Transfer the syrup to a glass jar and refrigerate it for up to 2 weeks.
💡 Tips and FAQs
Lavender syrup in its natural state is pale brown in color. If you would like to make it purple, you can use a small drop of purple food coloring, or a pinch of butterfly pea powder.
Most varieties of lavender are edible, however, please ensure you are using lavender that is fit to be consumed. It's important to know where the lavender has come from and that it is culinary grade. Please also note that lavender can be toxic to dogs and cats, so take care if you have pets.
It is very easy to grow lavender at home in your own garden. You can plant it in pots or use it as a boarder plant and requires little maintenance. It will also attract lots of bees and butterflies to your home!
Storage: Lavender syrup should be kept in a sealed jar in the refrigerator where it will last for two weeks.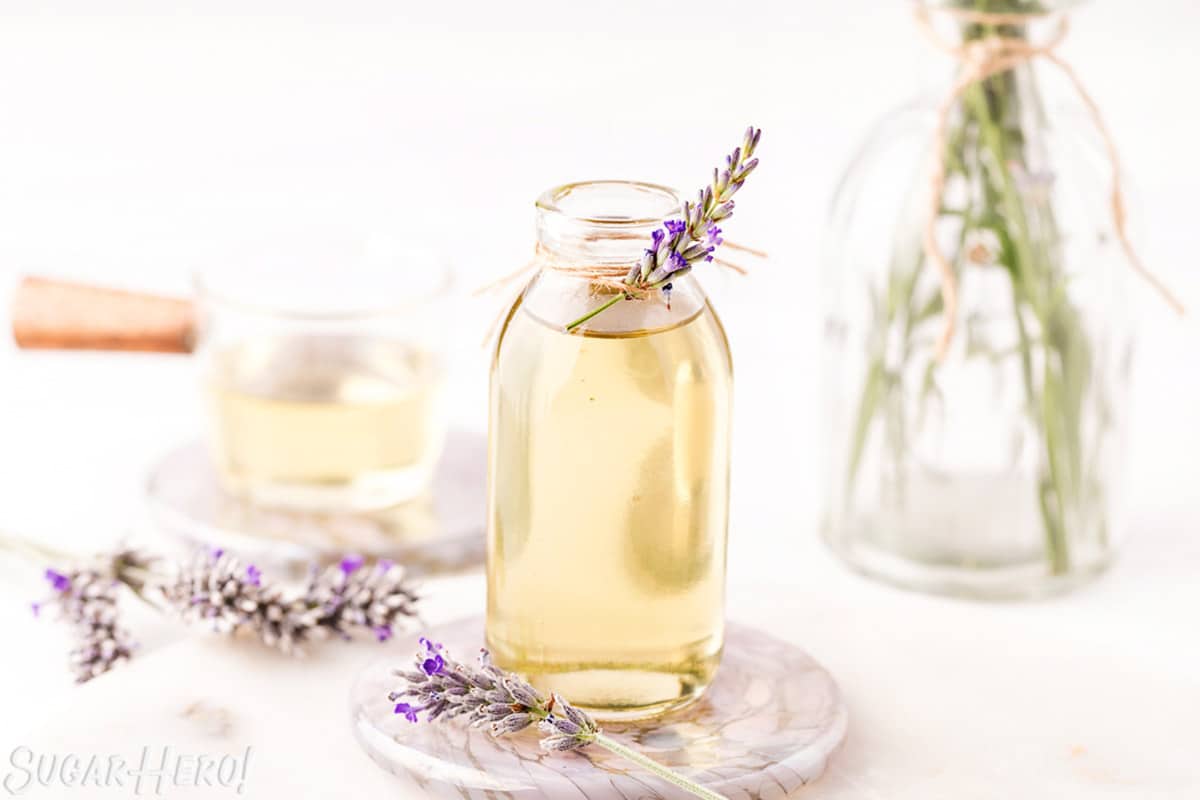 💜 Try These Floral Desserts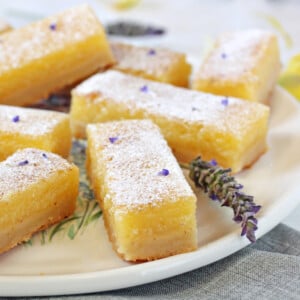 Lavender Lemon Bars
These Lavender Lemon Bars are a sweet twist on traditional lemon bars! Homemade lavender sugar is used in the crust and filling, to add a light lavender flavor. They're tangy, sweet, and refreshing!
View Recipe
Lavender Sugar
Take your baking up a notch by using Lavender Sugar in place of regular sugar! This homemade lavender sugar recipe is easy to make, super versatile, and adds a hint of floral flavor to any dessert. It also makes a great edible gift.
View Recipe
Leave a Review!
If you make this recipe, let us know! Leave a ⭐️⭐️⭐️⭐️⭐️ rating on the recipe below, and leave a comment, take a photo and tag me on Instagram @elabau, or use #sugarhero on IG!
Don't miss the step-by-step tutorial showing how to make Lavender Simple Syrup – check out the web story here!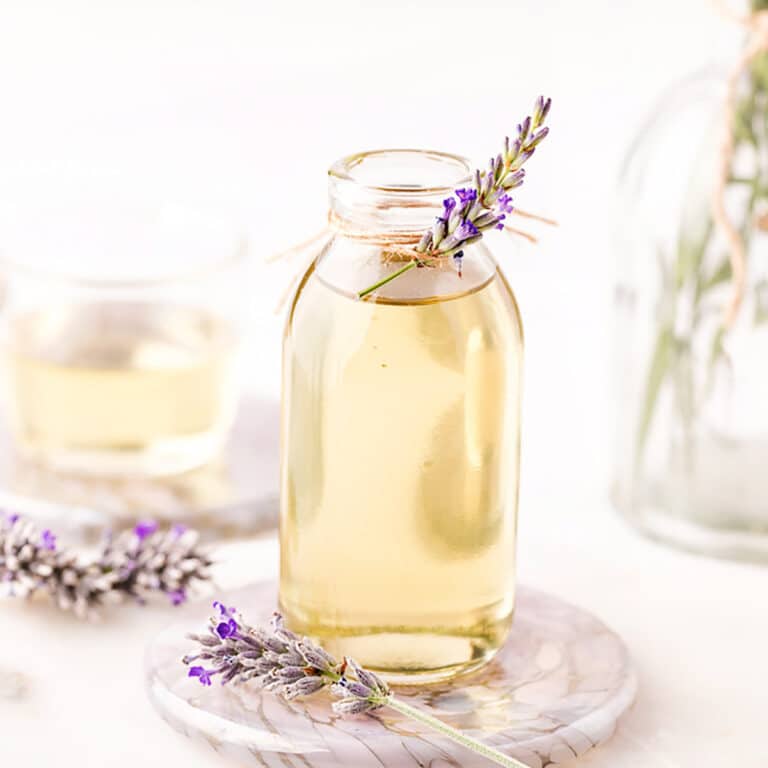 Lavender Simple Syrup
Lavender simple syrup is the secret to making amazing lavender-scented cocktails, coffee, lemonade, and much more! All you need are three ingredients and a few minutes to make this versatile floral sugar syrup.
Instructions
If you are using fresh lavender, remove the lavender buds from the stems, gently picking them off with your fingers.

Combine the lavender, water, and sugar in a medium sized saucepan, and place over medium-low heat.

Heat gently, stirring until all the sugar has dissolved.

Increase the heat to medium and allow the ingredients to simmer for around 8 minutes, until you have a syrupy consistency.

Cool in the pan for an hour to infuse the lavender flavor.

Pour the lavender syrup through a wire mesh strainer to remove the lavender buds, and transfer it into a glass jar.

Store Lavender Simple Syrup in the refrigerator for two weeks.
Recipe Notes
This recipe yields about 1.5 cups of syrup. We estimated a "serving" to be 2 TBSP for the purposes of nutritional calculation.
Measuring Tips
Our recipes are developed using weight measurements, and we highly recommend using a kitchen scale for baking whenever possible. However, if you prefer to use cups, volume measurements are provided as well. PLEASE NOTE: the adage "8 oz = 1 cup" is NOT true when speaking about weight, so don't be concerned if the measurements don't fit this formula.
Want to learn more about baking measurements and conversion?
Nutrition
Calories:
65
kcal
|
Carbohydrates:
17
g
|
Protein:
0.02
g
|
Fat:
0.1
g
|
Sodium:
1
mg
|
Potassium:
0.3
mg
|
Sugar:
17
g
|
Vitamin A:
8
IU
|
Vitamin C:
0.3
mg
|
Calcium:
6
mg
|
Iron:
0.1
mg
Tried this recipe?
Snap a pic and hashtag it #SugarHero. We love to see your creations on our Instagram @elabau.