This Lavender Hot Chocolate features rich, creamy homemade hot chocolate with the delicate flavor of lavender. It's divine!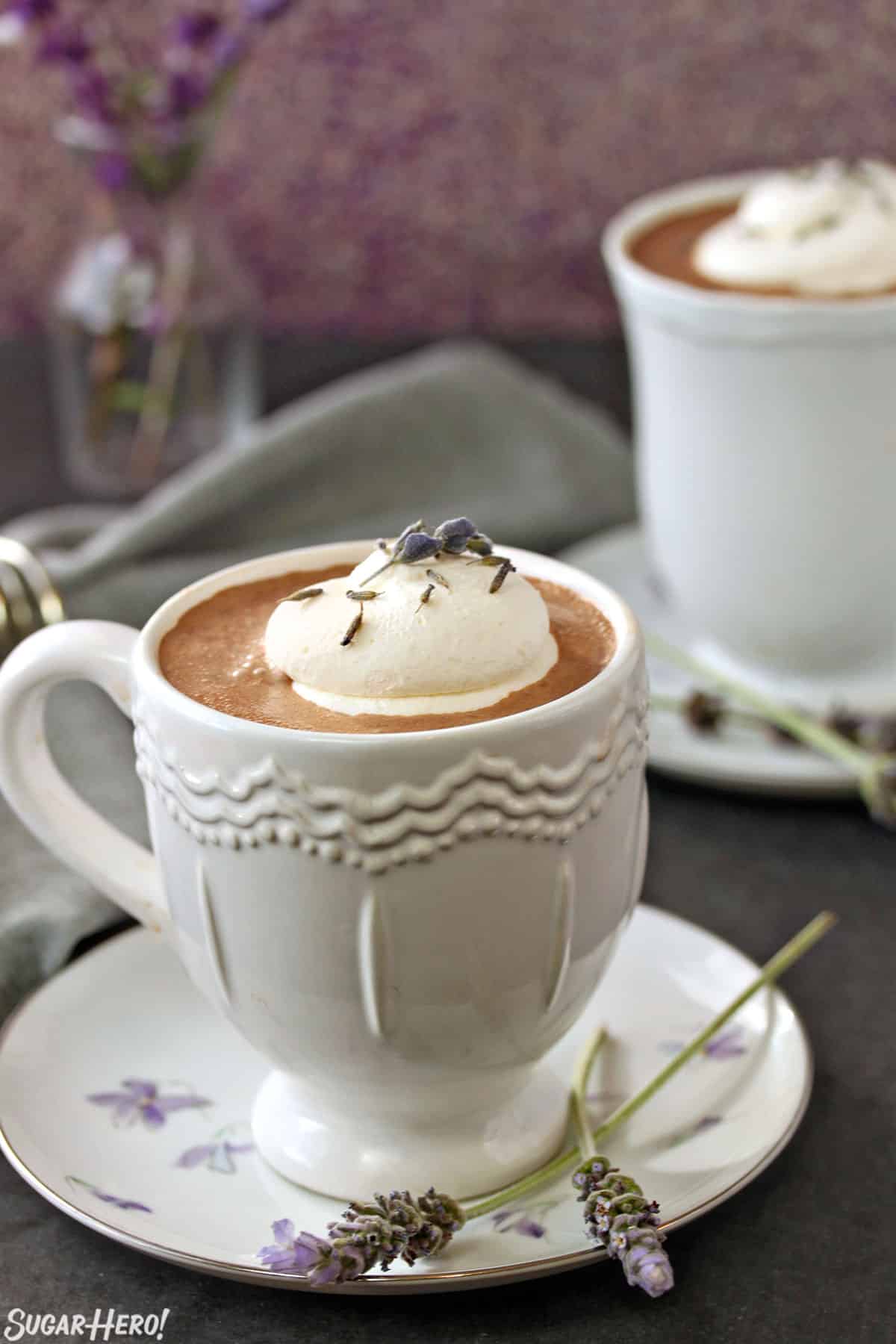 One of the best things about being an adult is getting to make and eat whatever the heck you want. When I was younger, I imagined that once I got to actually choose what I could eat, I would have a lot of doughnut breakfasts, cookie lunches, and pizza dinners.
It only took about two weeks in college for me to realize the flaws in that plan, but I still love the freedom of cooking for myself, to suit my own tastes. Cooking for myself means: lots and lots of cheese. Roasted vegetables. A heavy hand with the spices. Polenta everywhere. No mushrooms, hold the eggplant, and don't even mention the word olive.
It means chocolate on a daily basis, spinach smoothies to counteract the chocolate, and sometimes, just a few quick slices of turkey in one hand while running out the door. It also means I add lavender to my hot chocolate, because I'm an adult now, and I do what I want.
If you're a weirdo like me and dig lavender, you need to try it in hot chocolate. I infused the milk and cream with dried lavender for about 30 minutes, to give it a noticeable but not overpowering flavor. Or, if coffee is your pleasure, try my Lavender Latte!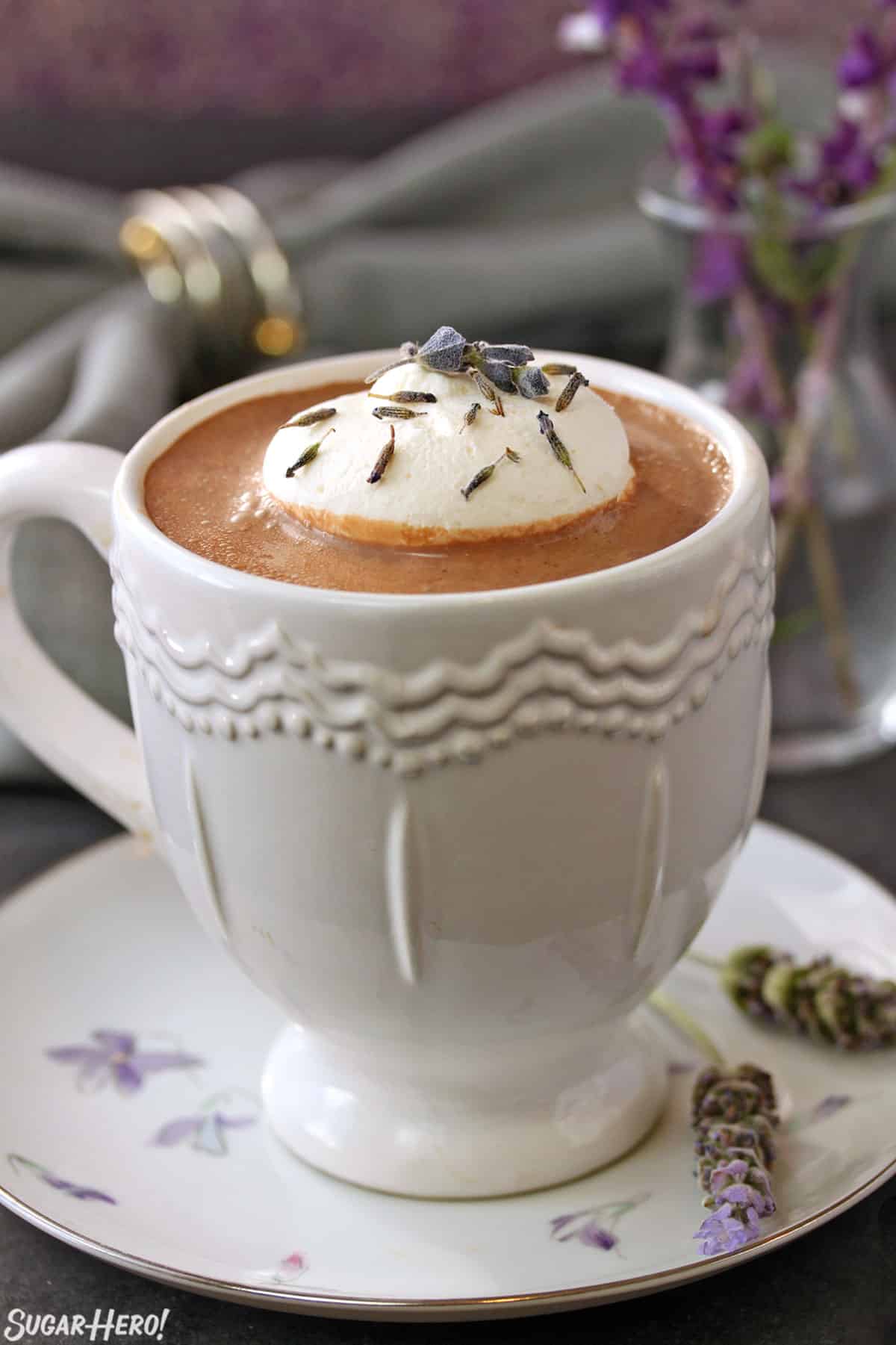 For the chocolate portion, I mainly used milk chocolate, which brings a richness and sweetness without the strength or bitterness of dark chocolate that might overwhelm the delicate lavender. A pinch of salt, a dash of vanilla, and I'd crafted the perfect mug of sipping chocolate with a light floral flavor. If this is what it means to be an adult, then it's better than anything I ever imagined as a child!
Here at SugarHero we love lavender! Don't miss my easy Lavender Sugar Recipe. And, if you're looking for more ways to lavender your life, you'll love my all inclusive Guide to Baking with Lavender where I explain everything you need to know about culinary lavender.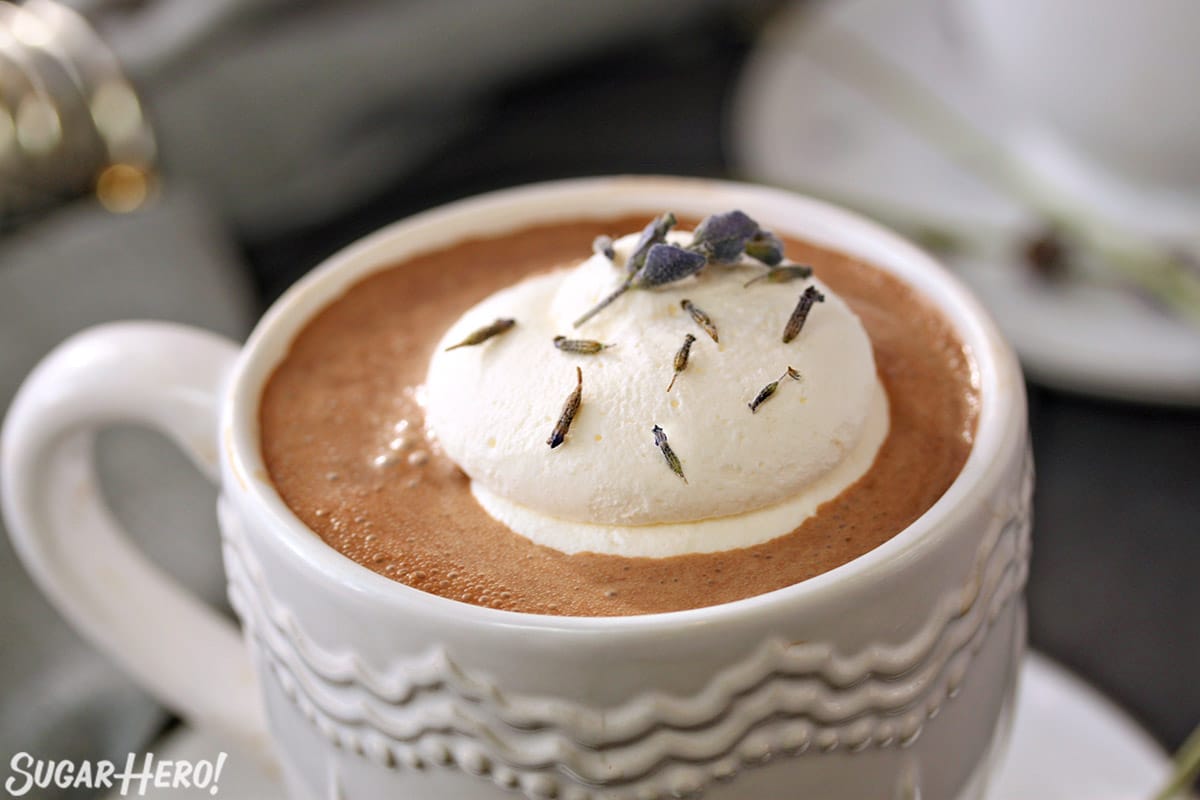 Fudge-Striped Shortbread Cookies
These Fudge-Striped Shortbread Cookies look like the kind you can buy in the store, but taste so much better! Crisp, buttery shortbread is coated with rich semi-sweet chocolate to make a delicious, beautiful treat.
View Recipe
Pecan Snowball Cookies
Pecan Snowball Cookies are melt-in-your-mouth butter cookies made with toasted pecans. Also known as Mexican wedding cookies or Russian tea cakes, these classic cookies are easy to whip up and can be customized with your favorite nuts and spices.
View Recipe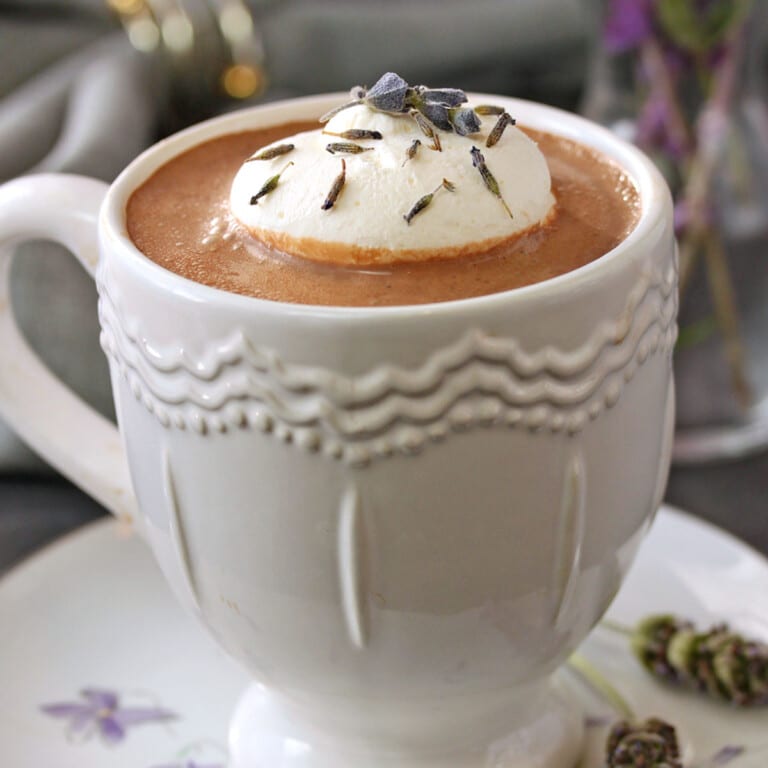 Lavender Hot Chocolate
Lavender Hot Chocolate is a delicious homemade hot chocolate recipe with the delicate taste of lavender throughout!
Instructions
Combine the milk, cream, and lavender in a medium saucepan, and bring it to a simmer. Once at a simmer, remove the pan from the heat and cover it with a lid. Let it sit and steep for 30 minutes, to infuse the milk with lavender flavor. (If you want a very subtle lavender flavor, reduce the time to 20 minutes. For a strong flavor, increase to 40 or 45 minutes.)

After 30 minutes, pour the milk through a strainer into a bowl to remove the lavender, then return the milk to the saucepan. Put the pan on the heat and bring it back to a simmer, but don't let it boil. Remove the pan from the heat and add the chopped milk chocolate, dark chocolate, salt, and vanilla extract.

Whisk everything together until the chocolate is melted and the mixture is smooth. Pour into mugs and top with whipped cream. Lavender Hot Chocolate can be made in advance and stored in the refrigerator for up to a week. Reheat in the microwave or on the stovetop.
Measuring Tips
Our recipes are developed using weight measurements, and we highly recommend using a kitchen scale for baking whenever possible. However, if you prefer to use cups, volume measurements are provided as well. PLEASE NOTE: the adage "8 oz = 1 cup" is NOT true when speaking about weight, so don't be concerned if the measurements don't fit this formula.
Want to learn more about baking measurements and conversion?
Nutrition
Serving:
8
g
|
Calories:
482
kcal
|
Carbohydrates:
39
g
|
Protein:
6
g
|
Fat:
35
g
|
Saturated Fat:
21
g
|
Cholesterol:
66
mg
|
Sodium:
124
mg
|
Potassium:
367
mg
|
Fiber:
3
g
|
Sugar:
33
g
|
Vitamin A:
780
IU
|
Vitamin C:
0.2
mg
|
Calcium:
180
mg
|
Iron:
2.2
mg
Tried this recipe?
Snap a pic and hashtag it #SugarHero. We love to see your creations on our Instagram @elabau.