This post may contain affiliate links. As an Amazon Associate I earn from qualifying purchases. Please see my disclosure policy for more information.
Hello again! I'm resurfacing after a few crazy weeks in the sugar trenches. If you follow me on social media, you might have seen my announcement that I'm teaming up with Craftsy to bring you a video series on making homemade candy! I was in Denver all last week filming the classes, which will debut next month (just in time for you to make some amazing holiday candies)! I'm excited for you to see it, and I'm also horrified at the thought of looking like a complete goof on film. Hopefully the goodness will outweigh the goofiness, but I guess you'll have to be the judge of that. I'll be sure to share more information, and some fun candy recipes, as it gets closer to the release date. But in the meantime, I'm happy to be back on SugarHero, and I'm bringing Rosemary Almond Blondies to celebrate!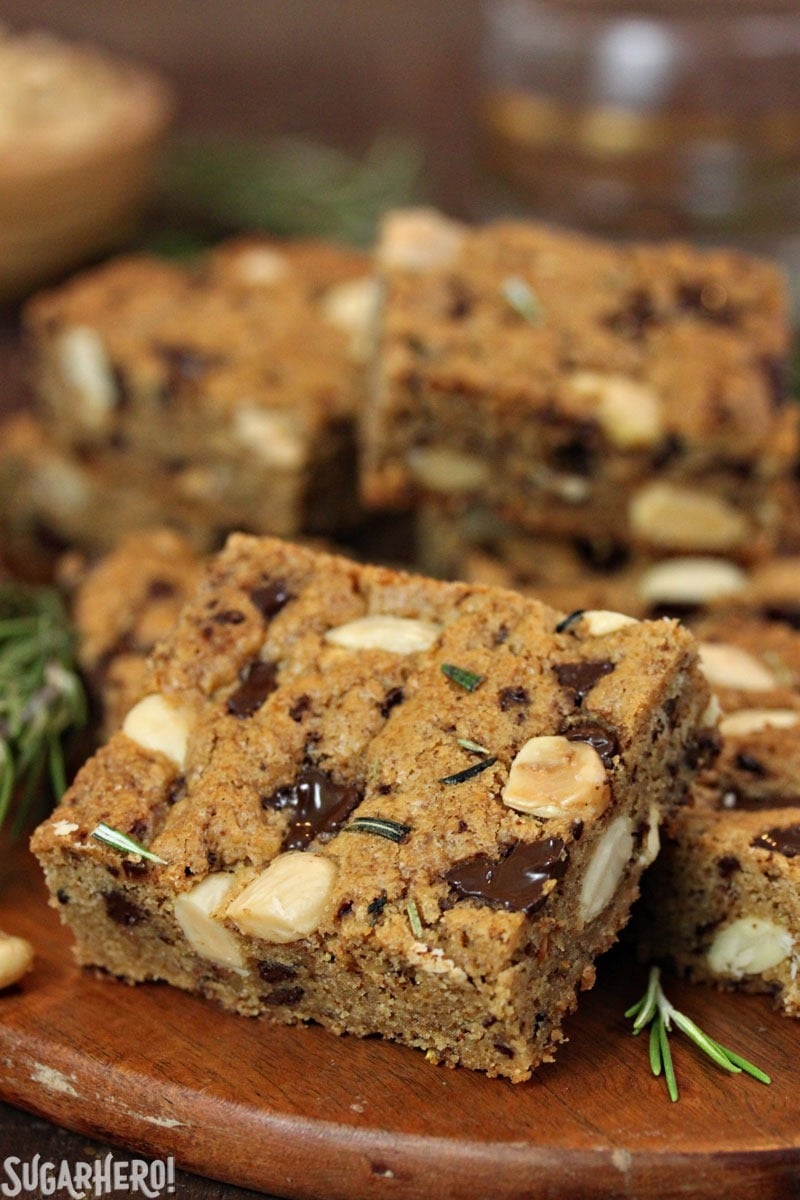 The story of this recipe starts, as so many of my stories do, in the aisles of Trader Joe's. I am so thankful Utah got its first Trader Joe's before we moved here, because I think access to Trader Joe's might be one of my marriage dealbreakers. Anyhow, one of their many products I'm obsessed with are Marcona Almonds with Rosemary, a most beguiling nut with a most unbeguiling price tag. Seriously, these things are double the price of regular almonds, but I buy them whenever I'm feeling flush, because they're amazing. Marcona almonds have a rich, buttery flavor and a smoother texture, almost like a cross between an almond and a macadamia nut. The Trader Joe's version has big flecks of salt and crispy bits of rosemary on the outside, so they're salty and savory and herbal and so, so addicting.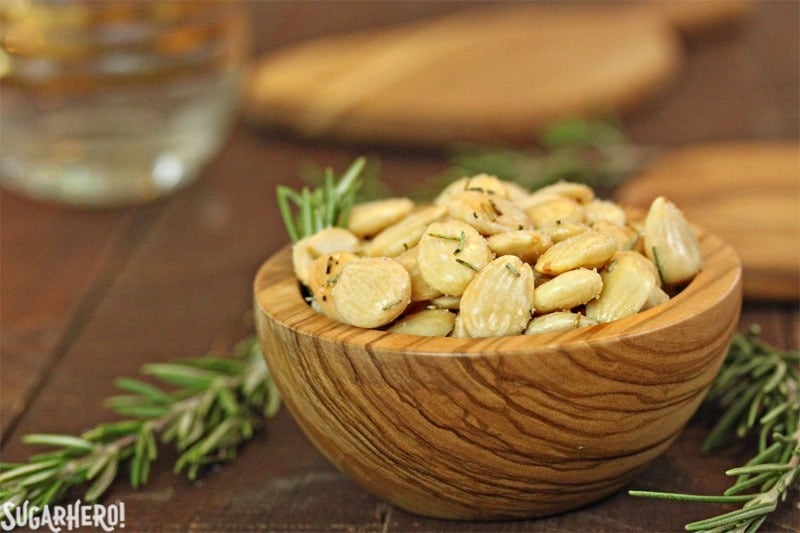 I've wanted to bake with these almonds for awhile, but they usually don't last long enough to make it into a recipe. The last time I bought them, I outsmarted myself by buying two bags—one for munching and one for baking. Success! I found a recipe for Marcona Almond Blondies in Food and Wine, made a bunch of changes of my own, and came up with these rosemary-infused bars.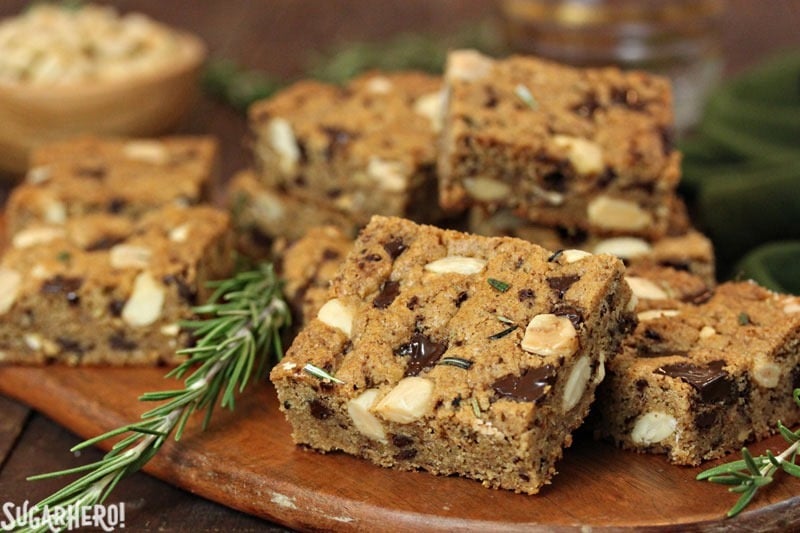 Blondies have to be really special for me to consider them anything other than the poor cousins of brownies, but I think this recipe qualifies as "really special." It begins with browned butter, so you know we're already off to a good start. During the browning process, I threw in a few sprigs of rosemary, to infuse the butter with subtle rosemary flavor. After the butter is browned and cooled, it's a quick matter of stirring everything else in—brown sugar, almond butter, the usual suspects like flour, eggs, extracts, etc. Finally, I added a good amount of chocolate and almonds for flavor and texture. At the end, I sprinkled a tiny pinch of chopped rosemary on top of the bars.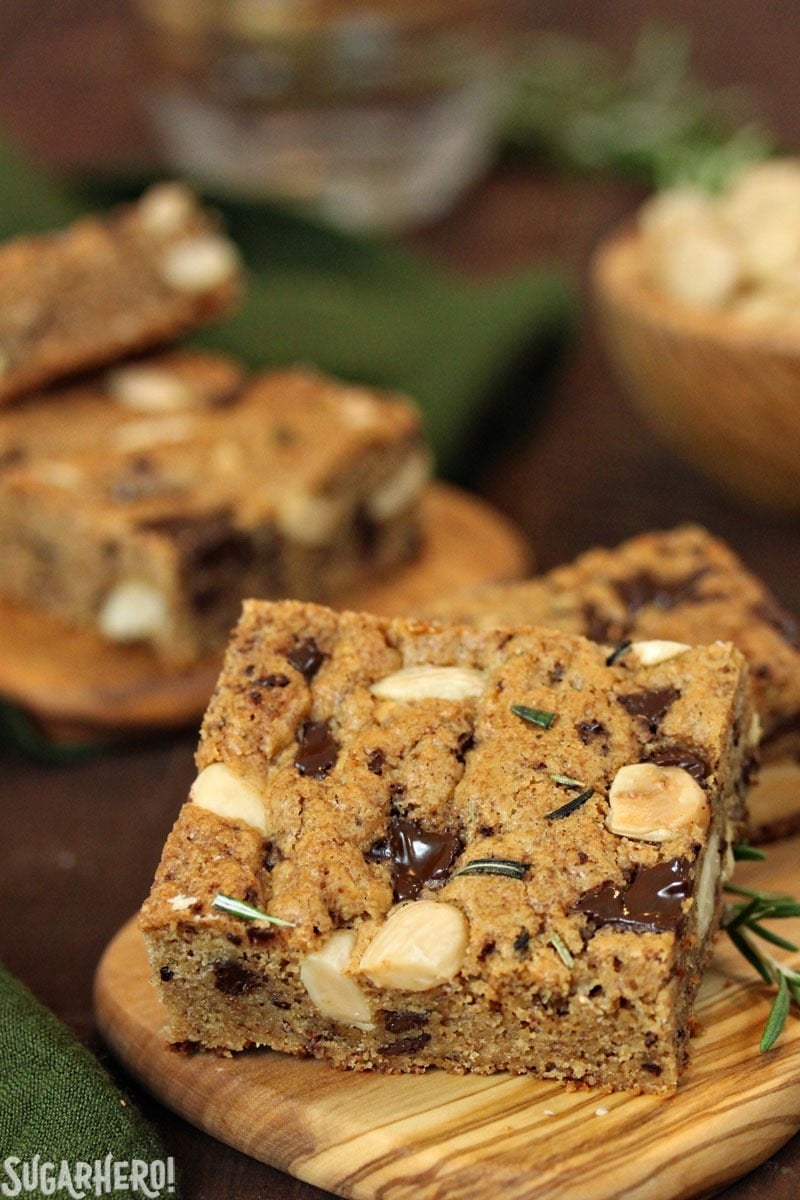 The final result is a bar that has a crackling top and a soft, moist interior. The rosemary flavor is subtle, but it adds just enough to make these bars taste special—one person who tried them said he couldn't put his finger on the flavor, but "they taste like Christmas!" The almonds add buttery crunch, and the chocolate—well, you know what chocolate is good for. (Everything!) If you don't have access to the Marcona almonds, you can absolutely make these with regular blanched almonds, but consider adding a bigger pinch of salt and rosemary to make up for it.
I think these are the perfect bars for this in-between time of year–it's not quite time for holiday baking yet, but I still want to cozy up at nights in a fuzzy blanket with some tea and a comforting dessert. Rosemary Almond Blondies to the rescue!
Rosemary Almond Blondies
These Rosemary Almond Blondies have a crackling top and a soft, moist interior. The rosemary flavor is subtle, but it adds just enough to make these bars taste special
Ingredients
5

oz

unsalted butter

2 4

inch

sprigs rosemary

1

egg

2

egg yolks

7.5

oz

brown sugar

,

(1 cup)

1

tsp

vanilla extract

1/2

tsp

almond extract

1/2

tsp

ground cinnamon

1/2

tsp

salt

4.5

oz

almond butter

,

(1/2 cup)

4.5

oz

all-purpose flour

,

(1 cup)

1/2

tsp

baking powder

4

oz

Marcona almonds with rosemary

,

(3/4 cup, can substitute regular almonds)

4

oz

semi-sweet chocolate chunks

,

(2/3 cup)
Instructions
Preheat the oven to 350 F. Prepare a 9x9-inch pan by lining it with foil and spraying the foil with nonstick cooking spray.

Combine the butter and rosemary sprigs in a small saucepan, and place it over medium heat. Cook the butter, stirring occasionally, until it turns a golden brown color, has a nutty smell, and has small brown specks on the bottom. This should take 7-10 minutes, depending on your pan and stove. Stop the cooking process before the butter turns dark brown/black, or it will develop a burnt smell. Let it cool to room temperature, for about 20 minutes.

Once the butter is cool, remove the rosemary sprigs. Pour the browned butter into a large bowl, and add the egg, yolks, brown sugar, vanilla and almond extracts, cinnamon, salt, and almond butter to the bowl. Stir everything together with a spatula until smooth.

In a small bowl, whisk together the flour and baking powder, then add the flour mixture to the large bowl, and stir it with a spatula. Finally, add most of the almonds and chocolate chunks, reserving a few spoonfuls of each to use as toppings. Stir the almonds and chocolate into the dough, then scrape it into the pan and smooth it into an even layer. Scatter the remaining nuts and chocolate over the top, and add a few pinches of chopped rosemary, if you'd like.

Bake the bars at 350 F for 25 minutes, until puffed and golden and a toothpick inserted into the center comes out clean. Cool the bars completely at room temperature before cutting them into small squares to serve.
MEASURING TIPS
Our recipes are developed using weight measurements, and we highly recommend using a kitchen scale for baking whenever possible. However, if you prefer to use cups, volume measurements are provided as well. PLEASE NOTE: the adage "8 oz = 1 cup" is NOT true when speaking about weight, so don't be concerned if the measurements don't fit this formula.
Click here to learn more about baking measurements and conversion.
Nutrition
Calories:
386
kcal
|
Carbohydrates:
35
g
|
Protein:
7
g
|
Fat:
25
g
|
Saturated Fat:
9
g
|
Cholesterol:
72
mg
|
Sodium:
112
mg
|
Potassium:
276
mg
|
Fiber:
3
g
|
Sugar:
21
g
|
Vitamin A:
405
IU
|
Vitamin C:
0.7
mg
|
Calcium:
119
mg
|
Iron:
2.5
mg
Share by Email
Share on Facebook
Share on Pinterest