This Pistachio Cake with Blackberry Sauce has a strong nutty flavor, an unbelievably tender crumb, and just a hint of orange zest. I served it with a chunky, tart blackberry sauce and mounds of softly whipped cream, what more could you ask for!?
So, St. Patrick's Day happened, huh? I didn't get a chance to mark the occasion on the blog because I was busy celebrating glorious, glorious pie day with Grapefruit Meringue Pie, Blueberry Crumble Pie and Pie Milkshakes!
I have no regrets, but lest you think I'm some heathen who walked around shunning green and stomping on rainbows and punching leprechauns, rest assured that we did fete St. Patrick at my house. I practiced my (terrible, probably offensive) Irish accent, we watched the Muppets sing Danny Boy, and we ate our fill of green food in the form of this pistachio cake with blackberry sauce. (We also had tacos, but I served them with a cabbage slaw, so I'm calling that another win for ole St. Paddy.)
I'm actually glad to be posting this cake after St. Patrick's Day, because I don't want it to be pigeonholed. Typecast. Stuck in the mental "holiday recipe" bin, to be dutifully trotted out every March and then ignored the rest of the year. It deserves more than that! And so do some other lovely green recipes such as Easy Zucchini Bread, Lime-Coconut Pie and Mint Chocolate Chip Layer Cake!
This cake has a strong nutty flavor, an unbelievably tender crumb, and just a hint of orange zest. And did I mention it's gluten-free? I actually pound back gluten like it's my job (which, it kind of is) but I know a lot of people are trying to reduce gluten in their diets, and let me tell you, you won't even miss it in this cake. There are no strange flours, no gums or other binding agents—just eggs and sugar and lots and lots of ground pistachios. That's the kind of gluten-free cooking I can get behind!
I served this cake with a chunky, tart blackberry sauce and mounds of softly whipped cream. I was going to add some fresh mint leaves on top, but I decided to stop and let the pistachios and berries shine. But if you want to bring in a few more flavors, I do think fresh mint would be a nice addition, or a pinch of cardamom, or you could emphasize the orange notes more by adding orange zest to the whipped cream.
Looking at the ingredients, you might be unsure of how the cake will turn out. Will it be dry? Spongy? Crumbly? The answer is "none of the above." Miraculously, the lack of flour and fat isn't noticeable at all. The cake has a soft texture that stays moist for days. We absolutely loved this cake, and I know I'll be adding it to the regular rotation. I'm also anxious to try it with other nuts—how about hazelnuts, paired with big handfuls of finely ground dark chocolate?
St. Patrick's Day may be over, but I'm in no rush—I have all year to enjoy this cake again and again!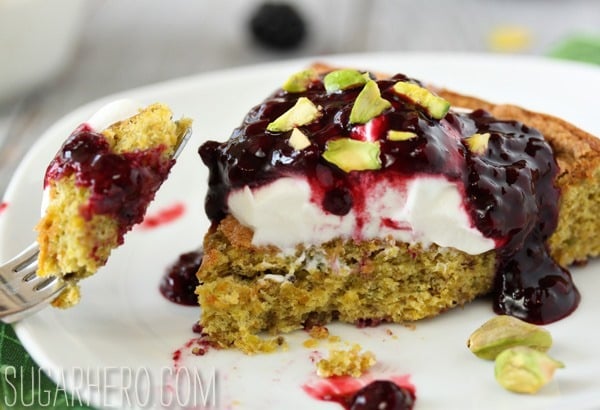 💜More Pistachio Desserts You'll Love:
Lemon Blackberry Trifle
This Lemon Blackberry Trifle is like a greatest hits collection of many of my favorite things: ultra-moist cake, tangy lemon curd, softly whipped sweet cream, juicy berries, and a hint of fresh mint. So basically this is a must-make!
View Recipe
Truffle-Topped Heart Cake
This Truffle-Topped Heart Cake is a chocolate lover's dream come true! It starts with a moist chocolate cake, layered with chocolate-blackberry filling and covered with a shiny chocolate glaze. Top it off with a mass of homemade chocolate truffles!
View Recipe
Pistachio Cake with Blackberry Sauce
This Pistachio Cake with Blackberry Sauce has a strong nutty flavor, an unbelievably tender crumb, and just a hint of orange zest. I served it with a chunky, tart blackberry sauce and mounds of softly whipped cream, what more could you ask for!?
Ingredients
For the Pistachio Cake:
6.33

oz

pistachios

(1 1/2 cups)

, shelled, roasted and salted

2

tbsp

powdered sugar

1

tsp

baking powder

4

large eggs

separated into yolks and whites, at room temperature

Zest of 1 orange

1/2

cup

granulated sugar

divided use

1/4

tsp

cream of tartar
For the Blackberry Sauce:
Instructions
To Make the Pistachio Cake:
Preheat the oven to 350 F. Cover the bottom of a 9-inch springform pan with parchment paper, and spray the pan with nonstick cooking spray. Set aside for now.

Place the shelled pistachios in the bowl of a food processor, and process for about 10 seconds, until they're in small pieces. Add the powdered sugar and continue to process in 10-second intervals until the pistachios are a fine powder. Stop and scrape the corners of the bowl occasionally if you see pistachios are starting to build up there. The goal is to get the nuts as finely ground as possible, but don't over-process them, or you'll risk them becoming greasy and turning into pistachio butter.

Once the nuts are finely ground, transfer them to a small bowl, add the baking powder, and whisk everything together.

In a large bowl, combine the egg yolks, orange zest, and 1/4 cup granulated sugar, and whisk well. Add the pistachio mixture and stir with a rubber spatula. The mixture will be very thick and sticky.

Place the egg whites in the bowl of a large stand mixer, and whip them on medium speed with the whisk attachment until they become foamy. Add the cream of tartar and continue to whip the egg whites, gradually increasing the speed until you reach medium-high. When soft peaks form, start adding the remaining 1/4 cup of granulated sugar, a tablespoon at a time, until it's all incorporated. Whip until the egg whites form firm peaks but are not crumbly—they should be glossy and have body, like shaving cream.

Add a quarter of the egg whites to the pistachio mixture. You'll have to really work to stir it in, because it's so sticky and stiff. Once it's incorporated your batter should be looser, so add another quarter and fold it in gently, then add the remaining egg whites in two batches, folding gently so as not to deflate the whites.

Scrape the batter into the prepared pan. Bake the cake at 350 F for 20-25 minutes, until it is puffed, golden, and the sides are pulling away from the pan. A toothpick inserted into the center should come out clean. Cool the cake on a wire rack, then release it from the springform pan to serve.
To Make the Blackberry Sauce:
Stir together the frozen blackberries and the sugar in a medium saucepan over medium heat. As the berries heat up, they will soften and release their juices. Cook the berries, stirring occasionally, until they start to lose their shape. You don't want them completely liquefied, but they should break down a little bit and be very, very juicy.

Meanwhile, whisk together the orange juice and corn starch in a small bowl until the starch dissolves. Once the berries have broken down, whisk the starch mixture into the berries and cook it for a few minutes until it starts to thicken. (It won't be a drastic change.) Remove the pan from the heat and cool the sauce until it is room temperature. As the sauce cools, it will continue to get thicker. Store extra blackberry sauce in an airtight container in the refrigerator for up to a week.
Recipe Notes
This goes against most conventional nut wisdom, but my favorite pistachios to use are roasted and salted nuts in their shells from Trader Joe's. Once shelled they have a beautiful, vibrant color that translates well in baked goods. (The pre-shelled ones I find tend to be much darker and a muddy brown color.) I don't think that the salt from the nuts has a negative impact on this cake, at all, but if you're sensitive to salt or just want to precisely control the amount of salt you add, you should use unsalted nuts instead and add 1/8 tsp salt. A one-pound bag of nuts in their shells yielded just a bit more than this recipe calls for. If restricting gluten is important to you, make sure you check your labels! Most powdered sugar is gluten-free, but some is made with wheat starch, so either make sure it's labeled gluten-free, or omit the powdered sugar and be extra-cautious about over-processing the pistachios.
Measuring Tips
Our recipes are developed using weight measurements, and we highly recommend using a kitchen scale for baking whenever possible. However, if you prefer to use cups, volume measurements are provided as well. PLEASE NOTE: the adage "8 oz = 1 cup" is NOT true when speaking about weight, so don't be concerned if the measurements don't fit this formula.
Want to learn more about baking measurements and conversion?
Nutrition
Calories:
2067
kcal
|
Carbohydrates:
248
g
|
Protein:
64
g
|
Fat:
102
g
|
Saturated Fat:
15
g
|
Cholesterol:
654
mg
|
Sodium:
262
mg
|
Potassium:
3313
mg
|
Fiber:
37
g
|
Sugar:
184
g
|
Vitamin A:
2445
IU
|
Vitamin C:
89.3
mg
|
Calcium:
608
mg
|
Iron:
12.8
mg
Tried this recipe?
Snap a pic and hashtag it #SugarHero. We love to see your creations on our Instagram @elabau.