This post may contain affiliate links. Please see my disclosure policy for more information.
Because it's almost spring.
Because St. Patrick's Day is next week.
Because we could all use a mid-week pick-me-up.
Because I can't stop buying bags of pistachios.
Because you never really need a reason for a beautiful layer cake.
For these and many more reasons, say hello to Pistachio Orange Cake!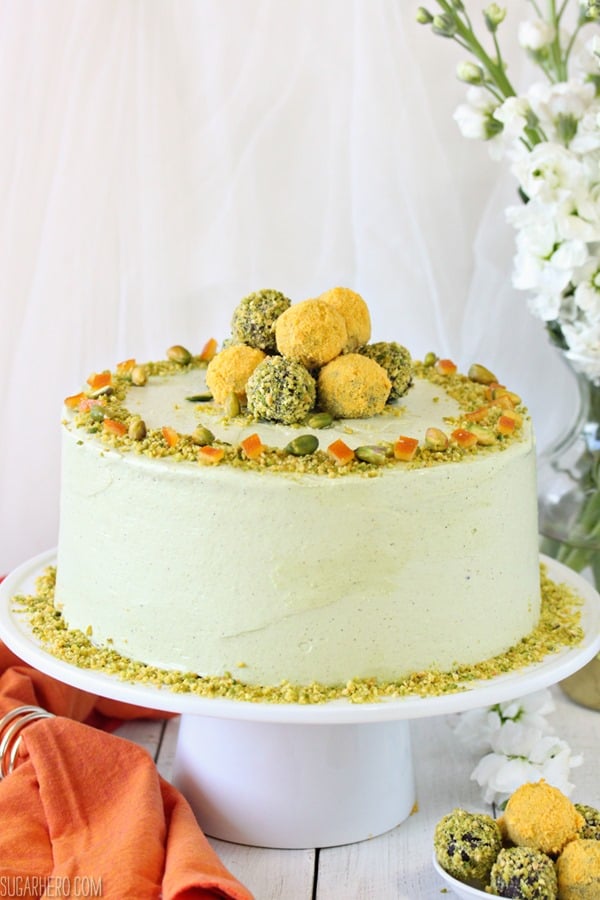 I know layer cakes aren't the most practical dessert for a family of 3, but they're still one of my favorite things to make. The endless combinations of cake and frosting flavors, the decorating opportunities, and oh yeah, the fact that cake is freaking delicious…all of these reasons make cake a regular occurrence at Chez LaBau. So when I was brainstorming some fun green recipes for St. Patrick's Day next week, I knew one of them had to be a green-themed cake.
Want to get recipes sent right to your inbox? Sign up for the free SugarHero newsletter! You'll get the first peek at every new recipe, plus fun news, giveaways, special offers, and much more!
Our promise: We'll never send you spam, just sweet, sweet sugar!
This cake is a love letter to pistachios, which have elbowed out hazelnuts for the coveted title of Elizabeth's Favorite Nut. There are ground pistachios in the cake batter, and a generous helping of pistachios paste is beaten into the buttercream, so that every bite has double pistachio flavor. I love adding a little citrus to brighten up nut desserts, so for this cake, I added some orange zest to the cake batter and snuck in a middle layer of orange buttercream to break up all that pistachio flavor.
It's a little hard to tell in the photos, because I used a gentle hand with the food coloring (for once!) but the outside of this cake is actually a beautifully soft and subtle light green. Next time I might go a little darker, so that it's closer to the color of the cake layers—subtlety has never been my jam.
The cake is topped with more goodies to reinforce the pistachio and orange theme: crushed and whole pistachio nuts, chopped candied orange peel, and then a big pile of chocolate truffles that have been rolled in crushed pistachios and orange powder. If you're thinking right now that chocolate truffles don't belong on top of a cake, we probably can't be friends. Chocolate truffles are welcome everywhere.
So here's the catch. To get that bright green pistachio color, the nuts need to be shelled and skinned, meaning the brownish papery skin that usually covers the pistachios has to be removed. I always buy pistachios in shells, because the pre-shelled pistachios I find almost always have a darker brown color that makes it hard to get truly green nuts.
To skin them, first remove the outer shells, then bring a pot of water to a boil. Dump in the pistachios and let them boil for 1 minute, then drain them. Wait a minute or two until they're not scalding hot, then pinch the nuts—the heat will have loosened the skins, and the nuts will slip right out when you pinch them. The good news is that it's an easy process, the bad news is that you'll have to repeat it a approximately a bajillion times. Beauty is pain!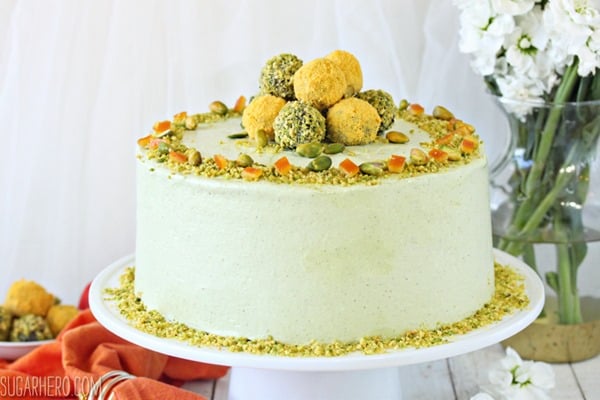 To make the pistachio frosting, I used pistachio paste, which is a mix of finely ground pistachios and sugar (and sometimes a few other ingredients.) It has a smooth texture, like peanut butter, so it blended beautifully into the frosting and made it extra-rich and creamy. I used Love 'n Bake paste, but there are other options available on Amazon, so if you use a different brand, I suggest starting with less paste and then adding more to taste, since different brands have very different intensities.
I've also made my own paste in the past, following this recipe. It's a good option if you can't track down the store-bought stuff, but it's probably equally expensive, since you'll need a lot of pistachios, and I've found that the flavor isn't as strong. When I make my own pistachio paste, I like to add a few drops of Lorann Pistachio Oil, to boost the flavor, but that's optional as well.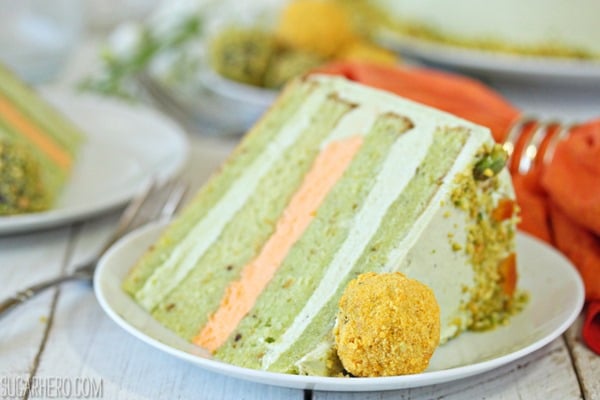 And with that, I'll wish you the happiest of Wednesday, the sweetest of cakes, and the luckiest of weeks-before-St-Patrick's Days. (That sentence got grammatically complicated, fast.) I'll be back in a few days with a fun recipe for Pi Day!
Print Recipe
Pistachio Orange Cake
This Pistachio Orange Cake is a love letter to pistachios with a side of orange citrus to bright up this nutty dessert. I also added some orange zest to the cake batter and a layer of orange buttercream!
Ingredients
For the Pistachio Cake:
4

large eggs

at room temperature

11

oz

sour cream

(1 1/3 cup), at room temperature

1

tsp

almond extract

2

tsp

vanilla extract

Zest of 1 large orange

14

oz

granulated sugar

(2 cups)

11.5

oz

cake flour

(3 1/3 cup), sifted after measuring

2.5

oz

finely ground pistachios or pistachio meal

(2/3 cup)

1

tsp

baking powder

1

tsp

baking soda

1

tsp

salt

12

oz

butter

at room temperature

Green gel food coloring

(optional)
For the Pistachio and Orange Buttercream:
9

egg whites

14

oz

granulated sugar

(2 cups)

1

lb

unsalted butter

soft but still cool

1

tbsp

vanilla extract

1/4

tsp

salt

1/4

tsp

orange oil

(or 1/2-1 tsp orange extract)

7

oz

pistachio paste

(3/4 cup), (See Note below)

Green and orange gel food coloring

(optional)
Optional Decorations:
1/2

cup

finely chopped pistachios

3-4

slices

candied orange peel

Pistachio and Orange Chocolate Truffles
Instructions
To Make the Pistachio Cake:
Preheat the oven to 350 F. Line two 9x3-inch cake pan with parchment rounds, and spray the pans with nonstick cooking spray. (If you only have shorter 9-inch pans, use four of those instead, or bake your cakes in batches.)

In a small bowl, combine the eggs, a quarter of the sour cream, and the extracts, and whisk lightly until they're blended.

In the large bowl of a stand mixer, rub together the orange zest and sugar until they're moist and fragrant. Once the orange zest is mixed into the sugar, add the flour, ground pistachios, baking powder, baking soda, and salt. Mix on low speed with the paddle attachment until everything is well distributed. Add the softened butter and the remaining sour cream, and mix on low speed until everything is combined. Raise the speed to medium, and beat for 90 seconds.

Scrape down the bottom and sides of the bowl with a spatula, then begin beating again. Add the egg mixture gradually in 3 batches, beating for about 20 seconds after each addition. Finally, add a few drops of green food coloring, if desired, to make it a pistachio shade. Once the batter is mixed, give it a few turns with the spatula, scraping the bottom and sides of the bowl well. Divide the batter between the two prepared pans. If you have a kitchen scale, each pan should get 29 oz of batter. Bake at 350 F for about 35-40 minutes, or until golden on top and a toothpick inserted into the center comes out clean.

Cool the cakes on a wire rack for 15 minutes, then run a knife along the sides, turn the cakes out of the pan, and cool completely at room temperature. The cakes can be made in advance and kept, well-wrapped in plastic, for several days in the refrigerator or for several weeks in the freezer.
To Make the Pistachio and Orange Buttercream:
Combine the egg whites and the granulated sugar in the bowl of a large stand mixer, and whisk them together. Choose a small saucepan that lets you fit the base of the stand mixer snugly into the top of the saucepan—this is your makeshift hot water bath. (Alternately, you can use a different bowl or an actual bain marie and then transfer the mixture to a mixing bowl once it's heated.) Add an inch of water to the bottom of the saucepan, and bring the water to a simmer.

Place the mixing bowl on top of the saucepan, making sure that the bottom isn't in contact with the water, and heat the egg white mixture. Whisk frequently so that the egg whites don't cook. Continue to heat the whites until they are hot to the touch, and when you rub a bit between your fingers, you don't feel any grittiness from the sugar. Once the whites are hot, transfer the mixing bowl to your mixer and fit it with a whisk attachment.

Beat the whites on medium-high speed until they are a shiny, stiff, voluminous meringue, and are no longer warm to the touch—feel the outside of the bowl, and make sure that it is around room temperature. Depending on your mixer and the temperature of your environment, this may take 15-20 minutes, or more. Reduce the speed to medium-low and add the softened but cool butter in small chunks, a tablespoon at a time, making sure to wait in between additions. It may separate or look a little gloopy at this point—fear not. Once all of the butter is added, increase the speed again and whip until it comes together and is light and fluffy. If, after 5 minutes, it hasn't come together, refrigerate the mixing bowl for 5-7 minutes, to cool the mixture down, and whip it again until it has thickened and is smooth and silky. Add the vanilla extract and salt, and mix them in.

Remove a generous cup of frosting, and place it in a separate bowl. Add the orange oil or orange extract, and a drop or two of orange food coloring, if desired, and stir them in. Taste the orange buttercream, and add more flavoring if desired, to get an orange taste you like.

To the remaining buttercream, add the pistachio paste and a drop or two of green coloring, and mix them together.

The buttercreams can be made in advance and kept at room temperature if you're going to use them the same day, or refrigerated. If they have been chilled, let them sit at room temperature until completely soft, then re-whip to get the smooth texture back before you use it.
To Assemble the Cake:
Trim the tops of the cakes so that they're level, and slice each cake in half so that you're left with four cake rounds. Place one cake round on a cardboard cake circle, and top it with a generous cup of pistachio frosting. Use an offset spatula or knife to spread the buttercream evenly to the edge of the cake.

Press a second cake round on top. Transfer a little pistachio buttercream to a piping bag fitted with a round tip, and pipe a circle of pistachio frosting along the outer edge of the cake layer. Scrape the orange frosting into the middle of the pistachio circle, and spread it to the edge. The pistachio buttercream "dam" acts as a barrier to keep the orange frosting from seeping over the edge and mixing with the outer pistachio layer later on.

Add a third cake layer on top, and top it with more pistachio buttercream. Finally, add the final cake layer. Spread the top and sides of the cake with the remaining pistachio buttercream.

Decorate the top of the cake with crushed pistachios, chopped candied orange peel, and/or pistachio and orange chocolate truffles. Refrigerate the cake for about 30 minutes to give it some stability before slicing. For the best taste and texture, serve this cake at room temperature.
Notes
I used Love 'n Bake Pistachio Paste in this recipe. Different pastes have different levels of pistachios/sugar/flavoring, so if you're using a different brand, I recommend starting with less than the listed amount and then add more to taste. You can also try making your own—I've made my own paste following this recipe before. I found that the flavor of homemade paste isn't as strong, and when I do make it at home, I like to add a drop or two of Lorann Pistachio Oil to intensify the flavor.
Nutrition
Serving:
16
g
|
Calories:
808
kcal
|
Carbohydrates:
70
g
|
Protein:
11
g
|
Fat:
55
g
|
Saturated Fat:
29
g
|
Cholesterol:
157
mg
|
Sodium:
533
mg
|
Potassium:
299
mg
|
Fiber:
2
g
|
Sugar:
52
g
|
Vitamin A:
1455
IU
|
Vitamin C:
0.7
mg
|
Calcium:
71
mg
|
Iron:
1
mg
Print Recipe
Pistachio and Orange Chocolate Truffles
These Pistachio and Orange Chocolate Truffles are the absolutely perfect adornment for those ode to everything pistachio!
Ingredients
6

oz

finely chopped dark chocolate

3

oz

heavy cream

(about 1/3 cup)

unsweetened cocoa powder

(for dusting)

1

cup

finely chopped pistachios

2

oz

freeze-dried orange slices

( or other freeze-dried orange-colored fruits like mangoes or peaches)
Instructions
Place the chopped dark chocolate in a small bowl. Pour the heavy cream into a small saucepan and place the pan over medium heat. Bring the cream to a simmer, and once small bubbles appear all along the sides of the pan, pour it over the chopped chocolate in the bowl.

Let the hot cream soften the chocolate for one minute, then gently whisk them together, until all of the chocolate is melted and your ganache is smooth and shiny. If you have a few pieces of chocolate that haven't melted, microwave the bowl in short 5-10 second increments, whisking after each one, until all of the chocolate is melted.

Press a layer of cling wrap directly on top of the ganache and let it sit until it reaches room temperature. Once at room temperature, refrigerate the ganache until it is firm enough to scoop, 1-2 hours.

Cover a baking sheet with waxed paper or parchment paper. Use a candy scoop or spoon to form the ganache into 1-inch balls. Dust your hands with a light layer of cocoa powder and roll the balls between your palms to get them round. Refrigerate the tray for 45-60 minutes until the truffles are very firm.

While you wait for the truffles to chill, pour the finely chopped pistachios into a wide, shallow bowl. Place the freeze-dried oranges in the bowl of a food processor and process until you have a fine orange powder. Pour the powder into a separate wide, shallow bowl. (Don't do this step until you're ready to dip the truffles, because the orange powder will start to clump up soon after it's exposed to air.)

Melt the chocolate candy coating in a microwave-safe bowl in 30-second intervals, stirring after every 30 seconds until melted and smooth. Scoop a spoonful of melted coating into the palm of your hand. Drop a truffle into the coating and use your other hand to roll it around your palm, until it's covered by a thin layer of coating on all sides. Tilt your hand to roll the truffle down your fingertips into one of the bowls of toppings, then immediately toss it around to cover it completely. (Using this method, instead of dipping the truffles, is faster and results in a thinner chocolate shell.) After a few moments, you can transfer the dipped truffle from the bowl to a baking sheet. Repeat with the rest of the truffles, alternating toppings between the nuts and orange powder.

Once all of the truffles are dipped and decorated, refrigerate the tray to set the chocolate for 15 minutes before using them as cake decorations.
Nutrition
Serving:
16
g
|
Calories:
189
kcal
|
Carbohydrates:
16
g
|
Protein:
2
g
|
Fat:
12
g
|
Saturated Fat:
6
g
|
Cholesterol:
7
mg
|
Sodium:
6
mg
|
Potassium:
206
mg
|
Fiber:
2
g
|
Sugar:
11
g
|
Vitamin A:
115
IU
|
Vitamin C:
43.7
mg
|
Calcium:
20
mg
|
Iron:
2.3
mg
This post contains Amazon affiliate links. For more information, see my Affiliate and Advertising Policy.
[/fusion_text]