This Peppermint Hot Chocolate recipe is made the old-fashioned way, with real melted chocolate for a rich texture and deep chocolate flavor. The brisk peppermint flavor makes this a wonderful holiday drink.
🌿 Better-than-Starbucks Mint Hot Chocolate
When the weather outside is frightful…a big mug of minty hot chocolate is just what the doctor ordered! This Peppermint Hot Chocolate is PERFECT for the holiday season! It's made with melted chocolate, milk, and a bit of cream, so it's rich and comforting and smooooooth as silk going down. It has just the right amount of peppermint, so it's refreshing but doesn't taste like mouthwash. And it's topped with a big dollop of cocoa whipped cream, because why stop at just one kind of chocolate in your mug?
Chocolate and peppermint just might be the best flavor combination ever, and here at SugarHero we've made it our mission to make as many mint-chocolate desserts as possible. (Hey, it's important to dream big!) Some of our best-loved peppermint recipes are Candy Cane Cheesecake, Peppermint Mocha Mousse Cake, Peppermint Patty Flourless Chocolate Cake, and Peppermint Lava Cakes.
And if you're looking for more mint-chocolate drink options, this Italian Peppermint Affogato is AMAZING. Ice cream, mint, and coffee–what's not to love?!
☕️ Hot Chocolate vs Hot Cocoa
What's in a name? When it comes to these drinks, quite a lot! "Hot chocolate" and "hot cocoa" are sometimes used interchangeably, especially in casual conversation, but they are in fact different. As the names imply, hot chocolate is made with…get this…chocolate, while hot cocoa is made with…bet you can't guess…cocoa!
Hot chocolate typically has a much richer, thicker texture, and depending on what kind of chocolate you use, it can taste semi-sweet or even bittersweet.
Hot cocoa, on the other hand, usually has a thinner texture (especially if made with water instead of milk) and is often sweeter to make up for the unsweetened cocoa powder used.
Both types of drinks are delicious, but depending on your personal tastes, you might prefer one over the other.
This Peppermint Hot Chocolate is decidedly a hot CHOCOLATE. It's thick, rich, extra-creamy, and loaded with semi-sweet melted chocolate. I put the serving size as 1 cup (8 fl oz) because it's super indulgent, and I don't know many people who could handle more than a cup or so at a sitting. Sharing with kids? I'd recommend reducing the serving size further, or adding additional milk to dilute it a bit.
Table of Contents
🧾 What You'll Need
Ingredients
With such a short ingredient list, it's important to use good-quality ingredients for best results. (Links are affiliate links and I earn a small commission from qualifying purchases.)
Semi-sweet chocolate:

Chopping up a chocolate bar will give you the best results–I'm a big proponent of Trader Joe's pound plus bars, if those are available to you. Otherwise, go for high-quality chocolate chips like Ghirardelli or Guittard–they'll give you the best flavor.
Milk: Use whatever milk you have on hand–we recommend 2% for the creamiest results.
Cream: The cream in the hot chocolate recipe can be swapped with half-and-half, or additional milk, if you want a less rich drink. There's no substitute for the cream in the cocoa whipped cream, however!
Peppermint extract: Different brands of peppermint extract can have very different strengths. We recommend starting with the smaller amount, 1/2 tsp, and tasting the hot chocolate. If you want a stronger flavor, add a bit at a time, tasting regularly, until you have a taste you're happy with.

Cocoa powder:

The cocoa whipped cream is flavored with cocoa powder, so again, quality is key if you want your recipe to taste great. Cheap cocoa powders can be nearly flavorless, or worse, impart a bitter, dusty, or stale flavor. My personal favorite is Cacao Barry Extra Brute – it hits that sweet spot between very high quality but also pretty affordable since it is sold in bulk.

Decorations:

all the snowflakes on top are entirely edible! The small ones are snowflake sprinkles from Wilton, and the large snowflake in the center is an edible wafer paper snowflake–the exact ones I used are no longer available, but you can find similar products here.
💭 Variations
Peppermint's not the only game in town! If you're not mad for mint, consider swapping the mint extract with one of these other flavors:
Orange
Lemon
Almond
Coconut
Strawberry
Cherry
Hazelnut
Caramel
Note that different flavors might have different strengths, so always start by adding a small amount of flavoring and then increase if necessary.
You can also use different chocolates – chopped milk chocolate and white chocolate both work. They're also both sweeter than semi-sweet, so you may want to add additional milk to dilute the sweetness a bit.
💡 Tips and FAQs
Here are some of the most common questions we get about this recipe:
WHERE CAN I GET THE EDIBLE SNOWFLAKES YOU USED?
Yes, those pretty snowflakes on top are made of wafer paper and are entirely edible! These particular ones were made by Wilton, but they don't seem to be available anymore. They're called "Edible Accents" and are made by Wilton. You can find similar wafer paper snowflakes, to add a touch of winter magic to your mug.
CAN I USE CHOCOLATE CHIPS TO MAKE HOT CHOCOLATE?
Yes! Just keep in mind that all of the chocolate flavor and texture in this recipe comes from the chocolate you use, so using waxy, low-flavor chocolate will produce a low-flavor drink. We recommend using a high-quality chocolate that you enjoy eating, and this goes for both chocolate bars and chocolate chips. Guittard and Ghirardelli both make tasty chocolate chips that are available at many large grocery stores.
CAN I USE MILK INSTEAD OF CREAM?
You can definitely swap the heavy cream for more milk (or half and half) in the hot chocolate recipe. You'll lose some of the thick texture, but for those who prefer a less rich drink, it's the perfect swap.
Make-Ahead and Storage Instructions
Peppermint Hot Chocolate can be made in advance and reheated when you're ready to serve it. We recommend letting the hot chocolate cool to room temperature, then transferring it to a storage container and refrigerating it. Reheat the full batch in a saucepan on the stove, stirring with a rubber spatula occasionally so it doesn't scorch on the bottom. Individual servings can be reheated in a mug in the microwave. The hot chocolate will have the shelf life of the dairy products you used.
You can also keep hot chocolate in the freezer for longer-term storage. Let it cool, then transfer it to a freezer-safe gallon zip-top bag. Zip securely, then lay the bag flat on a baking sheet and freeze completely. (The flattened bag is easier to store.) Reheat in a saucepan on the stove, whisking well. For the best taste and texture, enjoy within 6 months of freezing.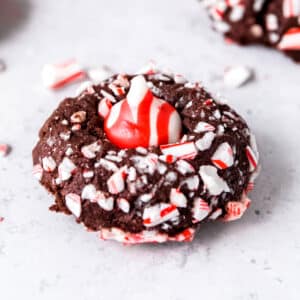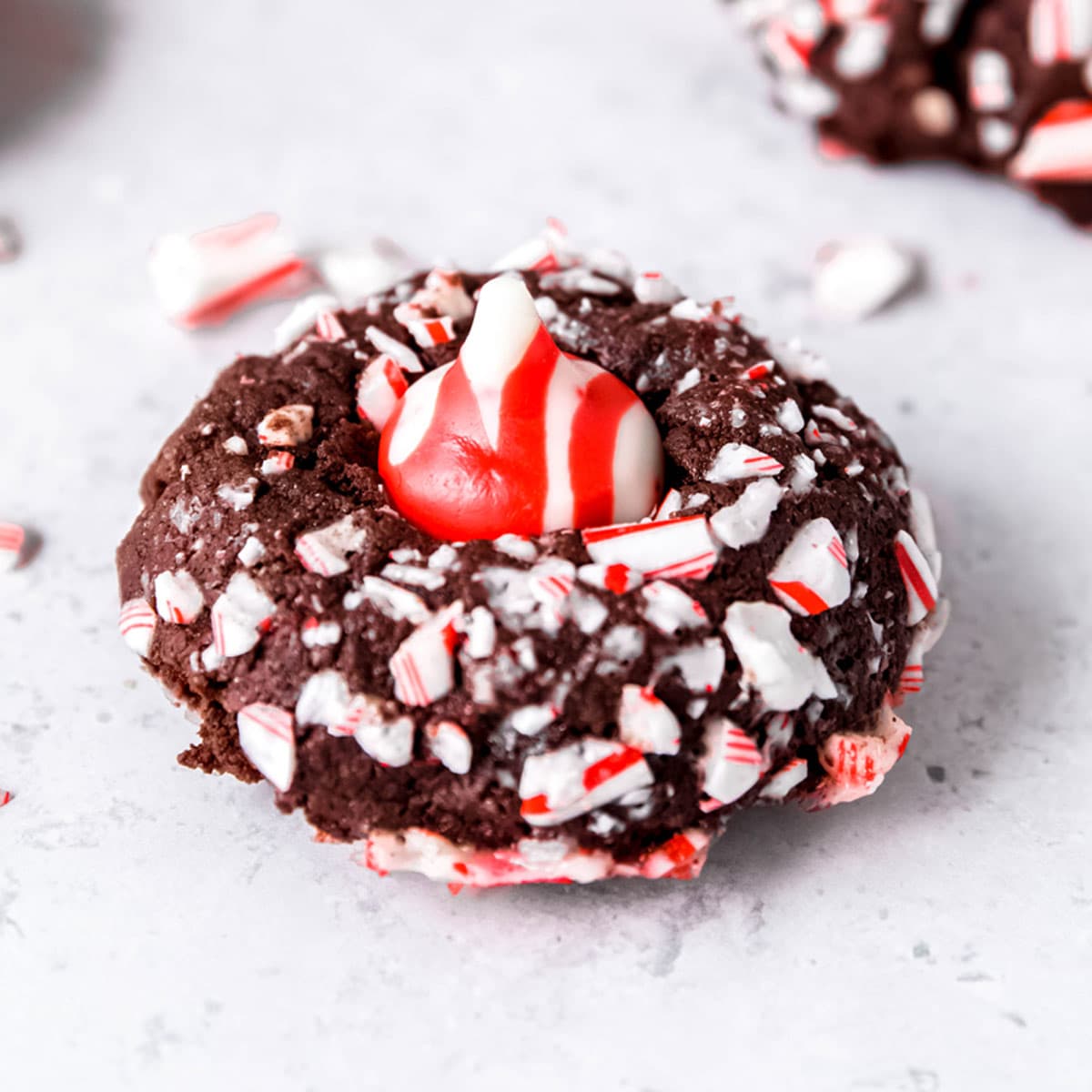 Chocolate Peppermint Kiss Cookies
These Chocolate Peppermint Kiss Cookies are the perfect combination of a deep rich chocolate cookie and crunchy sweet candy cane pieces topped with a striped Hershey's Kiss.
View Recipe
Candy Cane Mousse Cake
This Candy Cane Mousse Cake is a knockout Christmas dessert! It has alternating layers of moist chocolate cake and candy cane mousse, covered with a shiny chocolate glaze and a spectacular candy cane topping.
View Recipe
Leave a Review!
If you make this recipe, let us know! Leave a ⭐️⭐️⭐️⭐️⭐️ rating on the recipe below, and leave a comment, take a photo and tag me on Instagram @elabau, or use #sugarhero on IG!
Peppermint Hot Chocolate
This Peppermint Hot Chocolate recipe is made the old-fashioned way, with real melted chocolate for a rich texture and deep chocolate flavor. The bright minty flavor makes this the perfect holiday drink.
Ingredients
For the Peppermint Hot Chocolate:
For the Cocoa Whipped Cream:
Instructions
To make the peppermint hot chocolate, combine the cream, milk, and salt in a medium saucepan, and place it over medium heat. Heat up the milk, stirring occasionally, and scraping the bottom of the pan with a rubber spatula so the milk doesn't scorch. Bring it to a simmer so that bubbles appear along the sides of the pan.

Once simmering, remove the pan from the heat and add the chopped chocolate. Whisk everything together until the chocolate has melted and the drink is creamy and smooth. Add ½ tsp peppermint extract, whisk, and taste it. Add more mint extract, if desired, to get your perfect flavor. (Different brands have different strengths, and it's always recommended to start with a small amount and work your way up!)

To make the cocoa whipped cream, combine all ingredients in a mixing bowl and whip on medium-high speed until medium peaks form.

Serve the hot chocolate warm, with a big dollop of cocoa whipped cream on top. The peppermint hot chocolate can be made ahead of time and kept in a container in the refrigerator until you're ready to enjoy it. It can be reheated on either the stove or in the microwave.
Measuring Tips
Our recipes are developed using weight measurements, and we highly recommend using a kitchen scale for baking whenever possible. However, if you prefer to use cups, volume measurements are provided as well. PLEASE NOTE: the adage "8 oz = 1 cup" is NOT true when speaking about weight, so don't be concerned if the measurements don't fit this formula.
Want to learn more about baking measurements and conversion?
Nutrition
Calories:
500
kcal
|
Carbohydrates:
43
g
|
Protein:
9
g
|
Fat:
51
g
|
Saturated Fat:
30
g
|
Cholesterol:
110
mg
|
Sodium:
85
mg
|
Potassium:
562
mg
|
Fiber:
5
g
|
Sugar:
32
g
|
Vitamin A:
1245
IU
|
Vitamin C:
0.4
mg
|
Calcium:
220
mg
|
Iron:
3.9
mg
Tried this recipe?
Snap a pic and hashtag it #SugarHero. We love to see your creations on our Instagram @elabau.