This post may contain affiliate links. Please see my disclosure policy for more information.
Sunday is Cinco de mayo, party people!
Are you going to be celebrating? Living it up? Partying hard? Eating unhealthy amounts of guacamole? Want to hear my wild and crazy plans?
On Cinco de Mayo, if all goes well, I'll be sleeping. Fingers crossed.
Want to get recipes sent right to your inbox? Sign up for the free SugarHero newsletter! You'll get the first peek at every new recipe, plus fun news, giveaways, special offers, and much more!
Our promise: We'll never send you spam, just sweet, sweet sugar!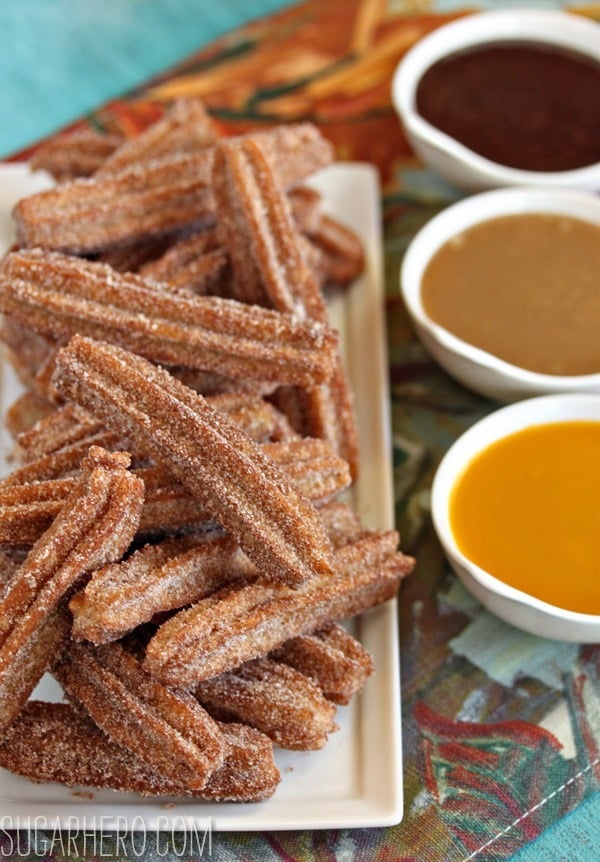 This past week has been really packed and tiring. Then this weekend is my 10 year college reunion, which actually seems impossible since I'm pretty sure I'm still not a day over 26, and we all know I'm no Doogie Howser early-graduating wunderkind.
So come Sunday, the cinco of this here Mayo, after I've bid farewell to my long-lost college chums and my fleeting youth, I hope to be collapsed on our couch, bed, floor, or any other semi-soft surface, snoring ever so softly, and dreaming about these churros.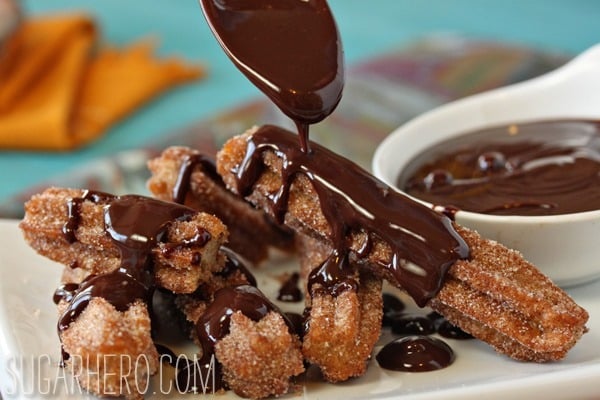 See, I've already celebrated Cinco de Mayo earlier this week, sort of, when I made these Mexican-inspired treats. The churros are just like I remember them from the churro carts of my childhood, extra-crispy and coated with cinnamon-sugar on the outside, and soft and pillowy on the inside.
Since the churros are so standard, I wanted to make some fun sauces to liven them up. I couldn't decide quite what to make, so I ended up with three: spicy chocolate sauce, dulce de leche sauce, and mango sauce with a hint of lime.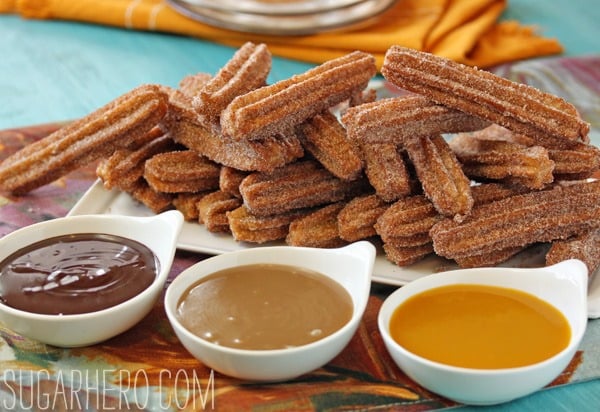 Making the churros themselves was actually harder than I thought it would be. Not to be a conceited jerk, but I wasn't expecting any problems. I've made choux dough a million times. And heaven knows I've fried things before. So how hard could it be to make a decent churro?
Surprisingly difficult, it turns out! My first batch was completely raw in the middle. I tried cooking them for longer and longer periods, but that only yielded super-crunchy churros, slightly burned on the outside, that were still gooey and underdone inside. Not tasty. It's a sign of how bad they were that I ended up throwing them out. Me! Miss Endless Sweet Tooth, tossing sugar-coated fried dough! It was a dark day indeed.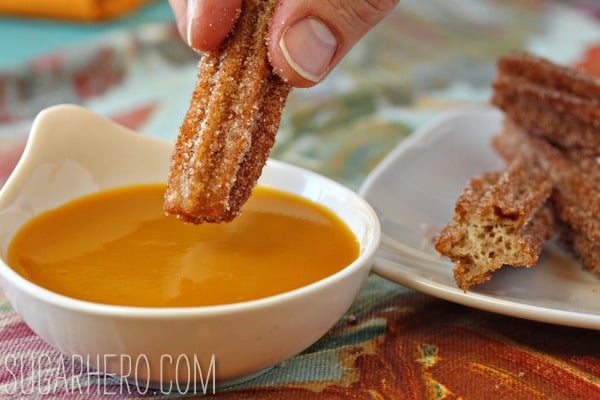 For my second batch, I decided to try a different recipe. I'd been using pate a choux, which is what eclairs and cream puffs are made of. It's a simple dough made from water, flour, oil, eggs, and a bit of sugar. From reading online, though, I learned that "traditional" churro batter doesn't contain eggs.
"Aha!" I thought. "Take out the eggs, and all of my problems will be solved!" Sadly, no. This batch was denser than the first, but still raw inside and unpleasantly hard on the outside. Strike two.
Finally, I decided to try switching pastry tips. Most of the recipes I consulted were frustratingly vague on how to pipe the churros out, and just mentioned a "large star-shaped piping tip," which could really be one of a hundred different things. I mean, would it kill folks to provide a few more details? Or maybe a diagram, hand-lettered and to scale? Too much?
In the interest of not being a hypocrite, then, here's a handy little guide to finding the perfect churro star tip, based on my hard-earned experience: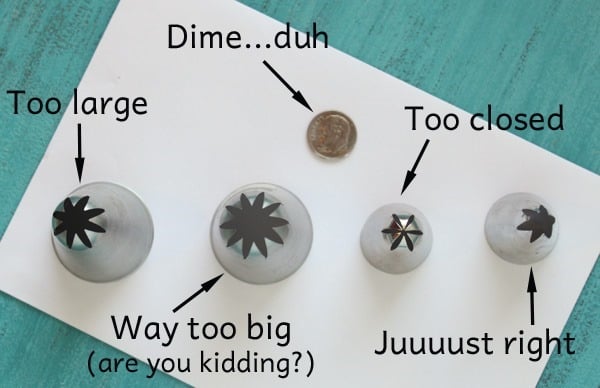 For my first two batches I was using the tip on the very far left (Ateco 847). In real life it looks like the perfect size, and it does in fact produce churros that are about the width that I remember from childhood. However, in my experience it was just too big, and the churros it produced were too fat to cook all the way through before the outside was a burned mess.
Through way too much trial and error, I found that the best tip for me was the medium-sized open star on the far right. It's the Wilton 1M tip
, but I believe it's very similar in size to the Ateco 824 tip
. It looks like it's going to produce skinny little churro fingers, but after deep-frying the dough puffs up nicely and the churros feel like they're just the right size. So I went back to my choux dough, with a smaller tip, and all was right in my churro world.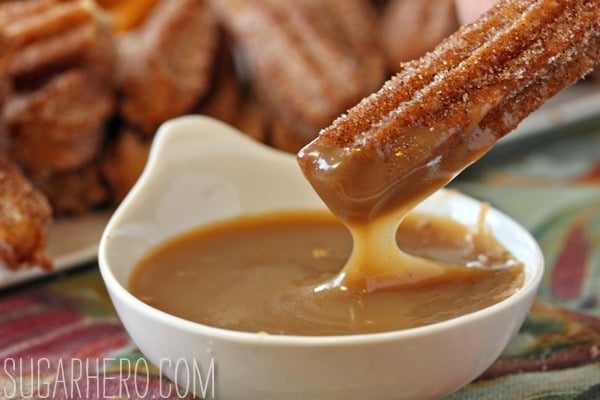 Now let's talk about the sauces for just a moment. They each added something different and fun to the churros. The spicy chocolate sauce was my favorite—thick and rich, with just a hint of heat to make things interesting, and to leave me craving another bite.
The dulce de leche was Jason's favorite—no surprise, since he's a caramel fanatic. It's actually a "cheater's" version of dulce de leche, meaning it's not made from caramelizing condensed milk. It may lack authenticity, but it comes together in about 10 minutes, which is much more than I can say for traditional dulce de leche! And it still has the same milky, caramelized taste.
Finally, the mango sauce was a great change of pace. It felt light and fresh, with just a bit of lime, and made me feel like I was eating something the tiniest bit healthy. Anything that helps me to justify eating more churros is fine by me!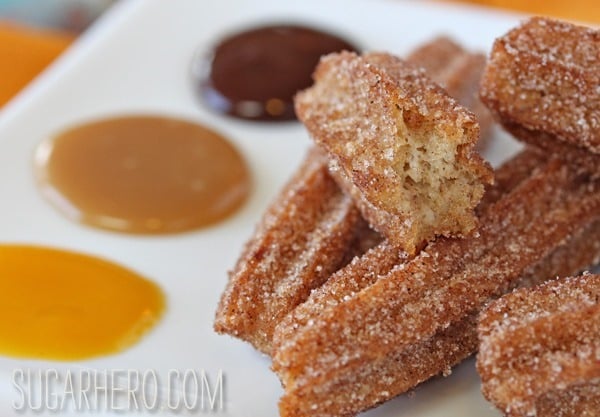 Happy Cinco de Mayo, friends! Hope your day is as fun/relaxing/churro-filled as you want it to be!
Homemade Churros
These Homemade Churros are just like what I remember from the churro carts of my childhood, extra-crispy and coated with cinnamon-sugar on the outside, and soft and pillowy on the inside.
Servings:
36
4-inch churros
Ingredients
1

cup

+ 2 tbsp all-purpose flour

1

tbsp

+ 1 tsp cinnamon

divided use

1

cup

water

2

tbsp

brown sugar

2

tbsp

vegetable oil

1/4

tsp

salt

2

large eggs

Pastry bag

Medium star pastry tip

like Wilton 1M or Ateco 824

1

cup

granulated sugar

6

cups

oil

or enough to fill a large skillet with 1 1/2-2 inches of oil

Candy/deep fry thermometer
Instructions
Before you prepare the churro dough, start heating the oil for frying. Pour the oil into a large skillet, so that it's 1 1/2 – 2 inches deep, and turn the heat to medium. Insert a candy/deep fry thermometer and let the oil heat to 350 F (175 C), checking it occasionally to make sure that it doesn't get too hot while you prepare the rest of the recipe. If so, remove it from the heat briefly or turn down the burner so it maintains at 350 F.

Sift together the flour and 1 teaspoon cinnamon, and set aside for a moment.

Combine the water, sugar, vegetable oil, and salt in a medium saucepan over medium-high heat. Bring it to a boil, and once boiling, add the flour mixture all at once and stir it in quickly. It will be thick. Continue to stir until the streaks of flour are gone, and the whole thing comes together in a rough, shaggy ball in the middle.

Transfer the hot ball of dough to the large bowl of a stand mixer fitted with a paddle attachment. Begin to beat on medium speed, and add one of the eggs. At first it won't come together, but continue to beat until it's incorporated and the mixture smooths out. Add the other egg and beat until your dough is combined and smooth.

Fit a pastry bag with your start tip, and fill the bag with churro dough.

Prepare your work station for frying: mix together the granulated sugar and remaining tablespoon of cinnamon in a wide bowl or pie pan. Cover a baking sheet with several layers of paper towel. Take a pair of scissors or kitchen shears, and dip the tips into the oil. When your oil reaches 350 F, you're ready to fry.

I found this method was easiest for making straight churros: hold the pastry bag vertically about 6 inches from the top of the skillet, so that the tip is at a 90 degree angle to the oil. Begin squeezing the bag so that the churro dough comes out in a long line dangling vertically from the bag. When the churro is about 4 inches long, snip it close to the tip with the oiled scissors, and sort of guide the churro into the oil with the scissors. If it starts to curve, you can dip the scissors in and try to straighten it in the first few seconds. You can fry about 4-5 churros at a time. Watch them carefully, turning them occasionally so that they brown on all sides. Remove them when they're golden brown and crispy, about 2 1/2 – 3 minutes total cooking time.

Transfer them to the paper towel-lined baking sheet using a slotted frying spatula, then quickly move them to the cinnamon-sugar bowl and toss them with the sugar until they're coated. Let the oil come back up to 350 F before frying the next batch. You should get about 36 4-inch churros from this recipe. For the best taste and texture, churros should be enjoyed on the same day they're made.
Nutrition
Calories:
80
kcal
|
Carbohydrates:
9
g
|
Fat:
4
g
|
Cholesterol:
9
mg
|
Sodium:
20
mg
|
Potassium:
7
mg
|
Sugar:
6
g
|
Vitamin A:
15
IU
|
Calcium:
5
mg
|
Iron:
0.2
mg
Spicy Chocolate Sauce
Like a little heat with your sweets? Try this Spicy Chocolate Sauce! It's great on churros, ice cream, cheesecakes, and so much more. This recipe yields about 1.5 cups.

Servings:
12
2 TBSP servings
Ingredients
8

ounces

chopped semi-sweet chocolate

1

cup

heavy cream

2

tbsp

unsalted butter

room temperature

1/8-1/4

tsp

ground cayenne

Big pinch salt
Instructions
Place the chopped chocolate in a medium bowl and set aside briefly. Pour the cream into a small saucepan over medium-high heat, and heat until it just starts to bubble.

Pour the heavy cream over the chopped chocolate and let it sit for 1 minute to soften the chocolate. Whisk the cream and chocolate together until smooth and fluid, then add the room temperature butter, 1/8 tsp cayenne, and the big pinch of salt. Whisk until everything is shiny and smooth. Taste the sauce, and if you'd like a spicier flavor, increase the cayenne in small amounts until you get a heat level you enjoy.

This sauce is best served warm. As it cools it will thicken, so you might need to microwave it in short bursts and whisk it periodically to keep it fluid. Spicy Chocolate Sauce can be stored in the refrigerator for up to a week.
Nutrition
Calories:
194
kcal
|
Carbohydrates:
10
g
|
Protein:
1
g
|
Fat:
16
g
|
Saturated Fat:
9
g
|
Cholesterol:
33
mg
|
Sodium:
9
mg
|
Potassium:
122
mg
|
Fiber:
1
g
|
Sugar:
6
g
|
Vitamin A:
370
IU
|
Vitamin C:
0.1
mg
|
Calcium:
25
mg
|
Iron:
1.2
mg
Shortcut Dulce de Leche Sauce
These Homemade Churros are just like what I remember from the churro carts of my childhood, extra-crispy and coated with cinnamon-sugar on the outside, and soft and pillowy on the inside.
Ingredients
1

cup

heavy cream

1

cup

packed dark brown sugar

1/2

cup

sweetened condensed milk
Instructions
Combine the cream and dark brown sugar in a saucepan over medium heat. Stir while sugar dissolves and mixture comes to a slow boil. Continue to boil, stirring occasionally, until the cream mixture reduces down to 1 cup. This will take around 10 minutes.

Once it has reduced, stir in the sweetened condensed milk and whisk until everything is well-mixed. Serve dulce de leche sauce warm, and re-warm it in the microwave if it starts to get too thick. Dulce de Leche Sauce can be stored in the refrigerator for up to a week.
Nutrition
Calories:
2148
kcal
|
Carbohydrates:
305
g
|
Protein:
17
g
|
Fat:
101
g
|
Saturated Fat:
63
g
|
Cholesterol:
378
mg
|
Sodium:
346
mg
|
Potassium:
1038
mg
|
Sugar:
296
g
|
Vitamin A:
3905
IU
|
Vitamin C:
5.4
mg
|
Calcium:
772
mg
|
Iron:
1.9
mg
Mango Sauce
This Mango Sauce is the perfect balance of tangy and sweet. It makes one cup and is great for dipping churros, but also as an ice cream topping—or even a cupcake filling.
Ingredients
3

large ripe mangoes

or 1 1/2 cups mango puree (I used 14 oz Goya brand frozen bag)

2

tbsp

fresh lime juice

2

tbsp

granulated sugar
Instructions
If you're using fresh mangos, peel them and cut the flesh away from the center pit. Place the fruit in a food processor or high-speed blender, and process until liquefied. Pour the pulp through a fine mesh strainer and measure out 1 1/2 cups of mango puree. If you have extra, save it for a different use. If you're using frozen mango puree, make sure that it's defrosted before continuing.

Combine the mango puree, lime juice, and granulated sugar in a medium saucepan over medium heat, and stir to combine. Cook the mango puree, stirring frequently and scraping the bottom of the pan with a rubber spatula, until it reduces down to 1 cup. This will take about 10-15 minutes. Be sure to stir often so the fruit doesn't scorch on the bottom.

Mango Sauce is best served at room temperature or chilled, not warm. Store in the refrigerator for up to 3 days.
Nutrition
Calories:
49
kcal
|
Carbohydrates:
12
g
|
Potassium:
103
mg
|
Sugar:
11
g
|
Vitamin A:
670
IU
|
Vitamin C:
23.7
mg
|
Calcium:
7
mg
|
Iron:
0.1
mg