These Homemade Churros are just like what I remember from the churro carts of my childhood, extra-crispy and coated with cinnamon-sugar on the outside, and soft, pillowy goodness on the inside. Dip them in spicy chocolate sauce, dulce de leche sauce, and mango sauce with a hint of lime!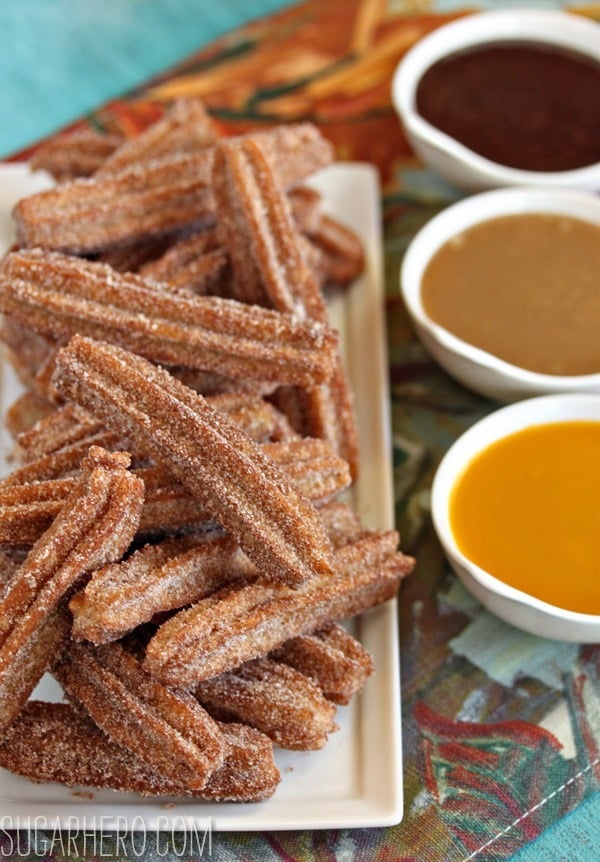 Sunday is Cinco de Mayo, party people!
Are you going to be celebrating? Living it up? Partying hard? Eating unhealthy amounts of guacamole? Want to hear my wild and crazy plans?
On Cinco de Mayo, if all goes well, I'll be sleeping. Fingers crossed.
This past week has been really packed and tiring. Then this weekend is my 10 year college reunion, which actually seems impossible since I'm pretty sure I'm still not a day over 26, and we all know I'm no Doogie Howser early-graduating wunderkind.
So come Sunday, the cinco of this here Mayo, after I've bid farewell to my long-lost college chums and my fleeting youth, I hope to be collapsed on our couch, bed, floor, or any other semi-soft surface, snoring ever so softly, and dreaming about these churros.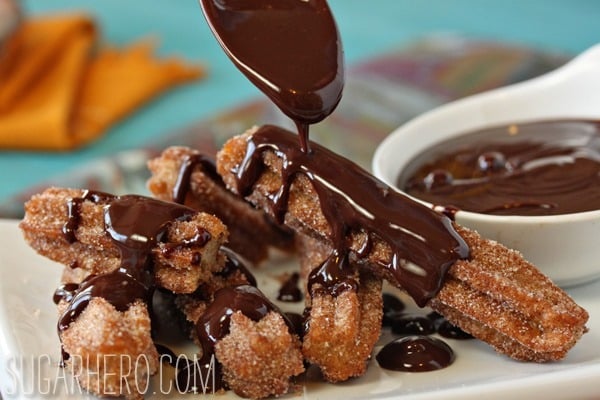 See, I've already celebrated Cinco de Mayo earlier this week, sort of, when I made these Mexican-inspired treats. The churros are just like I remember them from the churro carts of my childhood, extra-crispy and coated with cinnamon-sugar on the outside, and soft and pillowy on the inside.
Since the churros are so standard, I wanted to make some fun sauces to liven them up. I couldn't decide quite what to make, so I ended up with three: spicy chocolate sauce, dulce de leche sauce, and mango sauce with a hint of lime.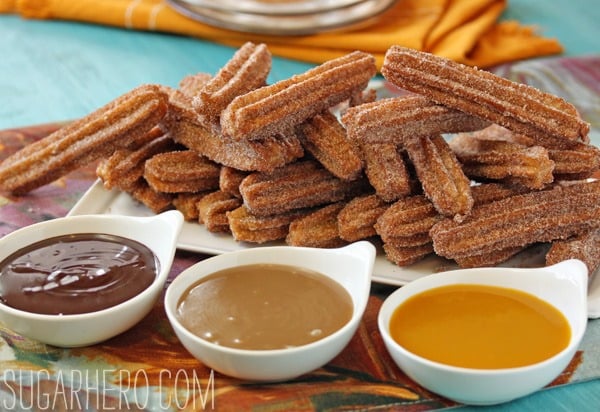 Making the churros themselves was actually harder than I thought it would be. Not to be a conceited jerk, but I wasn't expecting any problems. I've made choux dough a million times. And heaven knows I've fried things before. So how hard could it be to make a decent churro?
Surprisingly difficult, it turns out! My first batch was completely raw in the middle. I tried cooking them for longer and longer periods, but that only yielded super-crunchy churros, slightly burned on the outside, that were still gooey and underdone inside. Not tasty. It's a sign of how bad they were that I ended up throwing them out. Me! Miss Endless Sweet Tooth, tossing sugar-coated fried dough! It was a dark day indeed.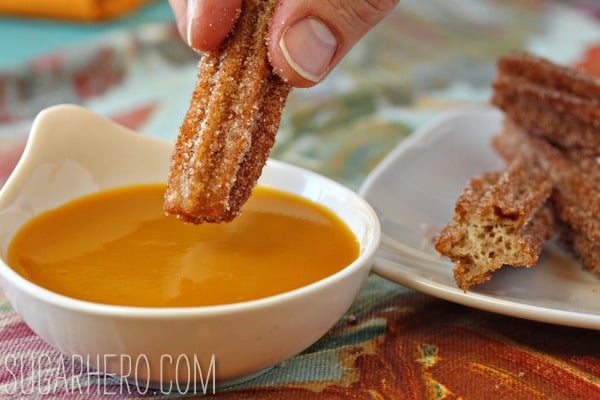 For my second batch, I decided to try a different recipe. I'd been using pate a choux, which is what eclairs and cream puffs are made of. It's a simple dough made from water, flour, oil, eggs, and a bit of sugar. From reading online, though, I learned that "traditional" churro batter doesn't contain eggs.
"Aha!" I thought. "Take out the eggs, and all of my problems will be solved!" Sadly, no. This batch was denser than the first, but still raw inside and unpleasantly hard on the outside. Strike two.
Finally, I decided to try switching pastry tips. Most of the recipes I consulted were frustratingly vague on how to pipe the churros out, and just mentioned a "large star-shaped piping tip," which could really be one of a hundred different things. I mean, would it kill folks to provide a few more details? Or maybe a diagram, hand-lettered and to scale? Too much?
In the interest of not being a hypocrite, then, here's a handy little guide to finding the perfect churro star tip, based on my hard-earned experience: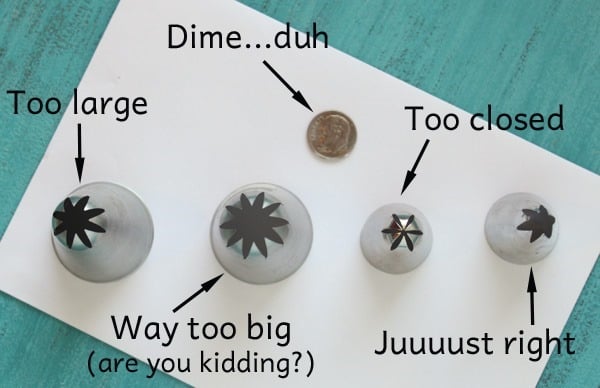 For my first two batches I was using the tip on the very far left (Ateco 847). In real life it looks like the perfect size, and it does in fact produce churros that are about the width that I remember from childhood. However, in my experience it was just too big, and the churros it produced were too fat to cook all the way through before the outside was a burned mess.
Through way too much trial and error, I found that the best tip for me was the medium-sized open star on the far right. It's the Wilton 1M tip
, but I believe it's very similar in size to the Ateco 824 tip
. It looks like it's going to produce skinny little churro fingers, but after deep-frying the dough puffs up nicely and the churros feel like they're just the right size. So I went back to my choux dough, with a smaller tip, and all was right in my churro world.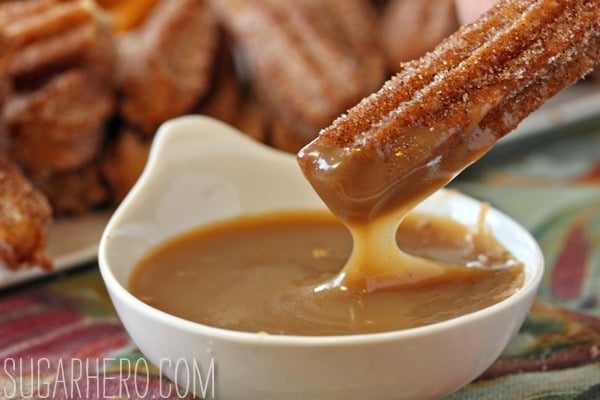 Now let's talk about the sauces for just a moment. They each added something different and fun to the churros. The spicy chocolate sauce was my favorite—thick and rich, with just a hint of heat to make things interesting, and to leave me craving another bite.
The dulce de leche was Jason's favorite—no surprise, since he's a caramel fanatic. It's actually a "cheater's" version of dulce de leche, meaning it's not made from caramelizing condensed milk. It may lack authenticity, but it comes together in about 10 minutes, which is much more than I can say for traditional dulce de leche! And it still has the same milky, caramelized taste.
Finally, the mango sauce was a great change of pace. It felt light and fresh, with just a bit of lime, and made me feel like I was eating something the tiniest bit healthy. Anything that helps me to justify eating more churros is fine by me!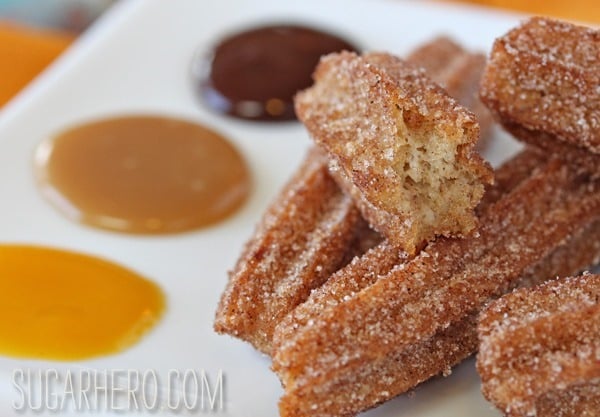 Happy Cinco de Mayo, friends! Hope your day is as fun/relaxing/churro-filled as you want it to be!
🥳More Cinco De Mayo Inspired Desserts