This post may contain affiliate links. As an Amazon Associate I earn from qualifying purchases. Please see my disclosure policy for more information.
Hot Chocolate in the crock pot? You bet! This easy slow cooker hot chocolate recipe makes a mega batch of rich, creamy hot chocolate–perfect for feeding a crowd! It tastes amazing, is simple to whip up, and uses ingredients you probably already have in your pantry. You'll never use powdered cocoa mix again!
☕️ Easy Crock-Pot Hot Chocolate
I am a hot chocolate fanatic, as evidenced by all the hot chocolate recipes I've posted. There's something indescribably cozy and comforting about curling up with a mug of chocolate (topped with lots of whipped cream, of course!) and savoring this little dessert dressed up as a drink. Plain, flavored, made with shaved chocolate or cocoa powder…I love it all!
That's why I am so excited to share this Slow Cooker Hot Chocolate recipe with you! By using a slow cooker, you can easily make a BIG batch of decadent hot chocolate without breaking a sweat. It's perfect for feeding a crowd, and you can get it going in the background while you do other things. Oh, and the best part? It tastes like a melted chocolate bar, it's THAT creamy and rich.
My family makes this recipe at least twice a month all winter long, and we love it–not just because it tastes great, but because it's so convenient! The genius of using a slow cooker is that everything can be prepared in advance, and then the hot chocolate can be cooking while you do other things.
Most often, I will get everything started before we go out sledding, or snowball fighting, or whatever, and it's always so nice to walk back into the house to find a vat of piping hot chocolate ready and waiting for us.
If you love the sound of this hot chocolate, don't miss my Nutella Hot Chocolate, Orange Hot Chocolate, and Peppermint Hot Chocolate!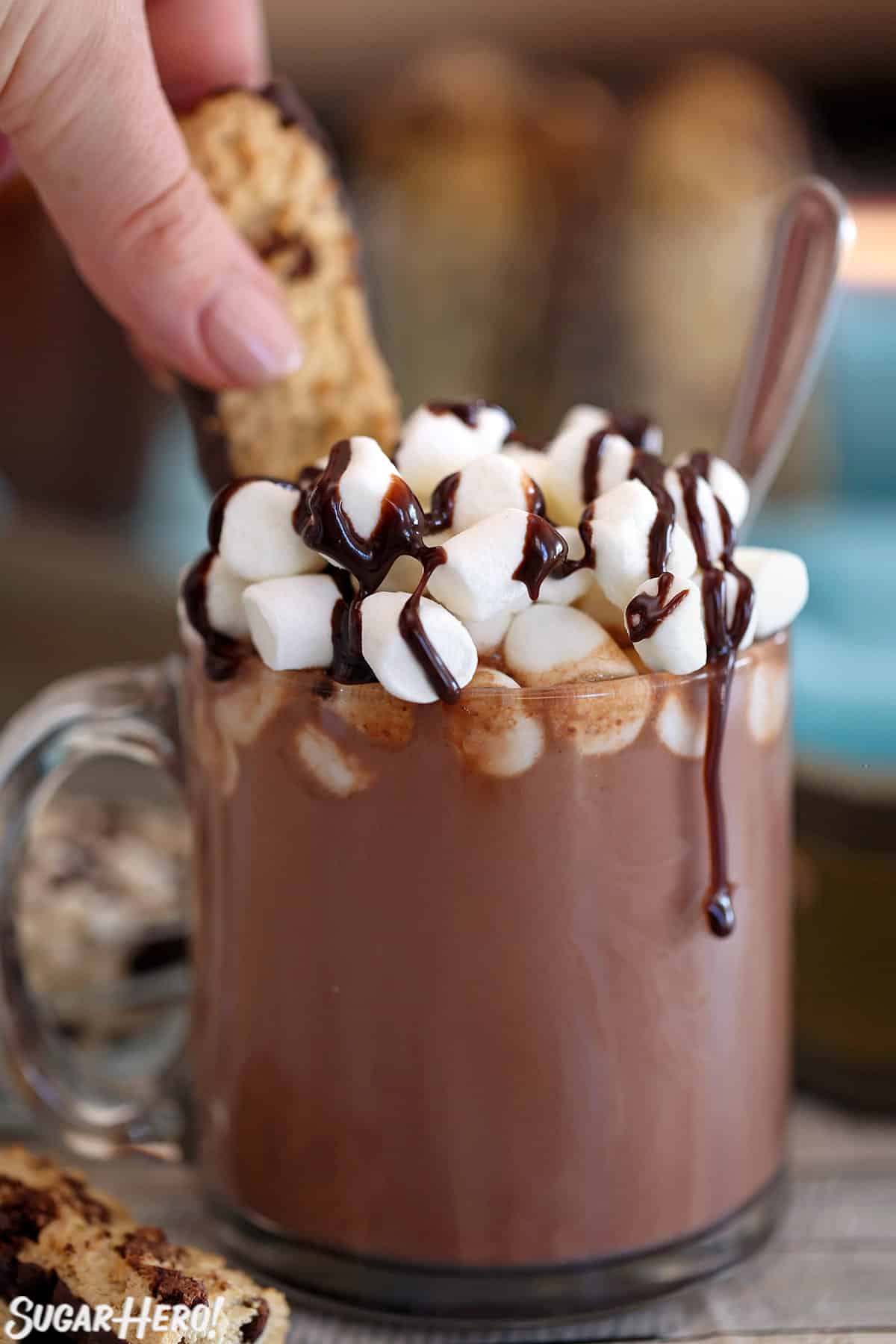 🧾 What You'll Need
🍫 Ingredients
One of the BEST things about this slow cooker hot chocolate is that the ingredient list is short and sweet! (Pun sheepishly intended.) Here are a few tips and substitution suggestions:
Chocolate: Using a chopped-up semi-sweet chocolate bar will give you the best results. Any chocolate with 55-65% cacao is perfect. However, good-quality chocolate chips are a decent substitute. Just avoid low-quality, waxy chocolate chips without much flavor–if they're not delicious to eat, they won't be delicious in a drink.
Cocoa powder: Dutch-processed cocoa powder is my recommendation, but you can use natural cocoa powder if that's what you have. Just as with chocolate, using the best quality ingredients will give you the best outcome.
Sweetened Condensed Milk: Make sure you're using condensed milk, not evaporated milk. Condensed milk has a lot of sugar, and it gives this recipe an irresistible caramelly undertone. If you don't have it, you can add 1/3 cup granulated sugar to the ingredients in the beginning. At the end of cooking, taste the hot chocolate and add more sugar if desired.
Milk: I've made this with 1% and 2% milk, and couldn't tell the difference–both worked beautifully. I would say skim is probably a little skimpy (hah) for a truly rich cup of chocolate. Whole milk would be delicious and make the drink extra-rich.
Cream: Heavy cream or whipping cream are both fine. You could substitute half-and-half, but because milk fat is the thing that makes this drink so dang creamy, using half-and-half will yield a thinner drink.
🥄 Equipment
It's probably not a surprise that you will need a slow cooker to make slow cooker hot chocolate! For a regular batch, a 4-6 quart slow cooker is the perfect size.
This recipe also doubles well, and if you double it, you'll want to use a 7-8 quart slow cooker so your hot chocolate has plenty of room. Here's a great 8 quart slow cooker to try.
Other than a slow cooker, the only other think you'll need is a whisk. Well that, and an appetite for tons of hot chocolate!
📋 How to Make Slow Cooker Hot Chocolate
Can you dump a bunch of ingredients into a bowl? Then you can make this hot chocolate! Here's how easy it is:
Combine all ingredients in your slow cooker, and whisk together.
Cover and turn the temperature to low.
Go about your day! Read, clean, try a new dance move…live your best life.
About every 30 minutes, give the hot chocolate a whisk or two so that it doesn't scorch on the bottom or sides.
After about 2 hours, the chocolate will be completely melted and it will be hot and ready to drink. Bottoms up!
💡 Tips and FAQs
Toppings & Variations
This cocoa is great on its own, but it is DIVINE when topped with softly whipped cream and chocolate shavings. The way the cream melts into the chocolate… drool
Forgo the whipped cream and opt for a pile of marshmallows and a drizzle of chocolate syrup instead!
Peppermint version: Add 1 tsp peppermint extract to the ingredients. Once cooked, taste and add more if desired. (Peppermint extracts vary a lot in strength, so you'll need to rely on your taste buds to guide you.) Top with whipped cream and crushed peppermint candies.
Salted Caramel version: Add 1/2 cup of salted caramels to the ingredients and cook as normal. At the end, top with a thick drizzle of salted caramel sauce.
Make-Ahead Instructions
If you have a slow cooker with a timed cooking function, you can assemble all ingredients in the slow cooker in advance, and just set it to start cooking when you're ready! Because of all the dairy, I would not recommend having the ingredients sit out for more than 1-2 hours at cool room temperature before cooking begins.
Storage Instructions
I know from personal experience that this recipe keeps VERY well! I made quite a lot of it when I was testing recipes, and quickly found myself with way too much hot chocolate for my family to drink at once.
You can store leftover hot chocolate in a container in the refrigerator for up to a week. You will want to whisk well before dishing it out and heating it up, because the chocolate has a tendency to settle on the bottom.
If you want to keep it longer than that, I've also had success freezing it! Transfer it to freezer containers or freezer gallon-size ziptop bags. If you're using the bags, make sure to freeze them on a baking sheet so they freeze flat.
Let it defrost in the refrigerator overnight, then whisk well and dish up as usual.
Slow Cooker Hot Chocolate
Hot Chocolate in the crock pot? You bet! This easy slow cooker hot chocolate recipe makes a mega batch of rich, creamy hot chocolate–perfect for feeding a crowd! It tastes amazing, is simple to whip up, and uses ingredients you probably already have in your pantry. You'll never use powdered cocoa mix again!
Instructions
For this recipe, you'll need a standard size slow cooker (4-6 qts). If you want to double it, use a 7-8 qt slow cooker.

Combine the milk, cream, condensed milk, chocolate chips, cocoa powder, vanilla extract, and salt in the slow cooker. Whisk everything together.

Cover and cook on low. Whisk every 30 minutes or so, just to keep the chocolate from scorching around the sides. It's a very forgiving recipe, so if you forget and wait longer, it'll still be okay!

Cook for about 2 hours, until the chocolate is melted, the mixture is smooth, and your beverage is hot. If you're not ready to drink it yet, switch the slow cooker to the warm setting and keep it warm for an additional 2-3 hours.

Whisk well before serving, then ladle into eight mugs. Top with whipped cream, mini marshmallows, or whatever else you'd like!

Leftovers can be kept in the refrigerator for up to a week.
MEASURING TIPS
Our recipes are developed using weight measurements, and we highly recommend using a kitchen scale for baking whenever possible. However, if you prefer to use cups, volume measurements are provided as well. PLEASE NOTE: the adage "8 oz = 1 cup" is NOT true when speaking about weight, so don't be concerned if the measurements don't fit this formula.
Click here to learn more about baking measurements and conversion.
Nutrition
Calories:
504
kcal
|
Carbohydrates:
60
g
|
Protein:
13
g
|
Fat:
25
g
|
Saturated Fat:
16
g
|
Cholesterol:
71
mg
|
Sodium:
211
mg
|
Potassium:
512
mg
|
Fiber:
2
g
|
Sugar:
56
g
|
Vitamin A:
988
IU
|
Vitamin C:
2
mg
|
Calcium:
422
mg
|
Iron:
1
mg
Share by Email
Share on Facebook
Share on Pinterest
About Elizabeth LaBau
I'm Elizabeth, but you can call me SugarHero! I'm a former pastry chef turned blogger, cookbook author, and baking instructor, and I consider myself sugar's #1 fan. Learn more from my About page, or connect with me on social media: