Nutella Hot Chocolate – a rich, indulgent sipping chocolate with Nutella mixed right in! Top it with whipped cream and hazelnuts for the ultimate treat.
When it comes to hot chocolate, my family has only one rule: "go big or go home." Those wimpy hot cocoa packets? Those are ONLY acceptable when one is camping or otherwise removed from civilized society. Otherwise, get out of here with that weak, watery, chocolate-adjacent drink! We want our hot chocolate bold, and strong, and thick enough so that a spoon can stand up straight in the cup. If it doesn't punch you in the face with chocolate flavor, you're not doing it right.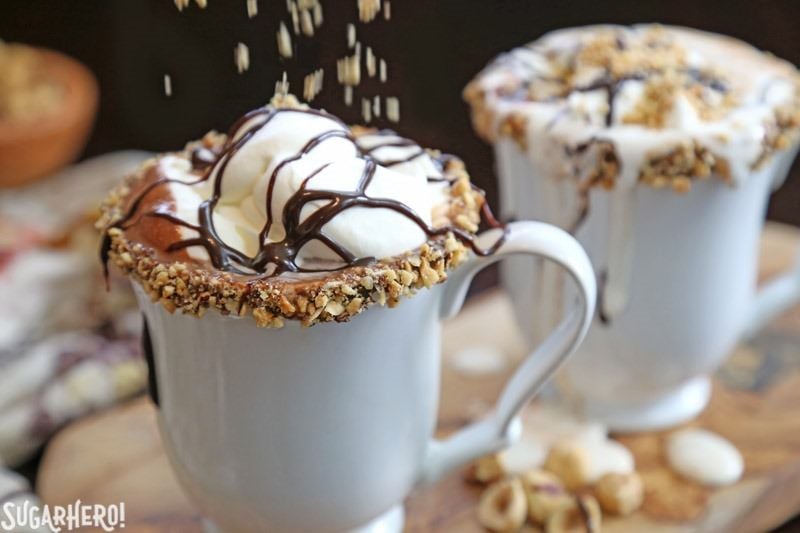 So if you're more of a hot cocoa packet sort of person, this might not be the recipe for you. (Actually, none of my hot chocolate recipes are for you.) But this one, with a whole bunch of Nutella stirred in, seems especially indulgent, so it seemed only fair to offer a word of warning to the hot chocolate wimps out there.
We've just passed World Nutella Day, which is unfortunate timing for this recipe—when will I get it together and/or learn to time travel?! Fortunately, here at SugarHero HQ, it is always World Nutella Day in our hearts, so I feel confident that this is a recipe that will be loved, cherished, and enjoyed year-round.
Like many hot chocolate recipes, it's dead simple. You'll need lots of Nutella—obvi—and all you need to do is combine all of the ingredients in a saucepan, heat it while whisking, and wait for that sweet sweet chocolate alchemy that turns a sketchy pan full of milk and chocolate blobs into a rich, creamy, dreamy beverage.
Because Nutella is so sweet, I added a bit of unsweetened chocolate to temper the sweetness and prevent a total sugar crash. The end result of all of this—milk AND cream AND Nutella AND chopped chocolate—is a perfect sipping chocolate with lots of hazelnut flavor.
You'll probably want to enjoy this in small portions, because it is so rich, but that doesn't mean you have to skimp out and drink it plain! A drizzle of chocolate sauce and a dollop of whipped cream is always, always welcome. Enjoy!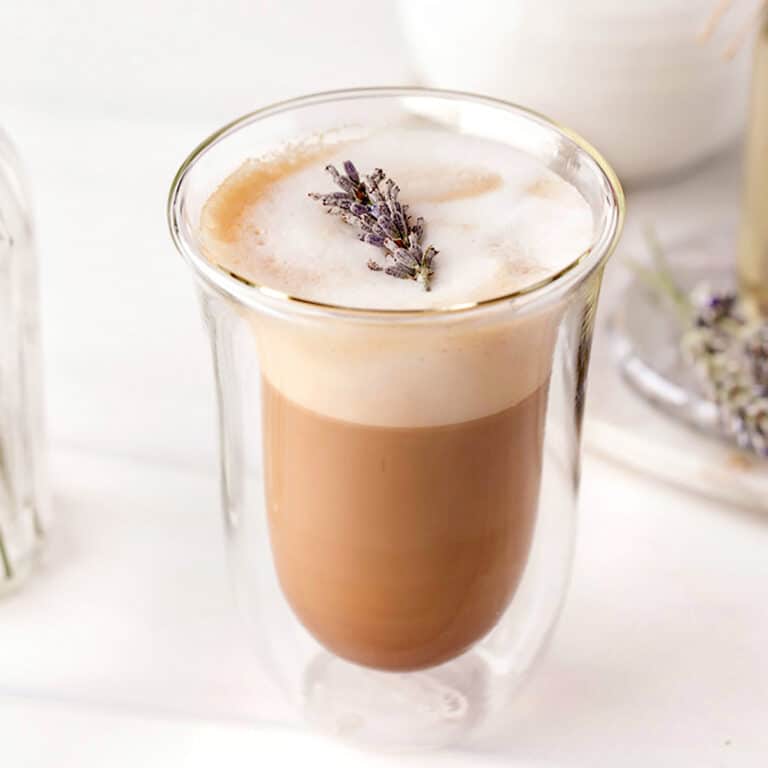 Lavender Latte
Bring the coffeehouse to your house with this homemade lavender latte recipe! You'll be surprised and delighted at how easy it is to make your own delicious lavender coffee at home.
View Recipe
Salted Caramel Hot Chocolate
Make your own salted caramel hot chocolate at home! Salted caramel is the base for this thick homemade hot chocolate. It's incredibly rich and indulgent!
View Recipe
Nutella Hot Chocolate
Nutella Hot Chocolate is a rich, indulgent sipping chocolate with Nutella mixed right in! Top it with whipped cream and hazelnuts for the ultimate treat.
Instructions
Combine all ingredients in a medium saucepan over medium heat.

Whisk often as the mixture heats up, and continue to whisk and cook the hot chocolate until the chocolate and Nutella are melted, and everything is smooth and homogenous.

Serve in small cups, topped with the garnishes of your choice. Whipped cream, fudge sauce, and toasted hazelnuts all work very well.
Recipe Notes
This recipe is quite rich and thick; I find a little goes a long way. This recipe yields about 6 cups of hot chocolate, but most people will probably be satisfied with a smaller (1/2 cup) serving, so if you follow the serving suggestion you'll get about 12 servings from the recipe.
Measuring Tips
Our recipes are developed using weight measurements, and we highly recommend using a kitchen scale for baking whenever possible. However, if you prefer to use cups, volume measurements are provided as well. PLEASE NOTE: the adage "8 oz = 1 cup" is NOT true when speaking about weight, so don't be concerned if the measurements don't fit this formula.
Want to learn more about baking measurements and conversion?
Tried this recipe?
Snap a pic and hashtag it #SugarHero. We love to see your creations on our Instagram @elabau.