These Clementine Cookies look AND taste just like real clementines! Orange-scented cookies are sandwiched with orange marmalade and decorated to look just like citrus fruits. You'll love the fresh and vibrant flavor of these unusual treats.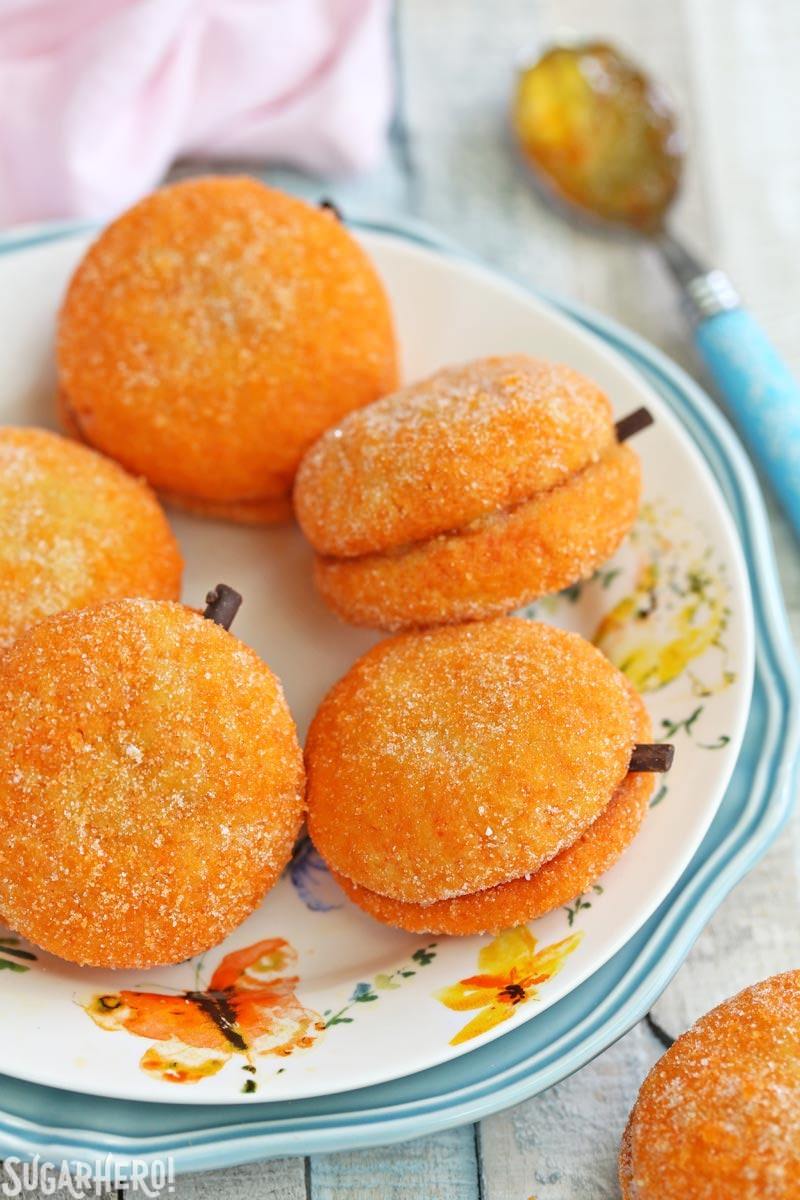 These cookies surprised me. All my life I've been ride or die for chocolate chip cookies—and the more giant chunks of melting chocolate chips, the better! I never thought I could love a non-chocolate chipper in the same way. Falling for these Clementine Cookies is like the prom queen choosing the mathlete over the hot quarterback…it just doesn't happen in real life.
And yet, here we are. I'm obsessed with these Clementine Cookies, and also sort of giving myself a backdoor compliment with that prom queen analogy. SORRY NOT SORRY.
Let me 'splain these cookies a little bit. I was inspired by Italian peach cookies, which are a traditional recipe where cakey cookies are sandwiched with peach jam, then dipped in colored peach liqueur and rolled in sugar to give them a really remarkable appearance to fresh peaches. I've never actually tasted them, but every time I'd see a picture, I'd swoon just a little bit. They're beautiful, and they're also a dessert that looks like healthy fruit! I am so sold.
So I decided to put my own spin on it, and create a citrus version. It's still closer to clementine season than peach season, at least where I live, plus I thought a clementine version would be great because I could really play on that sweet-tart citrus flavor. And thus, these cookies were born.
Let's break down the anatomy of a Clementine Cookie. They start with a soft, cake-like cookie with THREE types of citrus flavor: clementine zest, clementine juice, and orange oil (you can substitute extract). I should not here that I keep saying "clementine," but you can use any orange-adjacent citrus you like: navel oranges and tangerines would both work beautifully, and I think grapefruit would be a REALLY delicious variation.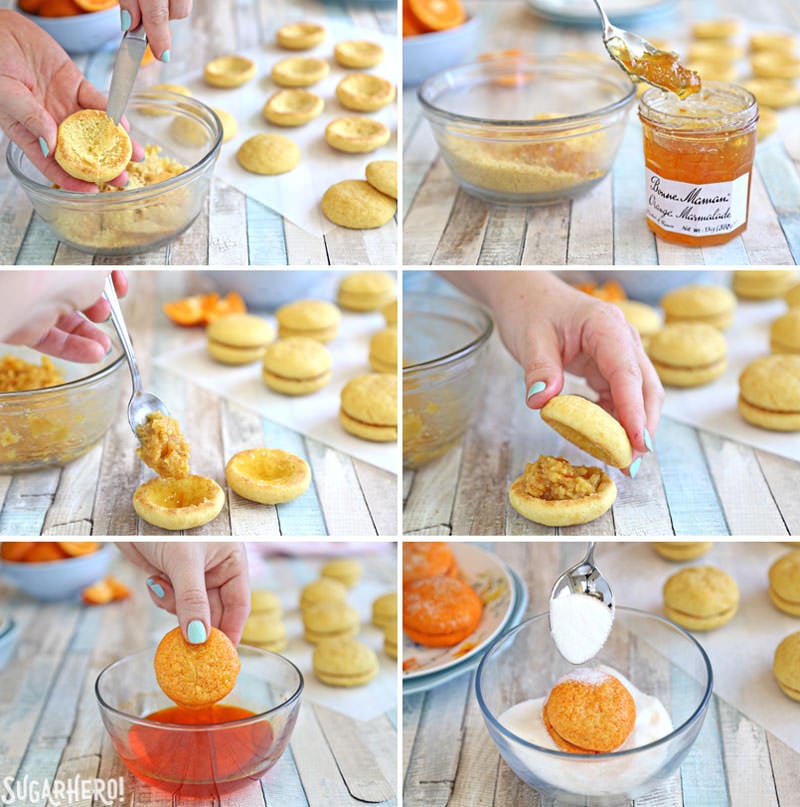 After the cookies are baked and cooled, they get hollowed out, and the inner crumbs are mixed with orange marmalade until it forms a sticky filling. This is then used to sandwich two cookie halves together.
BUT! I'm not done yet! The final touch, the thing that actually makes them look like oranges, is to mix a bit of orange food coloring with orange liqueur (I used Grand Marnier…you can use Triple Sec, or orange juice for a non-alcoholic version) and briefly dip the cookie in the orange liquid. While it's still wet, roll that baby in granulated sugar, stick a bit of chocolate in the top for a stem, and you're golden!
Speaking of the coating of sugar, I added a bit of citric acid to mine (you all know I love me some citric acid) so that it wasn't just a sweet crunch on the outside, but also added a bit of tartness as well. Between the sweet-and-sour sugar, the orange liqueur, the marmalade, and the three types of citrus in the cookies, these are INSANELY flavorful!
It's not just the flavor I loved, though. The sugar dries into a slightly crunchy exterior, while the inside is wonderfully soft and moist thanks to the marmalade mixture. Three generations of my family loved these cookies. We usually give away most of our leftovers to neighbors and coworkers, but this was one dessert we didn't share at ALL. Sorry not sorry about that, too! Enjoy!
More Cookie Recipes