Candied Orange White Chocolate Bars will make you fall in love with white chocolate! These beautiful candy bars have white chocolate flecked with orange zest, and candied orange slices pressed into the back.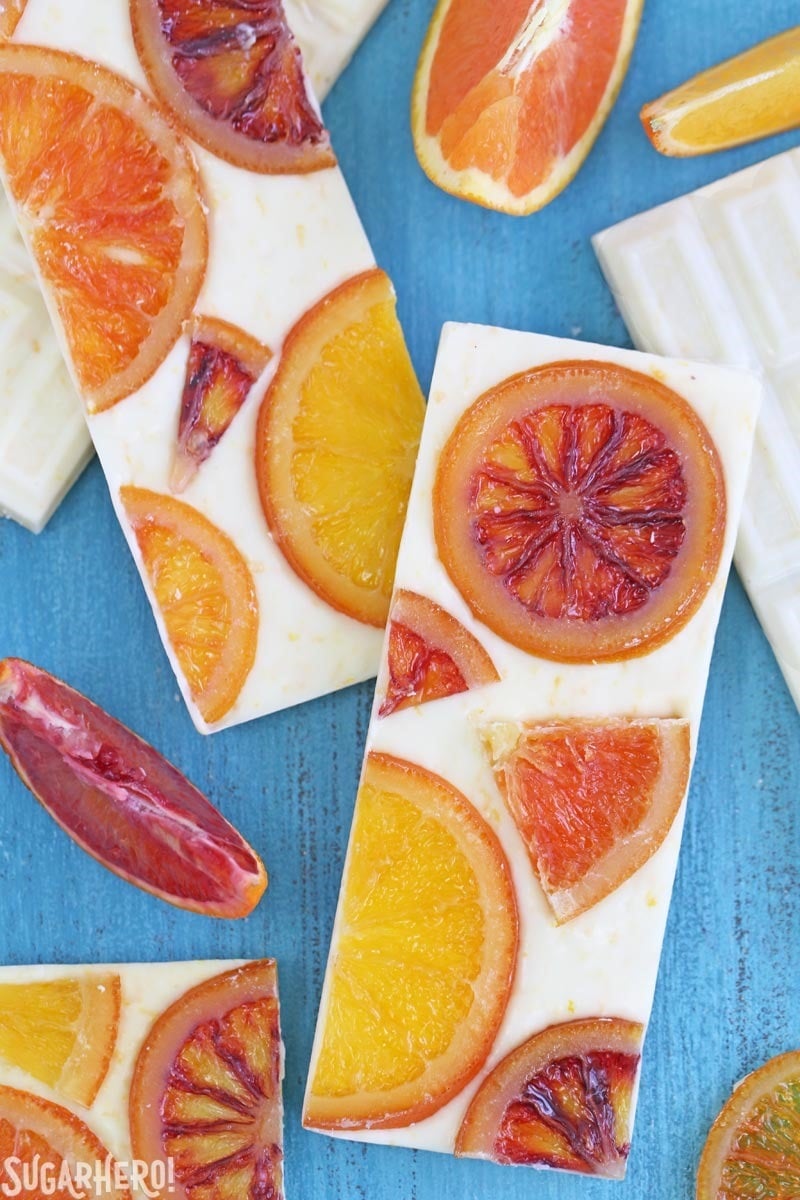 These Candied Orange White Chocolate Bars are for white chocolate skeptics. Even if you think you don't like white chocolate, I'm convinced that these bars will change your mind.
I myself am not a white chocolate lover. Most of the time, white chocolate suffers from the same few problems: it's too sweet, too one-note, too boring. If you're lucky, it will taste like smooth vanilla, with some light cocoa undertones. That's if you buy the really good stuff. Most of the time, it just tastes like sugar.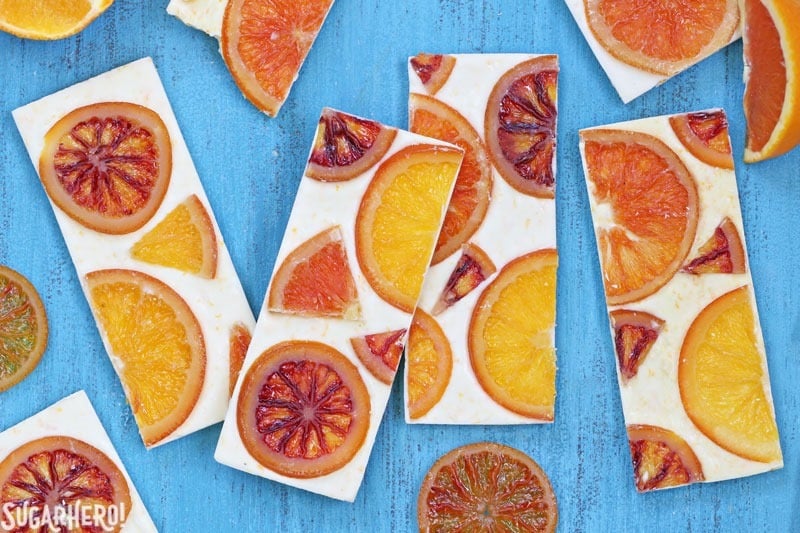 These bars solve that problem by adding a ton of texture and flavor to the usual white chocolate, in the form of candied orange slices pressed right on the back of the bar. In addition to their gorgeous color, the orange slices add a slightly crunchy, mostly chewy texture, and the unmistakable zing of sweet-tart citrus flavor. It's a match made in candy heaven.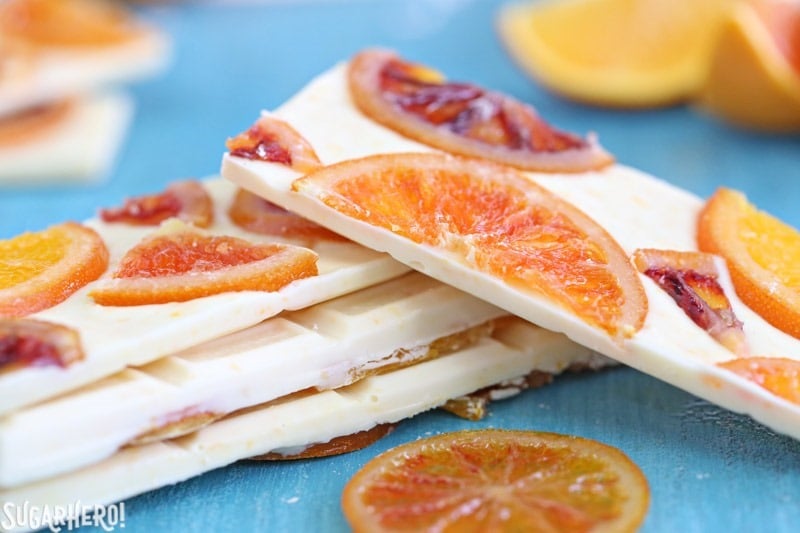 The back of the bars are packed with these candied orange slices, but I also stirred some fresh orange zest into the white chocolate, so that even the bites that don't have the orange slices (and most of them do!) will have an intense orange flavor. They're like the most gourmet orangesicle you'll ever taste!
(Also, they are ridiculously beautiful, and I couldn't stop taking pictures of them. Sorry/not sorry. Keep on scrolling!)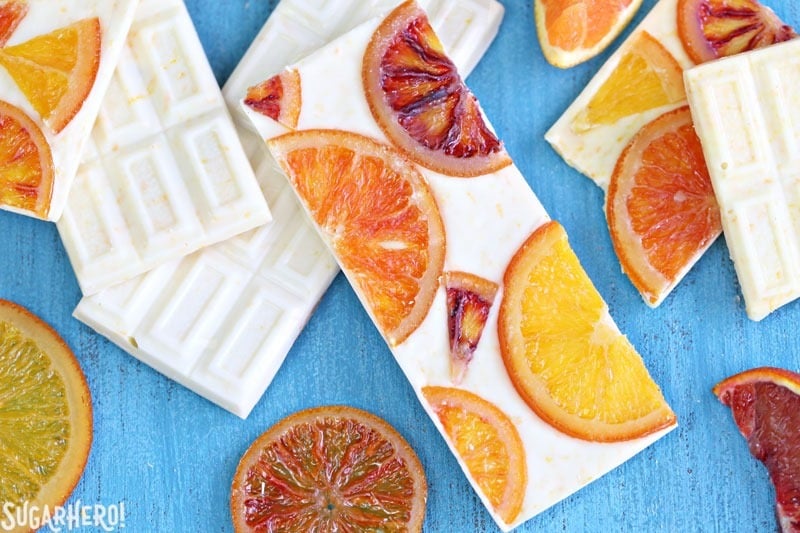 The bars themselves are really easy to put together, but candying the orange slices does add a lengthy time component. "Candying" basically means that thin orange slices are boiled in a sugar syrup until they become soft and translucent and soak up that sweetness, losing most of their bitterness but keeping some of the tart taste. (This is why you can eat the slices, rinds and all—the bitterness has been leeched out.)
Candying the oranges takes about 90 minutes, and then you'll want to give them some time to sit on a rack and dry out a bit, so they're still soft but not wet and sticky. You don't want to try and put wet orange slices in white chocolate! In an ideal world, you would make the candied orange slices a day ahead of time and let them sit out overnight before assembling the bars. But if that's not in the cards, even a few hours of drying time (and some judicious patting with paper towels) will help.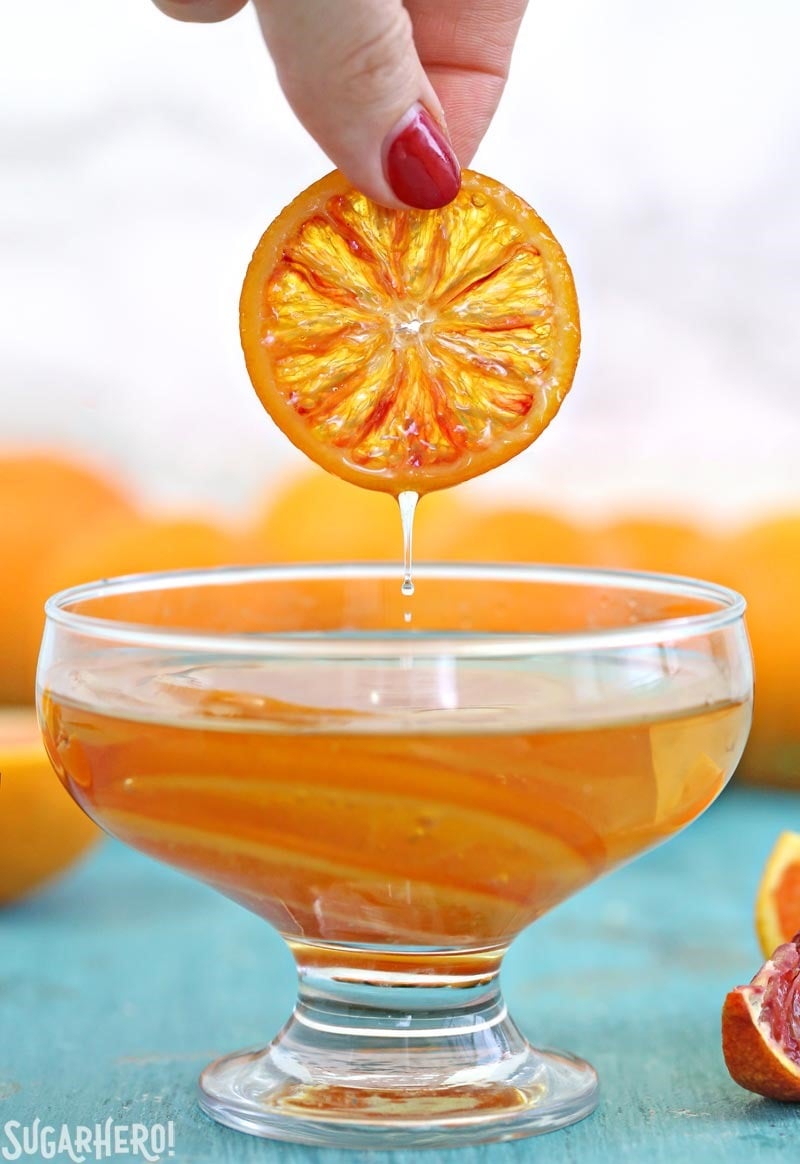 You can also shorten the process by buying pre-made candied orange slices. I'm not talking about the scary dried fruit that's sometimes in the baking aisle and is best known for making terrifying fruit cakes (although I guess you could technically use that as well?) Some upscale candy stores, and some cake supply stores, sell high quality candied orange peel or slices, and that would be a good substitute here. Basically, if it tastes good enough that you want to eat it on its own, you can use it. If you take a nibble and want to bury the taste with lots of other flavors, it's not a good choice for these bars. The candied orange should really be the star here, so let's make sure it tastes amazing!
Honestly, citrus is SO good right now, I think it's worth the extra time to make it yourself and have the absolute best flavor and texture.
Also, making the candied orange slices yourself means you can do fun things like use three different types of oranges!
Why? First off, because they are BEAUTIFUL. Duh. I used a mix of blood oranges, Cara Cara oranges (the pinkish ones) and regular navel oranges. Not only did it give the bars a pretty kaleidoscopic quality, but each orange has a slightly different flavor, size, and texture when candied, so it really helped add interest to the bars and make every bite different.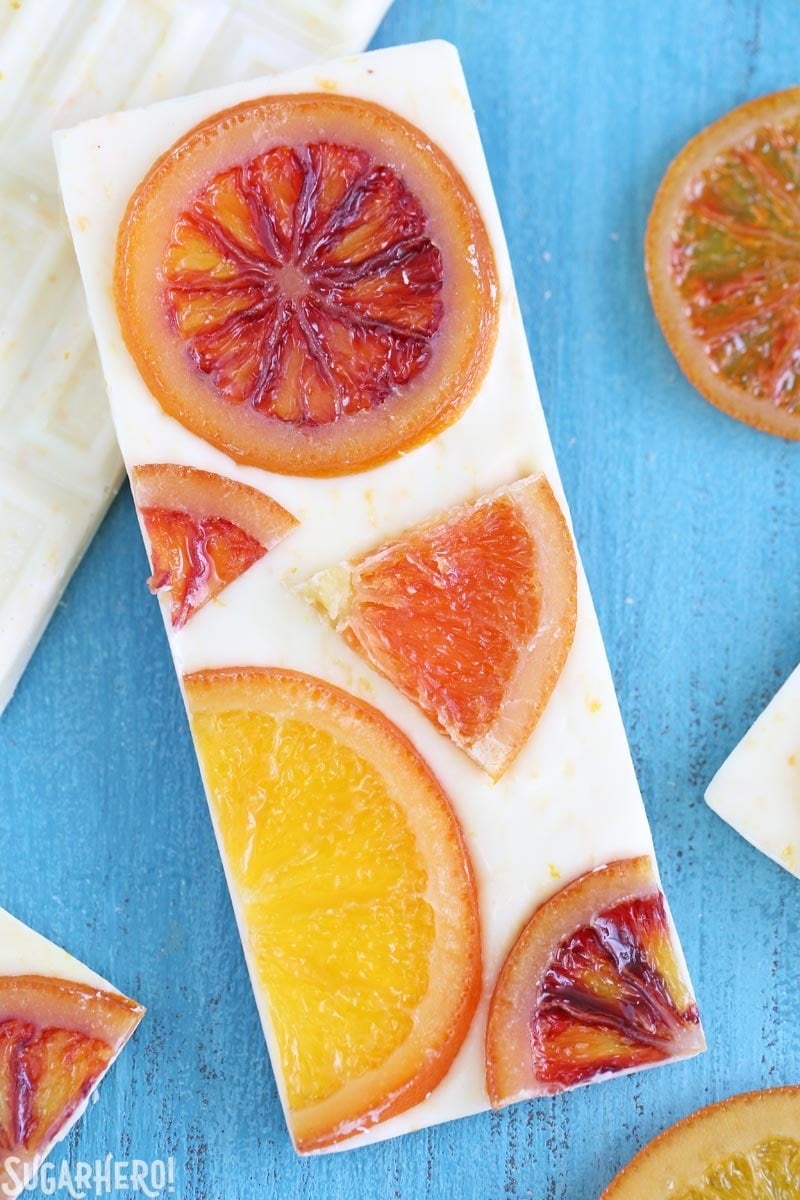 Obviously you can use whatever oranges are available to you. If possible, I really recommend trying to hunt down blood oranges for this, because the deep reddish-purple color is so striking against the white and really makes these bars pop. The ones I had were on the small side, and I also really liked that I could fit a whole slice on the back of a bar, whereas with the larger slices I had to cut them in pieces.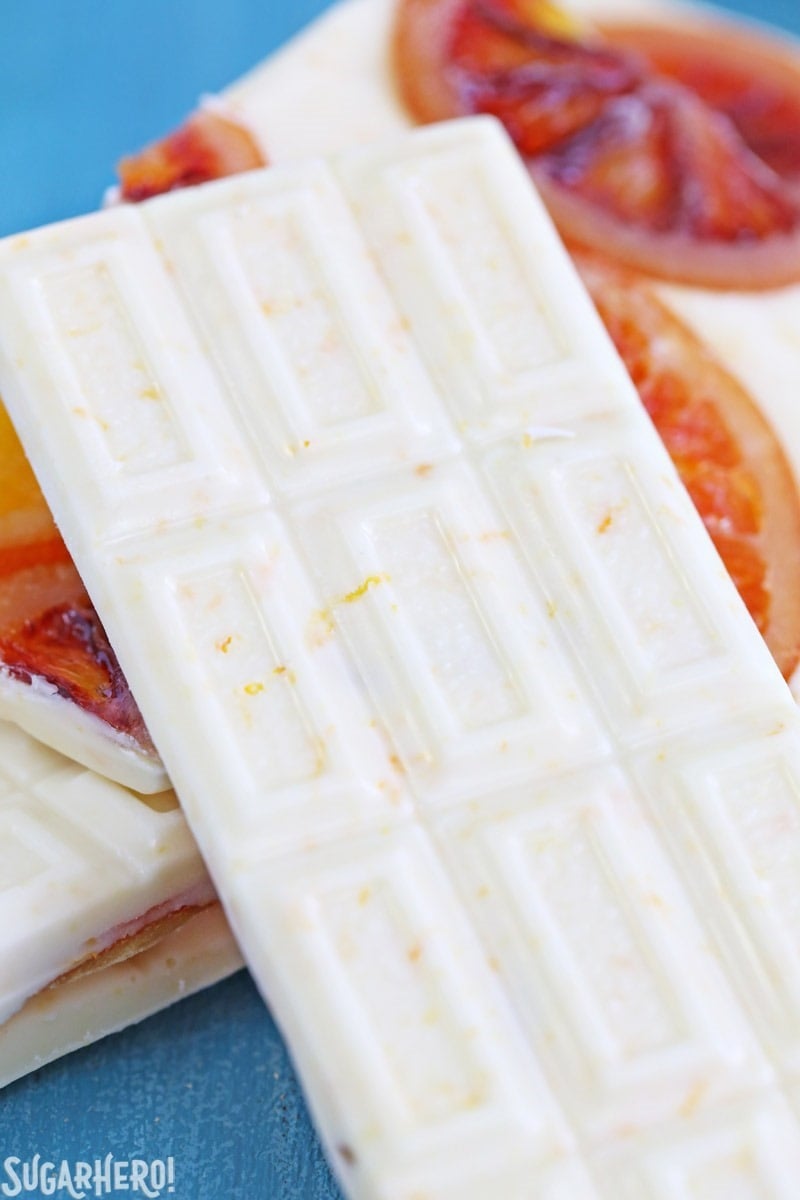 Assembling the candy bars themselves is a simple process. You'll melt white chocolate, stir in some fresh orange zest, pour it into the molds, and then while the chocolate is still wet, press your candied orange slices onto the back of the bar. After a brief stint in the refrigerator, you can pop the bars out of the molds, and repeat!
These candy bars keep very well, if you wrap them individually so the candied oranges don't dry out too much, and they make a really beautiful, unique, gourmet gift.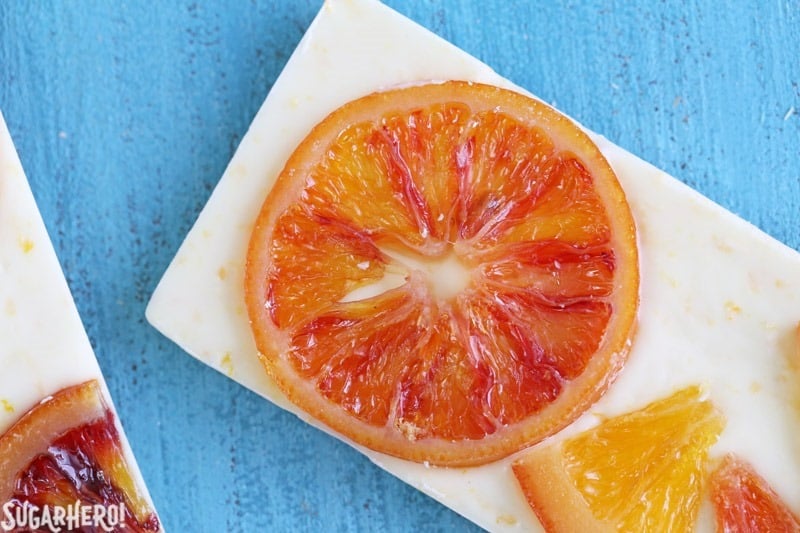 Of course, if I STILL haven't convinced you about the white chocolate, you can also make these with milk or dark chocolate. I think the chocolate-orange flavor combination would taste amazing, but the beautiful, almost stained glass effect won't be the same. Let me know if you give these a try!
🧡More Candy Recipes You'll Love
Disco Truffles
Disco Truffles are brownie truffles, stuffed with chocolate truffles, and decorated with disco dust. Perfect for New Year's Eve or any party!
View Recipe
Twix Kat Candy Bars
These Twix Kat Candy Bars combine crispy, chocolate cream-filled wafers and soft, chewy caramel under a layer of delicious chocolate. They are the perfect mini treat or gift!
View Recipe
Candied Orange White Chocolate Bars
Even white chocolate skeptics will love these Candied Orange White Chocolate Bars! These beautiful candy bars are made from white chocolate flecked with orange zest, and candied orange slices are pressed into the back for a pretty stained glass effect.
Ingredients
4

large oranges

21

oz

granulated sugar (

3 cups

)

3

cups

water

24

oz

white chocolate

use good-quality white chocolate chips or chopped white chocolate bars

Zest of two large oranges

(about 4 tbsp)
Instructions
Slice the oranges into thin rounds. Try to get them as thin as you can while still staying intact. Close to 1/8-inch is ideal. Discard the ends of the oranges.

Combine the granulated sugar and water in a medium saucepan and stir until the sugar is moistened. Put the pan over medium heat, and stir occasionally while the sugar dissolves. Bring the sugar mixture to a low boil, and once you're sure all of the sugar is dissolved, turn the heat to medium-low and add the orange slices and stir them in.

Cut a circle of parchment paper the size of the top of the saucepan, and press it gently down on top of the oranges. It might curl up at first, but as it gets wet it will lay down flat. This will help keep the oranges that float to the top moist.

Simmer the oranges, stirring them every 20-30 minutes, for about 90 minutes total. At the end they should be very soft and mostly translucent if you hold them up to the light. Use a slotted spoon to remove them from the syrup, and lay them out on a wire rack to cool and dry. (If you're making more than you need for the bars, keep the orange syrup and store the extra candied orange slices in syrup in the refrigerator.)

Ideally, let the candied orange slices sit out overnight, so that they're still soft and tacky but not wet. If you are in a hurry, pat them with paper towels as they dry, and you can use them when they're no longer warm and moist.

If you only have 1 mold, I recommend melting the white chocolate in batches, using just as much as you'll need for each mold before melting the next batch. If you are using the recommended mold, melt 6 oz of white chocolate in the microwave, stirring well after every 30 seconds to prevent overheating. Stir in a big pinch of orange zest. If the zest is fresh it will cause the white chocolate to thicken as you stir it in, but you should still be able to stir and smooth it. (Alternately, you can use dried orange zest or a drop of orange oil to flavor the white chocolate.)

Divide the melted chocolate between the cavities and smooth it into an even layer. It's okay if it doesn't reach the very top of the mold—we're going to be adding orange slices! While the white chocolate is still wet, press candied orange slices into the backs of the molds. Trim the slices if necessary so that they fit, an try to create interesting patterns with the shapes.

Refrigerate the mold for at least 10 minutes to set the white chocolate, then gently flip the mold upside down and tap out the candy bars. Repeat until you've made as many bars as necessary.

Candid Orange White Chocolate Bars should be individually wrapped and kept in the refrigerator for up to 3 weeks. For the best taste and texture bring them to room temperature before serving.
Recipe Notes
This recipe starts with freshly candied orange slices. I recommend using a variety of oranges for a really beautiful visual effect. You'll need about 3 slices per candy bar, for a total of about 36 slices. You can always make a larger batch because the extras will keep beautifully in the refrigerator.
This is the candy bar mold I used—it's 2.5"x 5.5" and ¼" deep. If you use a different mold your yield and your white chocolate requirements might be different.
Measuring Tips
Our recipes are developed using weight measurements, and we highly recommend using a kitchen scale for baking whenever possible. However, if you prefer to use cups, volume measurements are provided as well. PLEASE NOTE: the adage "8 oz = 1 cup" is NOT true when speaking about weight, so don't be concerned if the measurements don't fit this formula.
Want to learn more about baking measurements and conversion?
Tried this recipe?
Snap a pic and hashtag it #SugarHero. We love to see your creations on our Instagram @elabau.