These Salted Honey Walnut Bars are addicting cookie bars made of a shortbread base covered in chewy honey walnut filling. I like to top them with a drizzle of chocolate and a big pinch of sea salt!
Are you on board the salted honey train? Thinking about hopping off? In the dining car, reading a newspaper and looking dapper? Or are you in favor of salted honey but tired of tortured food metaphors? Whatever your position on the salted honey trend, I hope you're open to one more variation on the theme. You won't be sorry–it's a good one!
Inspired by the ubiquitous Salty Honey Pie from the Four and Twenty Blackbirds cookbook that has been whirling around food blogs for the last year, I decided to tackle my own salted honey dessert. If you haven't seen the pie, it's basically a single-crust pie with a filling of pure honey custard, enlivened with a little (actually, a lot) of salt. I've seen a lot of delicious-looking versions, and while I admit I'm a little curious to try it out, I also think that a pure slice of honey on a plate sounds too intense for me.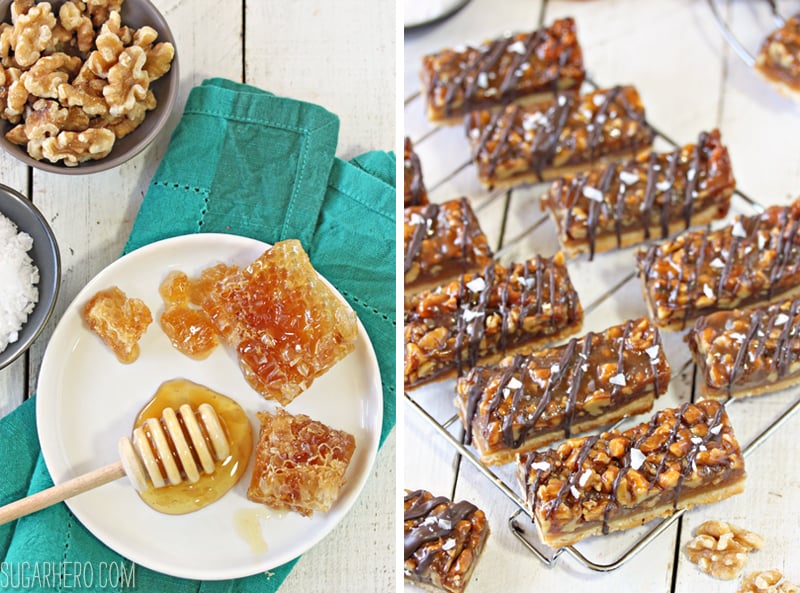 Instead, I made these honey-packed bars, whose strong honey flavor is tempered by a buttery shortbread crust, a thick layer of savory walnuts, a generous drizzle of chocolate…and of course, those big flakes of crunchy salt on top! It's the salted honey dessert of my dreams.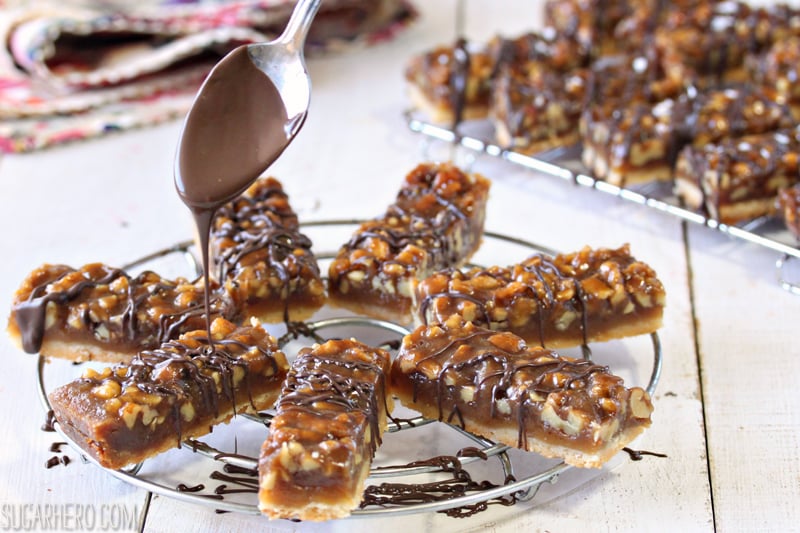 Regular readers will know that it takes a special recipe to get me really excited about a non-chocolate dessert. Put me in front of a fudgy brownie (or a bowl of ganache) and I squeal like a schoolgirl at a One Direction concert (sidenote: do the kids still like 1D? Please enlighten this wizened old woman). Offer me a blondie or a snickerdoodle, on the other hand, and I give a vaguely enthusiastic head nod like a schoolgirl at a Barry Manilow concert.
But these bars…they had me headbanging (metaphorically) and moshing (still metaphorically) and eating them by the handful (sadly, that part is literal.)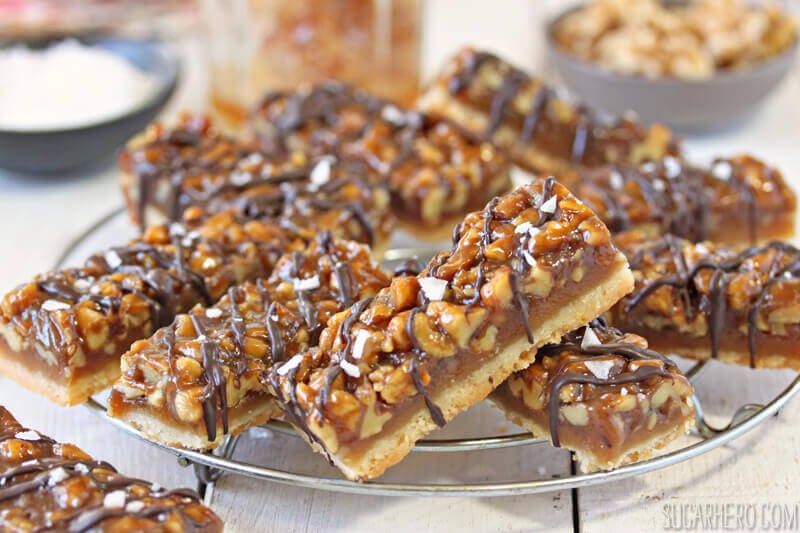 Something about the combination of the crispy, buttery crust, the crunchy walnuts, and the honey filling, with its luscious caramel texture, really got to me. The flavor and texture are both perfectly balanced, and although the ingredient list would have you believe that these are a painfully sweet bar, somehow the salt and the dark chocolate combine to make them not at all cloying.
I cut these into slender fingers, thinking that dainty rectangles would help with portion control. Wrong! Please come and remove the remainder of them from my house stat. One cannot (well, should not) live on Salted Honey Walnut Bars alone…although I'm certainly making a valiant effort.
I think these would make a great edible gift, because they stay fresh for days and days. The honey layer really helps keep them moist, so if you can swing some protective packaging, this would make a great care package for your favorite far-flung friend. Or eat them all yourself! I dig that too.
More Bar Cookies You'll Love
Pumpkin Fudge
Rich and creamy Pumpkin Fudge is the perfect fall candy! Brown sugar, pumpkin puree, toasted pecans, and lots of fall spices give this fudge tons of flavor. If you're not a fan of pecans, adding walnuts or hazelnuts is also a great choice.
View Recipe
Butterscotch Mousse Pie
This Butterscotch Mousse Pie has a thick and chewy cookie crust made from walnuts, oatmeal, and brown butter. Its filled with rich, fluffy butterscotch mousse and topped with candied walnuts!
View Recipe
Salted Honey Walnut Bars
These Salted Honey Walnut Bars are addicting cookie bars made of a shortbread base covered in chewy honey walnut filling. I like to top them with a drizzle of chocolate, and a big pinch of sea salt on top is a must!
Ingredients
For the Crust:
9

oz

all-purpose flour,

2 cups

4

oz

powdered sugar

,

1 cup

8

oz

unsalted butter

,

1 cup

, at room temperature
For the Filling:
6

oz

unsalted butter

,

12 TBSP

, cubed

7.5

oz

brown sugar,

1 cup

, packed

12

oz

honey

,

1 cup

10

oz

walnuts,

2 1/2 cups

, toasted and coarsely chopped

4

oz

heavy cream

,

1/2 cup

2

tsp

vanilla extract

3/4

tsp

fine sea salt

,

or Kosher salt

4

oz

semi-sweet chocolate

1/2

tsp

large-flaked sea salt,

for finishing
Instructions
To Make the Crust:
Preheat the oven to 350 F. Line a 9×13-inch baking pan with foil, extending the foil up and over the sides, and spray with nonstick cooking spray.

Combine the flour, powdered sugar, and butter in the bowl of a food processor, and pulse for 20-30 seconds, until the mixture comes together into a soft dough. Don't overprocess it—stop when there are still a few bits of dry flour remaining, and knead the rest in with your hands.

Press the crust into the prepared pan, then bake at 350 F for 20-25 minutes, until it is golden brown around the edges. Cool the crust while you prepare the filling.
To Make the Filling:
Combine the butter, brown sugar, and honey in a medium saucepan over medium heat. Stir while the butter and sugar melt. Bring the mixture to a boil and let it boil, stirring only occasionally, for five minutes. After five minutes, remove the pan from the heat and stir in the walnuts, cream, vanilla, and fine sea salt.

Pour the filling over the crust and bake the bars for 20-25 minutes, rotating halfway through the cooking time, until the bars are bubbling all over. They won't be completely set, and should still jiggle when you move the pan, but the filling should have bubbles over the entire surface. Remove from the oven and let them cool on a wire rack.

The bars will firm up as they cool, so for the cleanest cuts, make sure they're completely cool before cutting them—either by letting them sit at room temperature for 3-4 hours, or by placing them in the refrigerator for an hour. Cut them into small squares or slim rectangles.

Melt the chocolate in the microwave, and drizzle the chocolate over the tops of the bars. Sprinkle a big pinch of large flaked sea salt over each bar. Refrigerate them again, briefly, to set the chocolate before serving.

These bars keep very well for several weeks. The bottom stays relatively crisp and the top stays moist from all of the honey. They're a good make-ahead dessert and can be kept in an airtight container at room temperature for 1-2 weeks, or in the refrigerator for 2-3 weeks.
Recipe Notes
This recipe is adapted from At Home With Bungalow Heaven Cookies.
Measuring Tips
Our recipes are developed using weight measurements, and we highly recommend using a kitchen scale for baking whenever possible. However, if you prefer to use cups, volume measurements are provided as well. PLEASE NOTE: the adage "8 oz = 1 cup" is NOT true when speaking about weight, so don't be concerned if the measurements don't fit this formula.
Want to learn more about baking measurements and conversion?
Nutrition
Calories:
374
kcal
|
Carbohydrates:
37
g
|
Protein:
3
g
|
Fat:
24
g
|
Saturated Fat:
11
g
|
Cholesterol:
42
mg
|
Sodium:
7
mg
|
Potassium:
116
mg
|
Fiber:
1
g
|
Sugar:
26
g
|
Vitamin A:
485
IU
|
Vitamin C:
0.2
mg
|
Calcium:
31
mg
|
Iron:
1.3
mg
Tried this recipe?
Snap a pic and hashtag it #SugarHero. We love to see your creations on our Instagram @elabau.