These Cookies and Cream Oreo Bars have the perfect elements of a beautifully crunchy Oreo crust and soft, fudgy blondie!
You might be familiar with Captain Ahab from Moby-Dick, driven mad by his search for the white whale. The story's all well and good, in an English Literature 201 sort of way, but believe me when I tell you that that guy's obsessiveness has nothing on me and my own hunt for an unattainable object of desire—the perfect white chocolate blondie.
If you follow me on facebook, you may have seen my anguished post about these bar cookies. I made them four times last week, struggling to get them to match the vision in my head.
I wanted a bar with a crunchy Oreo cookie base, and a moist, fudgy blondie texture that wasn't cakey but wasn't at all greasy. The white chocolate flavor had to be pronounced, but not cloying, and they couldn't suffer from the familiar high sides/sunken center malady that so many brownies and blondies experience. In short, they had to match a perfect bar that I had dreamt up, and wouldn't it be swell if I could get all of those attributes right on the first attempt?
Well, it didn't happen on the first try…or the second. The third version was probably the worst one of all, and got unceremoniously tossed after an exploratory bite or two. But the fourth attempt, the recipe I'm sharing with you, is magic. I don't know how much farther I can take the Moby-Dick analogy without grossing you out, but just in case we're not there yet, I harpooned that sucker and got my white whale. And it tasted like victory.
The combination of a crunchy Oreo cookie crust and a soft, fudgy blondie is wonderful—you really need both elements of these bars to balance one another out. The blondie batter itself has white chocolate folded into it, in addition to white chocolate chips and chunks of Oreo cookies. White chocolate desserts can easily become too sweet, so the barely sweetened cookies help offset that. You can also add some dark chocolate chunks instead or in addition to the white ones, but I wanted to keep the cookie and cream flavor pure.
I think this picture above gives you a great sense of the final texture—rich, soft, and definitely more like a fudgy brownie than your typical bar cookie. I'm excited to think of the other variations I can make with this base recipe—I think a "berries and cream" version, with freeze-dried strawberries or raspberries, would be amazing.
If you find yourself with extra Oreos after making these bars, put them to good use in Oreo Fudge, Cookies and Cream Cake, Dirt Pudding Cups, or Mini Oreo Icebox Cakes!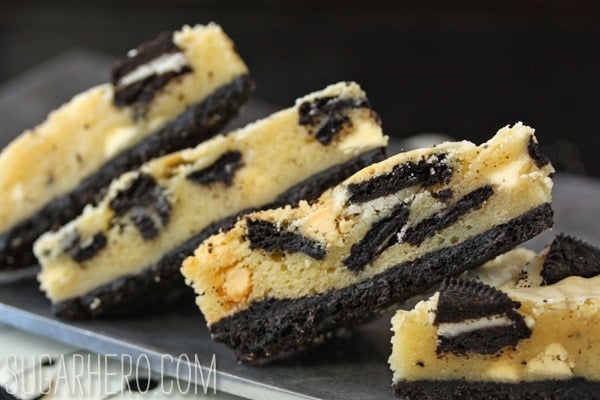 More Bar Cookies You'll Love
Cookies and Cream Oreo Bars
These Cookies and Cream Oreo Bars has the perfect elements of a beautifully crunchy Oreo crust and soft, fudgy blondie. It took a few tries but I finally got the perfect recipe!
Instructions
Preheat the oven to 325 F. Line a 9×9-inch pan with aluminum foil. Coarsely chop 10 cookies, and set aside for now.

Place the remaining 18 cookies in the bowl of a food processor and process them until they're fine crumbs. (No need to scrape out the cream filling—just toss them in whole.) Melt 2 oz (4 tbsp) of butter in the microwave, then toss the melted butter with the cookie crumbs until the mixture is the texture of wet sand. Press the cookie crumbs into the bottom of the prepared pan so that it is in an even layer.

Combine the 4 oz chopped white chocolate and the remaining 3 oz of butter in a microwave-safe bowl and microwave them in 30-second intervals until melted. Stir or whisk together until smooth. If the mixture separates, continue to stir gently until it comes back together. Let sit at room temperature until barely warm.

In a large bowl, whisk together the sugar, eggs, yolk, and vanilla extract. Add the melted white chocolate and whisk it in. Finally, add the flour and salt and stir until the flour is almost incorporated. Add the white chocolate chips and most of the chopped cookies, and stir until everything is well-mixed.

Scrape the batter into the prepared pan, and sprinkle with the remaining chopped cookies. Bake at 325 F for about 45-50 minutes, until puffed, light brown around the edges, and a toothpick inserted in the center comes out with a few moist crumbs attached. Cover the pan loosely with foil around the 30-minute mark to prevent the top from getting too brown.

Cool completely at room temperature, then remove from the pan using the foil as handles. Cut into small squares to serve, and store leftovers in an airtight container at room temperature.
Recipe Notes
This recipe calls for both melted white chocolate in the batter, and white chocolate chips. I highly recommend using real white chocolate, made with cocoa butter instead of other fats like palm oil, in the batter. I've tried the recipe with melted Nestle "white morsels" and it just wasn't as good! It will still work, but I greatly preferred using real white chocolate in the batter. The chips can be either real chocolate or white morsels.
Measuring Tips
Our recipes are developed using weight measurements, and we highly recommend using a kitchen scale for baking whenever possible. However, if you prefer to use cups, volume measurements are provided as well. PLEASE NOTE: the adage "8 oz = 1 cup" is NOT true when speaking about weight, so don't be concerned if the measurements don't fit this formula.
Want to learn more about baking measurements and conversion?
Nutrition
Calories:
330
kcal
|
Carbohydrates:
42
g
|
Protein:
3
g
|
Fat:
16
g
|
Saturated Fat:
7
g
|
Cholesterol:
54
mg
|
Sodium:
193
mg
|
Potassium:
73
mg
|
Fiber:
0
g
|
Sugar:
28
g
|
Vitamin A:
265
IU
|
Calcium:
39
mg
|
Iron:
1.1
mg
Tried this recipe?
Snap a pic and hashtag it #SugarHero. We love to see your creations on our Instagram @elabau.