Don't be intimidated by the unusual sound of these Goat Cheese Brownies. The mild and creamy flavor of goat cheese pairs perfectly with chocolate. You'll find these unique brownies quite addicting.
Father's Day is coming. That probably means you should be stocking up on beef, and beer, and brats, and everything else men in sitcoms and Super Bowl commercials appear to love. Me, I'll just be over here shoving goat cheese into brownies and calling it a day.
See, my man doesn't like beer. He doesn't eat much red meat, and he's not even that fond of bacon. (Which fact did not prevent me from including it in my Dude Food Magic Bars from last Father's Day.) What he does like is really intense chocolate desserts, and salty goodness.What I like is making mild-mannered brownies a little bit weird, so when you combine those two passions, you get these Goat Cheese Brownies. Like a marriage, this dessert is built on compromise, mutual respect, and lots of chocolate and butter.
I'm ready to make goat cheese desserts A Thing, are you with me? My girl Danguole over at 10th Kitchen is already hard at work fighting the good fight and pairing it with shortcakes and strawberries. The Kitchn had a great goat cheese cheesecake they featured a few months ago. But I can't help but feeling we could be doing so much more with goat cheese! Its mild, slightly tangy flavor and soft texture makes it the perfect replacement for cream cheese in so many desserts, and with summer berries all around us, I think now is the time to get adventurous. Let's stuff it in cakes! Let's put it in tarts! Let's pipe it on cupcakes! C'mon, let's get wild.
I took my own advice and added goat cheese to two layers of these brownies. Soft chevre is mixed into the dark, fudgy brownie base, and then used to make the light and fluffy goat cheese frosting that's sandwiched between the brownies and chocolate glaze. My original intention was to just make the brownies and glaze, but after I tasted the baked brownies, I was concerned. The goat cheese gave the brownies a wonderfully rich and decadent texture, but the flavor was subtle and hidden underneath the chocolate. "This is no good!" I cried. "I need more goat. BRING ME MORE GOAT!!"
So, the goat cheese frosting was born, and it's one of my favorite elements in the finished bars. It helps lighten the otherwise heavy brownies, and it's the perfect blend of sweet and tangy. And even thought I've written the word "goat" about fifty times in this post, thisis truly not a goaty dessert. If you gave it to someone and didn't tell them what it was, they would probably just think it was an amazing cream cheese frosting! Pinky swear. Don't fear the goat.
Oh, and the salt! One quick plug for this really fun pyramid salt I picked up at Trader Joe's. I bought it on a whim (story of my TJs life) and was delighted to find that the flakes were really and truly shaped like pyramids. I may have an uninformed palate but I don't think it tastes much different from my other flaked sea salt. However, I love the giant crystals and may or may not have hummed "Walk Like An Egyptian" as I crumbled them atop the brownies. You don't need a fancy geometric salt to make these, but I do recommend a pinch of a crunchy, flaked salt on top—it makes all the difference and really provides the perfect finish.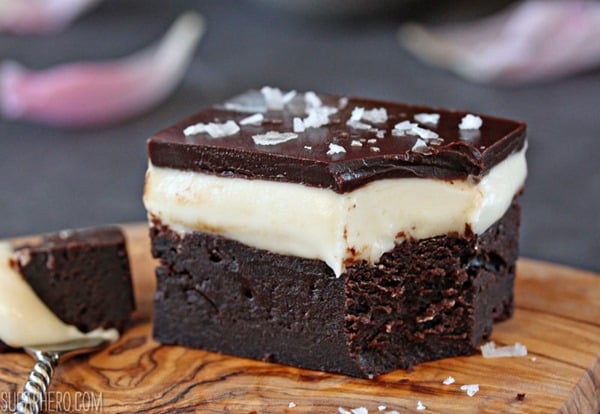 Now go out there and get goaty!
Tuxedo Brownies
These Tuxedo Brownies start with an ultra-fudgy base packed with white and dark chocolate chunks. They're topped with a whipped white chocolate-vanilla bean frosting, then finished with a shiny chocolate glaze with beautiful white chocolate ripples.
View Recipe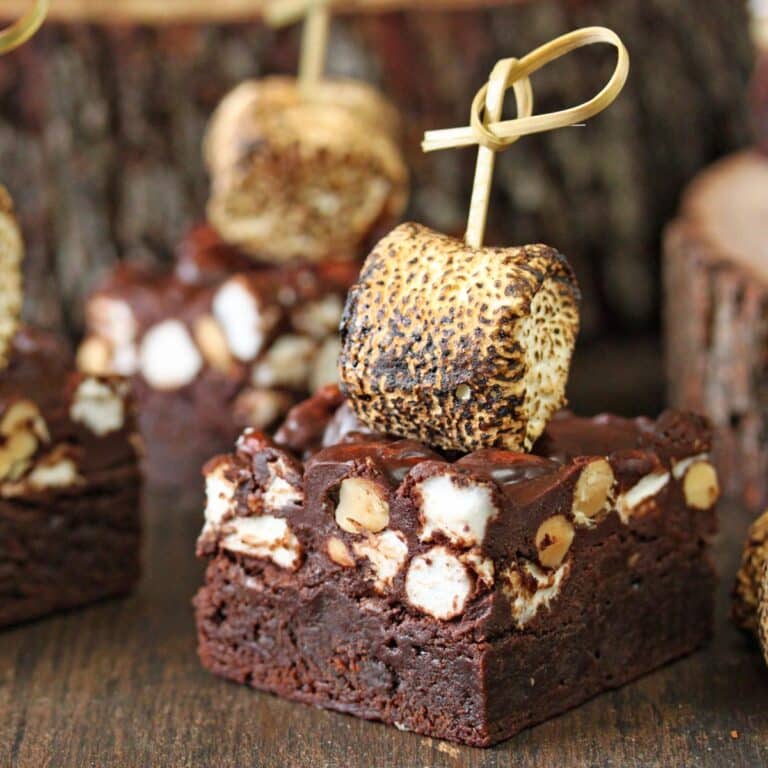 Campfire Rocky Road Brownies
If you love toasting a marshmallow over a campfire, you will love these campfire rocky road brownies. These brownies have the taste of toasted marshmallows baked right in and are topped with a rich rocky road frosting.
View Recipe
Goat Cheese Brownies
Don't be intimidated by the unusual sound of these Goat Cheese Brownies. The mild and creamy flavor of goat cheese pairs perfectly with chocolate. You'll find these unique brownies quite addicting.
Ingredients
For the Goat Cheese Frosting:
3

oz

unsalted butter

at room temperature

6

oz

soft goat cheese (chevre)

(3/4 cup)

, at room temperature

12

oz

powdered sugar

(3 cups)

1/2

tsp

vanilla extract

Pinch of salt
Instructions
To Make the Brownies:
Preheat the oven to 325 F. Line an 8×8-inch baking pan with foil, and spray the foil with nonstick cooking spray. (If you want thinner brownies, you can use a 9×9-inch pan. The baking time might need to be shortened.)

Combine the butter and chopped chocolate in a large microwave-safe bowl. Microwave in 20-second increments, stirring frequently, until the butter and chocolate have melted and are smooth. Add the granulated sugar and whisk it in. If the chocolate is quite warm, let it cool to room temperature before continuing.

Add the eggs one at a time, whisking well after each addition. The brownie batter will first look grainy and separated, but as you continue whisking it will come together and get thick and shiny, like pudding. This process may take 1-2 minutes of whisking. After it is smooth and shiny, add the room temperature goat cheese and the vanilla, and whisk them in.

Finally, sift the flour, cocoa, and salt over the bowl, and stir everything together gently with a spatula. Scrape the batter into the prepared pan and smooth it into an even layer. Bake the brownies at 325 F for 45-50 minutes, until a toothpick comes out with a few moist crumbs clinging to it. Cool completely on a wire rack before frosting them.
To Make the Goat Cheese Frosting:
Combine the butter and goat cheese in a mixing bowl, and mix with a paddle attachment on medium speed until light and fluffy. Add the powdered sugar, vanilla extract, and salt, and beat on low speed until the sugar is mixed in. Raise the speed to medium and beat for another minute, until light and fluffy.

Spread the goat cheese frosting on top of the cooled brownies in an even layer. Chill in the refrigerator for 20 minutes before adding the glaze on top.
To Make the Chocolate Glaze:
Place the chopped chocolate in a medium bowl. Combine the cream and butter in a small saucepan, and place the pan over medium heat. Bring the cream to a simmer, with bubbles appearing along the sides of the pan, but don't bring it to a full boil.

Pour the hot cream over the chopped chocolate and let it sit and soften the chocolate for 1 minute. After a minute, whisk the chocolate and cream together until it is smooth and shiny. Pour it over the brownies and smooth it into an even layer. Refrigerate the brownies until the glaze is firm, at least 45 minutes.

To cut the brownies, lift them from the pan using the foil as handles. Use a large sharp knife to cut them into small squares. Wash the knife frequently in warm water between cuts for the cleanest cuts. These brownies are easiest to cut when cold, but for the best taste and texture, let them sit at room temperature for 20 minutes before eating them. If desired, top with a pinch of flaked sea salt just before serving.
Measuring Tips
Our recipes are developed using weight measurements, and we highly recommend using a kitchen scale for baking whenever possible. However, if you prefer to use cups, volume measurements are provided as well. PLEASE NOTE: the adage "8 oz = 1 cup" is NOT true when speaking about weight, so don't be concerned if the measurements don't fit this formula.
Want to learn more about baking measurements and conversion?
Nutrition
Calories:
663
kcal
|
Carbohydrates:
63
g
|
Protein:
8
g
|
Fat:
43
g
|
Saturated Fat:
26
g
|
Cholesterol:
128
mg
|
Sodium:
209
mg
|
Potassium:
222
mg
|
Fiber:
3
g
|
Sugar:
53
g
|
Vitamin A:
1185
IU
|
Calcium:
70
mg
|
Iron:
2.9
mg
Tried this recipe?
Snap a pic and hashtag it #SugarHero. We love to see your creations on our Instagram @elabau.