This post may contain affiliate links. As an Amazon Associate I earn from qualifying purchases. Please see my disclosure policy for more information.
These Hazelnut Orange Chocolate Scones are ultra tender and laced with chocolate chunks, chewy bits of candied orange peel and big pieces of toasted hazelnuts. You'll love their crackly sugared top and soft interior!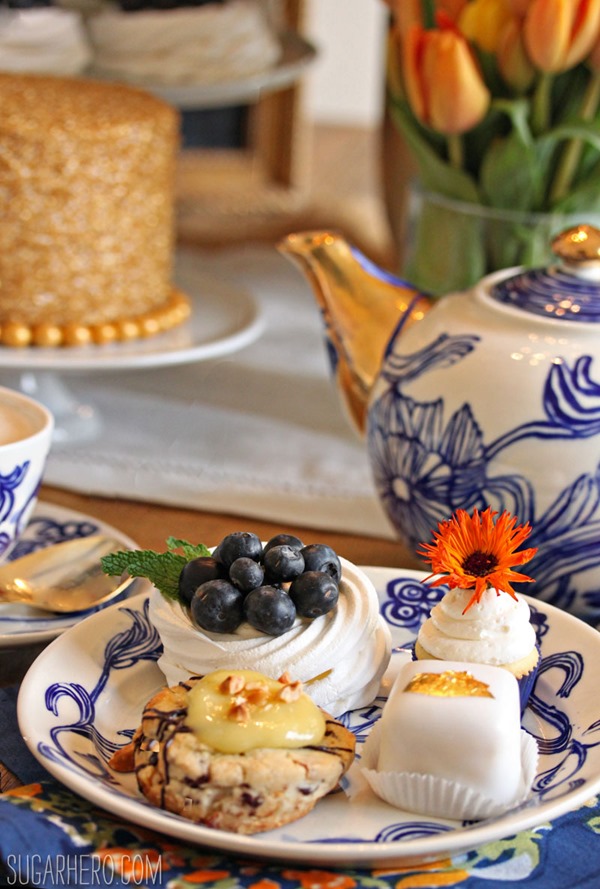 When I first started thinking about desserts for our Mother's Day tea party, I knew scones had to be on the menu. Jason and I have done a lot of tea partyin' in our day—you know, for research purposes—and almost every afternoon tea we've attended involves some sort of scone situation.
["The Scone Situation"—good band name, or amazing band name?]
The only question was what kind of scones. I wanted to keep the tea menu light, so I focused mostly on fruit flavors rather than chocolate, but a chocoholic can only go so long before looking for her next fix. So I crammed some chocolate chunks into these scones, along with chewy bits of candied orange peel and big pieces of toasted hazelnuts, and magic was born.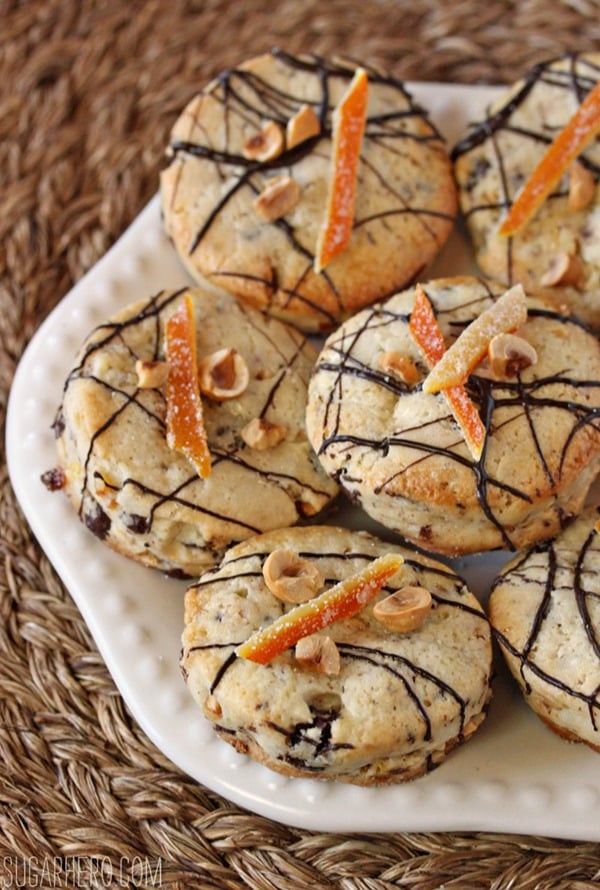 These scones are my very favorite type of scones, which is to say, they're not all that scone-like. Oftentimes, scones are just a slightly sweeter biscuit in disguise, tarted up with a glaze or a few raisins thrown in. There's nothing wrong with that, but I prefer my scones to have a softer texture, with a moist crumb and a crackly, sugar-crusted top. If you fall into the scone-as-biscuit camp this recipe might not be for you, but if you've always wished your scones were a bit softer and sweeter, then have a seat at my table.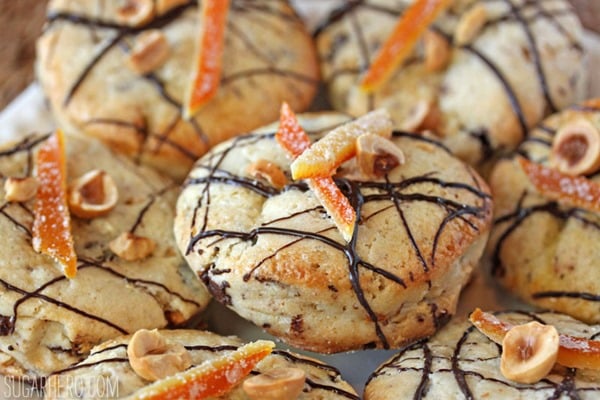 I also love this recipe because it's so flexible. You can add almost any mix-ins you can dream up—cranberries and lemon zest is a good combination, or try mixing fresh berries in at the very end. Soft on the inside, with pockets of melting chocolate, chewy peel, and crunchy nuts, they're perfect alongside a cup of tea, coffee, hot chocolate, or lukewarm water from that grungy plastic bottle you keep meaning to get rid of but never do.
…It is possible that I know about that last one from experience.
They're also perfect as part of a breakfast in bed menu (hint) for any special ladies in your life (hint hint) who might be having a day in their honor this Sunday (hint hint hint). Happy weekend, all!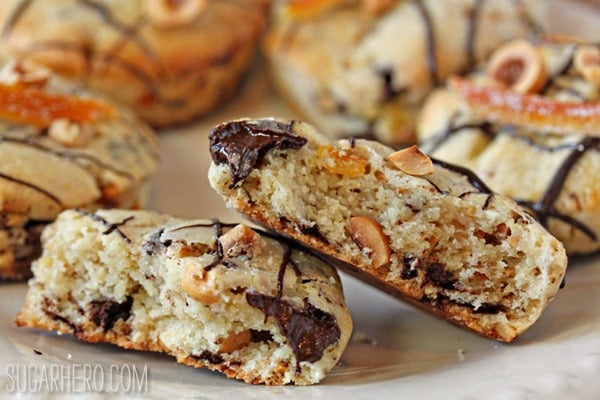 ☕ More Tea Party Worthy Desserts
Cranberry Orange Bread Pudding
This Cranberry Orange Bread Pudding is on point…the point is bread, lots of it, soaked in sugar and cream and eggs and sprinkled with pockets of deliciousness. How you choose to get there is entirely up to you.
Get the recipe!
Mascarpone Rhubarb Stuffed French Toast
This Mascarpone Rhubarb Stuffed French Toast is the what breakfast dreams are made of! The contrast between the sweet, rich mascarpone filling, tart rhubarb jam, and crunchy outer crust of the French toast is heavenly.
Get the recipe!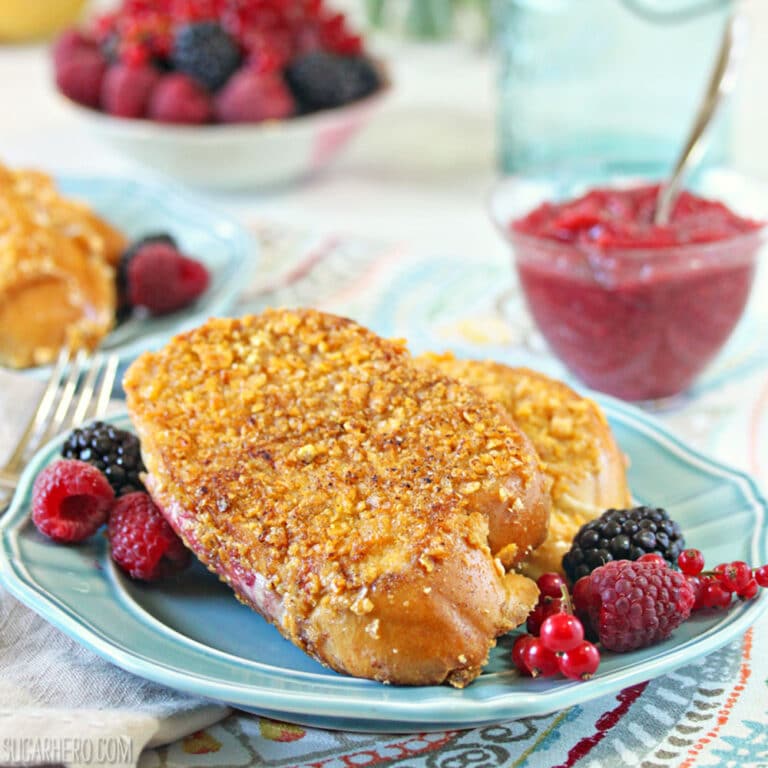 Hazelnut Orange Chocolate Scones
These Hazelnut Orange Chocolate Scones are ultra tender and laced with chocolate chunks, chewy bits of candied orange peel and big pieces of toasted hazelnuts. You'll love their crackly sugared top and soft interior!
Ingredients
15

oz

all-purpose flour, (

3 1/2 cups

)

8

oz

powdered sugar

, (

2 cups

)

3/4

tsp

baking powder

1/4

tsp

baking soda

1/4

tsp

salt

2

oz

candied orange peel, (

1/3 cup

), finely chopped, see Note below

2.5

oz

hazelnuts, (

1/2 cup

), toasted, coarsely chopped

3

oz

semi-sweet chocolate, (

1/2 cup

), coarsely chopped

5

oz

unsalted butter

,

cold, cubed

7

oz

heavy cream

, (

3/4 cup + 2 TBSP

)

1/4

tsp

orange oil , or

1 tsp

orange extract
Instructions
In a large mixing bowl, combine the flour, powdered sugar, baking powder, baking soda, salt, orange peel, hazelnuts, and chocolate. Mix on low speed with a paddle attachment until well-combined.

Add the cubed butter and mix on low speed until the mixture is sandy. Mix together the cream and orange oil or orange extract, then with the mixer running on low speed, slowly pour the cream into the dry ingredients. Mix until there are just a few dry streaks of flour remaining.

Stop the mixer and mix the scones the rest of the way with a rubber spatula, making sure to scrape down the bottom and sides of the bowl. Turn the dough out onto a baking sheet covered with parchment paper and pat it into a rectangle about 1-inch thick. Wrap the sheet with plastic wrap and chill it for 1 hour, until firm.

Preheat the oven to 375 F. Cut the scones into small 2-inch squares or circles. If cutting out circles, press the scraps together and cut more circles out until you use all the dough. Arrange them on baking sheets covered with parchment. They will spread, so leave a few inches in between each scone. Brush a little cream on top of each scone, then top with a scattering of granulated sugar. Bake the scones at 375 F for 15-16 minutes, until golden brown around the edges.

Cool on the baking sheet, then serve. If desired, you can drizzle them with a bit of chocolate and top them with extra candied peel and hazelnuts for a fancier presentation. Scones are best the day they are made, but they can be kept in an airtight container at room temperature for 3-4 days. They can also be frozen before baking, after they have been cut out, and can be baked from frozen. Add 3-4 minutes to the baking time if you're baking frozen scones.
Recipe Notes
If you don't have candied orange peel, you can substitute the zest of two oranges instead. Add it to the dry ingredients in the first step and proceed with the rest of the recipe as written.
MEASURING TIPS
Our recipes are developed using weight measurements, and we highly recommend using a kitchen scale for baking whenever possible. However, if you prefer to use cups, volume measurements are provided as well. PLEASE NOTE: the adage "8 oz = 1 cup" is NOT true when speaking about weight, so don't be concerned if the measurements don't fit this formula.
Click here to learn more about baking measurements and conversion.
Nutrition
Serving:
12
g
|
Calories:
437
kcal
|
Carbohydrates:
55
g
|
Protein:
5
g
|
Fat:
22
g
|
Saturated Fat:
11
g
|
Cholesterol:
48
mg
|
Sodium:
88
mg
|
Potassium:
162
mg
|
Fiber:
2
g
|
Sugar:
25
g
|
Vitamin A:
540
IU
|
Vitamin C:
0.5
mg
|
Calcium:
44
mg
|
Iron:
2.4
mg
Share by Email
Share on Facebook
Share on Pinterest