Junior Mint Cookies are soft, chewy chocolate cookies with a gooey Junior Mint Candy baked right in! You can also substitute any other small candy or candy bar that you'd like.
In the spirit of spring cleaning, I've been trying to do some sprucing up around the ole website. I have a lot of older posts that could use some love–replace the small, bad pictures, format the recipes for easy printing, and other flicks of the proverbial dust cloth. Believe it or not, SugarHero has been around for 5 years (!!!) and in the beginning, I was a lot more casual about things, so some of the early posts are…how should I say…not so cute.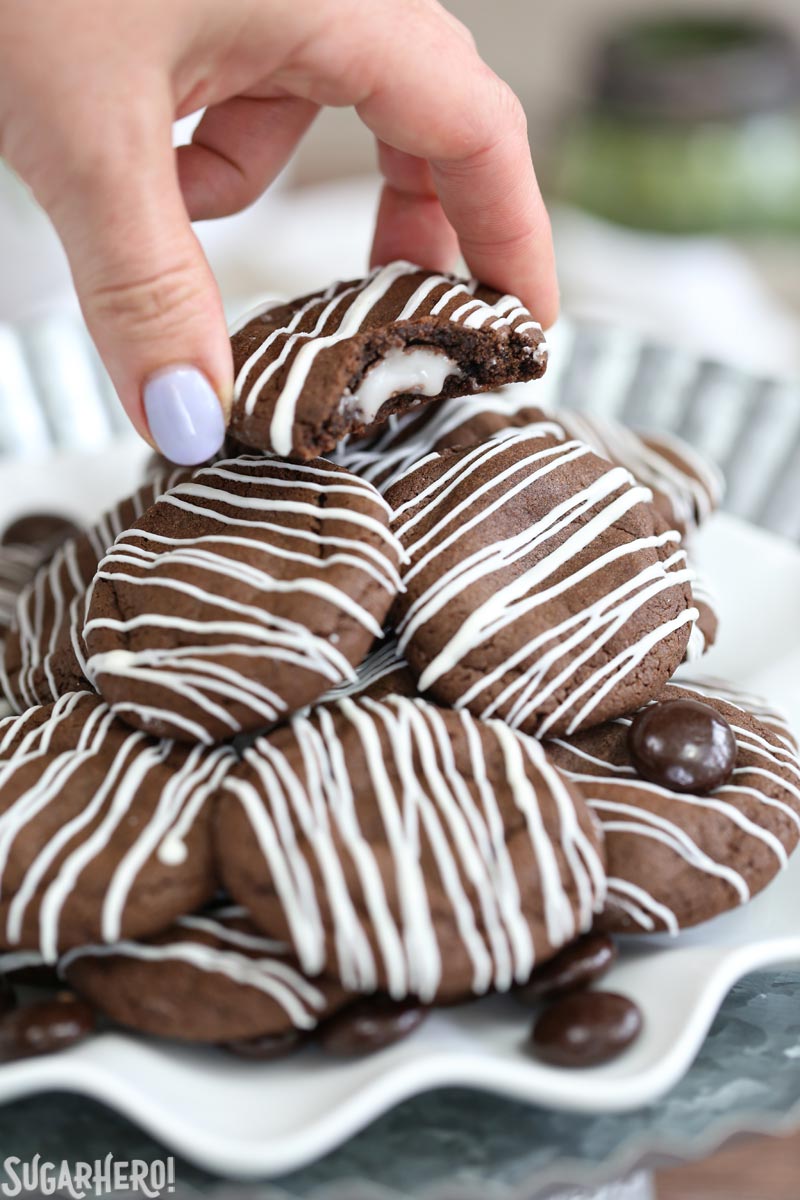 There are 2 ways to look at a task like this: either it's a chore, one more annoying item to add to a never-ending To-Do List, or it's a fun excuse to revisit past favorites, take some new pictures, and breathe new life into them.
I'm choosing to take the latter attitude, and so far it's been really fun to read through old posts, take a walk down memory lane, and pick which recipes get to be polished up first.
Take these Junior Mint Cookies, for instance. They were actually published almost exactly five years ago, and they were the first post I wrote after my son Asher was born. I shared a cute baby picture of him in a Hershey's kisses hat (here, if you like that sort of thing), wrote about how stinkin' tired I was, and tried to casually drop in the fact that caring for a new life kind of, you know, FREAKED ME OUT.
The pictures on this post have been updated, but some things haven't changed: I'm still freaked out about caring for another life (being a parent is ridiculous pressure, when you think about it), and I'm still kinda-sorta-a lot obsessed with these cookies.
These soft and chewy chocolate cookies have mint extract mixed right into the batter, and they also have a Junior Mint baked right into the center of the cookie! They're best warm out of the oven (so the cookies are soft and a bit gooey too, and everything blends together in a wonderful chocolate-mint mess) but they're also pretty amazing at room temperature. I like to finish them off with a drizzle of white chocolate, but I think mint-flavored candy coating would also be really delicious.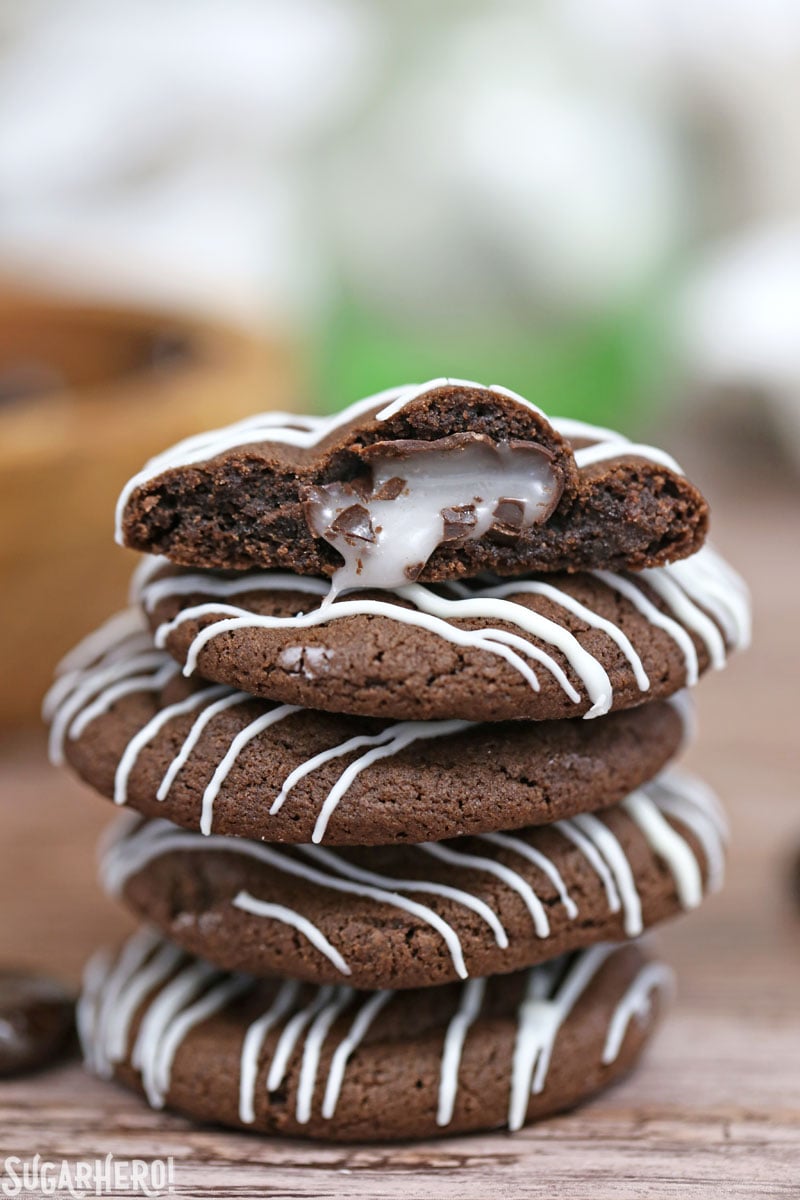 Here's something that HAS changed: the formula for Junior Mints? Maybe? When I used to make these often, the mints would always stay intact in the center, and now, I've found that about two-thirds of the time, they sort of disappear into the cookie. You can still taste them, and depending on how you cut into the cookies, you can sometimes see them, but in every batch, I found I had some mints that stayed whole, and some that kind of merged into the cookie dough. (Obviously I photographed the prettiest, most whole-est mints for this post, because #unrealisticcookiegoals). I just wanted to give you a head's up that if your mints disappear into the cookies, it's not you…it's them.
And if Junior Mints aren't your thing, you can nix the mint extract and replace the Junior Mints with another similar-sized candy, like Rolos, Hershey's kisses, peanut butter cups, or or miniature Snickers or Milky Way bars.
Junior Mint Cookies
Junior Mint Cookies are soft and chewy chocolate-mint cookies, with a Junior Mint baked right into the center!
Instructions
In a small bowl, sift together the flour, baking soda, salt, and unsweetened cocoa powder. Set aside for a moment.

Combine the butter and two types of sugar in the large bowl of a stand mixer. Mix on medium speed until light and fluffy, for about 2 minutes. Add the room temperature egg, the vanilla extract, and the mint extract, and beat them until the egg is incorporated and the mixture is smooth.

With the mixer running on low, slowly add the dry ingredients and mix just until the flour is almost completely blended in. Stop the mixer and finish mixing in the flour by hand, scraping down the bottom and sides of the bowl in the process.

Use a cookie scoop or large tablespoon to form a 1-inch ball of cookie dough. Press a Junior Mint candy in the center of the dough, and roll it between your hands to get the cookie completely round. Place the cookie on a baking sheet covered with parchment. Repeat with the remaining dough until you've made 24 cookies, placing the cookies about 2 inches apart on parchment-covered sheets.

Once all of the cookies are formed, chill them in the refrigerator for 30 minutes, until the dough is firm. This will give you puffy cookies–if you bake them right away, they will be much flatter. It also helps to prevent the Junior Mints from leaking out or completely melting into the cookie dough.

Preheat the oven to 350 F, and bake the cookies for 9-10 minutes, until they are puffed and set around the edges, but are still quite soft in the center. Let the cookies cool on the baking sheets for a few minutes, then remove them to a wire rack to cool completely.

If you want to drizzle them with melted white chocolate or candy coating, wait until the cookies are completely cool, then melt the coating in the microwave. Spoon it into a small zip-top plastic bag, and cut a small hole in the corner. Lightly drizzle the coating over the cookies, then let it set at room temperature before moving or stacking them.
Video
Measuring Tips
Our recipes are developed using weight measurements, and we highly recommend using a kitchen scale for baking whenever possible. However, if you prefer to use cups, volume measurements are provided as well. PLEASE NOTE: the adage "8 oz = 1 cup" is NOT true when speaking about weight, so don't be concerned if the measurements don't fit this formula.
Want to learn more about baking measurements and conversion?
Nutrition
Calories:
100
kcal
|
Carbohydrates:
16
g
|
Protein:
1
g
|
Fat:
4
g
|
Saturated Fat:
2
g
|
Cholesterol:
10
mg
|
Sodium:
28
mg
|
Potassium:
35
mg
|
Fiber:
0
g
|
Sugar:
8
g
|
Vitamin A:
120
IU
|
Vitamin C:
0
mg
|
Calcium:
8
mg
|
Iron:
0.6
mg
Tried this recipe?
Snap a pic and hashtag it #SugarHero. We love to see your creations on our Instagram @elabau.