Lemon Meringue Teacup Cakes are elegant lemon cakes, baked right in teacups! Filled with raspberry and topped with lemon curd and toasted meringue. They are perfect for special occasions!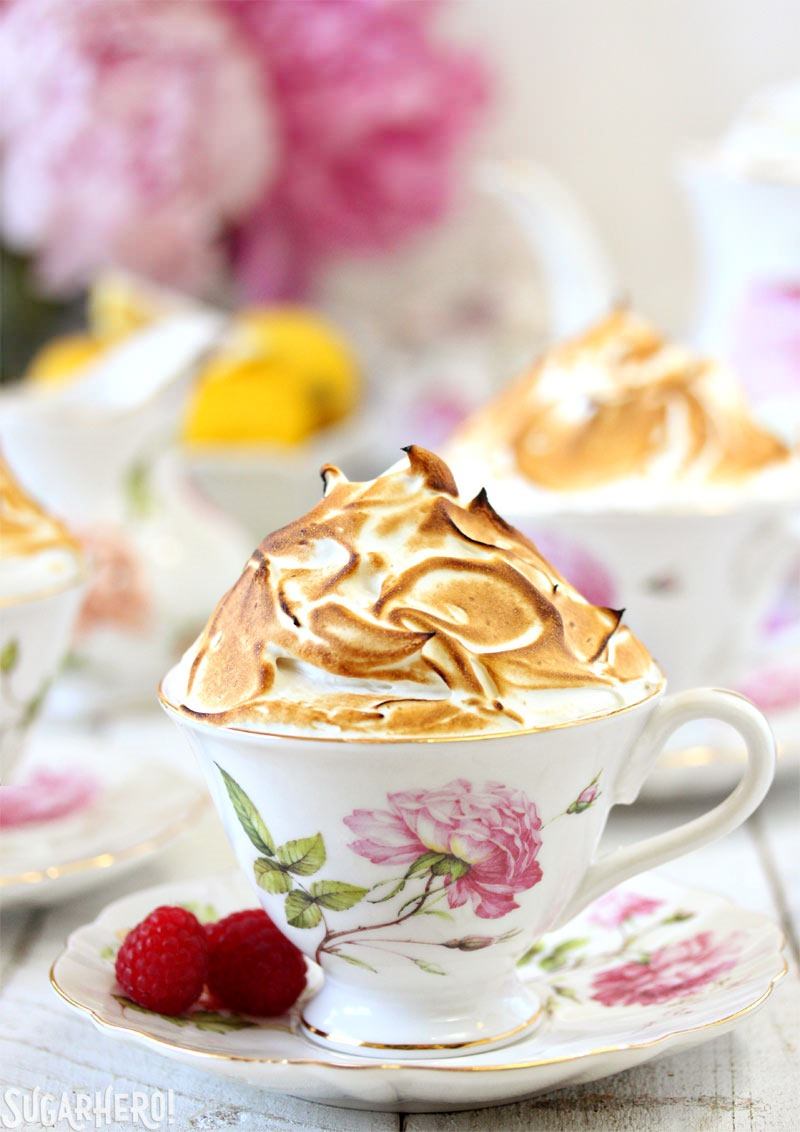 Isn't spring the best? I know I say that about summer and fall too (winter, not so much) but right now, when all the trees on my street are exploding with white and pink blossoms, and there is sunshine that stretches past dinner time, and there are legit, verifiable TULIPS about to bloom in my front yard like a miracle (because we sure didn't plant any tulip bulbs), it's hard to imagine life getting any better than this.
So because I am uncharacteristically cheerful, and because I'm experiencing a real change-of-seasons for the first time, and because it seems like a crime to stare at all these budding blossoms and no celebrate, I present to you: spring in a teacup! Or, more accurately, "lemon cake filled with raspberry sauce and topped with lemon curd and toasted meringue" in a teacup. But we can call it "spring" for short.
So yes, these sweet little teacups are holding big flavors and big layers. It starts with a light and fluffy cake batter, flavored with both fresh lemon zest and lemon extract, for a double dose of tart citrus love. I baked the cakes right in the teacups, and I'm sure I don't have to tell you this, but if you try it please make sure you're using oven-safe cups. Now is not the time to use Great Aunt Ruth's expensive heirloom china she bequeathed to you, may she rest in peace. I am not a fancy person and my whole house is basically filled with oven-safe, dishwasher-safe, cheap-o dishes, so hurrah! More cakes baked in teacups for me, please!
After the cakelets are baked, they're filled with a big spoonful of homemade raspberry sauce. You can use fresh or frozen berries, or sub in store-bought jam if you want to save a few steps. Just make sure you get the zing of the raspberry flavor in there, tucked into the center of the lemon cakes.
The next step is to add even more lemon flavor, so a generous layer of lemon curd is spread on top of the cakes. Your mileage may vary depending on the size of your cups, but I managed to fit a good 3-4 spoonfuls of curd on top of each cake, so it really was a citrus lover's dream come true. And the curd on top keeps them from drying out, so they stay wonderfully fresh and moist, when most other cupcakes dry out if you look at them funny.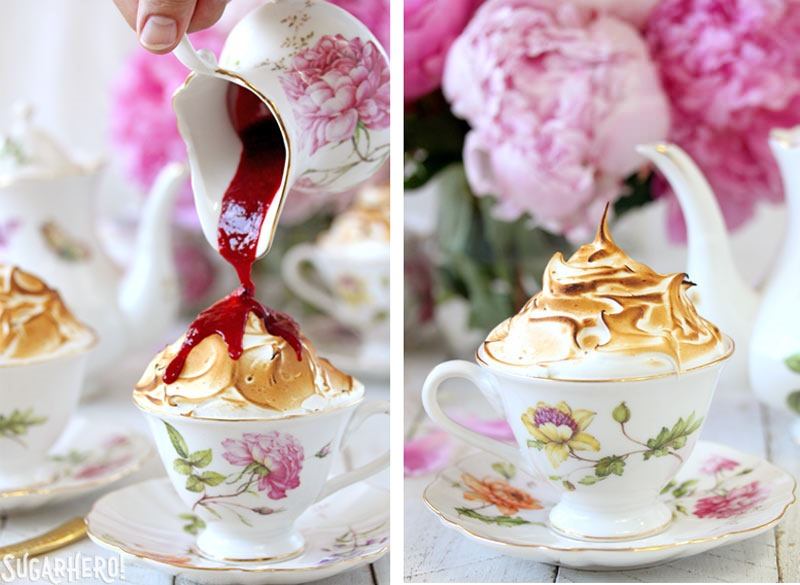 Finally—FINALLY—they're topped with big, generous, sweeping, swirling clouds of meringue. Meringue haters to the left, because I'm gonna put my foot down and say this is non-negotiable. The most gorgeous thing about these cakes is the contrast between the dark, swirling meringue on top and the dainty teacups on the bottom. Don't bother making them unless you're going to go all the way! Toast the meringue, get it nice and dark, and then if you're like me, pour on a bunch more raspberry sauce because yum. If you need a no-meringue dessert, check out my Key Lime Pie, Strawberry Lemonade Ice Cream Pie or Blueberry Crumble Pie!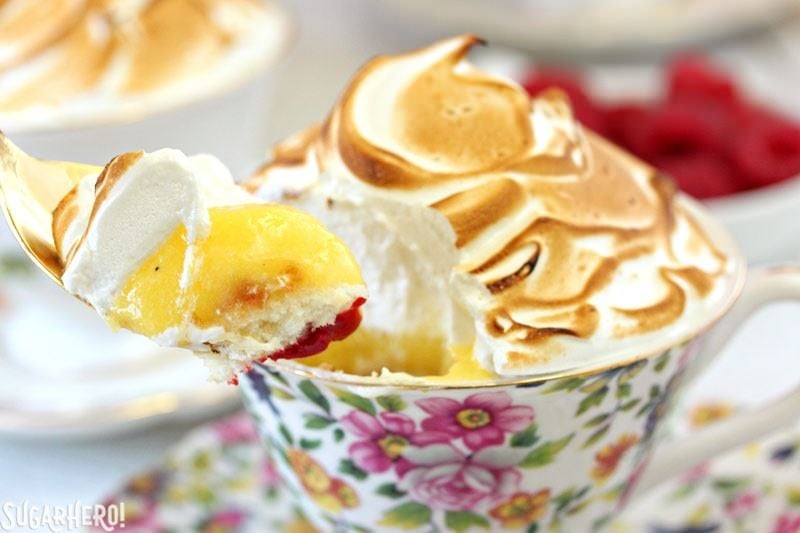 These would be perfect for Mother's Day, a baby or bridal shower, or an elegant birthday party! And if the teacups don't do anything for you, you can use ramekins or even bake them in cupcake tins. Happy spring!
🍋 More Lemon Desserts