This post may contain affiliate links. As an Amazon Associate I earn from qualifying purchases. Please see my disclosure policy for more information.
This beautiful Marzipan Swirl Tart has a buttery almond crust filled with swirled almond-chocolate ganache. It's delicious plain or topped with almond-scented whipped cream, chocolate curls, and mini marzipan swirl truffles!
It's baaaaaack!
Marzipan, my little almond paste friend found in the silver tube, is back in a big way today.
It wasn't enough that I churned it into almond ice cream and mixed it with coconut and fudge sauce earlier this summer. No, I had to go and pair it with a buttery almond crust and swirl it with almond-chocolate ganache too.
And, of course, because I have no willpower, I topped my uber-almondy tart with almond-scented whipped cream, chocolate curls, and Marzipan Swirl Truffles. Calm down, me! You're looking a little desperate for marzipan affection.
Really, though, who wouldn't be desperate for a little of this? This is one of those desserts that relies entirely on its appearance to sell it. If I told you I made you a marzipan tart, you would probably chuck something at me to distract me, and then dash out of the room before I made you taste it. But if I showed you this tart, you would probably chuck something at me to distract me, and then snatch the tart plate out of my hand so you could eat it all.
(Also, can we talk about your violent tendencies for a second? Chucking things at people is never the answer. Let's hug it out.)
And also again, SIDEBAR. What are your thoughts on the naked tart down below?
Truthfully, I think I like it much better without the whipped cream and decorations. I took a quick snapshot of the plain tart when I was getting props and lighting set up, so I have one casual photograph of what it look like without any garnishes, and I realized after the fact that I like it so much better this way. I keep looking at it with regret, mournfully stroking the screen, and whispering, "You were too lovely for this world." So, do what you feel as far as decorations, but when I make this again I'll be leaving it plain and letting the swirls do all the talking.
But enough of my poor life choices. Don't be like me. Make good life choices, and make this tart happen. Seriously, if you're not on the marzipan train already, it's time to hop on board. It's going to be A Thing around here, and I want you all with me. Viva la marzipan!
🤎More Almond Desserts You'll Love:
Chocolate Raspberry Almond Truffle Tart
This Chocolate Raspberry Almond Truffle Tart has a crispy chocolate shortbread crust, with a dense, gooey chocolate truffle filling packed with almond flavor, fresh raspberries, and melty pockets of white chocolate chunks.
Get the recipe!
Baileys Chocolate Caramel Tarts
These Baileys Chocolate Caramel Tarts are outrageously good! With their crispy and buttery tart shell, Baileys Irish Cream salted caramel filling, and glossy chocolate topping, they are delicious and absolutely gorgeous.
Get the recipe!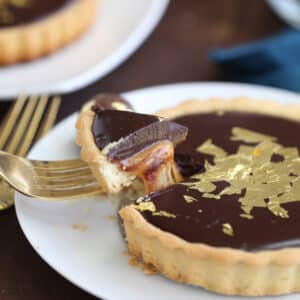 Marzipan Swirl Tart
This beautiful Marzipan Swirl Tart has a buttery almond crust filled with swirled almond-chocolate ganache. It's delicious plain or topped with almond-scented whipped cream, chocolate curls, and mini marzipan swirl truffles!
Ingredients
For the tart shell:
1/3

cup

sliced almonds

,

lightly toasted

1 1/4

cups

all-purpose flour

1/2

cup

powdered sugar

1/4

tsp

salt

5

oz

unsalted butter

,

cold

1

large egg yolk
For Decoration (optional):
Whipped cream

Marzipan Swirl Truffles
Instructions
To make the tart shell:
Place the sliced almonds in the bowl of a food processor and process them until they're finely ground. Add the flour, sugar, and salt to the almond powder in the bowl, and pulse briefly until everything is well-blended. Add the cold cubed butter and pulse until it is in small pea-sized pieces. Add the egg yolk and pulse in long 5-second bursts until the dough starts clumping together.

Turn the dough out of the food processor and knead it lightly several times to incorporate any extra flour. At this point, the dough can be wrapped and refrigerated for several days. If you're ready to use it now, spray a 9-inch tart shell with a removable bottom with nonstick cooking spray.

Press the dough in an even layer into the bottom and sides of the pan. Freeze the shell for 30 minutes, and while it's in the freezer, preheat the oven to 375 degrees F. Spray the top of the tart dough with nonstick spray, then press a sheet of foil onto the shell, shiny side down, and fill the foil with dry beans, rice, or pie weights.

Bake the tart shell for 20 minutes, until the sides start to take on a little color and the center no longer looks raw, then carefully remove the foil and weights. Bake for an additional 12-14 minutes, until the shell is golden brown. You might want to cover the sides with foil to prevent them from getting too dark. Let the shell cool completely before filling it.
To make the filling:
First, make the chocolate portion of the filling. Put the chopped semi-sweet chocolate in a medium bowl. Heat 3/4 cup of heavy cream in a small saucepan it is simmering and bubbles start appearing on the sides of the pan. Pour the hot cream over the chocolate and let it sit and soften the chocolate for 1 minute. Whisk the cream and chocolate together until it is a smooth and shiny mixture. Add the salt, butter, almond extract, and vanilla extract, and whisk until smooth. Press a layer of cling wrap and set aside to cool, until it is room temperature and flows thickly. (Chocolate can be refrigerated briefly to speed up the cooling process.)

To make the marzipan swirl, grate the marzipan using a cheese grater. Place the shredded marzipan, the chopped white chocolate, and the remaining 1/4 cup cream in a microwave-safe bowl. Microwave in 30-second increments, whisking after every 30 seconds, until the white chocolate is melted and the mixture is smooth. It will be closer to a paste than a liquid.

Transfer the marzipan mixture into a plastic bag, and cut a 1/2-inch hole in the corner. Pipe thick swirls of marzipan paste into the bottom of the cooled tart shell in a random pattern. Use about 2/3 of the marzipan paste. Pour the chocolate over the marzipan, and smooth it into an even layer. Pipe the remaining marzipan on top of the chocolate in a random swirling pattern. Drag a toothpick through the tart, swirling the marzipan and chocolate together. Refrigerate the tart until the filling is set, at least 1 hour. (Tart can be made several days ahead of time. If making in advance, cover with cling wrap once the filling is set.)

To serve, garnish the tart with the optional toppings like whipped cream, chocolate curls, or Marzipan Swirl Truffles. It is easiest to cut clean slices when the tart is cold, but for the best taste and texture, let the slices sit at room temperature for about 20 minutes before serving.
Recipe Notes
Recipe Notes: This recipe calls for 7 ounces of marzipan, which is the most common amount of packaged marzipan. I used Odense
brand, available at many grocery stores in the baking section. If you are feeling particularly crafty, you can make your own marzipan—here is one recipe to try.
MEASURING TIPS
Our recipes are developed using weight measurements, and we highly recommend using a kitchen scale for baking whenever possible. However, if you prefer to use cups, volume measurements are provided as well. PLEASE NOTE: the adage "8 oz = 1 cup" is NOT true when speaking about weight, so don't be concerned if the measurements don't fit this formula.
Click here to learn more about baking measurements and conversion.
Nutrition
Calories:
1033
kcal
|
Carbohydrates:
85
g
|
Protein:
13
g
|
Fat:
72
g
|
Saturated Fat:
37
g
|
Cholesterol:
150
mg
|
Sodium:
173
mg
|
Potassium:
484
mg
|
Fiber:
5
g
|
Sugar:
54
g
|
Vitamin A:
1305
IU
|
Vitamin C:
0.4
mg
|
Calcium:
154
mg
|
Iron:
4.6
mg
Share by Email
Share on Facebook
Share on Pinterest
This post contains Amazon affiliate links. For more information, see my Affiliate and Advertising Policy.