This Almond Joy Boston Cream Pie is a twist on a traditional Boston cream pie. It features a moist almond cake, coconut pastry cream, and a thick layer of rich chocolate glaze!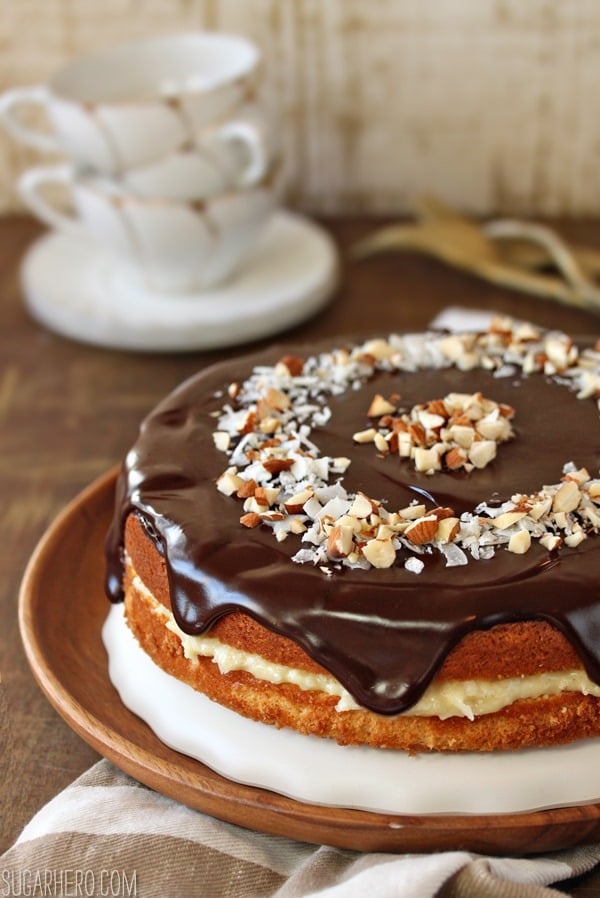 I hate to waste food. HATE it. I will literally eat leftovers that are on the verge of spoiling, even things that I didn't like very much in the first place, rather than throw them out. (Of course, my ideal solution to that problem is to make Jason eat them instead, but sometimes he outsmarts me and sticks me with leftover duty instead.)
So because I am apparently a child of the Great Depression, whenever I have ingredients left over from other projects, I try to find ways to use them in other recipes instead of throwing them out. This sometimes makes me feel like a virtuous food ninja, but sometimes it's a little silly, like when I made several batches of Swiss meringue buttercream recently and was scrambling to find something to do with over a dozen egg yolks.
I became a curd and pastry cream-making machine, cranking out my yolk-based desserts recipes rather than toss a few of the yolks. (Now, whether this is actually financially responsible is another question, since I ended up adding a bunch of butter, cream, sugar, and other expensive ingredients to my $.50-cent yolks…but that's another blog post for another time.)
My original plan for the pastry cream was a crème brulee tart in puff pastry, which taught me a few important lessons: there is no easy way to brulee a tart top without burning the crust too, and anything you try is bound to either a) fail b) burn your fingers or c) probably both.
Back to the drawing board! I now had pastry cream languishing in my fridge, threatening to go bad, which was even more guilt-inducing than plain egg yolks. Finally, I hit on the idea of a Boston cream pie. Hallelujah, my pastry cream found a home at last!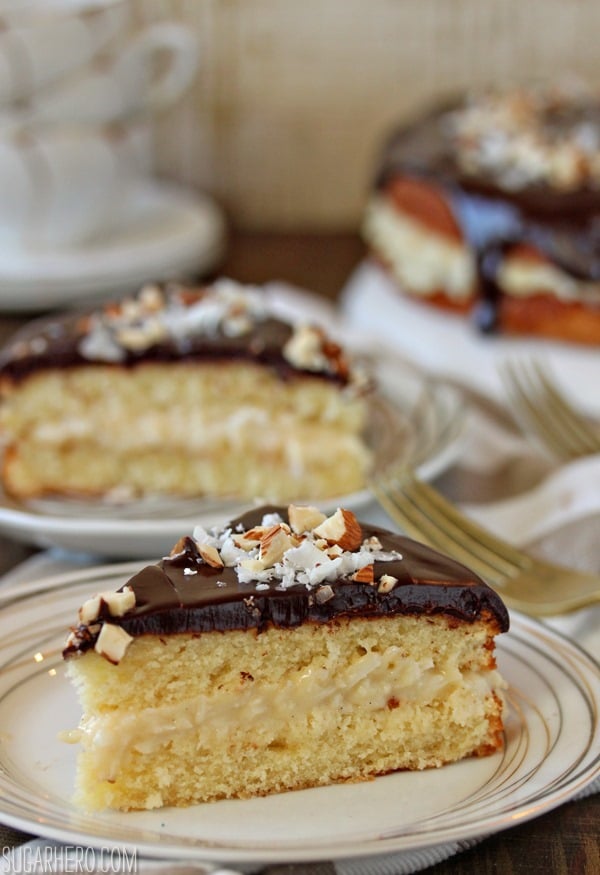 Boston cream pie should win some sort of award for Best Deceptive Name, Dessert Category. It is in fact not a pie at all, but rather a light yellow cake filled with pastry cream and topped with chocolate glaze. It was invented in Boston, and is apparently the official dessert of Massachusetts, but as Wikipedia helpfully told me, "it is not mass-produced in Boston." So put the thought of mail-ordering those mass-produced Boston cream pies out of your pretty little head.
Regular Boston cream pie is a little plain for my tastes, so I decided to add a few more flavors and make an Almond Joy version. The cake is based on a wonderfully soft and fluffy almond cake from Rose Levy Beranbaum's The Cake Bible
. I know I talk about this book a lot, but that's only because I think it's so incredible—any self-respecting cake enthusiast needs it in her kitchen. Every recipe I've tried from the book works perfectly, and it's the first resource I turn to any time I need to make a large tiered cake for a wedding or party.
Aaaanyhow, Beranbaum's a genius, love her book, buy it, let's move on. So the cake is a light, moist almond cake with both almond extract and ground almonds in the batter. The cream center is coconut-flavored, with plenty of shredded coconut in every bite. And the semi-sweet chocolate glaze brings them both together, with a handful of chopped almonds and some shredded coconut on top for good measure.
I made and assembled the whole thing in the course of one afternoon, which is totally do-able work-wise, but might be a little ambitious considering the cooling time some of the components need. Nonetheless, it's an easy cake to whip up and one that's totally fancy enough to serve to company or as part of a special occasion! Birthday party cake for an Almond Joy lover, perhaps? The almond and coconut flavors really elevate the cake and make it seem more intricate and involved than it actually is, and the pastry cream in the center keeps the cake moist for days.
I shared it with friends, and after I dropped it off I got a text saying, "What did we DO to deserve this?!" Which admittedly could be read two ways, but they assured me they meant it as a compliment, and said it was one of the best desserts they've had in a long time.
Check out A New Twist on Pies

by Elizabeth LaBau at Foodie.com
You may be wondering about the pie slideshow above—in just 2 weeks we'll be celebrating Pi Day on March 14! Foodie.com is getting in the pie spirit and asked me to create a slideshow featuring some of my favorite pie recipes. In the spirit of Boston cream pie, I decided to choose recipes that put a twist on the usual pie standbys, and am featuring bars, cookies, push-pops, cookie pies, and other "pie-inspired" desserts. I'll also have a few more pie and tart recipes in the next week or two, and would love for you to join me in celebrating Pi Day! In the meantime, here's a cake in pie's clothing for you to enjoy.
🤎More Dessert Recipes You'll Love
Burnt Almond Cake
This Burnt Almond Cake, put simply, is a fluffy white cake filled with almond pastry cream, frosted with buttercream, and coated with a thick layer of caramelized almonds, this will take you way back!
View Recipe
Carrot Cake with Coconut Cream Cheese Buttercream
This Carrot Cake with Coconut Cream Cheese Buttercream has 6 layers of the moistest carrot cake you've ever tasted sandwiched between layers upon layers of Coconut Cream Cheese Buttercream. It's packed with pecans, coconut and carrots, then covered from head to toe in large flakes of shredded coconut…you must try!
View Recipe
Almond Joy Boston Cream Pie
This Almond Joy Boston Cream Pie is a twist on a traditional Boston cream pie. It features a moist almond cake, coconut pastry cream, and a thick layer of rich chocolate glaze!
Ingredients
For the Almond Cake:
2

large eggs

at room temperature

5.5

oz

sour cream

(2/3 cup)

, at room temperature

1

tsp

almond extract

1

tsp

vanilla extract

5.75

oz

cake flour

(1 ⅔ cup), sifted after measuring

1.25

oz

almonds

(1/3 cup), finely ground or almond meal

7

oz

granulated sugar

(1 cup)

1/2

tsp

baking powder

1/2

tsp

baking soda

1/2

tsp

salt

6

oz

unsalted butter

at room temperature
For the Coconut Pastry Cream:
Instructions
To Make the Almond Cake:
Preheat the oven to 350 F. Line a 9×2-inch cake pan with a parchment round, and spray the pan with nonstick cooking spray. (If you only have 9×1-inch pans, use two of those instead, and divide the batter between them before baking.)

In a small bowl, combine the eggs, a quarter of the sour cream, and the extracts, and whisk lightly until they're blended.

In the large bowl of a stand mixer fitted with the paddle attachment, combine the flour, ground almonds, sugar, baking powder, baking soda, and salt. Mix on low speed until everything is well distributed. Add the softened butter and remaining sour cream, and mix on low speed until everything is combined. Raise the speed to medium, and beat for 90 seconds.

Scrape down the bottom and sides of the bowl with a spatula, then begin beating again. Add the egg mixture gradually, beating well after each addition. Scrape the cake batter into the prepared pan. Bake at 350 F for about 40 minutes, or until golden on top and a toothpick inserted into the center comes out clean.

Cool the cake on a wire rack for 10 minutes, then run a knife along the sides, turn the cake out of the pan, and cool completely at room temperature. The cake can be made in advance and kept, well-wrapped in plastic, for several days in the refrigerator or for several weeks in the freezer.
To Make the Coconut Pastry Cream:
Place the egg yolks in a medium bowl and whisk them briefly to break them up. Combine the milk, sugar, salt, and corn starch in a medium saucepan over medium heat. Whisk everything together, until the sugar and cornstarch dissolve, and continue to whisk while the mixture heats up. Once it starts to bubble and thicken, remove it from the heat. Whisk the bowl of egg yolks while slowly streaming in about 1 cup of the hot milk mixture—this will help heat the egg yolks gently so that they don't cook during the process.

Now whisk the milk mixture while you pour the egg yolks into the saucepan. Return the pan to the heat and continue to cook, whisking constantly, until the pastry cream thickens and has the texture of pudding. You may want to occasionally scrape the bottom of the pan with a rubber spatula to prevent any scorching. Once thick, remove the pan from the heat.

Stir in the vanilla extract. Let the cream cool to room temperature, whisking occasionally so that the top doesn't form a skin. If you want to make this in advance, pour it into a bowl or airtight container, press cling wrap right on top of the pastry cream, and refrigerate until chilled. Pastry cream can be kept in the refrigerator for up to a week. Right before you are ready to assemble the cake, stir in the shredded coconut.
To Make the Glaze and Assemble the Cake:
Place the semi-sweet chocolate in a medium bowl. Pour the cream into a small saucepan and heat it over medium-high heat until it starts to simmer and almost boils. Pour the hot cream over the chocolate and let it sit for 1 minute to soften the chocolate. After a minute, gently whisk the chocolate and cream together until the chocolate is melted and the mixture is shiny and smooth. Let it cool at room temperature, whisking occasionally, until it pours thickly from a spoon. You can press cling wrap to the top and refrigerate the bowl for 20-30 minutes to speed the cooling process. You want it thin enough to flow smoothly and drip down the sides of the cake, but thick enough to hold its shape.

To assemble the cake, cut the almond cake in half with a sharp serrated knife. Spread the coconut pastry cream on the bottom of the cake, all the way to the edge. Add the top layer of cake. Pour the glaze on top of the cake, spreading it out to the edge and encouraging it to drip down with an offset spatula. While the glaze is still soft, sprinkle the top of the cake with extra almonds and coconut, if desired.

Refrigerate the cake to set the glaze, for about 15 minutes, before serving. This cake keeps well and can be kept in the refrigerator for several days, but for the best taste and texture, bright it to room temperature before serving.
Recipe Notes
The almond cake recipes is adapted from the Golden Almond Cake in Rose Levy Berenbaum's excellent book The Cake Bible.
Measuring Tips
Our recipes are developed using weight measurements, and we highly recommend using a kitchen scale for baking whenever possible. However, if you prefer to use cups, volume measurements are provided as well. PLEASE NOTE: the adage "8 oz = 1 cup" is NOT true when speaking about weight, so don't be concerned if the measurements don't fit this formula.
Want to learn more about baking measurements and conversion?
Nutrition
Calories:
470
kcal
|
Carbohydrates:
45
g
|
Protein:
6
g
|
Fat:
29
g
|
Saturated Fat:
17
g
|
Cholesterol:
117
mg
|
Sodium:
336
mg
|
Potassium:
231
mg
|
Fiber:
1
g
|
Sugar:
30
g
|
Vitamin A:
745
IU
|
Vitamin C:
0.2
mg
|
Calcium:
95
mg
|
Iron:
1.4
mg
Tried this recipe?
Snap a pic and hashtag it #SugarHero. We love to see your creations on our Instagram @elabau.