These Floating Eyeball Jello Shots are very simple but are still some of my favorite Halloween treats! They're just so…wait for it…eye-catching! (groan)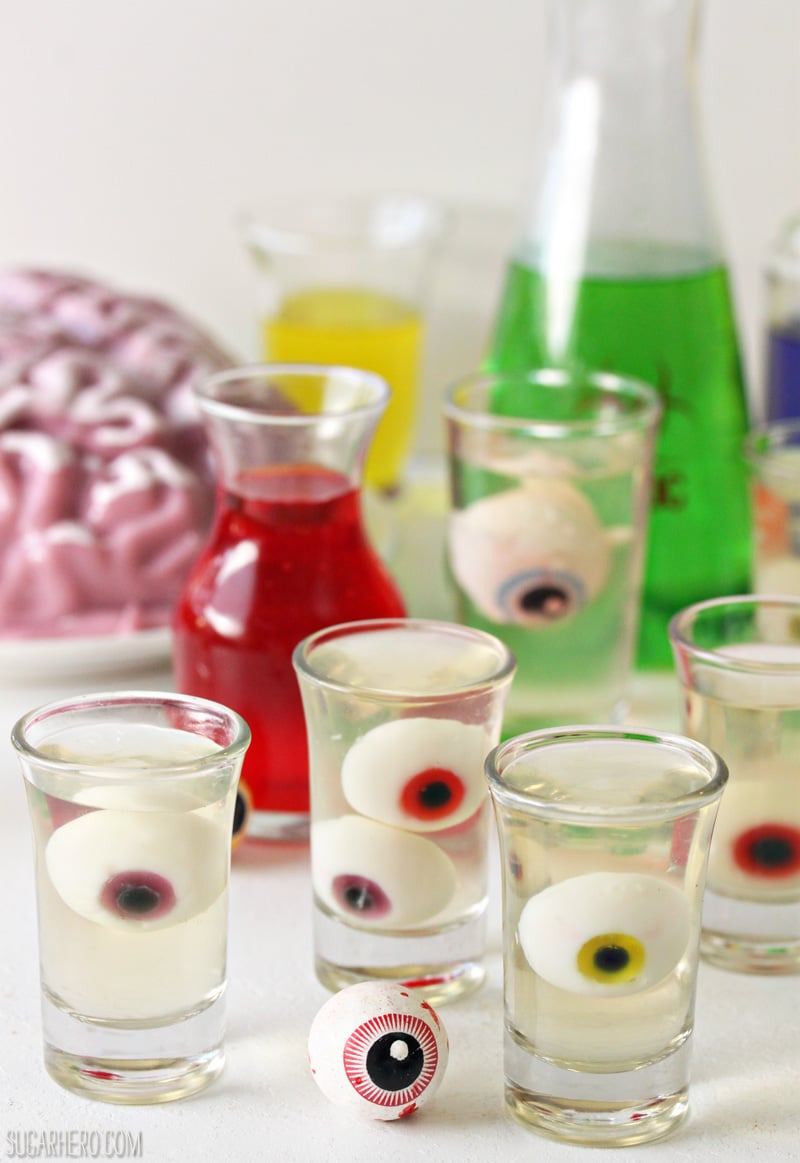 An Eye-catching halloween dessert
I like to think that we have an unspoken understanding, you and I. Sometimes I'll post long recipes with a lot of fiddly steps, and you probably read these while muttering to yourself, "Yeah, like I really have time to make that. I have a life, thank you, unlike some food bloggers I could name." And then, to make up for it, sometimes I'll post fast, easy recipes with minimal ingredients and prepwork. "Aaaaah," you think, "that's much better. Finally a dessert that normal people want to make!"
I hear ya, friends! And you're right…I don't have a life. Soooo anyhow, fresh on the heels of the Spiderweb Naked Red Velvet Cake, I bring you Floating Eyeball Jell-o Shots! Perfect for the mad scientist who has everything.
They may be simple, but these are still some of my favorite Halloween treats I've made this season. They're just so…wait for it…eye-catching! (groan) How often do you see eyeballs suspended in anything, much less dessert? That is what our lives have been missing, I think.
These little desserts couldn't be easier. I used a mixture of white grape juice and ginger ale, because I love that flavor combination, but you can substitute another clear-ish soda of your choice, or use all white grape juice. The juice looked amber in the bottle, and I worried that my little cups would be yellowish and cloudy, but somehow when it's poured in small quantities it looks nearly clear. It's like magic!
I wanted to keep these kid-appropriate, so there's no actual alcohol in the Jell-o "shots" (sorry for the false advertising!) but you could certainly add a glug of your favorite spirit for a more adult treat.
How can i make a boozy version?
If you want to make a grown up version of these, you'll want to adjust the amount of white grape juice and replace it with your favorite spirit. I'd recommend starting with 1 1/2 cups of white grape juice and a 1/2 cup of alcohol. If you want them to be extra strong, you could use 1 cup of juice and 1 cup of booze.
The eyeballs are gummy cupcake toppers from Wilton's (purchased at Target). I couldn't find the exact product I used online, but any sort of gummy candy should work. In a pinch, foil-wrapped chocolate eyeballs will work too, although those aren't nearly as fun because you need to be careful when eating them, and you can't just pop them into your mouth with a spoonful of Jell-o. You'll want to avoid any sort of gumball/sugar eyeball situation, because the moisture will cause it to start disintegrating almost immediately. (Ask me how I know.) If you're unsure whether your eyeballs will work, give them a test soak in a cup of water for 30-40 minutes to see if they hold up before going to the trouble of making the Jell-o shots.
I used regular shot glasses, which made them the perfect serving size for a party dessert. A half-dozen bites, and then you're on to the next treat! You can definitely make them larger, but I don't know many adults who want a large bowl of Jell-o, so I kept mine petite. If you really want to get realistic, there are some very cute "scientific" shot glass sets available online, like these laboratory shot glasses, these beaker shot glasses, and these Erlenmeyer flask shot glasses.
Have a great weekend! EYE will SEE you in a few days with another Halloween recipe! (Sorry, sorry…I'm done now.)
Zombie Brain Brownie Bites
Zombie Brain Brownie Bites are bite-sized brownies, topped with a bright green zombie brain that oozes green chocolate "slime" when you bite into it!
View Recipe
Red Velvet Marshmallow Spiderweb Cake
This Red Velvet Marshmallow Spiderweb Cake is a classic red velvet cake, frosted with deep black chocolate buttercream, and covered with a spooky web of spiderwebs, made entirely from marshmallows!
View Recipe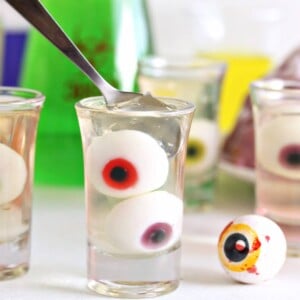 Floating Eyeball Jello Shots
These Floating Eyeball Jello Shots are very simple but are still some of my favorite Halloween treats! They're just so…wait for it…eye-catching! (groan)
Instructions
Place 1/2 cup of grape juice in a small bowl. Sprinkle the gelatin on top and whisk it in. Allow it to sit for 10 minutes so the gelatin softens and absorbs some of the juice. Microwave the bowl for 20 seconds to liquefy the gelatin. If it's not fully liquid and clear after 20 seconds, microwave in 5-second increments just until melted. You don't want the gelatin mixture to get hot.

Combine the remaining grape juice and the ginger ale in a large measuring cup or pitcher with a spout. Whisk them together, then continue gently whisking as you pour the gelatin in. Pour the juice into 16 shot glasses, leaving a margin at the top since you'll be adding eyeballs later.

Refrigerate the shot glasses for about 30 minutes—check their texture every 10 minutes. You want the gelatin to start getting thick, like cake batter texture. It shouldn't be set and firm, but it should be thick enough to suspend an eyeball in the middle of the glass. Depending on the temperature of your ingredients and your refrigerator, this process can take anywhere from 30-50 minutes. Just check the glasses regularly and don't be afraid to check the texture with a spoon or with your finger.

When the gelatin is thick enough, press an eyeball into the middle of the shot glass. You can use a thin knife or spatula to push it down into the gelatin, or just use your finger. Try to position it against the front glass, so it shows through clearly. Add a second eyeball, if you'd like. Continue until all of the shot glasses have floating eyeballs.

Chill the glasses until the gelatin is completely firm, about 2 hours. These Jell-o shots can be made several days in advance. In my experience, the gummy eyeballs did gradually absorb moisture, and were at their best within about 3 days of assembly.
Recipe Notes
To make boozy jello shots, adjust the white grape juice amount to 1 1/2 cups and add 1/2 cup of your favorite spirit. For an even stronger shot, you can replace up to 1 cup of the white grape juice with alcohol.
Measuring Tips
Our recipes are developed using weight measurements, and we highly recommend using a kitchen scale for baking whenever possible. However, if you prefer to use cups, volume measurements are provided as well. PLEASE NOTE: the adage "8 oz = 1 cup" is NOT true when speaking about weight, so don't be concerned if the measurements don't fit this formula.
Want to learn more about baking measurements and conversion?
Nutrition
Calories:
29
kcal
|
Carbohydrates:
7
g
|
Protein:
0
g
|
Fat:
0
g
|
Saturated Fat:
0
g
|
Cholesterol:
0
mg
|
Sodium:
3
mg
|
Potassium:
32
mg
|
Fiber:
0
g
|
Sugar:
7
g
|
Calcium:
4
mg
|
Iron:
0.1
mg
Tried this recipe?
Snap a pic and hashtag it #SugarHero. We love to see your creations on our Instagram @elabau.