This post may contain affiliate links. As an Amazon Associate I earn from qualifying purchases. Please see my disclosure policy for more information.
Stop the presses, I've discovered the secret to actually enjoying pecan pie. I've written before about my husband's love affair with pecan pie, and I've even shared the deep-dish pecan and chocolate pie I make for his birthday every year. I originally added all those chocolate chunks to his pecan pie to make it more palatable to me (narcissist much?) but the truth is, it's still not my favorite dessert. Pecan pie is just so sweet and gloopy sometimes. I'll eat it when it's around, but when given the choice, I'd usually go for a fruit pie instead.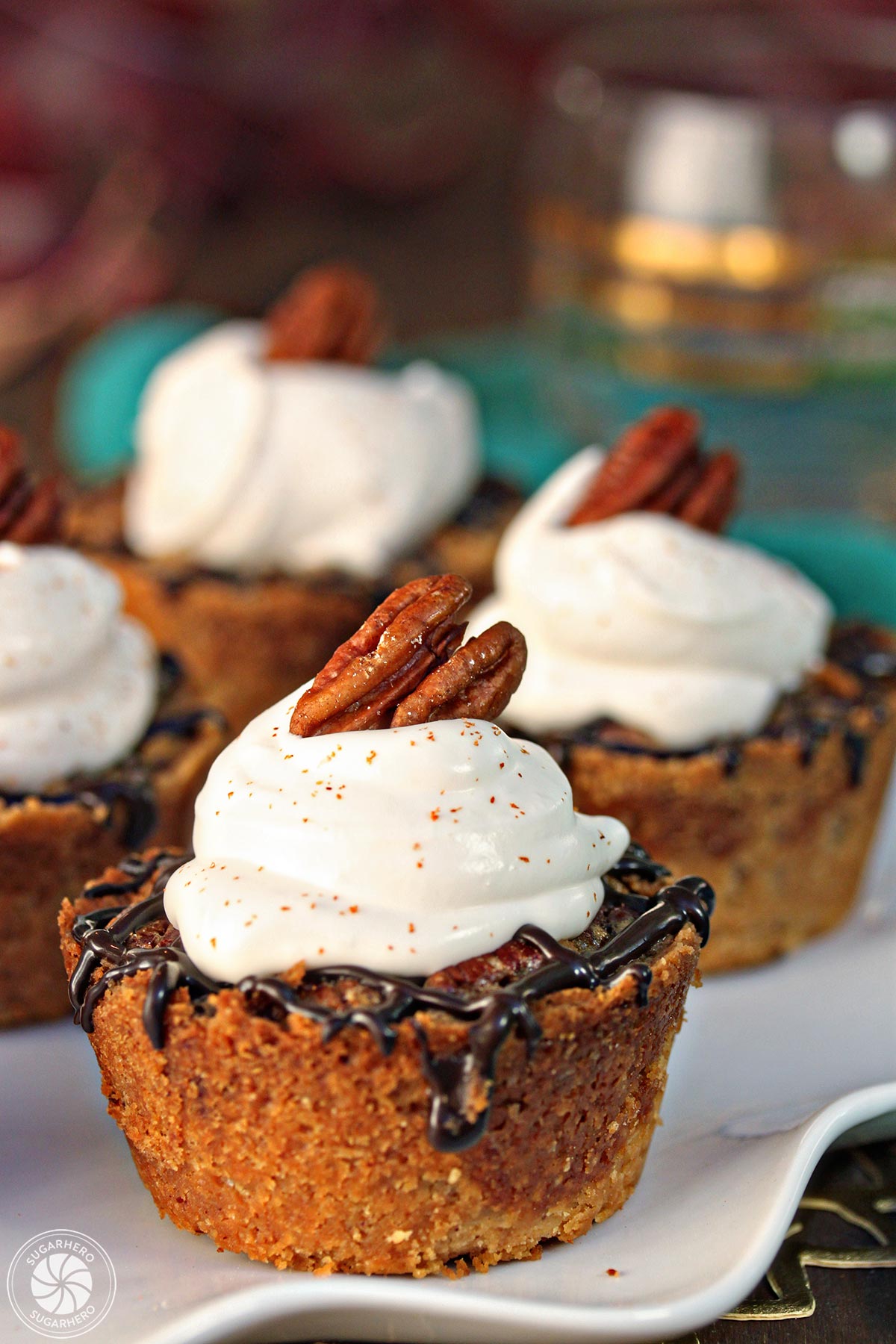 But now, I've had a change of heart. You see, I put on my mathlete hat (or rather, my chunky nerd glasses) and figured out that my problem was a matter of ratios. I like pecan pie filling, but I don't like a giant plate of it. I need something else to balance it out, to cut the sweetness and the gloop factor and the ooey-gooeyness. I need more crust and less filling. And more whipped cream. OBVIOUSLY more whipped cream.
The answer to my pecan pie problem was clear: make mini pies! But these aren't just some store-bought pie dough shoved into mini muffin cups. I wanted to up the pecan factor even more, so I subbed in a flavorful pecan tart dough for the typical pie dough. This tart dough is a dream—it's packed with ground, toasted pecans, and it doesn't have to be rolled out and cut (whew!). I just take a ball of dough and press it up the sides of each muffin cavity. It's fast and easy, and I love how its buttery, crispy texture contrasts with the soft filling.
You know me, and you know I needed to find a way to work chocolate into the recipe SOMEHOW. I could have just added chocolate chunks to the pie filling (and you can, too—totally valid choice!) but I decided to drizzle the mini pies with melted dark chocolate instead. You could even dip the tops in melted chocolate completely and finish them with a sprinkling of pecans, to make them more like a candy cup! Leave them plain, or go the extra mile and add a big dollop of whipped cream and a whole pecan.
I can finally say that I am fully aboard the pecan pie train now! This is the perfect ratio of crust to filling for me, and I love the contrast between the crust, the chopped pecans in the center, and the sticky, sweet brown sugar and vanilla-scented filling holding it all together.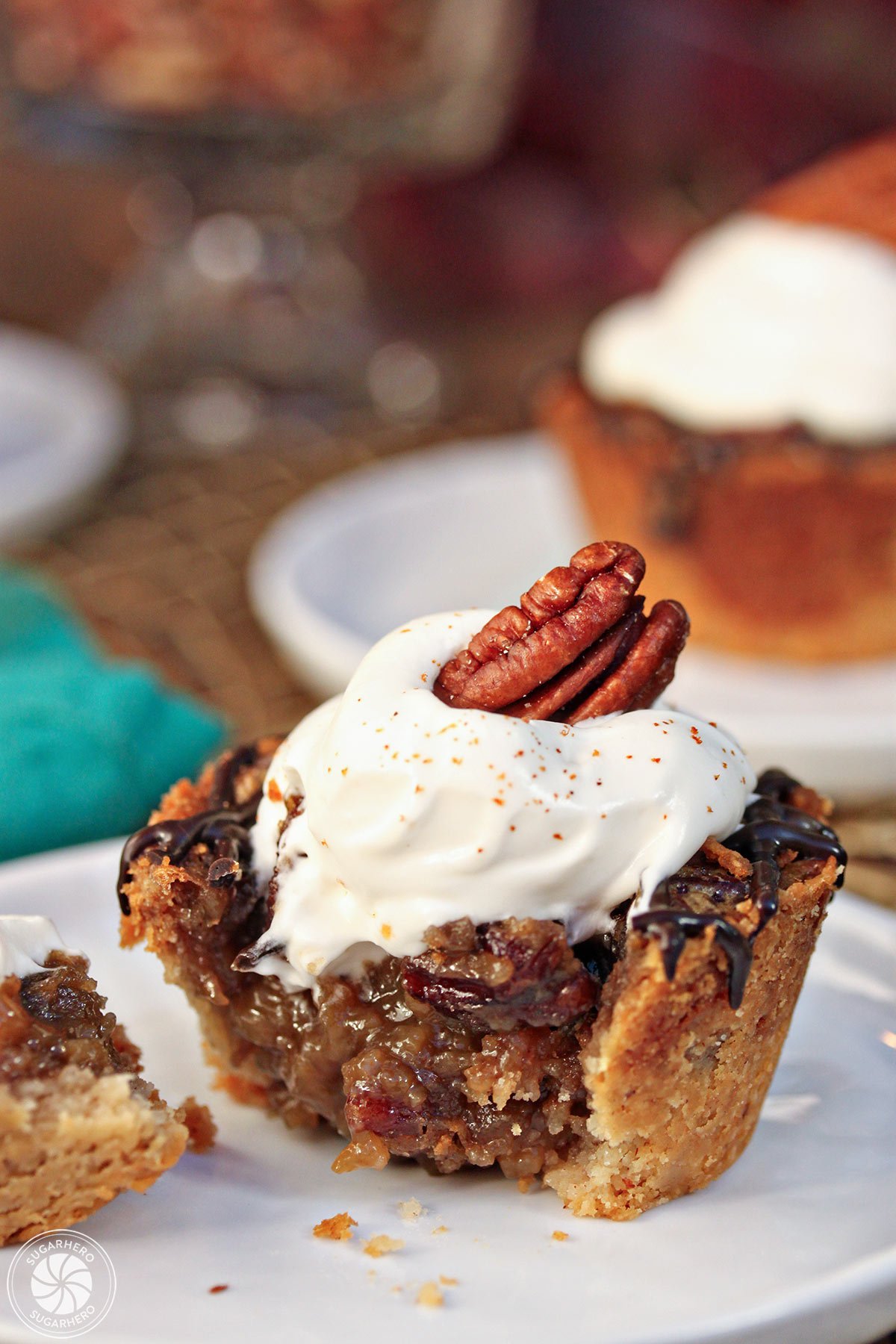 These pies keep really well, so you can make them a few days in advance and then pull them out for Thanksgiving and feel like a total Martha. They would be so cute displayed together on a cake stand as part of your dessert spread. Regular 9" pies? That's so 2000 and late. Mini pies are the new black!
Mini Pecan Pies
These Mini Pecan Pies have the perfect ratio of crust to filling for me, and I love the contrast between the crust, the chopped pecans in the center, and the sticky, sweet brown sugar and vanilla-scented filling holding it all together.
Ingredients
For the Pecan Tart Dough:
2

oz

toasted pecans

,

(1/2 cup)

7.8

oz

all-purpose flour

,

(1 3/4 cups)

3

oz

powdered sugar

,

(3/4 cup)

1/4

tsp

salt

6

oz

cold unsalted butter

,

cut into small cubes

2

egg yolks
For the Pecan Pie Filling:
8.5

oz

dark corn syrup

,

(3/4 cup)

5.6

oz

brown sugar

,

lightly packed (3/4 cup)

2

oz

melted butter

3

large eggs

1

tsp

vanilla extract

3/4

tsp

cinnamon

1/4

tsp

salt

1

cup

pecans

,

coarsely chopped (4 oz)
To Finish:
3

oz

dark chocolate

,

coarsely chopped (1/2 cup)

1/2

cup

heavy whipping cream

2

tbsp

powdered sugar

1/2

tsp

vanilla extract

whole pecans

,

for decoration
Instructions
To Make the Pecan Tart Dough:
Place the toasted pecans in the bowl of a food processor, and process until they are finely ground. Add the flour, sugar, and salt to the food processor, and pulse briefly until everything is well-blended. Add the cold cubed butter and pulse until it is in small pea-sized pieces. Finally, add the egg yolks and pulse in long 5-second bursts until the dough starts clumping together.

Turn the dough out of the food processor and knead it lightly several times to incorporate any extra flour. At this point, the dough can be wrapped and refrigerated for several days. If you're ready to use it now, spray a muffin pan with nonstick cooking spray.

Divide the dough into 12 equal pieces—I find the fastest way is to pat it into a rectangle, then cut it into squares. Take the dough balls and press each one into a muffin cavity, pressing it into an even layer on the bottom and up the sides of the pan. Make sure there are no holes or thin spots in the shells. Once you have your 12 shells formed, freeze the muffin pan for 30 minutes. Preheat the oven to 375 F.

Bake the shells for 10 minutes, until they start to puff up and take on a little color along the edges. At this point, the shells can be filled completely and baked (see next step), or set aside until you're ready to bake the pies later.
To Make the Pecan Pie Filling:
In a larger bowl, whisk together the corn syrup, brown sugar, and melted butter. Once smooth, add the eggs one at a time, whisking well after each addition. Finally, add the vanilla, cinnamon, and salt, and whisk them in.

Place a big pinch of chopped pecans in each of the 12 par-baked pie shells. Transfer the pecan pie filling to a big measuring cup with a spout, and pour the filling into each of the shells. Bake the pies for about 30 minutes—look for them to be puffed and brown on top, with only a slight jiggle in the center. They should be firm around the edges, but still have a little wiggle in the middle. Remove the pan from the oven and let them cool for about 15 minutes at room temperature.

After 15 minutes, while the pies are still warm, run a small offset spatula or thin metal knife around the edges of the pies, to loosen them from the pan. (This will make them easier to remove later.) Let them cool completely in the pan. Once cool, carefully pop them out of the pan and finish decorating them.
To Finish:
Once the mini pies and cooled and removed from the pan, melt the dark chocolate in the microwave. Transfer it to a plastic bag with a hole snipped in the corner, and drizzle the chocolate over the pies. Refrigerate briefly, until the chocolate is set.

Whip the cream, sugar, and vanilla together until the cream holds medium peaks. Top each pie with a big dollop of whipped cream. Finish them with a sprinkling of cinnamon and a whole pecan. Serve immediately!
MEASURING TIPS
Our recipes are developed using weight measurements, and we highly recommend using a kitchen scale for baking whenever possible. However, if you prefer to use cups, volume measurements are provided as well. PLEASE NOTE: the adage "8 oz = 1 cup" is NOT true when speaking about weight, so don't be concerned if the measurements don't fit this formula.
Click here to learn more about baking measurements and conversion.
Nutrition
Calories:
919
kcal
|
Carbohydrates:
97
g
|
Protein:
10
g
|
Fat:
57
g
|
Saturated Fat:
26
g
|
Cholesterol:
219
mg
|
Sodium:
325
mg
|
Potassium:
307
mg
|
Fiber:
4
g
|
Sugar:
66
g
|
Vitamin A:
1245
IU
|
Vitamin C:
0.2
mg
|
Calcium:
93
mg
|
Iron:
4.2
mg
Share by Email
Share on Facebook
Share on Pinterest