Red Velvet Cake In A Jar is a whole new way to enjoy red velvet cake! Made with strawberry cream cheese frosting, these mini desserts are portable, giftable, and adorable!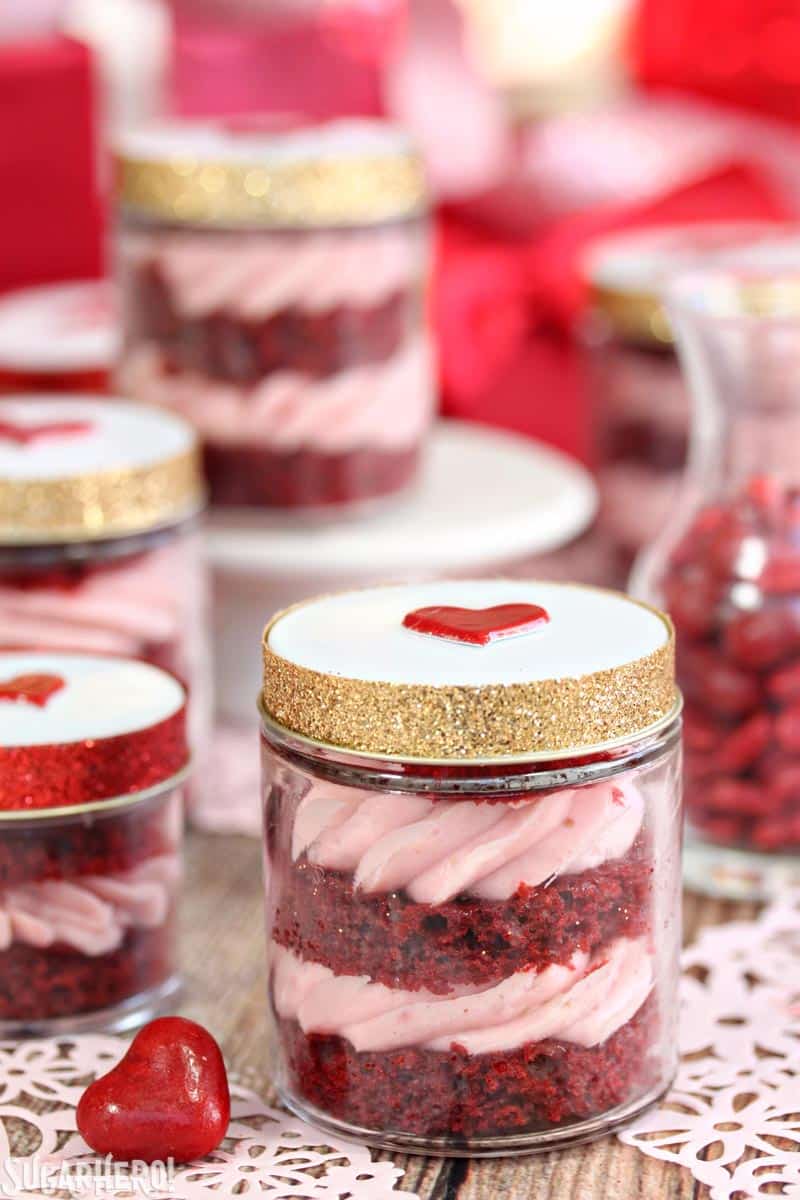 Red Velvet Cake In A Jar
Valentine's Day gift-giving is usually "diamonds" this and "bouquet of red roses" that. Which is all well and good, if you live in a romantic comedy, but those of us in the real world probably don't have the coin—or the desire—to gift our nearest and dearest with honkin' gemstones or the world's most overpriced flowers.
But who needs those cliches anyway? This Valentine's Day, I think we should bake our way into their hearts. After all, as the saying goes, cake is a girl's best friend.
I'll be gifting these mini Red Velvet Cake Jars this Valentine's Day, and not to toot my own horn, but they're basically the perfect gift for anyone. They're red and pink, which makes them adorably holiday themed and appropriate for loved ones.
But they're not intimate or personal, so you can give them to your kid's teacher or your office mates without any sort of weird romantic overtones. (Maybe leave off the heart-shaped decorations if you're going for a totally platonic vibe.)
The only people they're not good for are the folks who don't eat dessert, but when you think about it, are sugar-shunners really a good influence in your life? Choose your friends wisely, is all I'm saying.
Why Serve Cake in a Jar?
No doubt, making a sheet cake is easier than assembling small jars of cake and frosting. So why go to the trouble?
Cake in a jar is portable, giftable, and adorable.
Yes, we hit the dessert trifecta with this one! It makes a great gift, you can take it anywhere (picnics, anyone?), and is there really anything cuter than miniature desserts?
I've seen lots of other cake-in-a-jar recipes, but many of them involve baking the cake in glass jars, then putting frosting on top. This concept of layering cut slices of cake and frosting was so much more appealing to me, because you can control how much cake (and how much frosting, om nom nom!) you put in the jar.
For frosting-lovers like myself, cake in a jar is basically the best invention since sliced bread. Wait, never mind, cake in a jar is WAY BETTER than boring sliced bread. It's equal parts cake and frosting, which in my mind is the ideal ratio.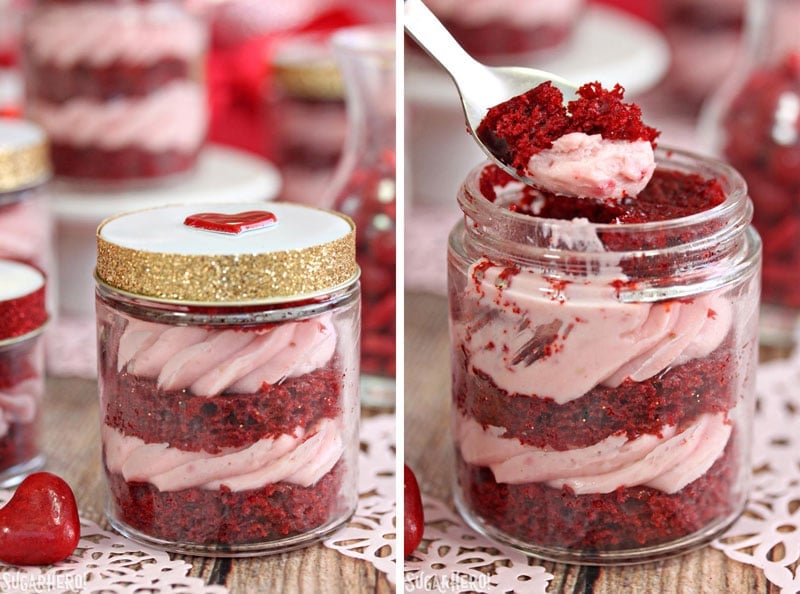 I wanted to make these jars a little extra special, so instead of regular cream cheese frosting, I made strawberry rose cream cheese frosting. It's fruity, with a delicate floral flavor that is so delicious with the tangy cream cheese.
The strawberry powder gives the frosting a strong, tangy berry flavor and that lovely pink color, no food coloring required! (But, uh, there's plenty of food coloring in the red velvet cake, so let's not pat ourselves on the back too hard just yet.)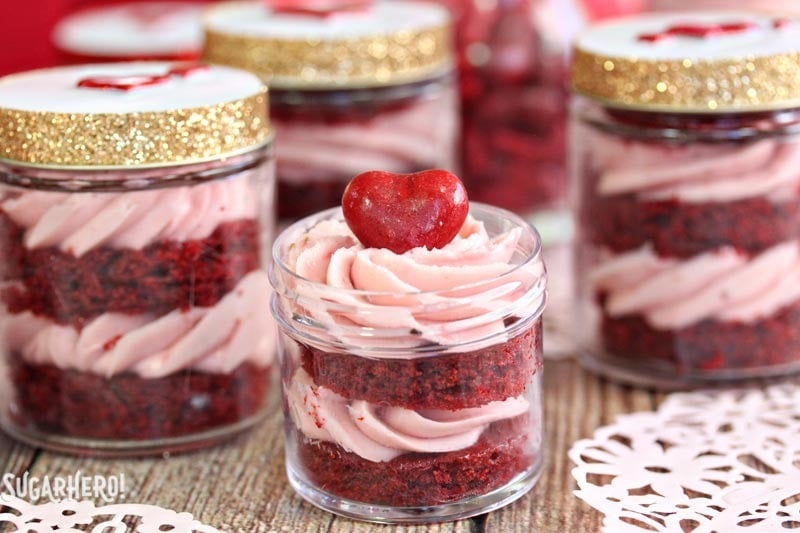 Cake in a Jar Supplies
Let's talk supplies! I got my jars at The Container Store (love that place!), but there are lots of options on Amazon as well, and I've linked one example below. You can also use decorative cups or ramekins if you won't be transporting them and don't need a lid.
I experimented with making two different sizes: 2-ounce jars and 4-ounce jars. I expected I'd like the bigger size better (because bigger is always better, right?) but I surprised myself by preferring the smaller size.
The little 2-ounce jars are the perfect single serving for quenching that sweet tooth! If you do 4-ounce jars you can get about 12 jars from the recipe, but if you do the smaller jars you can get about 20, which means more for gifting, and more for eating yourself!
For the pictures, I filled some of the jars up past the top, but of course for gifting you'll want to give yourself some space to screw the lid on top. The jars can be topped with heart candies, gummies, or just Valentine's sprinkles!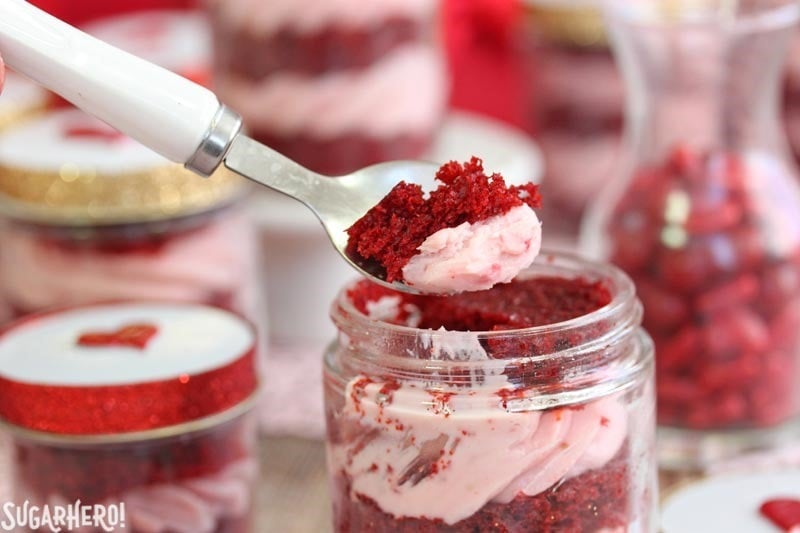 Unlike cupcakes or even cake slices, cake in a jar doesn't go stale very quickly, thanks to all that frosting between the cake layers and the jar's airtight lid. So this is a GREAT choice for a make-ahead dessert. My guess is that they can last at least a week, probably closer to 2, in the refrigerator, but to be honest, ours didn't last that long. Enjoy!
💓More Red Velvet Cake Recipes
🥧More Mini Dessert Recipes
Sky-High Pink and Red Velvet Cake
Looking for a lovely Valentine's Day dessert? This Pink and Red Velvet Cake has it all – 8 beautiful cake layers, a delicious cream cheese frosting, and a super easy decoration anyone can do!
View Recipe
Pink and Red Velvet Valentine's Day Cake
Nothing says "love" like this Pink and Red Velvet Valentine's Day Cake! The uniquely sized tiers give it a modern look, and the graphic red, black, and white heart-and-arrow pattern is striking. You'll swoon over this romantic red velvet cake!
View Recipe
Don't miss our collection of the 10 Best Valentine's Day Cakes – see the whole web story here!
Red Velvet Cake In A Jar
Red Velvet Cake In A Jar feature layers of red velvet cake and strawberry rose cream cheese frosting in miniature jars. They're perfect for gift giving!
Ingredients
For the Strawberry Rose Cream Cheese:
.75

oz

freeze-dried strawberries

(1 1/2 cups)

24

oz

cream cheese

at room temperature (do not use light variety)

4

oz

unsalted butter

at room temperature

8

oz

powdered sugar

(2 cups)

1

tsp

rose water

optional

Pinch of salt
Instructions
To Make the Cake:
Preheat the oven to 350 F. Line an 11×17-inch rimmed baking sheet with foil, extending up and over the sides of the sheet. Spray the foil with nonstick cooking spray.

In a large bowl, sift together the flour, sugar, baking soda, salt, and cocoa powder.

In the bowl of a large stand mixer fitted with a paddle attachment, combine the vegetable oil, buttermilk, egg, red gel food coloring, vinegar, and vanilla extract. Mix on medium-low speed until well-combined.

Add the dry ingredients and mix on low speed until combined. Scrape down the bottom and sides of the pan with a spatula, then mix on medium speed until the cake batter is smooth and all the lumps of flour have disappeared.

Pour the cake batter into the sheet pan and spread it into an even layer. (It will be a very thin layer of cake.) Bake the cake at 350 F for 10 minutes, until it pulls away from the sides and springs back when lightly pressed with your fingertips. Cool completely before using. The cake can be baked several days in advance. If making in advance, wrap the cooled cake in cling wrap and freeze until ready to use. You do not need to defrost the cake before assembling the jars.
To Make the Frosting:
Place the freeze-dried strawberries in the bowl of a food processor and process until they are ground into a powder.

Combine the cream cheese and butter in the bowl of a stand mixer fitted with a paddle attachment. Beat them together on medium speed until light and fluffy and free of lumps.

Add the powdered sugar, strawberry powder, rose water, and salt to the bowl, and beat on low speed until combined. Scrape down the bottom and sides of the bowl, then beat on medium speed until light and fluffy. Taste the frosting, and add additional sugar to taste. If the frosting seems too stiff, add a spoonful of milk or cream until it reaches your desired texture.

The frosting can be made in advance and kept in an airtight container in the refrigerator for up to a week. When you're ready to use it, let it sit at room temperature for at least 20 minutes before piping it into the jars. You can also re-whip it in the mixer to loosen it up a bit if it is too stiff to pipe after being refrigerated.
To Assemble:
Fit a piping bag with a large star tip, and fill the bag with some cream cheese frosting. Use a circle cookie cutter the same size as your jars, and cut circles out of the cake. (For my 2-oz jars, I used two 1 1/2″ circles for each, and for my 4-oz jars, I used three 2″ circles for each.)

Place a circle of cake in the bottom of a jar, and top it with a swirl of frosting. Keep layering cake and frosting until you reach the top of the jar. Once you put the lid on the jar, you can decorate them with ribbons, stickers, gift tags, or anything else you can dream up! Continue until all of the jars are assembled. Red Velvet Cake in a Jar can be stored in the refrigerator for up to a week, and for the best taste and texture, can be brought to room temperature for about 20 minutes before serving.
Recipe Notes
You can make these in any size jars, but I recommend keeping them on the smaller side and making them in either 2- or 4-ounce jars. If you make 2-oz jars you'll get about 20 servings, and if you make them in 4-oz jars you'll get about 12.
Measuring Tips
Our recipes are developed using weight measurements, and we highly recommend using a kitchen scale for baking whenever possible. However, if you prefer to use cups, volume measurements are provided as well. PLEASE NOTE: the adage "8 oz = 1 cup" is NOT true when speaking about weight, so don't be concerned if the measurements don't fit this formula.
Want to learn more about baking measurements and conversion?
Nutrition
Calories:
324
kcal
|
Carbohydrates:
27
g
|
Protein:
3
g
|
Fat:
22
g
|
Saturated Fat:
14
g
|
Cholesterol:
58
mg
|
Sodium:
212
mg
|
Potassium:
88
mg
|
Fiber:
0
g
|
Sugar:
20
g
|
Vitamin A:
625
IU
|
Vitamin C:
13
mg
|
Calcium:
47
mg
|
Iron:
0.8
mg
Tried this recipe?
Snap a pic and hashtag it #SugarHero. We love to see your creations on our Instagram @elabau.