This gorgeous Salted Caramel Apple Pear Pie starts with homemade caramel sauce – thick and rich and full of flavor! It's tossed right into the pie filling with a variety of apple and pear slices and baked under a buttery, flaky crust.
I hope you're not all pie-d out after last week. We need our dessert stomachs in top form! It is only the very beginning of December, meaning we have ever so many holiday parties, family get-togethers, and dessert-eating occasions left in the month. I expect to see many more pies (and cakes…and cookies…oh mama, the cookies) on my plate over the next few weeks, and of course I'll be bringing the holiday sugar to this space as well. Grab your stretchy pants and let's get to it.
I actually made this pie before Thanksgiving, but there is no reason that Salted Caramel Apple Pear Pie cannot—SHOULD NOT—be a year-round thing. It might be time to show pumpkin desserts the door, but apples have a permanent seat at the table.
This gorgeous pie starts with homemade caramel sauce, thick and rich and full of the flavor of actual caramelized sugar. I'm always so disappointed when I try some pale, anemic "caramel topping" and it just tastes like straight sugar. Not this sauce! It's flavorful and robust and has that dark, smoky caramel taste that comes from cooking sugar until it's a dark amber color.
This caramel sauce isn't just for drizzling—it's actually tossed right in with the apple and pear slices! The mix of fruit is amazing as well. I always recommend using a few different varieties of apples in apple pie—some will be tart, other sweeter, some will hold their shape nicely, while others will get soft and mushy. The variety of flavors and textures is what makes a stellar pie, in my opinion, so adding pears to the mix was a no-brainer. They got very soft and jammy, and their flavor blended beautifully with the apples and caramel sauce. I might just try to sneak a few pears into all my apple pies from now on!
I had a little fun with the crust this time, and cut out long, feathered leaves from the pie dough. I started out using round cutters to make the leaf shapes, but that was annoying so I soon abandoned it and just cut them freehand. Making the leaves is actually really easy—cut an oblong shape, run the knife down the center to make the vein, make micro-cuts along the edges for the feathered effect, and you'll have a collection of pie dough leaves in no time! I layered them on top of the filling without much of a plan—the more random and wind-blown it looked, the better.
Here's my question: Can you really have something called a "Salted Caramel Apple Pear Pie" and NOT smother the slices of pie with extra salted caramel? I vote no. Let's drown them in caramel and then perform delicious CPR. Did things just get weird?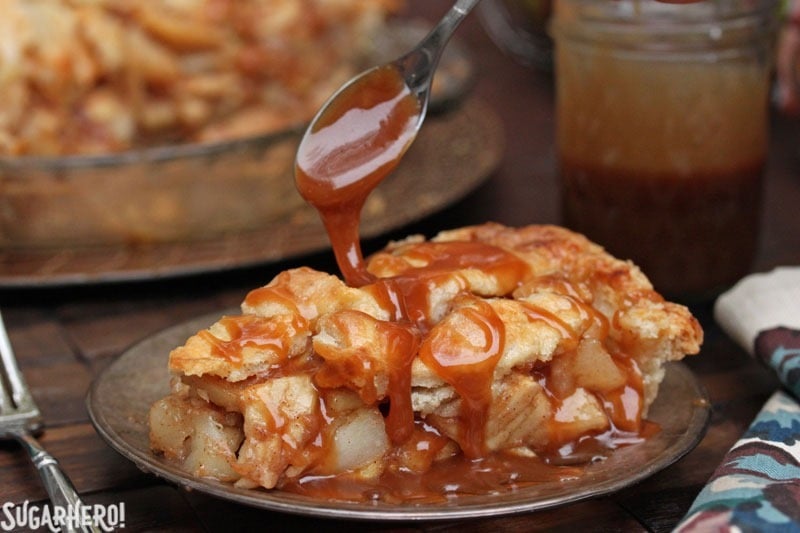 ANYHOW. This pie! It's two thumbs up. It's a giant high-five. It's that heart-eye emoji. It's fall food and winter food and comfort food and sweet tooth food and, yeah, I'mma say it–food porn food too. It's all the good things and I hope you give it a try.
⭐More Desserts You'll Love
Apple Donuts
This homemade Apple Donut recipe features a soft, tender doughnut filled with cinnamon apple pie filling and coated with cinnamon sugar. Enjoy them for breakfast or dessert – they're the perfect cozy fall treat!
View Recipe
Pear Pie In A Jar
Pear Pie In A Jar is a fun twist on traditional pie. These cute mini pear pies in glass jars make great gifts or desserts for the holidays!
View Recipe
Salted Caramel Apple Pear Pie
This gorgeous Salted Caramel Apple Pear Pie starts with homemade caramel sauce – thick and rich and full of flavor! It's tossed right into the pie filling with a variety of apple and pear slices and baked under a buttery, flaky crust.
Ingredients
For the Pie Crust:
13.5

oz

all-purpose flour,

(3 cups)

1.75

oz

granulated sugar,

(1/4 cup)

1

tsp

salt

10

oz

unsalted butter

,

cubed, very cold (frozen is fine)

2.5

oz

shortening,

(1/3 cup)

, cubed, very cold (frozen is fine)

1/2

cup

ice water
For the Pie Filling:
3

large

pears

,

(about 1 1/2 lbs),

6

large

apples

,

(about 3 lbs)

, I used a mix of Granny Smith and Jonagold,

3.75

oz

brown sugar,

(1/2 cup)

5 1/2

oz

caramel sauce

,

(1/2 cup)

, homemade or store bought

2

tsp

ground cinnamon

2

tsp

vanilla extract

1/4

tsp

salt

1/4

cup

E-Z Gel,

or all-purpose flour

1

large egg

,

for egg wash
Instructions
To Make the Pie Crust:
Combine the flour, sugar, and salt in the bowl of a large food processor (10 cups or larger size) and pulse a few times to combine. (Note: if you don't have a large enough food processor, you can divide this recipe in half and make it twice, or do it by hand using a pastry cutter.)

Add the cold cubed butter and shortening to the processor and pulse in short bursts until they're cut into the dry ingredients and the mixture has the texture of coarse crumbs. Add half of the cold water and pulse in 5-second bursts, adding the rest a little more at a time just until the dough starts to come together. You may not need to use all of the water—stop when the dough starts to come together, and don't overwork it!

Turn the dough out onto a lightly floured board and knead it just enough to incorporate any dry patches of flour. Divide it in half. Wrap the two pieces of dough well in plastic wrap, and refrigerate them for an hour to chill. The dough can be made several days in advance and kept in the refrigerator until ready to use.
To Make the Caramel Sauce:
Combine the water, light corn syrup, and granulated sugar in a large saucepan. Place the pan over medium heat, and stir while the sugar dissolves. Brush down the sides of the pan occasionally with a wet pastry brush to remove stray sugar crystals. Bring the mixture to a boil, then stop stirring and insert a candy thermometer. Allow the sugar to cook, undisturbed, until it is a medium amber color and reaches 330 F on the thermometer.

While the sugar cooks, combine the cream, butter, and salt in a medium saucepan. Place the pan over medium heat and bring the cream to a simmer. Once simmering, remove the pan from the heat and set aside.

When the caramel has reached 330 F, add the hot cream to the pan carefully—it will splutter, boil, and steam quite a bit, so stand back from the pot! Stir the cream and caramel together. Continue to cook the mixture, stirring occasionally, until it reaches 230 F. Remove the pan from the heat and stir in the vanilla extract. Pour the caramel into a heat-proof bowl and let it cool to room temperature before using. Caramel can be made in advance and stored on the counter for several days, and in the refrigerator for up to a month.
To Make the Pie Filling and Bake:
Preheat the oven to 400 F. Flour your work surface and rolling pin, and roll one disc of dough out until it is a little thinner than 1/4-inch thick. Transfer it to a 9-inch pie tin and gently press it into the bottom and up the sides. Trim off any excess that hangs over the sides, crimp the top of the pie, and refrigerate the crust while you prepare the filling.

Peel and core the apples and pears, and cut them into thin slices less than 1/4-inch thick. Place them in a large bowl. Add the brown sugar, 1/2 cup of caramel sauce, cinnamon, vanilla, salt, and Ultra Gel or flour. Toss everything together until all of the slices are evenly coated.

Fill the crust with apple and pear slices. They will rise above the top of the pie pan—that's okay! Roll out the second portion of dough on a floured baking sheet. Use a sharp knife to cut leaf shapes out of the dough, or use leaf cookie cutters or pie crust cutters. (You will probably have extra dough left over after making the leaves.) Layer the pie dough leaves over the top of the pie, leaving some spaces where the filling shows through. Be sure to press the pie dough together where the leaves meet the edges of the crust.

Lightly beat the egg, then brush the top of the pie with the beaten egg. Sprinkle a generous amount of granulated sugar all over the pie.

Place the pie on a foil-covered baking sheet and cook at 400 F for 15 minutes. Lower the oven to 350 and cook for about another hour, until the top of the pie is dark brown and the filling is bubbling .Total cooking time is approximately 70-75 minutes. If the crust starts to get too dark, you can cover the pie loosely with foil.

After baking, let the pie cool for at least 2 hours before cutting into it. It's delicious warm, but it's less messy to cut and serve if it's had a chance to sit and cool down after baking. Serve slices with extra caramel sauce and whipped cream or ice cream.
Recipe Notes
Crust recipe adapted from Dorie Greenspan's Good for Almost Everything Pie Dough in Baking: From My Home to Yours.
You can substitute store-bought caramel sauce if you don't want to make your own–just be sure you're buying thick, spoonable sauce, not the thin "ice cream caramel sauce" variety. You'll need at least 1/2 cup for the recipe, plus more to drizzle on top.
Measuring Tips
Our recipes are developed using weight measurements, and we highly recommend using a kitchen scale for baking whenever possible. However, if you prefer to use cups, volume measurements are provided as well. PLEASE NOTE: the adage "8 oz = 1 cup" is NOT true when speaking about weight, so don't be concerned if the measurements don't fit this formula.
Want to learn more about baking measurements and conversion?
Nutrition
Serving:
12
g
|
Calories:
562
kcal
|
Carbohydrates:
65
g
|
Protein:
1
g
|
Fat:
34
g
|
Saturated Fat:
19
g
|
Cholesterol:
94
mg
|
Sodium:
573
mg
|
Potassium:
193
mg
|
Fiber:
4
g
|
Sugar:
47
g
|
Vitamin A:
1010
IU
|
Vitamin C:
6.2
mg
|
Calcium:
46
mg
|
Iron:
0.6
mg
Tried this recipe?
Snap a pic and hashtag it #SugarHero. We love to see your creations on our Instagram @elabau.