This post may contain affiliate links. As an Amazon Associate I earn from qualifying purchases. Please see my disclosure policy for more information.
I have a killer cookie recipe to share with you today.
But first, a short diversion.
Unless you've been living under a rock, you've probably heard the Carly Rae Jepsen song "Call Me Maybe" about a million more times than you've ever wanted to. I don't know what sorcery goes into making a fiercely annoying earworm like that song, but clearly Jepsen is an evil genius. At this point, it seems like everyone has done a parody video—the USA Olympic swim team! The Harvard Baseball team!  As I type this, one of YOU is probably getting ready to film your own version right now. Cut it out.
And what does this have to do with today's post? Well…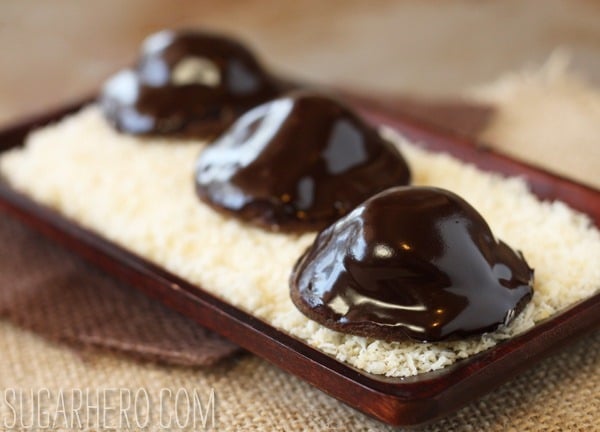 I got cookies. I share them maybe.
This is a cookie for all the coconut lovers out there. If you're on the fence—or worse, if you're one of Those People who doesn't approve of coconut—you should keep on steppin', because there's nothing for you here today.
I came up with these cookies as I was trying to unsuccessfully cram yet another bag of shredded coconut into my overflowing cupboards. When it wouldn't quite fit, I started brainstorming ways to use up the coconut. I like Mounds and Almond Joy bars…but I've done those already. I certainly like cookies. Would I, could I, should I, combine the two in unholy matrimony?
I most certainly should.
The filling of these soft chocolate cookies is a simple mixture of shredded coconut and a bit of condensed milk to hold it together. The cookie dough, with its cocoa powder and finely chopped semi-sweet chocolate, helps to balance out the sweetness of the filling.
Since they started as a cupboard-cleaning measure and guesstimated recipe, I wasn't at all sure how they would turn out. Would the filling disintegrate and leak out of the cookies? Would they spread and mix together? Would they taste good? Fortunately, the answers are no, no, and HECK YES. The cookies don't spread much, the better to keep the coconut filling intact. The dough stays soft, except for a slight crispness of the bottom that contrasts nicely with the chewy coconut.
And, although you can certainly serve them plain, I really must recommend finishing them with an intensely shiny chocolate glaze. It adds a little more flavor and really reinforces the connection to the coconut candy bars. And it's just plain sexy.
When I was putting the glazed cookies on the tray of coconut, one took a dive off my spatula and landed face-down in the coconut. I wasn't planning on topping them with anything, but once I saw the flecks of coconut on the chocolate, I was smitten. So consider adding a sprinkling (or a dousing) of coconut on top of the finished cookies. And share them maybe.
Mounds Cookies
These Mounds Cookies have a filling of these soft chocolate cookies is a simple mixture of shredded coconut and a bit of condensed milk to hold it together. The cookie dough, with its cocoa powder and finely chopped semi-sweet chocolate, helps to balance out the sweetness of the filling.
Ingredients
For the cookies:
1 1/2

cup

all-purpose flour

1/2

tsp

baking soda

1/8

tsp

salt

1/4

cup

unsweetened cocoa

,

1/4 cup + 2 TBSP good-quality

4

ounces

butter

,

1/2 cup, at room temperature

1/2

cup

granulated sugar

1/2

cup

light brown sugar

1

egg

,

room temperature

1

tsp

vanilla extract

1/4

cup

semi-sweet chocolate,

grated or finely chopped
Instructions
To Make the Coconut Filling:
Combine the coconut, condensed milk, and salt in a small bowl and stir well. Refrigerate it while you prepare the rest of the recipe.
To Make the Cookies:
Make sure that your coconut filling is already made and is chilling in the refrigerator. Preheat the oven to 375 degrees Fahrenheit, and line two baking sheets with parchment paper.

In a small bowl, sift together the flour, baking soda, salt, and unsweetened cocoa powder. Set aside for a moment.

Combine the butter and two types of sugar in the large bowl of a stand mixer. Mix on medium speed until light and fluffy, for about 2 minutes. Add the room temperature egg and the vanilla extract and beat them until the egg is incorporated and the mixture is smooth.

With the mixer running on low, slowly add the dry ingredients and mix just until the flour is almost completely blended in. Stop the mixer and add the grated chocolate. Finish mixing in the flour and chocolate by hand, scraping down the bottom and sides of the bowl in the process.

Use a small candy scoop or a teaspoon to form a small ball of coconut filling, a little less than 1 inch across.

Use a cookie scoop or large tablespoon to form a 1-inch ball of cookie dough, larger than the coconut ball. Flatten it between your palms into a disk shape, and put the coconut ball in the center. Pull the cookie dough up around the coconut center and pinch it together at the top. Roll it between your hands to get the cookie completely round. Place the cookie on the baking sheet.

Repeat with the remaining dough, placing the cookies about 2 inches apart. Once all of the cookies are formed, bake them in the preheated oven for 8-10 minutes, until they are set around the edges and the raw sheen is off the dough, but are still quite soft in the center.

Let the cookies cool on the baking sheets for a few minutes, then remove them to a wire rack to cool completely.
To Make the Glaze:
Combine the chocolate and butter in a medium microwave-safe bowl and microwave for 40 seconds. Stir until the chocolate melts completely and the mixture is smooth. If necessary, return it to the microwave to heat it in short 10-second bursts until the chocolate is melted.

Add the sugar, 1/4 cup of milk, and cocoa powder to the bowl, and stir. It will look uneven and broken at first. Microwave the mixture for 2 minutes, then whisk well. It's natural for it still to look a little broken at this point. Microwave for 1 more minute, then whisk again until the sauce is smooth and shiny. It should be thick, somewhat like pudding, at this point. Add the vanilla extract and whisk it in. Let it cool slightly before using.

If it is too thick to easily dip the cookies when you are ready to use it, whisk in additional milk, a tablespoon at a time, until it is thin enough to form a smooth glaze on the cookies.

Hold a cookie by the edges and dip it in the glaze, covering the entire top surface. If you want, sprinkle coconut on top or roll it in shredded coconut. Let it set at cool room temperature, or speed up the setting process by refrigerating the cookies.

At cool room temperature the glaze will not be tacky to the touch, but if you stack the cookies it will get messy and smeared, so best to store and serve these in a single layer.
MEASURING TIPS
Our recipes are developed using weight measurements, and we highly recommend using a kitchen scale for baking whenever possible. However, if you prefer to use cups, volume measurements are provided as well. PLEASE NOTE: the adage "8 oz = 1 cup" is NOT true when speaking about weight, so don't be concerned if the measurements don't fit this formula.
Click here to learn more about baking measurements and conversion.
Nutrition
Calories:
214
kcal
|
Carbohydrates:
30
g
|
Protein:
2
g
|
Fat:
10
g
|
Saturated Fat:
6
g
|
Cholesterol:
24
mg
|
Sodium:
131
mg
|
Potassium:
114
mg
|
Fiber:
1
g
|
Sugar:
21
g
|
Vitamin A:
190
IU
|
Vitamin C:
0.2
mg
|
Calcium:
33
mg
|
Iron:
1.4
mg
Share by Email
Share on Facebook
Share on Pinterest