This dreamy Coconut Layer Cake has 3 layers of fluffy yellow cake, a coconut soaking syrup, a coconut filling, AND is covered with cream cheese frosting coated with…you guessed it…coconut!
So I heard it might be cold where you live! Being a California wussy, I'm not really familiar with cold weather, but I've seen movies and read books about this substance you call "snow" and apparently it comes from the sky and is quite chilly and it requires you to wear cute boots and sassy scarves? Sounds delightful!
Since I'm not regularly exposed to the real thing, I decided to make a snowy coconut cake instead, so we could feel like we're walking through a winter wonderland! Or eating a winter wonderland. Or walking through a winter wonderland where fully assembled cakes randomly appear on the ground right in front of you…I don't know…the metaphor kind of breaks down as soon as you start thinking about it.
The important thing, though, is that I ended up with a gorgeous, delicious coconut cake, and also that I never have to shovel snow from my walk or defrost my car windows. Joy to the world!
This cake features three layers of soft yellow cake, brushed with a coconut milk soaking syrup. The filling is a soft and sticky coconut filling (think the interior of an Almond Joy, only more moist) and it's frosted with a cream cheese frosting, and covered—of course—in a thick, shaggy layer of shredded coconut.
Although coconut is not a traditional December flavor, this still makes a great holiday cake. It's large and substantial, so it can feed quite the hungry crowd. It keeps well, so it can be made several days in advance and served without losing much moisture or flavor. And although it has several components, the actual assembly and decorating is really simple—there are few cake mistakes that handfuls of coconut cannot cover up! Seriously—throw it on a cake stand, scatter some pine cones around, and your guests will be cooing about your maaaaahvelous holiday coconut cake!
💙More Layer Cakes You'll Love!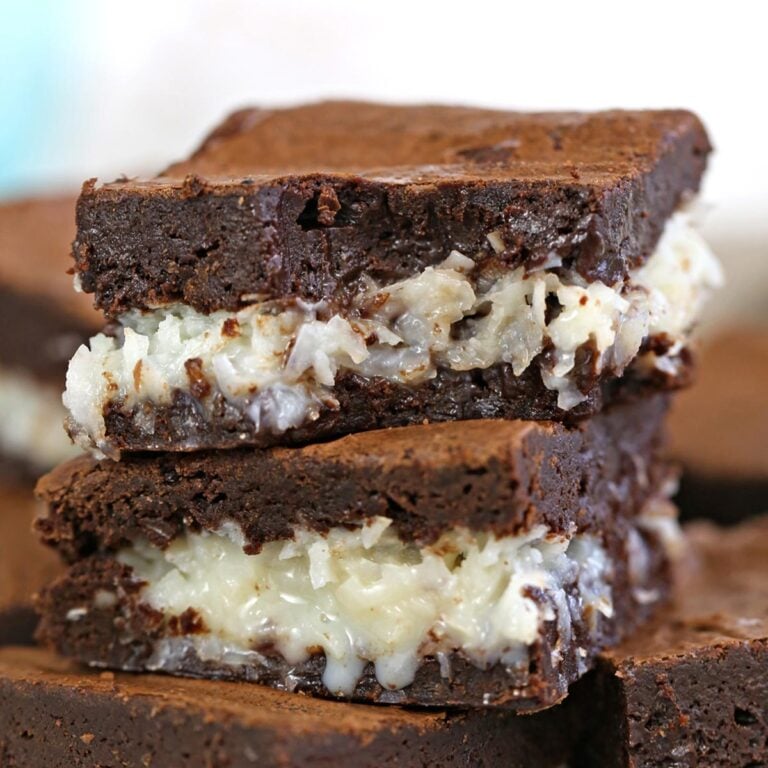 The Best Coconut Brownies
These coconut brownies are the BEST! They're rich, fudgy brownies with an ooey gooey coconut center. Better than a candy bar!
View Recipe
Coconut Macaroons
Coconut Macaroons are a delicious gluten-free treat! You'll love these bakery-style coconut cookies that are crispy on the outside, soft and tender on the inside, and dunked in a coating of chocolate.
View Recipe
Coconut Layer Cake
This dreamy coconut cake has 3 layers of fluffy yellow cake, a coconut soaking syrup, a coconut filling, AND is covered with cream cheese frosting coated with…you guessed it…coconut!
Ingredients
Instructions
To Make the Cake:
Preheat the oven to 350 F. Line three 9-inch cake pans with parchment circles, and spray the pans with nonstick cooking spray. In a small bowl, whisk together the flour, baking powder, and salt. Set aside for now.

Place the butter and sugar in the bowl of a stand mixer fitted wit ha paddle attachment, or use a hand-held electric beater. Beat on medium speed until light and fluffy, about 3 minutes. Scrape down the sides of the bowl. Add the eggs one at a time, beating well after each addition, then add the vanilla extract.

Turn the mixer to low speed and add a third of the dry ingredients. When they're mostly incorporated add half the evaporated milk, then half of the remaining flour. Finish by adding the rest of the milk, then the rest of the flour. Mix until the batter is smooth, then scrape down the bottom and sides with a spatula.

Divide the batter into the three pans (if you want to weigh it out, each pan gets about 16.67 oz batter). Tap the pan a few times firmly on the counter top to level the batter and knock out any air bubbles. Place the pans on the middle rack of the oven and bake for 18-20 minutes, or until a toothpick inserted in the center comes out clean and the cake springs back when touched. Cool the cake in the pans until completely cool. In the meantime, prepare the glaze, filling, and frosting.
To Make the Coconut Soaking Syrup:
In a small bowl, stir together the coconut milk, sugar, and vanilla; set aside.
To Make the Coconut Filling:
Combine the cream, sugar, and butter in a large pot and place over low heat. Cook, stirring occasionally, until reduced and slightly thickened, about 15 minutes. Remove from the heat and stir in the coconut, cornstarch, and vanilla. Cool and then store in the refrigerator until ready to use. If you need to cool it down quickly, spread it into a thin layer on a baking sheet and press a layer of cling wrap on top, and refrigerate until completely cool and thick.
To Make the Cream Cheese Buttercream:
Place the cream cheese and butter in the bowl of a stand mixer fitted with a paddle attachment, or use a handheld electric beater. Beat on medium speed until very smooth and lump-free, about 2 minutes. Stop the machine periodically to scrape off the paddle and sides of the bowl. While beating, gradually sprinkle in the powdered sugar until light and fluffy, about 3 minutes. Add the vanilla and continue to mix until combined.
To Assemble:
When the cakes are cool, turn them out of the pans, remove the parchment paper, and trim any uneven edges. Place one cake on your serving platter or a cardboard cake round. With a pastry brush, coat all of the cakes with the coconut soaking syrup.

Put some of the frosting in a piping bag fitted with a 1/2-inch round tip, or a large plastic bag with a hole cut in the corner. Pipe a circle around the outer edge of the cake on the serving tray, and fill the center with half of the coconut filling. The frosting circle will act as a moat and keep the coconut filling from leaking out. Top it with another cake round, and repeat the frosting and filling procedure a second time. Place the third cake round on top, and frost the top and sides of the cake with the rest of the cream cheese frosting. Generously cover the top and sides of the cake with shredded coconut. Refrigerate the cake for at least 45 minutes before cutting and serving.
Recipe Notes
This recipe is adapted from The Lemonade Cookbook by Alan Jackson and Joann Cianciulli, used with permission.
Measuring Tips
Our recipes are developed using weight measurements, and we highly recommend using a kitchen scale for baking whenever possible. However, if you prefer to use cups, volume measurements are provided as well. PLEASE NOTE: the adage "8 oz = 1 cup" is NOT true when speaking about weight, so don't be concerned if the measurements don't fit this formula.
Want to learn more about baking measurements and conversion?
Nutrition
Calories:
853
kcal
|
Carbohydrates:
79
g
|
Protein:
9
g
|
Fat:
57
g
|
Saturated Fat:
40
g
|
Cholesterol:
153
mg
|
Sodium:
376
mg
|
Potassium:
333
mg
|
Fiber:
4
g
|
Sugar:
55
g
|
Vitamin A:
1350
IU
|
Vitamin C:
0.8
mg
|
Calcium:
117
mg
|
Iron:
2.6
mg
Tried this recipe?
Snap a pic and hashtag it #SugarHero. We love to see your creations on our Instagram @elabau.