Peaches and Cream Trifle is an easy summertime dessert that's bursting with flavor! You'll love this combination of pound cake, fresh peaches, and whipped cream. It's the best way to enjoy the taste of summer peaches.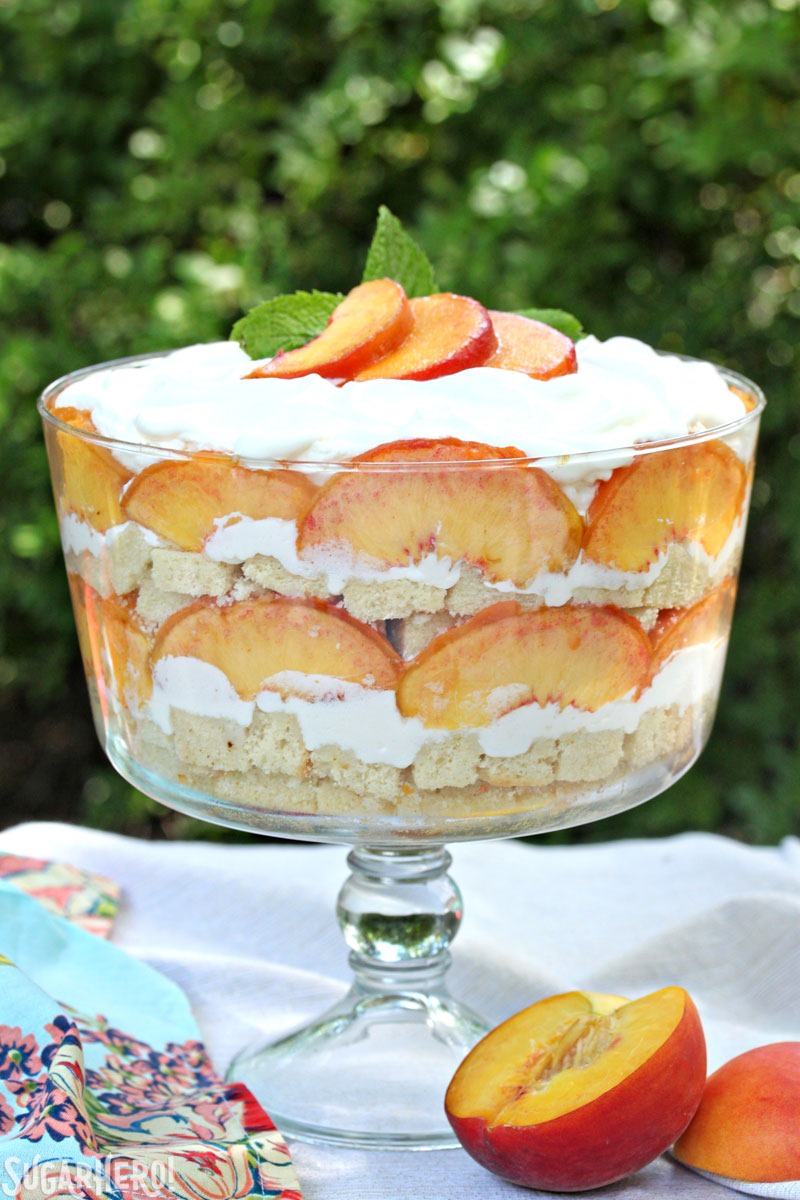 Hello lovelies! Happy mid—*does a double-take* Can it really be MID-AUGUST?! What sort of time warp am I living in? Can you believe it's back to school season already? I still have a few weeks before the wee one goes back to school, and believe you me, I'm at the point in the summer where I'm counting down the days….no, the hours.
Even though I'm ready for some school relief, I'm NOT ready to say goodbye to all of my favorite summer produce. I've been living in up with pounds and pounds of fresh cherries, berries, plums, and of course, fresh peaches. I think every state claims to have peaches that rival Georgia's, and Utah is no exception. (Poor Georgia. Always the target of peach jealousy.) I'm not ready to award a final winner in the battle of the peaches, but I will say that Utah peaches have been exceptional this summer—so juicy and flavorful, with a sweetness tinged with the perfect amount of tartness. It's peach paradise.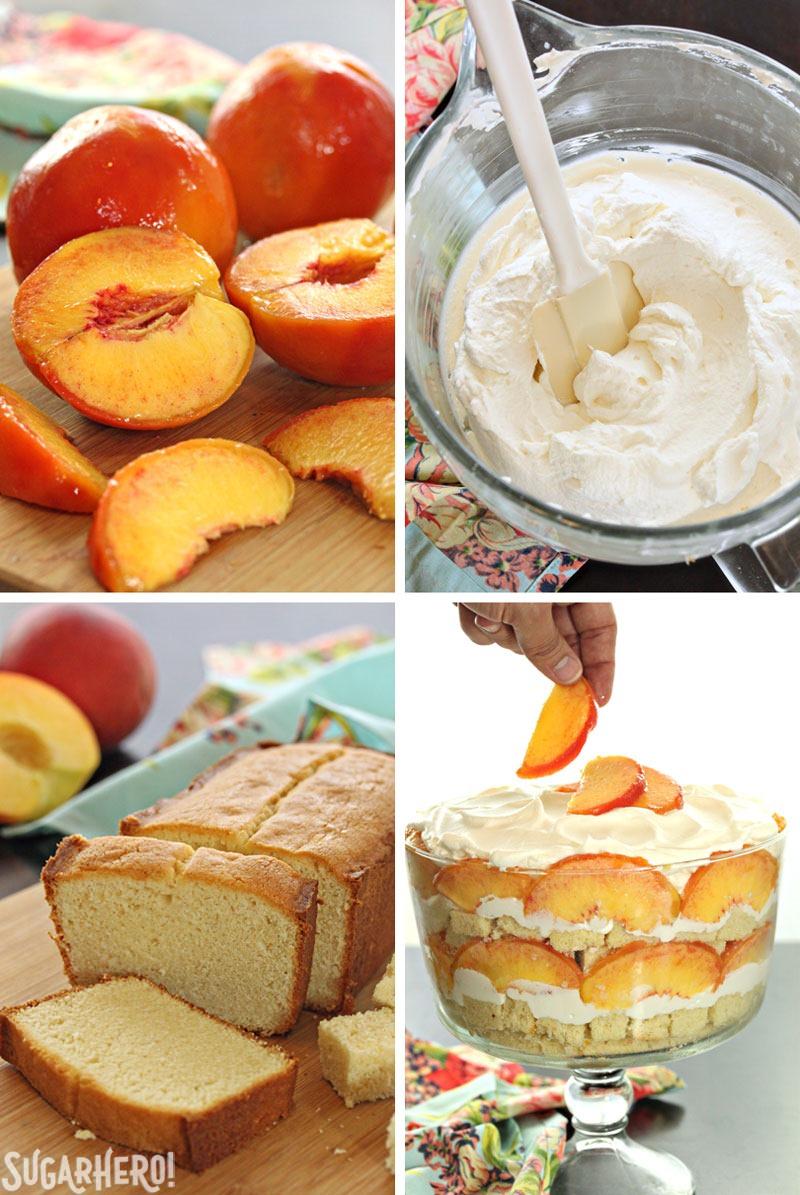 A few weeks ago we were invited to a friend's house for a weekend barbecue. They provided a huge feast of grilled food and sides, and literally the only thing I was assigned to bring was dessert. I always feel a little pressure when people ask me to bring dessert, because I think they're going to expect something spectacular and over-the-top every time. (Which is totally untrue, I'm sure, it's just my stupid brain trying to freak me out.)
Sometimes I overcompensate and try to make an inappropriately dazzling dessert for a casual get-together, but this time I had the recipe and the vibe nailed down from minute one. I had just bought a big bag of peaches at the perfect stage of ripeness, and I wanted to make a dessert that would showcase their texture and flavor without many adornments. No baking, no strong spices or overpowering flavors, just pure peaches and cream all the way.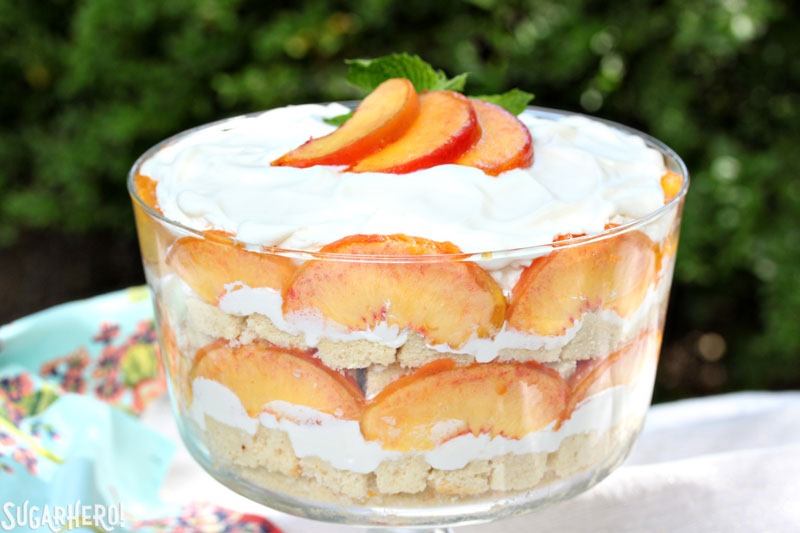 This trifle couldn't be simpler: cubes of pound cake, billowing whipped cream, and slices of juicy fresh peaches. I used homemade pound cake (left over from my Dessert Grilled Cheese experiments, natch) but you could easily use store-bought pound cake to make this a quick 10-minute dessert. There's nothing more delicious or refreshing after a summer barbecue alfresco, and you can easily play with it by adding fresh berries, other stone fruit, jam, or lemon curd. Enjoy!
🍑 More Peach Desserts
Lemon Blackberry Trifle
This Lemon Blackberry Trifle is like a greatest hits collection of many of my favorite things: ultra-moist cake, tangy lemon curd, softly whipped sweet cream, juicy berries, and a hint of fresh mint. So basically this is a must-make!
View Recipe
Raspberry Lemon Meringue Trifle
This giant Raspberry Lemon Meringue Trifle is made with thinly sliced layers of moist pound cake, tart lemon curd, raspberry jam, and lots of toasted vanilla meringue! This giant trifle is perfect for feeding a crowd! Everyone is sure to love it!
View Recipe
Peaches and Cream Trifle
Peaches and Cream Trifle is an easy summertime dessert that's bursting with flavor! You'll love this combination of pound cake, fresh peaches, and whipped cream. It's the best way to enjoy the taste of summer peaches.
Instructions
To Make the Pound Cake:
Preheat the oven to 350 degrees Fahrenheit. Spray two 9×5-inch loaf pans with nonstick cooking spray.

In the bowl of a large stand mixer combine the softened butter, cream cheese, and sugar. Mix on medium speed until light and fluffy, about 3-4 minutes. Add the eggs one at a time, mixing well after each addition. Add the vanilla and mix it in. The batter might appear a little broken at this point—that's okay.

In a small bowl, whisk together the flour, baking powder, and salt. Add the dry ingredients to the wet ingredient and mix just until they're combined. Finish stirring everything together with a spatula, scraping down the bottom and sides of the bowl.

Divide the batter between the prepared pans and smooth it into an even layer. Bake the loaves for about 45 minutes, until golden and a toothpick inserted into the center comes out with just a few moist crumbs attached. Let the pound cakes cool completely to room temperature before assembling the trifle.
To Make the Trifle:
When you're ready to assemble the trifle, remove the pound cakes from their pans. Cut the cakes into slices about 3/4-inch thick, then cut the slices into cubes. Set the cubes aside for a moment.

Bring a pot of water to a boil. Slice a shallow "X" in the bottom of the peaches with a paring knife, just cutting through the skin. Place the peaches in the boiling water for 1 minute, then drain and plunge them into a bowl of ice water.

Once they are cool enough to touch, peel the skins off—the skins should slide right off thanks to the quick boiling. Cut the peaches in half and remove the pits. For two peaches, cut them into thin slices about ¼-inch thick. Chop the remaining 3 peaches in rough cubes, and combine the peach cubes with the granulated sugar and lemon juice in a bowl. Stir roughly so the peaches start to release their juice—this is what we want!

Combine the cream, powdered sugar, and vanilla in a mixing bowl and beat with a whisk attachment until firm peaks form.

To assemble the trifle, spread a thin layer of whipped cream on the bottom of the trifle bowl. Arrange a layer of pound cake cubes in a single layer on the whipped cream, then top with a generous layer of whipped cream. Press peach slices around the sides of the bowl in a decorative arrangement, then put a heaping spoonful of the peach cubes and their juice on top of the whipped cream. Repeat the pattern with more cake cubes, whipped cream, and another layer of peaches. If you have more pound cake cubes, repeat with a third layer of pound cake, and then cover everything with the rest of the whipped cream. Add a few peach slices and sprigs of fresh mint on top.

Refrigerate the trifle for at least a few hours (even overnight is okay) before serving, to allow the cake time to soak up the liquid and get softer. Scoop servings into bowls and enjoy!
Recipe Notes
To save time, you can make this trifle with store-bought pound cakes. You will need 2 large pound cakes—if you are using the frozen variety, you might need 3 since they tend to be shorter than homemade cakes. This trifle was made in a 3 quart trifle bowl that was about 8" tall and 8" wide. It can be made as individual trifles, or in another sized bowl—just be aware you will have to adjust the layers and quantities accordingly. It easily serves 12-16 people.
Measuring Tips
Our recipes are developed using weight measurements, and we highly recommend using a kitchen scale for baking whenever possible. However, if you prefer to use cups, volume measurements are provided as well. PLEASE NOTE: the adage "8 oz = 1 cup" is NOT true when speaking about weight, so don't be concerned if the measurements don't fit this formula.
Want to learn more about baking measurements and conversion?
Nutrition
Calories:
521
kcal
|
Carbohydrates:
49
g
|
Protein:
5
g
|
Fat:
34
g
|
Saturated Fat:
20
g
|
Cholesterol:
158
mg
|
Sodium:
257
mg
|
Potassium:
230
mg
|
Fiber:
1
g
|
Sugar:
33
g
|
Vitamin A:
1430
IU
|
Vitamin C:
3.7
mg
|
Calcium:
80
mg
|
Iron:
1.3
mg
Tried this recipe?
Snap a pic and hashtag it #SugarHero. We love to see your creations on our Instagram @elabau.